Now more than ever, an author's online presence is an essential part of marketing your book. Whether you are marketing your debut novel amid a global pandemic or building a strong following of loyal readers, if you are selling a book — or several — on Amazon.com, you'll want to create an Amazon Author Page as soon as possible. Your Author Page is one of the most powerful ways to promote your work on the world's largest online bookstore.
Whether you're a commercially-published or self-published author, your Author Page can help elevate your sales and earn you new readership and fans. To get started, this article will cover:
Why it's important to create a great Amazon Author Page
How to set up your Author Page
How to edit your Author Page
Tips for writing your author bio
How to connect books to your Author Page
How to find your author's page on Amazon
You've worked hard to produce your book, and now is the time to make sure it gets read! While there are many ways to promote your book, creating your Amazon Author Page is among the most important.
We make it easy to get your work out to your network and beyond with all the marketing tools you need.
Why it's important to create a great Amazon Author Page
On Amazon.com, your Author Page is a public-facing profile. This page helps readers connect with you and find all of your published work — especially work that can be purchased. Think of this profile as another line by which readers can connect with you as a writer — not unlike your personal website, cover blurbs, and your social media presence. However, your page is exceptionally powerful because, unlike your online portfolio, it puts your readers one click away from purchasing your book.
Spending time on your Author Page offers a litany of benefits, including:
Building your reputation as a writer
Your Author Page lends you increased credibility as a writer. Creating a polished public-facing profile on a platform as far-reaching as Amazon will give you an instant boost in standing with your readership.
Allowing you to introduce yourself as an author
Building an effective Author Page includes giving readers a good sense of who you are as a writer and person. You can do this by adding photos, videos, and links to your blog. You can even share excerpts of your blog posts automatically.
Giving you a space to provide updates
Your Author Page provides a great space for keeping readers updated about your upcoming events like speaking engagements or book tours. With the events feature, you can enter the day and location of your event, so readers can see whether your book tour stop is near them!
Your profile is also a good place to update readers about forthcoming work with media like links to teasers or video trailers.
Showcasing your other work
Your Author Page is the perfect place to showcase all of the books you've written. If a reader loves your work, it will likely drive sales for your other books. Making mention of publications in which your byline appears also encourages readers to seek out your work in other places. Ultimately, this can help build fans and grow reader loyalty.
Making it easy for readers to follow you
You can encourage readers to receive updates by enabling the "follow author" button, which will appear under your books on your Author Page.
By linking to your social media profiles on your Author Page, you can also make it easy for your readers to follow you beyond Amazon. The "follow author" button is just the beginning of building an engaged community of loyal readers.
How to set up your Author Page
Your Author Page is a part of your Author Central account. If you aren't already familiar with Amazon Author Central, now is the time to get acquainted! Author Central is your essential hub on Amazon. It allows you to:
Track your book sales
Request tech support
Add editorial reviews
Read and respond to reviews by your readers
Set up your Author Page
To sign-up for Amazon Author Central, you must already have a book for sale on the Amazon marketplace. Set up your account by following these steps:
Visit the Author Central page and log in with your normal Amazon account. If you don't yet have an account, sign up for a new user account.
Read and agree to Amazon's Author Central terms and conditions.
Find your books by searching under your name as an author. Select from the options that Amazon provides. You can also search via title or ISBN.
Check your email for a confirmation from Amazon.
Wait for Amazon to verify your account. This process can take up to seven days.
How to edit your Author Page
To edit your Author Page, start by logging into your Amazon account via Author Central. In the top left corner, you should see the option to select "Author Page", where you can update and edit your page. From there, you can develop several elements of your page, including:
Your author biography
Your author bio is arguably one of the most important elements of your page. Give readers the opportunity to connect with you by creating an authentic and personable bio. This is a great place to include your interests and passions as a writer.
Fortunately, it's easy to edit your author bio!
First, select "edit biography" and create desired changes in the pop-up window.
To check your work, select "preview biography," located in the bottom right corner.
Once you've reviewed your changes, click "save biography."
Don't forget to add links to promotional material or information. Many authors use this space to plug their personal websites, promote giveaways, or preview upcoming work.
Photos
As a writer, you know that words are an essential tool for human connection. However, for the reader, a great photo is another opportunity to connect with you as a writer. There is space to upload eight images on your Author Page. Most authors elect to include a professional headshot at the very least. Additional photos can help elucidate your aesthetic, values, and interests.
To add photos to your profile, find and select "add photo" on the right side of your screen. Once the pop-up has appeared, check out the requirements for dimension and file type. Then, select "choose photo" and select the desired photo file from your desktop.
You'll be asked to confirm that you have the rights to your photo. Then, you can click "upload photo." Add additional photos with the "add photo" button. You can select the "manage" button before dragging and dropping photos into your preferred order.
If a photo is no longer serving its purpose on your page, you can delete or replace it. To delete photos, select "manage" before dragging the photo down to the "delete" area.
Videos
Videos are another great way to connect with your readers. Polished videos also lend credibility to your author's page and provide followers with a peek into your personality.
Like photos, you have the option to include up to eight videos. Each video must be less than 10 minutes in length. Some authors elect to upload video greetings, recorded bios, and more. A video can be a great way to share highlights from a speaking event or book tour engagement.
A unique way to utilize the video feature of your Author Page is to create and share a book trailer or promo video for your upcoming work.
Much like photos, videos are easy to add and delete on your page. First, find the "videos" section of your page. Then follow the same steps you would for photos.
Blog feeds
Many writers host a blog. If you have your own blog, it is a great idea to link it to your Amazon Author page, as it will undoubtedly be of interest to your readership. Your profile is a great way to drive readers to your blog and build loyalty.
The previews will show up in the Author Updates section of your page. This is a great way to drive more traffic to your blog and to continue to connect with readers.
Amazon makes it easy to set up a live RSS feed for your blog. This convenient feature ensures that your Amazon followers will always see your latest posts.
To take advantage of the impactful blog feature, select "add blog", which should be in the center of your Author Page screen. Enter the URL of your RSS feed — not the URL for your blog.
Moving forward, your new blog posts will be added to your Amazon Author Page. To retroactively add older posts, re-publish them. Check out Amazon's article on blog feeds for more tips and tricks.
Editorial reviews
One of the most effective features on Amazon's Author Page is the ability to add editorial reviews. Add reviews by populating the section with early reader reviews, reviews by famous readers, and more.
The editorial reviews section is featured in a primary spot on the book's page, giving you an opportunity to persuade readers with glowing reviews of your work.
Multiple Author Central pages
If you are selling your book on the international marketplace, you may need to create more than one Author Central account. It is wise to create unique author bios for each. Tailor your keywords, book descriptions, and author bio to the unique audience of each market.
Tips for writing your author bio
Now that you know that the author bio is a key element of your Author Page, it's time to write one that will help your readers get to know you. You've already done the hard part — writing your book — but here are some tips for making your author bio pop:
Consider using first person
Traditionally, author bios are written in the third person. However, there is no hard and fast rule for point-of-view when crafting your author bio. Your goal is to give readers a small taste of your writing style. If your voice is best captured in the first person, consider using it for your author bio.
Keep your reader in mind
When you wrote your book, chances are you kept your audience in mind. Likewise, don't forget to think about your readership when crafting your author bio. By speaking to them, you can persuade readers to check out your website, join your mailing list, and more.
Proofread
As a writer, you know the importance of proofreading! Don't skip this important step before rolling out your new author bio. Instead, share your bio with a writer friend to catch any lingering typos.
Tout your accomplishments
Your author bio is a great place to brag about your accolades! Sharing your achievements can help readers understand why you are qualified to write about your subjects. Make sure to include any awards or honors. If you're uncomfortable singing your own praises, consider writing your bio in the third person.
In this example, Ocean Vuong uses an excellent amount of text space early on in his bio to start sharing his accomplishments as a writer. Placing awards early in this column compels readers to continue reading, and, ultimately, purchase your book.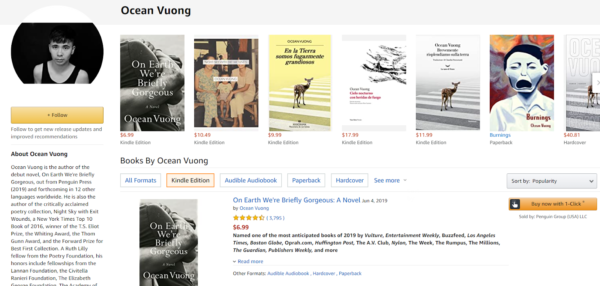 Keep it short
Save the full version of your life story for your memoir. Instead, keep your author bio short and to the point. A brief blurb about your interests, values, accolades, and family will be sufficient.
How to connect books to your Author Page
Once you have cultivated your Author Page and have written an engaging bio, you should start linking books to your profile as soon as possible. It is imperative that you list all of your books on your page. Very often, readers will look at your page for the express purpose of finding your other work. If you fail to include one of your books on your profile, you are likely missing out on important sales opportunities.
Keep in mind that the books take a few days to appear on your account — Amazon will do the legwork and verify book ownership with your publisher.
To link a book to your page, find the "books" tab on Author Central and click "add more books." From there you can search for your book via author name, book title, or ISBN. Don't forget to link to all versions of your book, including audiobooks, ebooks, paperbacks, and hardcovers.
If there are any issues when adding your book, contact Amazon to resolve the problem.
Tips for optimizing book descriptions
Once you've linked your book(s) to your Author Page, it is essential that you spend time optimizing your book description. While you've likely already written a book description for other platforms, queries, and more, it is helpful to optimize your description specifically for the Amazon marketplace. Be sure to:
Utilize keyword phrases
To make sure your book appears in the right searches of the world's largest bookstore, include keyword phrases within your book description. These help Amazon readers find you and other relevant books when they search for keywords.
Make it visually appealing
You can use basic HTML code to enrich the text on your book descriptions. For example, you can easily create bullet points, underline words, and edit font size.
Lead with praise
When possible, include any awards or praise that your book has received. If you want to start your description off with a bang, opening with any accolades is an excellent way to establish immediate clout.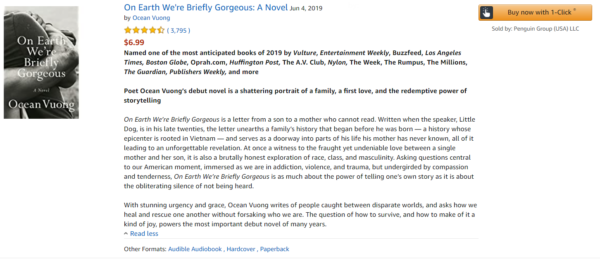 How to find your author's page on Amazon
Once you've edited your author's page to your heart's delight, it is helpful to preview what the reader will see. While it seems simple, the best way to find your profile on Amazon is to search for it as any reader would! Click on your name under the book and check out your handiwork.

Now that you understand how to edit your Author Page, spice up your bio, link books, and more, it's time to get started! If you'd like to read up on ways to market your book beyond the pages of Amazon, check out The Download, our free online marketing guide for authors. Learn more about how to make sense of the wide world of online marketing for independent authors.

Share with your network