Congratulations! You wrote a whole book. That's a huge accomplishment, and you should take thirty seconds to pat yourself on the back or dance in your chair. Done? Good. Now back to work. It's time to learn how to market your book to gain the readership you deserve.
The very idea of digital marketing can make some creatives head for the hills, but it's easier than you think. You just need to break the project down into manageable components.
This article starts with the bare minimum for any book campaign:
Create a website
Start an email campaign
Work your social media accounts
To stand out in an incredibly competitive industry, you'll have to go a little further. Take these 10 ways to promote your book, and run with them.
But you have to walk before you can run, so let's start with step one: your author website.
We make it easy to get your work out to your network and beyond with all the marketing tools you need.
Create a website
As an author, your website will serve as your online home, the place you receive all the lovely visitors who come to call. Your site should be welcoming — attractive, easy to navigate and set up to capture these new readers as they walk through the virtual door.
You don't need to be a professional website designer to learn how to craft an effective website. Use a website builder to make it easy to plug in the right information, visuals, and other content.
Website design tips
As you build your website, think about your readers and readers-to-be. Keep some basic principles in mind.
Your readers are on the move: Go mobile
Your website MUST be optimized for mobile use. As of 2021, 56% of all internet users access from a mobile device such as a phone. That number has continually grown each year.
Don't get left behind. Optimize your site for both desktop and mobile use.
Your readers are discriminating: Be professional
A professional-looking website starts with the domain name. The right domain name will also make it easier for people to find you online.
Buy one that matches your author name, brand, or book series. They aren't terribly expensive, and they lend website credibility.
Your readers are busy: Design for efficient communication and use
Don't clutter your website with loads of extra pages or information. Ensure that visitors can quickly access the information they want.
Your website should have at least these five pages:
Homepage
About
Books
Email signup page
Contact page
You can use design and visual cues to brand yourself. Take a look at the following author websites. The first belongs to Fonda Lee, a sci-fi and fantasy writer. The second belongs to Emma Davies, a novelist that specializes in cozy mysteries. ‌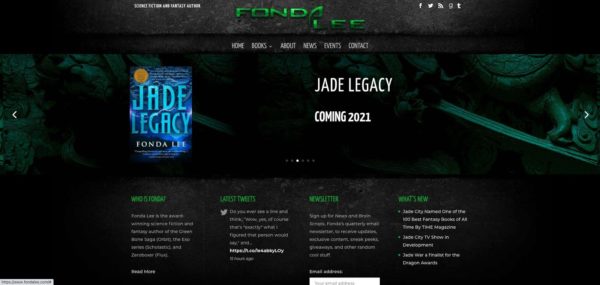 ‌
Both are effective sample websites. Fonda Lee's futuristic feel lets readers know what kind of story to expect. Emma Davies blends cuteness with drama. The colors are sharp but also feminine (and cozy-mystery readers skew female).
Either website would look absurd as the website of the other writer, an imaginative exercise that reinforces what is strong about them.
Your readers are interested: Stay in touch
Ensure you set up your website to capture email addresses of people interested in your work. Your email list will be your most effective marketing tool and your best way of staying connected with the bulk of your readership.
Keep them engaged with both you and your work for the long haul with newsletters, tantalizing book snippets, and fun extras.
Your homepage should also provide links to any active social media accounts, so your readers can find and follow you on these platforms as well.
Start an email campaign
Put those email lists to work when you're ready to release. When it comes to how to market your new book, email is one of the most powerful tools at your disposal. Book marketers can use email to:
Promote a book
Advertise an event
Share commentary on other books/developments in your genre ‌
Best of all, email tools make it easy to automate certain actions, leaving you free to concentrate on your writing.
If you're just starting out with digital marketing, you may need to grow your lists. Try offering something of value in exchange for their email address. You could give them:
A bonus short story
Inside scoop on new work
Tips for emerging writers
A promotional code for a discounted copy of your book
People are much more likely to sign up for an email list in exchange for an immediate return.
Authors should establish a simple welcome email series for new subscribers. Spaced out every few days, send them:
A welcome message (that delivers any content promised when they signed up if applicable)
A book excerpt
An invitation to connect on other channels
After that, aim for a monthly update. You don't want to flood their inbox, but you want to keep your work top of mind.
Work your social media accounts
You don't need to be everywhere at all times. Not only is this impossible, but your accounts will also be more effective if you can keep them active — rather than diluting your efforts by spreading them out across multiple platforms.
You're busy running your business or writing your book, but social media doesn't have to be an overwhelming commitment. We recommend starting with a single platform and then adding more as you gain comfort and as time allows.
You can even schedule posts and monitor your accounts with social media tools that will help manage them, taking that burden off your memory and day-to-day work responsibilities.
Facebook first
Facebook has the largest audiences and the most versatile platform. You can post videos, pictures, documents, and more without worrying about the stringent length limits of other platforms. If you're willing to put a little money into advertising, you can also increase your bid for attention with Facebook ads, which will get your information in front of likely readers.
Join Facebook groups
Grow your social network with Facebook groups directed at your interests and literary genres. There are many groups out there for writers, and they can put you in touch with people who can help you on your journey — and people to whom you can turn when you need support.
Post strategically
Take a tip from Tanya Anne Crosby, a historical romance novelist who has mastered the art of the Facebook page and post. Her Facebook page advertises her brand as an author and provides links to purchase her books.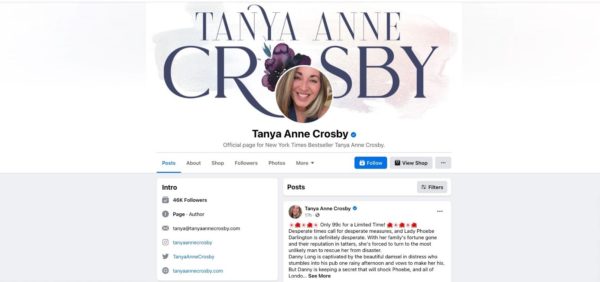 As you scroll down the page, the content is even more impressive, smartly designed to engage her target clientele. Crosby promotes her own work, develops her network of readers and writers, offers free content, and shares cute cat pictures.
You can use your account to:
Advertise promotions or discounts for your book
Announce events
Congratulate fellow authors
Promote similar authors or reading groups
Be personable. Share pictures and stories of what you enjoy, let your readers get to know you
Not every post needs to be directly about your work. Use your Facebook account to network and connect to readers on a personal level.‌
Then go where the readers are
There are multiple social media channels for authors. Depending on your genre, you may want to focus on developing your LinkedIn network or take to Snapchat to engage a younger crowd.
Many writers use Twitter — and so do other folks in the publishing industry. It's a good choice for authors if your particular audience doesn't direct you elsewhere.
Popular hashtags include: #WIP, #amwriting, #writingcommunity, #writerlife
When it comes to social media, the most important thing is just to start. You can refine accounts later, but start building those networks now.
10 ways to promote your book
…or really 10 more ideas on how to market your book, counting those given above.
1. Hire someone to design the cover
Everybody judges a book by its cover. Those who claim otherwise are lying or constitute a tiny minority.
Unless you have experience in the arena, you should never design your own cover.
It isn't hard to find cover designers. For as little as $100, you can have a professional and attractive product that will sell itself.
2. Create an Amazon Author page
Whether or not you also sell through other marketplaces, Amazon is the giant you can't ignore. The statistics on its current popularity are staggering.
Make the most of Amazon by creating an Amazon Author page that drives sales. A well-designed Amazon page:
Lends you credibility
Introduces you as a writer
Provides a space for updates
Showcases your other work
Allows your readers to follow you
Your Amazon page is a vital part of your web presence. Give it the attention it requires.
3. Become a Goodreads Author
The second most important site for you as an author is Goodreads, the online community of readers and reviewers with over 90 million members.
By becoming a Goodreads Author, you can customize your profile and add a call to action for interested readers to sign up for your email list. You might even be able to attract some beta or early readers and reviewers.
Don't forget about the site once you've done the initial set-up work. Ask reviewers to post on Goodreads as well as on Amazon.
4. Give it away
Giving your book away can help it gain the reviews and traction it needs to start selling. There's just one catch.
Giving people your book for free sounds easy, doesn't it? It's not. The free ebook "market" is incredibly competitive. Simply reducing your Kindle price to $0 won't gain it the attention you want.
Offer readers a pre-release download through your social media accounts or website. Loyal readers are often glad to write a review in return for a free or even advance copy. Make new friends by keeping the old.
The rules are a little different for nonfiction material, but there are plenty of ways to run successful nonfiction giveaways, too.
5. Reach out to reviewers
Research book review blogs and Goodreads readers that review books similar to yours and solicit a review for your work.
There are even services such as Reedsy that will distribute your books to potential reviewers for a fee.
You might also send local newspapers a print copy in the hope that they'll review your work. Many smaller publications are happy to feature local artists, and they may give you a mention even if they don't feature your book.
6. Start a blog
A blog makes a natural addition to an author's website. A writer's blog gives you an opportunity to:
Promote your books
Generate ad and affiliate revenue
Promote other authors in your genre
So pick your niche and audience, and get typing!
7. Write a guest blog or interview on a podcast
Bloggers and podcast hosts are constantly creating content. They may be glad to have a little help. Contact writing blogs or podcasts in your research niche, and pitch a guest feature. At the very end of the post — in your About blurb — you can add a line advertising your new book.
8. Join forces with fellow authors
As you develop your network of writers, make a list of people that offer similar content and have similar readerships. Ask them about the possibility of group promotion, where you can run and advertise simultaneous offers.
You can also ask if they're interested in having their newest release featured in your newsletter — a courtesy to be reciprocated, naturally.
9. Use book promotion services and sites
These can be expensive, but there are multiple services that distribute advertisements for ebooks — mainly free or deeply discounted ones — to their email lists. These lists include thousands of eager readers in your genre.
BookBub is probably the best known. It's both selective and pricey, but authors attest to the results it brings them. The price to be a featured deal depends on several factors, including the price of your book and the size of the relevant list. Its largest list, crime fiction, reaches over 3.6 million readers.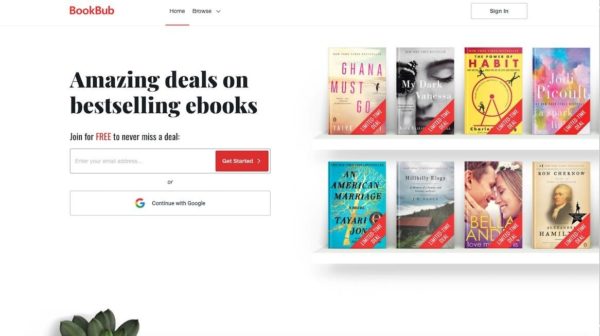 10. Go on a local book tour
Contact libraries, schools, bookstores, anyone you think might be interested in hosting a reading and signing. You can even offer to donate a percentage of the proceeds if an extra incentive is needed.
Keep the momentum going
After all, you've gone this far. You've created your website and put your email lists and social media accounts to work. You've even tackled some of the more advanced tactics recommended above.
But successful digital marketing is a marathon rather than a sprint. You'll need to keep your work current and expand in new directions.
We have you covered with targeted blog posts and The Download: Making Sense of Online Marketing for Independent Authors. Read it today for more ideas on how to market your new book online.