You don't have to be a kid to make a holiday wish list. As a nonprofit, you know that end-of-year donations account for 37% of charitable giving. Combining that number with the total for U.S. donations — $484.85 billion in 2021 — tells us that about $179.39 billion changes hands in the final few months of the year. These dollars come to nonprofits, borne on the wings of goodwill and tax incentives.
Set yourself up to make the most of online donations and other sources with strong year-end giving campaigns. Here are suggestions to make the crucial, final push for contributions from established donors and newcomers alike.
How do I ask for year-end donations?
When you ask for year-end donations, first define your fundraising goal and audience. Then craft campaigns around a calendar incorporating all of the season's opportunities.
In a nutshell, your plan should include a:
Goal. What do you need?
Target audience. Who already wants to give it to you?
Campaign message. Why do they want to donate?
Fundraising events and channels. How do they want to donate?
Marketing channel. Where can you reach them?
Marketing tools. How can you simplify, reduce, and share the work of fundraising?
Calendar. When should you launch individual campaigns and initiatives?
While the art of asking for donations is never easy, the end of the year provides plenty of opportunities to gather next year's funds. Remember that you're not imposing on your donors — you're giving them a chance to contribute.
Appeal to their emotions with stories that illustrate the impact their money can make. You can also draw attention to the clock ticking to the new year. Your donors only have so much time to make a difference. That sense of urgency affects everyone — particularly anyone who may already be planning to donate before the fiscal year ends.
Establish year-end financial goals
What do you need? Create your nonprofit goals for year-end giving. How much do you need to finance next year's operations and projects? And how much can you reasonably expect to raise?
Review last year's campaigns, activities, and results
You want to build on past successes. Look at what worked well in 2021 for relevant metrics for success. While you can and will improve on those results, they'll help you estimate how much you should request and how you should distribute that ask.
Note your best-performing campaigns as well. Can you repeat them or at least use them as a source of inspiration? Take a more extended trip down memory lane and look at materials from older years, too. There may be forgotten gems that you can mine for 2022 campaigns.
Review where your finances are now and where you'd like them to be
As the new year approaches, it's time to review your report card. How much have you received from nonprofit funding sources so far this year? Is there a difference between where you are and where you expected to be? Have you added things to 2023's plan that you now need to fund?
Your current financial state will shape your objectives concerning end-of-year donations. You can also incorporate these numbers into your messaging. People often respond to concrete, measurable needs. It gives them a framework for giving and its role in your operating budget. It also invites people to share your organization's hopes and even responsibilities.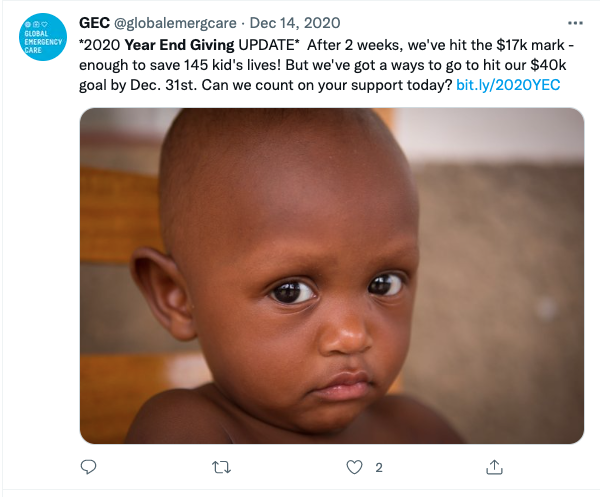 Set SMART goals for the end of the year
If you haven't heard the acronym before, SMART marketing goals are:
Specific. Set a clear, concrete objective.
Measurable. Make sure that you can measure your progress and ultimate achievement. Have a metric such as total funds or the number of new donors to track.
Attainable. Aim high, but keep your ambitions within reach.
Relevant. Match your target to the precise needs of your organization.
Time-sensitive. Have an end date.
In addition to overall goals for the end of the year, set smaller goals for each month or campaign. Break down your ultimate objective into a series of actions that will take you there. Consider building in a little breathing room if some of your campaigns are more experimental.
Plan year-end giving strategy
Once you have your year-end financial goals, you can develop a strategy to meet them.
Determine target audiences
Who is most likely to donate? Let's start with your most obvious resource — established donors. They believe in the good you do. Even people who have already given a lot this year can often find extra funds in their hearts and wallets.
In addition, you want to reach out to anyone who has indicated they're interested in hearing more. Maybe they signed up for your nonprofit newsletter, followed you on social media, or attended a previous event. This is the time of year when potential donors are ready to become actual donors.
You can also appeal to members of relevant communities. These can be former beneficiaries such as the alumni of a school, local businesses, or participants in related interest groups.
Consider channels
How can you reach your target audience? Your nonprofit has multiple channels you can use to contact your target audience. You can reach out to different groups with tailored messages with nonprofit email marketing. For example, send a different email to a monthly donor than what you send to someone who once purchased a t-shirt.
It's also a good idea to run digital ads during the season. They're most likely to be effective. Not in your budget? Google Ad Grants gives away a lot of search ads to nonprofit organizations. See if this is an option for you.
Social media for nonprofits is another option. Put your accounts to work. Post pleas, run contests or raffles, and update your community on your progress.
Consider demographics
What's the profile of your average donor? No group is wholly homogenous, so think about the different people you bring together. Consider their backgrounds and age range.
Nuance your messaging and channels — particularly social media channels — appropriately. The divisions between social media demographics can be striking. Older donors will more likely respond to Facebook appeals, and you have a better chance of reaching younger ones through Instagram, TikTok, or Snapchat.
Decide on potential events
Maybe you throw an annual gala, hit the road with some carols every year, or plan on hosting a charity run/walk before the snow falls. Include any virtual or in-person fundraising events on your calendar.
Do you already have an event planned? If so, how much do you typically raise at such events? Reach or pass those targets with a well-publicized, high-quality affair. Carve out the time for your team to finalize its preparations and spread the word.
If an event is not already in the works, do you have time to create one? While events can be lucrative (and fun!), ask yourself where your resources are best spent. It takes a lot of time and money to put on an event. Maybe you can find a charity sponsorship to help with the cost, but that takes time. Some small nonprofits may be better served by focusing on other marketing campaigns. Your wisest course of action may be to brainstorm some less labor-intensive options.
Take advantage of the holiday spirit and calendar
In some ways, the last bit of the year is the best and not just for nonprofits. Everyone gets a dose of fun in October, gratitude in November, and joy in December. Plus, the upcoming new year can be a source of empowerment for people looking to make a change for others and themselves.
Seasonal themes and designs help you go with the flow. Add some merriment to your website with a cute landing page. Give your email marketing a little flair with holiday email templates.
In other words, do all you can to encourage the holiday — and giving — spirit.
What holidays can you tap into for year-end giving?
Thanksgiving. In the weeks leading up to Turkey Day, express your gratitude to donors. A sincere thank-you paves the way for new asks.
Giving Tuesday. Start making a concerted fundraising push on Giving Tuesday. The well-known occasion primes donors who expect to be asked this November 29th. Don't disappoint them.
Black Friday, Small-Business Saturday, and Cyber Monday. Tap into the spending frenzy that accompanies the days between Thanksgiving and Giving Tuesday. Ask if a local business is willing to donate a small percentage of sales. If they say no, ask them if they instead would help you amplify Tuesday's message, using their social accounts or adding small flyers to shoppers' totes.
December holidays. Depending on the nature of your organization, you'll lean more or less into the religious side of the holidays. However, you can still capitalize on the general trend toward gift-giving and merry-making. Try posting a wish list of the gifts you want. Tell people what you hope to accomplish and the accompanying price tags.
New Year's Eve. Start pointing toward the December 31st countdown clock early. Use it to instill urgency in your donors and ramp up the pressure as the day nears.
Create your timeline
It's never too soon to get started. Announce significant events early enough that patrons can plan them into their schedules and lay the groundwork for clear asks with well-timed updates.
Remind donors of all the good that you do with their money. You can also start looking for opportunities in influencer marketing for nonprofits, contacting potential influencers well ahead of the holidays.
The biggest donation days are Giving Tuesday (Nov. 29th), New Year's Eve (Dec. 31st), and December 30th. Take advantage of these surges.
That doesn't mean you can kick back in the interim. People may give more on those days, but the entire season sees a boost.
Use past years to create a timeline. Know how much you can expect each stage and campaign to generate and keep your organization on track.
Use marketing tools to make everything easier
The holiday season is busy enough for people who aren't in the nonprofit sector. When you add in a year-end giving campaign, the last two months can simultaneously seem too long and too short.
Digital marketing tools can make your mission possible. Use them to plan, create, and track each end-of-year giving campaign.
Segment your email lists
Only send people relevant messages with email list segmentation. This keeps them eager for your communication instead of frustrated by your email volume.
You might separate your email collection into lists for:
One-time donors
Monthly donors
Event attendees
Buyers of branded merchandise
Recipients of service
Volunteers
Staff
Tailor your messages with specific asks and acknowledgments. People are more likely to respond when they feel seen. Tell frequent donors how grateful you are for their continuing support. Ask former recipients — such as alumni — to pay it forward. Remind last year's attendees how much fun they had at your Christmas party.
Create a marketing calendar
When do you need to start posting on Instagram about Giving Tuesday? On what date should your final email about year-end giving go out? When do you need a final headcount for any events — and when do you need to raise your voice about these deadlines?
Think of your marketing calendar as a way to chart the movements of your fundraising drive. Use it to sketch out periods of ongoing activity, significant events, and the creative periods in which you'll develop materials.
Create your campaigns
Craft and schedule ads, social content, and emails. Festive templates will set you in the right direction, and you can customize them to fit your brand.
While your mission never changes, you can shape your campaign message for different demographics. For example, the Audobon Society might underscore long-term environmental concerns for younger donors, reaching them through a platform like Instagram. On the other hand, an email to older donors might highlight educational resources for recreational ornithologists.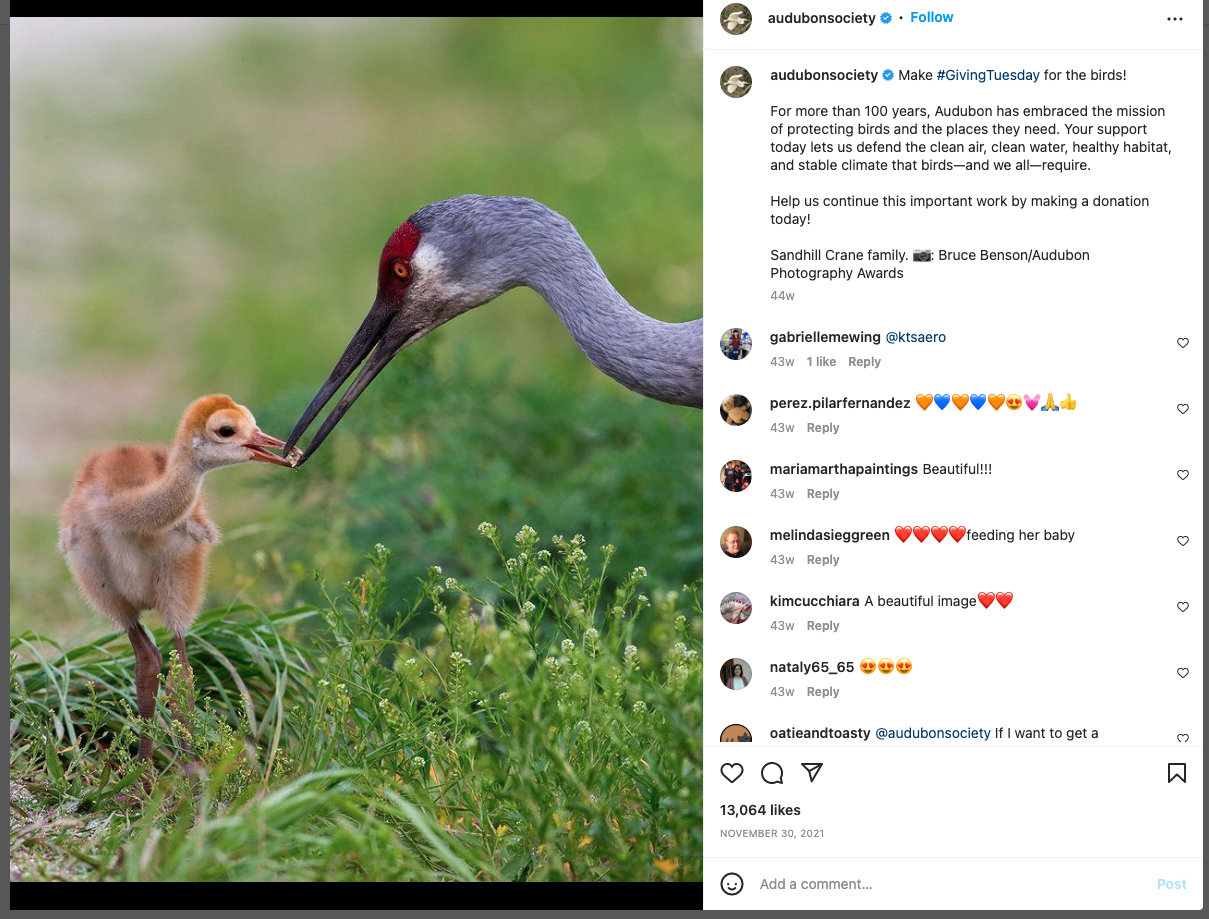 Track your performance
Social media tools allow you to schedule posts in advance, consolidate your inboxes for different accounts, and track the impact of each post. Remember that the relevant analytics won't just help you double down on effective messaging this year. It'll give you information that will contribute to the success of future year-end campaigns.
Pay particular attention to the content that converts. Website analytics should tell you how visitors arrived at any given page. What led them to donate? Email tracking software even let's you know how individuals engage with your emails, allowing you to pinpoint high-impact elements.
Use automation to make email easier
Wouldn't it be nice if you had a capable assistant in charge of sending out emails, following up with recipients, and sending heartfelt thank-yous to donors?
Email marketing automation offers you just that. You can automate emails to long-lapsed donors, event attendees, and generous patrons. Email tools will personalize messages with the recipient's name, and automated replies ensure that your response comes promptly.
In some cases — such as major donations — you'll want to follow up with a more personal note. This is one area where old-fashioned pen and paper can still play a role. But that can wait until January.
Start by figuring out what you need
A strong year-end giving strategy targets the right audience with suitable material through the proper channels. But first and foremost, it requires the right objectives.

What do you need for 2023? Go over your finances, take stock of your current position, and determine what else you need to achieve all your projects for the coming year. Review the performance of past end-of-year giving campaigns to keep expectations reasonable. Then write down your number and place it somewhere you'll see it daily. Keep track of your progress with digital marketing tools and watch your end-of-year giving goals become realities.

Share with your network