One of the most common challenges for healthcare providers today is standing out from the pack. Patients have so many choices, and it's hard to know how you can meet their needs.
Wouldn't it be easier if they told you what they wanted and asked you to stay in touch?
That's what lead generation is all about. In marketing-speak, a lead is a person who has shown interest in a business's products or services and may become a customer — or, in the case of healthcare, a patient.
Did you know that 77% of patients search online for health information before they make appointments with doctors? Generating leads means catching the attention of people who are looking for services like yours and convincing them to stay connected, maybe through an email list or as a social media follower.
This article will teach you how to be there when your future patients look for you. You'll learn how to fix up your website, polish up your listings on review sites, and start a blog. You'll also learn how to leverage healthcare advertising on Google and Facebook. By the time you finish reading, you'll have a plan for getting started.
In this article, we'll show you how to:
Make your website shine
Offer value with blog content
Let Google Ads take your listing to the top
Reach new audiences on Facebook
The next step: Turning your leads into patients
1. Make your website shine
Your healthcare website is your practice's home base online. It should have all the information that a patient might need to decide whether you're the right provider for them. Make sure you have at least the following five pages:
A Homepage
An About page
A Patient Information page
A Patient Services page
A Contact page
Ideally you'll also include a sixth page featuring a blog that provides healthcare content and detailed answers to common patient questions.
2. Offer value with blog content
Google processes more than 1 billion health searches every day — about 70,000 every minute. When someone uses Google to ask a health-related question, a page with various results pops up. The person clicks on the result that they think will be most likely to answer their question, and Google takes them to the host site.
In order to have your content appear on results pages for those searches, you'll have to do two things:
Know what questions your potential patients want answers to
Answer those questions better than anyone else in your field
The best answers in healthcare content are:
Presented by experts
Based on verifiable research
Written in a way that the average patient can understand
When healthcare content meets all of those requirements, it increases a patient's trust in your website — and your practice.
Consider this scenario: A patient asks Google for the potential causes of back pain. They find your blog post on slipped discs. That takes them to some of your other blog posts, and they see that you know what you're talking about. They click on your Contact page and make an appointment.
3. Update (or create) your professional listings
PatientPop reports that 77% of people use online reviews as their first source of information when choosing a new doctor. Those reviews are on health-specific sites like Healthgrades and Vitals, as well as general customer feedback sites like Google My Business, Yelp, and Facebook.
If you haven't yet, claim your profiles on healthcare and business listings sites and fill them out. Each site has directions on how to do this. If you've claimed your listing, make sure that it's up to date and that every field is complete, including the photo section. A photo of yourself, like the profile photos featured on Vitals, helps patients to feel a sense of connection and trust.
On general business review sites like Google My Business, you can add more photos of your office. Having more photos gives patients a feel for your practice and helps them to trust you. Plus, photos help you to get more clicks.
In certain fields, like plastic surgery, you can even add patient photos (with the patient's written permission, of course).
4. Let Google Ads take your listing to the top
If you're not used to digital marketing, the concept of doctor ads can leave a bad taste in your mouth. Let's clear that up right off the bat — advertising on Google isn't grubbing for patients who don't need you. It's about making sure that your valuable services show up where people can see them.
Google Ads are simple to manage. All you do is choose a search phrase that you think potential patients will use, then tell Google how much you'll pay if it lists your ad on the results page for that term. You only pay if someone clicks on the ad.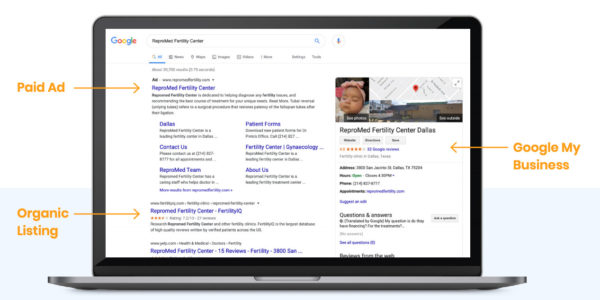 Businesses earn an average of $2 for every dollar spent on Google Ads. They're cost-effective and, with Constant Contact's Google Ads tool, they're easy to create and manage.
5. Reach new audiences on Facebook
The people who are looking for your medical services are probably on Facebook. Around 69% of U.S. adults use the platform, including almost half of those 65 and older. Percentages for other age groups are even higher.
You can and should post organically — Facebook is a great place to announce your blog posts — but when it comes to attracting leads, paid ads are the way to go. You can choose what they look like and even who sees them. For example, if you're a pediatrician, you can target your ads to parents.
Constant Contact's Facebook Lead Ads tool makes it easy to create and manage beautiful lead ads.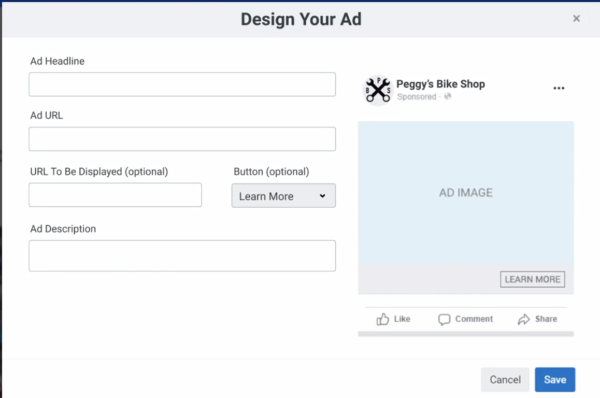 Next steps: Turning your leads into patients
Now that you've learned how to attract more leads through your website, listings, and paid healthcare ads, you can get to work earning the trust of those leads and converting them into patients.

By definition, a lead isn't yet ready to become a client, and that goes for healthcare as much as for any other field. Once someone has indicated an interest in your practice and they want to stay in touch, you need to nurture that relationship and keep giving them valuable information.

To keep in touch with people who join your email list, send them helpful emails regularly. For those who find and follow you on social media, stay in touch by posting news about your practice, links to new blog posts, and information about new discoveries in your field.
For more ideas, check out The Download, our complete marketing guide for healthcare services. It explains digital marketing in accessible language and will help you understand how to best connect with your patients. Remember, the more comfortable you get with online advertising, the more likely you'll be to connect with new patients.

Share with your network