If you don't think your restaurant should offer online ordering, think again. Food delivery revenue grew from $8.7 billion in 2015 to $26.5 billion in 2020, and it's projected to grow another 12% over the next five years.
Still, many restaurant owners don't offer this service because they don't understand how to create online ordering for restaurant websites. So how do you integrate online ordering to keep up with your competitors and offer your customers more convenient dining options?
You can set up online ordering for restaurant websites in one of two ways: by creating an order form directly on your site or by using a third-party app.
How to create online ordering for restaurant websites
If your website is on WordPress, one of the easiest ways to create online order forms is to use the WPForms plugin. A free version is available, but upgrading to a paid version will give you access to a wide selection of form templates. You'll also need to upgrade to a paid version to collect customers' credit card information.
Install the WPForms plugin
To install the WPForms plugin and create your online order form:
Go to Plugins on the left navigation panel on your WordPress admin dashboard. Click the Add New button.
Search for WPForms and click the Install Now button on the Contact Form by WPForms plugin. Click Activate.
Go to WPForms on the left navigation panel and click Get WPForms Pro to upgrade to the paid version. Make sure you also have the Form Templates Pack Addon installed.
Search for the Takeout Order Form template. Click Use Template and create your form. Make sure to include all menu options and prices using the Multiple Items field. You should also include photos of each menu item to help boost sales.
Add the Total field to the form so your customers can see the total price of their order.
Save your form.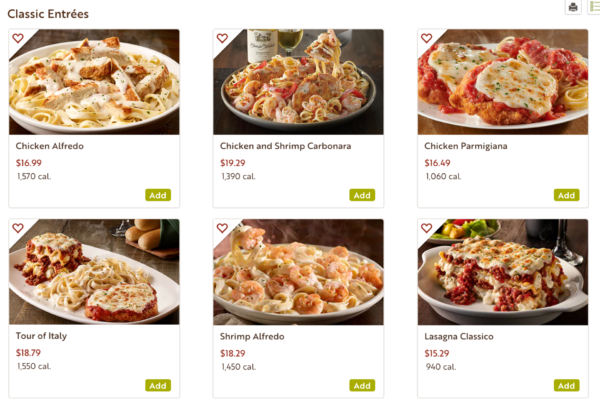 Set up email notifications
Once your form is created, you'll need to set up email notifications. While using Constant Contact is great for sending email campaigns to your customers, WPForms' email alerts will send notifications to you and the customer when a new order comes through.
To set up your email notifications:
Open your form from the WordPress dashboard and go to Settings. Click the Notifications tab.
In the Send To field, add the email addresses for the staff members who should receive email notifications for new orders. Separate each email address with a comma.
Click Add New Notification to set up notifications for your customers.
Click Show Smart Tags and select Email. Doing this is essential so WPForms knows to send the notification to the customer's email address.
Change the email subject, from name, from email, and reply-to email sections.
In the Message box, enter the message you want your customers to see. This could be something like, "Thank you for your order! We have received your order details and will be in touch shortly."
Click Save.
Create an on-screen confirmation message or thank-you page
The next step in creating online ordering for restaurants includes setting up an on-screen notification that the customer will see as soon as their order is placed. It tells the user that the order was successful and prevents them from accidentally submitting another order.
A confirmation page is also a good way to drive traffic to other pages on your site, which can potentially convert them into a new email subscriber or loyalty program member.
With WPForms, you have three on-screen confirmation options:
Message: an on-screen confirmation that appears on the same page where the customer submitted their order
Show Page: sends the customer to a separate thank-you page. You'll need to create a new page first if you want to use this option.
Go To URL: redirects the customer to a different website. This option is not recommended since you'll want to keep your customers on your own site.
‌To set up an on-screen confirmation or thank-you page:
Under Settings, click Confirmation.
Choose either Message or Show Page.
Add your confirmation message or the URL to your thank-you page.
Click Save.
Add your payment settings
Now that your email notifications and on-screen notifications are set, you'll need to make sure you can accept payments online. With WPForms, you can accept payments via Stripe, PayPal, or Authorize.net.
To add your payment settings:
Under Settings, click Payments.
Go to Addons in WPForms and search for the Stripe Addon, PayPal Standard Addon, or Authorize.net Addon.
Follow the on-screen instructions to adjust your settings or authorize the connection between the service and your website.
Embed the order form on a new webpage
Once you've added your payment settings, you'll need to embed the form on a webpage. It's best to create a new page that only has the order form on it to prevent it from getting lost among any other content or images.
To embed your order form on a webpage:
Create a new page titled Order Form or something similar.
Click the Add Form button if you use the classic WordPress editor or the plus sign to add a new content block if you use Gutenberg.
Choose your order form from the dropdown menu.
Click Publish.
Add the order form to your navigation menu
There's just one last step you need to take before your online order form is ready: adding it to your site's navigation menu.
The order form should have its own spot in your navigation menu so customers can easily see online ordering options.
To add the order form to the navigation menu:
In the WordPress dashboard, go to Appearance > Menus.
Select your order form page from the box on the left and click Add to Menu.
Drag the order form to the place where you want it on your navigation menu.
Click Save Menu.
How to create online ordering for restaurant websites using third-party apps
If you're still confused about how to create online ordering for your restaurant website or don't have the bandwidth to do it yourself, you can use a third-party app. There are several apps available, but DoorDash, Grubhub, and Uber Eats are some of the most popular.
These third-party delivery services take away the headache of having to build online ordering forms yourself, but they'll take a commission from each order you receive. The commission varies by service, but it can range between 5% and 30%. Some apps also charge a startup fee.
Setting up online ordering for your restaurant through these third-party apps is simple. For most apps, do the following:
Fill out an interest form on the app's website.
Provide your restaurant's contact information. Some apps will also ask you to provide your estimated weekly to-go orders.
Upload a PDF or image of your menu.
Select how you'd like to receive order information — for example, via email or phone. Most apps will also provide you with a tablet that allows you to retrieve order information.
Add the bank account that you want to use to receive payments and include your tax information, if necessary.
Wait for the app to approve your restaurant, and then start accepting takeout or delivery orders.
If you want an app that can handle online ordering without requiring you to pay a commission, you may want to consider a point of sale (POS) system such as Revel Systems or Toast. You may have to pay upfront for the POS software, but the services don't keep any commissions from your online orders.
Set up online ordering for your restaurant to boost sales and gain new customers
If you're a restaurant owner, learning how to create online ordering for your website is essential. Whether you want to add an order form to your WordPress website or have a third-party app handle the process for you, following the steps in this article can help you boost sales. Plus, it'll keep your customers happy by offering them more convenient dining options.