Whenever I get asked how to make the most of Twitter, I start by saying, "The first thing you need to do is cut down on the noise so you can focus on making connections that will move you toward your goals."
How do you do that? You do it by creating Twitter lists.
Lists allow you to organize Twitter users into groups so you see only the tweets of the people you put on the List.
I go on to suggest creating three lists to start, naming them: Peers, Pros and Patrons. (Hooray alliteration!)
Here's why you need to create Twitter lists for these groups
Peers – This list contains people within your industry that are at about the same level as you. These could be people you already have strategic partnerships with, or people you'd like to partner with. These relationships can prove extremely valuable as you move up in the ranks with your business.
Pros – This list is for the experts or thought leaders in your industry, or the people with businesses at a level you'd like to reach. Use this list to monitor how they're using social media or what they're talking about. What can you apply to your business?
Patrons – This list would contain the people who are already customers or clients, or people you've deemed likely to buy, donate, or volunteer. Watch this list to identify their interests, keep an eye out for any questions being asked that you could answer, and monitor for customer feedback (positive or negative) that you can respond to. Expand on your answers with your own content to drive potential customers to your website and encourage them to join your email list.
Identify and add
Once you have these lists in place you can start identifying the people you should add to them. To start, this is as simple as adding the people you've identified as fitting into one of these categories. As you monitor Twitter and follow the discussions, you'll organically find new people to add to these Lists.
So how do you create a Twitter list? Let me show you step-by-step.

Step 1: Make sure you're logged into your Twitter account. Once you're logged-in, go to your Twitter profile and click "Lists"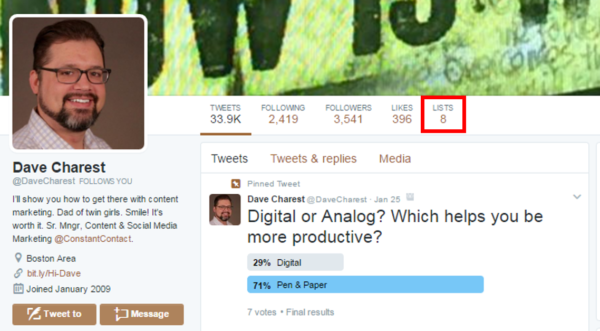 Step 2: Click the "Create list" button at the top of the right-hand column.
Step 3: In the "Create a new list" window, enter the name of your list, a description if you want, set the list to private (this way only you see the list and others won't be able to subscribe to it), and then click the "Save list" button.
Step 4: Add Twitter users to your list. You'll be brought to the page for your new list. In the right-hand column you can search for users you'd like to add. Enter the person's name or Twitter username if you know it, then click "Search." I'm going to search for our managing editor, Martin Lieberman.
Locate the correct account from the search results, then click on the little person silhouette to bring up a menu of options. Click "Add or remove from lists."
In the "Your lists" window, check the lists you'd like to add the person to.
Once the list is checked, that person is added and you can click anywhere off the pop-up window to close it.
Repeat these steps to create new Lists.
To view a specific list, go back to the "List" link in step 1 and select which list you'd like to view. You'll then see only the tweets from those people you've put on the list.
Success!
What about when you find new people to add to the list?

Just click on the gear icon on the profiles to bring up a pop-up window with their information. Click "Add or remove from lists" to add them as you did in step four.
How to easily monitor your new lists

Now you can log in to Twitter and bypass all the noise by going directly to your lists. Awesome.
Looking for more online marketing advice?
Subscribe to our newsletter! Our Hints & Tips newsletter delivers the practical marketing tips and tricks you need to grow your business. Sign up to receive a roundup of our best blog posts, webinars, and resources — delivered straight to your inbox twice each month.