If you're a manufacturing business owner, there's one undeniable fact of your life: you're busy. You've got a lot to do and you're always on the lookout for new ways to do better, be better, and learn more when it comes to marketing your manufacturing business.
The internet is full of options that can help you do just that. There are apps, web pages, platforms, social media sites, and more. But how do you know what to focus on without wasting your precious time?
When it comes to online spaces that can represent your manufacturing business, listings and reviews sites are some of the most important. Learn more about what they are, why they matter, and how to best manage them to the benefit of your company and its digital marketing efforts below.
How do you manage business listings?
Sometimes, your listings are automatically generated and other times they're created by customers. Business owners like yourself are able to control these listings by claiming them and then using them to your advantage.
How to claim a listing depends on where it's listed, but the most important place to look is on Google.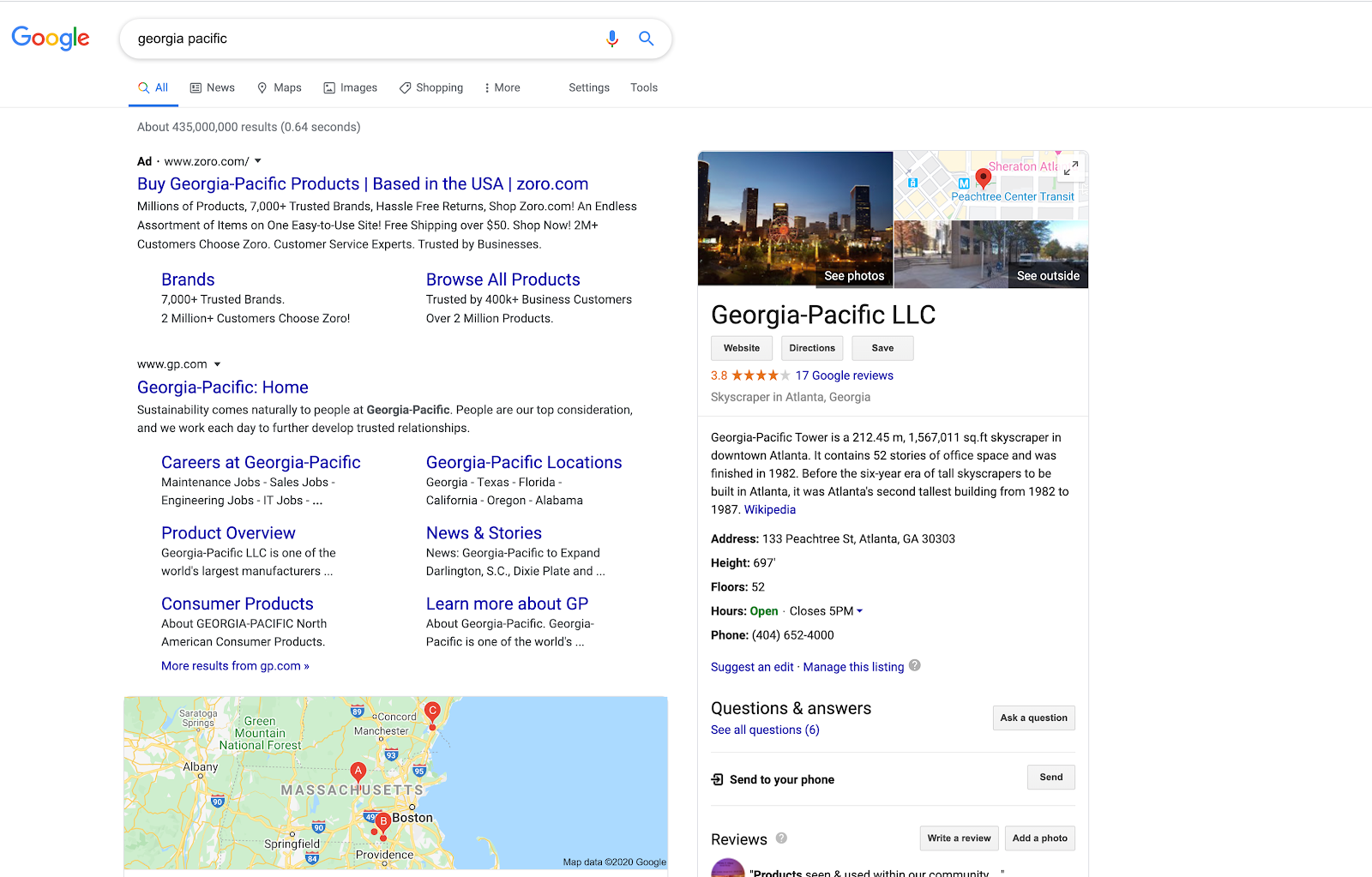 TIP: Check out Google's step-by-step guide to claiming a business listing for your company on their platform.
Business listings help you make sure that potential customers are finding accurate information and sharing their unbiased opinions. The last thing you want is for someone to find incorrect information, as it could cause you to lose business.
These listings are important search engine optimization tools, as they link back to your manufacturing website, as well as additional ways for people to find you directly.
What listings sites should manufacturing companies be on?
There are a lot of different listing sites out there. The two where you absolutely need to have a presence are Google Business Profile and Facebook Business. These two are relevant to all industries, manufacturing included, and are accessed by all.
There are other, more niche, listing sites you should look into as well. Using these will depend on your businesses' unique offerings, but they all offer benefits to companies in the manufacturing and processing space. A few of these sites include:
How do you manage customer reviews?
You can't manage customer reviews by deleting any that are negative. What you can do, however, is follow a few important rules of thumb that relate to all customer relationship and online listing management.
Pay attention to what people are saying. Don't let reviews sit in the void. Seek them out, track them, and learn from them. One of the simplest ways to do this is by setting up a Google Alert for mentions of your business or important related terms.
Respond to all reviews. You should respond to all reviews, not just positive or negative ones. This shows that your company isn't afraid of dissatisfaction and, instead, is always actively working to solve any problems that might come up.
Make sure you're fully aware of the rules for any listings or reviews sites you're using. Not all sites operate the same. Fully review their terms of service before using any listing site to save yourself potential headaches down the line.
Ready to get new manufacturing deals and repeat business — all in one place?
How does a business manage Google reviews?
Reviews on Google are submitted and processed through the Google Maps tool. If you want to directly read the rules yourself, you can find them here listed under the Maps User Contributed Content Policy. You can also just keep reading here, too, because I'm about to give you the rundown.
Here are the do's and don'ts of managing your business's Google reviews:
Things you should do:
Be respectful any time you decide to reply to a review. Remember, negative reviews are coming from customers. Wouldn't you rather make an effort to repair your relationship instead of making things worse?
Request reviews from existing customers on an individual basis. Remember, you're not allowed to solicit in bulk, but that doesn't mean you can't request reviews on a case-by-case basis.
Things you shouldn't do:
Any of the following things that are listed as not allowed within Google's review content policy:

Discourage, delete, or prohibit negative reviews
Only solicit positive reviews from customers
Offer anything in exchange for reviews, including but not limited to money or services
Solicit reviews in bulk

Post reviews from the same IP address the original Google Business Profile page was created. This can cause your listing to be red-flagged. If a customer wants to write a review while visiting your office or factory, ask them to use their mobile phone or wait until they're on their home network.
Allow employees to submit reviews. This is a no-no. I know you've seen other companies do it, but you'll almost always get found out by Google.
How do you ask a client for a review?
This one is pretty easy to answer. There's only one word: nicely.
The fact of the matter is that, even if you wish they did, a client doesn't owe you anything beyond the payment for your product or service. You're not allowed to offer them anything in return for their review for risk of having those reviews taken down, so what do you do?
Talk to them. Make them feel appreciated. Go out of your way to offer the best possible service as quickly and reliably as possible. Connecting with your customers and respecting both their time and experience is your quickest route to the positive reviews you're seeking.
Final thoughts
Interested in learning more about reviews and listings and how they can be a part of an active, successful digital marketing plan for your manufacturing company? You're in luck. Check out The Download: Making Sense of Online Marketing for Manufacturing, a Constant Contact sponsored guide to everything you need to know on the topic – all in one understandable, easy-to-follow package.
Get Our Free Marketing Guide for Manufacturing
Our comprehensive guide to online marketing is packed with accessible, practical tips to help you get more leads and grow your business.

Share with your network