The world of technology services moves faster than just about any other business. With all the work you have to do to keep up with the latest standards and software, building up your digital marketing strategy might seem like more trouble than it's worth.
It can be intimidating trying to figure out how to market technology services in today's fast-paced marketplace, but there are plenty of tools you can use to step up your digital marketing services. Here are five powerful ways you can strengthen your brand and grow your customer base.
Tools and advice to help you find clients for your web development, IT, or computer systems design business.
1. Your website
First impressions can make or break new business opportunities, and that's especially true online. Based on data from the Hinge Research Institute, 87% of potential clients rule out a business based on its website — and they make this decision within about 15 seconds.
If visitors don't get a good first impression from your site they'll simply move on to your competitors. So how do you entice them to stay?
Make finding information easy
Your website is often your first exposure to a new potential customer, so make sure it delivers exactly what they're looking for. The best websites establish a business's credibility, authority, and ability to solve the customer's problem.
If a visitor can't get an answer quickly from your website, they aren't going to call you to figure it out. They'll move on, and you'll lose out on the sale. To keep customers engaged, make sure your website has:
A simple, attractive layout
Up-to-date information
Consistent branding
Easy navigation functions
Optimize for mobile
More than half of all website traffic comes through mobile devices. Optimizing your website for these devices is important to ensure a positive user experience, allowing potential customers to easily navigate your site, read your content, and share it with others.
Provide a better mobile experience by incorporating best practices like:
Fast load time — less than two seconds is a good goal
Streamlined navigation
Large, legible text
Images and video content that adjust for screen size
Include a clear call to action
You've fought half the battle by keeping a potential new customer's interest focused on your website — so now what?
A call to action is a clear prompt that motivates a visitor to take actionable next steps. CTAs on your website can also enhance other digital marketing strategies you're using, motivating visitors to read more blog posts, sign up for your newsletter, or share content on social media.
2. Content marketing
Your web presence tells your audience what you can do, but your content marketing shows it. Effective content can be packaged in different ways:
A unique blog that helps solve customer problems
Guest posts on industry blogs or websites
Video content like tutorials or how-to guides
Webinars promoting your business solutions
This content helps to establish a voice for your business that better connects to and drives engagement with new customers, using your expertise to solve problems your audience is trying to solve.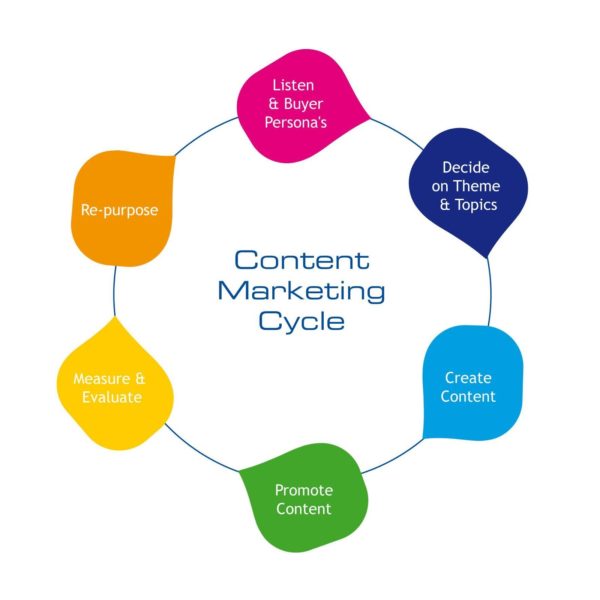 By regularly publishing new educational content, you innately:
Reach new people who aren't even searching for your website
Establish your brand as an industry authority
Promote your own company's solutions and products
Retain customers by adding value to their loyalty to your business
A consistent content marketing strategy boosts the efforts of your overall digital marketing efforts as well. Search engines prioritize websites that feature new, relevant content, and social media users are more compelled to share useful content among their own networks, extending your marketing reach organically.
3. Email marketing
Direct communication to your base builds loyalty and sustained trust in your brand. It allows you to personalize your message on a more individual level, adding value to the customer's relationship with you while keeping your business at the forefront of their mind.
The beauty of email marketing is that it's fully customizable. You can employ different techniques and strategies to reach the right screens, keeping the conversation going long after a lead has left your website.
Email marketing campaigns connect with subscribers consistently through:
Welcome emails with invitations to connect on other platforms like social media
Blog updates that drive dialogue
Automated emails triggered by user activity on your website
Done strategically, email marketing develops the infrastructure for customer retention, and turns missed opportunities into stronger relationships with your audience.
4. Social media marketing
People trust recommendations from their peers over branded content. Today, this word-of-mouth exchange has moved into the online space. By joining the conversation, you can establish your company as a trusted peer.
Each of the major social media channels has its own personality. The site where you focus your marketing efforts depends on your target audience.
Our own research shows that LinkedIn is the preferred social channel for buyers and sellers in the technology services industry. Leverage your presence on this platform by linking to your blog content or announcing new products and services.
Facebook, on the other hand, is where companies connect on a personal level. The platform appeals to early career professionals who look for brand authenticity and culture when making purchasing decisions. Use this platform to drive awareness of what you do and invitations to connect. Other platforms like Twitter or Instagram add their own value to digital marketing campaigns that may amplify your strategy.
If you can only manage one social media site at this stage, don't worry. Get your foot in the door with a LinkedIn or Facebook page, then scale your efforts as you get comfortable connecting online.
5. Search engine optimization
Over 2.5 quintillion bytes of data are added to the Internet every day. It can be easy for your posts to get lost in all that data, but with effective SEO strategizing, your message can come out on top.
SEO, or search engine optimization, is about getting your content seen by the right people. It helps tell search engines like Google that your website is trustworthy and that it provides an answer to questions people are asking online. The better your SEO, the higher up on the search engine results pages your website will rank.
To maximize your site's SEO value, be sure to use these best practices when crafting any new piece of digital content:
Crawl accessibility: Figure out which keywords your audience is likely to use to find you, so that search engines can identify your content as relevant.
Compelling content: Does your content answer the customer's question? If not, they'll click away from your site, which tells search engines to drop your visibility in search rankings.
Consistency: It all comes back to relevance. Search engines prioritize regularly updated websites and love new blog content.
Shareability: Nothing encourages reach more than user engagement. By sharing your content, users are doing the search engine's job for it — indicating that your brand's content is accessible, compelling, and relevant, boosting its profile.
The takeaway
Effective technology services marketing doesn't have to be complicated. You can boost your customer acquisition with:
A professional website
Content strategy
Email marketing
Social media presence
Leveraging search engine optimization
Using these five digital tools to market your technology services business helps you meet your audience where they are, while providing consistent and helpful answers to their questions, and stay on their mind through ongoing engagement.

Need more guidance? Take a look at The Download, our comprehensive guide to technology marketing, to learn more about how to use these strategies to reach — and secure — a wider customer base.

Share with your network