Potential clients spend their days online. In fact, 97% of them use the internet to learn more about local companies, and 88% call or visit one of the businesses they've researched within 24 hours.
Whether you need to build an insurance agent website or are looking to redesign, today's tools make web design easier than ever. You can find out how best to execute your website design with the tips below.
Find more leads and drive policy renewals with expert marketing advice and all the tools you need, all in one place.
Getting started: How to create an insurance agent website
If you want to improve your success as an insurance agent, you must have a strong website. The very first step is to choose your platform. You can use a website builder or a content management system (CMS) to help with the design. If you know how, you can hand-code the site.
A website builder allows you to create with ease. You'll select from pre-designed templates that you customize to fit your business style. This option can be very inexpensive and works well for someone with no design experience.
A CMS offers flexibility because you choose your theme and drop in the content you want. You can use it regardless of coding ability, as it offers access to both design and coding interfaces.
Hand-coding gives you more control over the site, but it requires you to know coding languages and site design best practices. If you lack the experience but still want complete control over your site, you can hire a web design specialist.
Your vision, confidence, amount of spare time, and budget all factor into which option will work best for you. Once you've made a decision on the platform you want to use, it's time to start organizing the components.
Building the site: 6 must-haves to include
Every insurance agent website should include the following elements, though they can be executed in a way that makes the most sense for you:
Homepage. Tell people who you are and what you do. Your homepage is the front door of your site and should be attractive with high-quality images and clear details.
‌About page. Introduce yourself and your staff. Highlight the experience and philosophy that differentiates you from your competitors.
Services page. Tell potential clients what you offer. They'll want to know that you can meet their needs before they take the step of connecting.
Contact page. You can use a header or footer to display this information on every page, but you should also have a dedicated page that repeats this information and offers people a short form they can use to message your company. You might also add an option for scheduling appointments.
‌Social media links. Provide links to your social media sites, which should appear on every site page but should not have a dedicated page.
‌Email opt-in. Use your website to grow your email list. Visitors may not be ready to commit to a plan, but get them to join your community with an email opt-in form, that appears in a small dialog box on each page.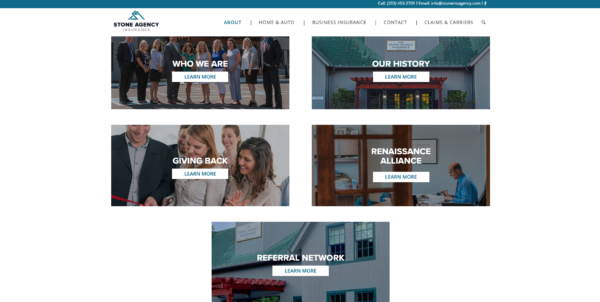 Optimizing the site: User experience, calls to action, testimonials, and SEO
Once you have the building blocks, you want to optimize your insurance agent website. It should be attractive and informative in a way that appeals to both visitors and search engines.
These days, bots give Google the cues it needs to rank your site on search engine results pages. Below are some tips to help you do just that.
1. Include testimonials
Positive reviews inspire consumers to trust your business, making it vital to manage your online ratings and reviews.‌ You can and should incorporate customer testimonials on your insurance agent website. A few genuine endorsements can influence visitors to give your agency a chance.
2. Practice SEO for your business
Search engine optimization (SEO) will help Google's bots to read and rank your site appropriately, encouraging the search engine to show your website to potential customers. Google's algorithm is incredibly complex, but basic SEO is easier than you may think.
Here are a few things you can do:
Incorporate internal links. These hyperlinks connect the pages of your site to one another.
Incorporate external links. Link to directories, non-competitor research, or affiliates using these.
Make sure that you have backlinks to your site (hyperlinks on external websites). You can start with review sites, Google My Business listings, press articles, and personal sites.
Optimize keywords. Prominently feature search terms for which you want to rank with a search engine.
3. Make it easy to use and navigate from any device
In other words, you want to refine your site's user experience (UX), which is crucial. You want to build an insurance website that visitors can access with zero frustration and find the information they need as efficiently as possible — no matter what device they're using.
Google takes UX factors into account in its algorithm, rewarding sites with positive ranking.
Your site should be:
Mobile-responsive
More than 50% of all internet traffic is conducted on a mobile device, and that number is growing. You need a mobile-responsive site, which changes the layout to suit whatever device is being used.
Quick-loading
Every second of load time reduces your conversion rate. Slow-loading websites are frustrating, so make sure that you improve site speed by reducing image size and site redirects.
Clean and clear
Keep two basic website design principles in mind:
Less is more.
Important information should be visually prominent.
Organize your site for concise content. Keep what is absolutely necessary and cut the rest, unless it adds extra appeal in some way. Ensure that the menu is easy to navigate, as well.
Using the site to grow your leads: The importance of email marketing
When visitors arrive on your insurance agent website, they should see a clear call to action (CTA). It can be to join your email list, give you a call, or download your white paper. Choose one and feature it on the homepage along with a direct link or form that'll help them complete it.
I strongly recommend that your CTA tie into your email marketing strategy. It is the most effective marketing channel for small businesses — the average return on investment (ROI) for email marketing is $42 for every $1 spent.
If you're looking for ways to encourage people to sign up, know that over 75% of people will share their information in exchange for a white paper. Offer a guide that addresses a common concern or area of confusion in exchange for email contact information.
Seizing the moment
Now that you know how to build an insurance agent website that leads to conversions, you'll be miles ahead of the one in four small businesses that still don't have a website. Start building your insurance agent website today, and learn more about best practices for online marketing in The Download.

Share with your network