Chiropractic care is projected to grow by 3.2% over the next five years. Marketing for chiropractors helps you stand out from the competition and get you noticed. In this guide, we'll cover:
‌Why you should be marketing your practice
‌Where to market your practice
‌8 chiropractic marketing strategies
‌How to get started
We make it easy to build loyalty with patients and clients, drive referrals, and grow your center.
Why you should be marketing your practice
Mobile use is on the rise. An estimated 5.22 billion people worldwide are using mobile phones, and they are using them to find businesses. Each month, companies get 1.5 billion visits just from Google searches.
‌Digital marketing for chiropractors puts your business in front of these users. According to the American Psychological Association, 84% of people experienced stress-related emotions in the past year. High stress levels and long work hours can lead to neck pain, back pain, headaches, and other issues you can treat as a chiropractor. Effective marketing will help these people find your practice and get in touch.
Where to market your practice
Affordable marketing solutions exist for practices of all sizes. If you're just getting started, focus on marketing channels that build awareness. If you've been in business for a while, start with tools that help you strengthen client relationships. Digital marketing tools you can use include the following.
Search engine optimization (SEO)
SEO helps your practice rank higher in search results. Start by conducting some keyword research. Brainstorm some words and phrases clients would type into a search engine to find your practice. This could be anything from "chiropractor near me" to "walk-in chiropractor."
Look through competitor websites and write down words and phrases that come up frequently. To search these sites for various phrases, you can push Control+F on a PC or Command+F on a Mac. Use your research to optimize your website for SEO.
Search engine marketing (SEM)
Another way to get your site to the top of search engines is to pay for it. Google, Yahoo, and Bing all offer pay-per-click (PPC) ads you can use to place your company in the top tier of search results. You will only pay for the clicks you receive, and you can set your desired budget range. Your listing will appear at the top of the search results with a tag identifying it as an ad.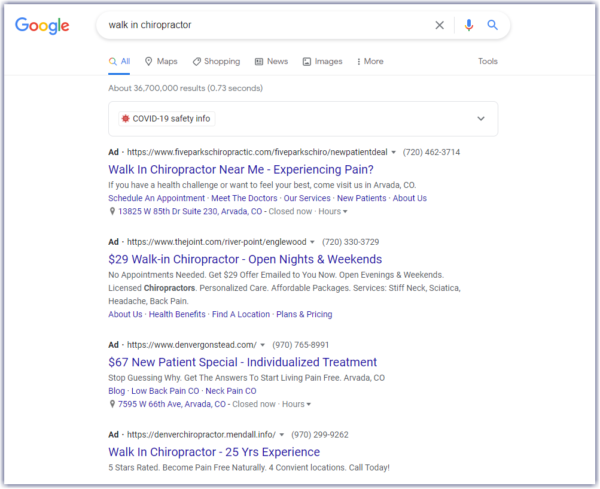 Email Marketing
Once you've established your practice, it's important to keep in touch with your existing customers. Good relationships help you establish your credibility and improve your chances of getting referrals.
Add a contact form on your website to collect email addresses from potential patients. You likely have your existing patients' contact information on their intake form. Add a box on this form where they can sign up to receive messages from you. Then use email marketing to engage them through monthly newsletters, announcements, and other messages.
Social media
Sharing relevant information through social media lets you engage with current and potential clients. Create engaging posts that appeal to your client base and use hashtags to make your messages more visible online.
Marketing for chiropractors: 8 tips
Now that you are familiar with some of the digital tools available, here are some tips on marketing for chiropractors.
1. Automated email messages
You don't have to spend hours drafting personalized follow-up emails to your clients. Set up a series of automated emails to send in varying situations. These can include welcome messages for people who sign up for your newsletter, appointment reminders, and even happy birthday messages.
Email templates like those offered by Constant Contact make this process easy.
2. Social media ads
Take engagement to the next level with social media advertising through sponsored posts on Facebook, Instagram, and Twitter. Using social media, you can put your sponsored posts into the feeds of people who might be interested in your services.
Use your business Facebook account to manage your ads. Choose a format such as a picture, a video, or a carousel of multiple images, and choose your target audience. Next, create your ad. Once it has run, you can use the analytics dashboard to see how many people clicked through to your site.
3. Retargeting messages
Sometimes, potential clients will visit your website, start to book an appointment, and then leave. Retargeting messages let you nudge them back to your website. You can set up a pop-up or an automated email message asking, "Still interested in booking an appointment?" This message should contain a link that directs recipients to your scheduling platform.
4. Add a pixel to your website
Another way to collect user data from people who visit your site is to add a pixel. A pixel is a piece of code that lets you gather information from people while they're on your website. It helps you better understand your target audience so you can direct your ads to the right groups of people.
5. User-generated content
Posting high-quality content inspires your audience to share your posts. When you share blog posts, videos, and photos, add hashtags in the description, making it easier to share. People may also quote your article or blog post in their posts and backlink to your website, introducing you to their customer base.
Ask adjacent care professionals to collaborate on shared blog posts.
6. Client testimonials
When people look for a new health provider, they often read reviews and ratings. Use your email list to ask people to rate and review your practice. Ask your customers to post feedback on social media, Google, Yelp, and other platforms. Client testimonials also improve your SEO, making your website more visible.
7. Optimize your website
Revamp your website for SEO and mobile responsiveness. Many potential clients in your area use their smartphones and other mobile devices to research care providers. If your website is hard to navigate on these devices, you could lose business to a competitor whose website is more responsive.
Start by conducting an SEO audit of your site with automated tools you can find online. Note the recommended changes and incorporate them into your text. Next, evaluate your site's interface and make sure it's easy to navigate. Have a friend or family member look at your site on their phone if you're not sure.
8. Start a referral program
Even in a predominantly digital landscape, word of mouth is still one of the best ways to advertise. Start a referral program with your existing clients. Offer them a discount or some other incentive for every successful referral they make. You can apply the discount after the referred patient's first appointment.
How to get started
Marketing for chiropractors doesn't have to be complicated. There are many digital tools at your disposal. Start with your website. It is your primary marketing tool, so make sure it looks good and is user-friendly.
Once your website is optimized and easy to find, start your marketing efforts at your own pace. Add a contact form to your home page and use it to collect email addresses. It might take some patience to figure out, but digital marketing will help you generate more new leads and grow your business.