Writing the best nonprofit email subject lines may seem like a small detail in your overall outreach efforts. But email marketing campaigns are now a vital part of fundraising and subject lines have the power to make or break your campaign.
The average person receives more than 120 emails each day. To handle that overloaded inbox, most of us scan the subject lines and ignore or delete as many messages as possible.
The subject line will largely determine whether your email ends up being read or not. It's simple: if no one opens your messages, it's hard to build a community among your donors and supporters or run successful email donation campaigns.
Read on for a crash course on how to craft the best nonprofit email subject lines so that your messages get read and your campaigns hit their marks.
What makes a great nonprofit subject line?
The best subject lines will speak directly to your target audience. Your subject should be intriguing or promise a benefit to your reader — but without feeling spammy.
Your tone should be friendly, authentic, and in line with your organization's brand.
How to write the best nonprofit email subject lines
Although every subject line should be unique, there are a few guidelines you can follow to find success.

Stick to 6–10 words
Emails with a subject line of 6-10 words have the highest open rate at 21%. Shorter subject lines, at 1-5 words, have the next highest open rate at 16% — but that's a pretty steep drop.
When the subject line is more than 20 words, the open rate falls to below 10%. Presumably, readers interpret a wordy subject line to mean that they can't trust you to edit yourself and respect their time.
Personalize
Using personalization in email subject lines is an easy way to boost your results. Simply including the recipient's first name can increase open rates by 22%.
You can also personalize your emails by creating audience segments and using a slightly different subject line to suit each group.
Use powerful verbs
If you're aiming for a subject line of 7–8 words and one of those words is the recipient's first name, there's no room for fluff. Every word must matter.
To start, eliminate weak verbs and substitute them with strong action words. Instead of weak verbs like "to be," "to have," and "to go," aim for stronger, more descriptive choices. For example:
It's our anniversary = We're celebrating!
Help us go to the Capitol = Help us convince our lawmakers
Thank you for your help = We treasure your support
Here are some more examples of potent verb choices that can pack a lot of meaning into a single word:
Govern
Journey
Amplify
Advise
Serve
Smash
Fight
Crave
Devour
Envelop
Choose descriptive nouns
Powerful verbs should come with descriptive nouns that will resonate with your audience. If you feel like you need to use more than one adjective, your noun probably isn't specific enough. For instance, replacing the phrase "young energetic dog" with "playful puppy" reduces the word count and conjures a more vivid image.
Also, keep in mind that many of the words that make up the default language of the nonprofit world are very dry to outsiders. People won't automatically support an "exciting new program" because the word "program" is inherently not very exciting. However, they might love to support an idea or an innovation.
Another example is the word "client." Internally, it's a respectful way to refer to the people you serve, but to your donors, it may sound weirdly businesslike. You can still be respectful while using more generic terms like children, teens, youth, or simply "the people we serve."
Be concrete‌
People are much more likely to open an email if they feel like it will give them specific, actionable information. Numbers, time frames, and details help make your subject line more concrete. With that in mind, which email would you be more likely to open?
"How to Reduce Waste in Your Home" OR "6 Tips to Create Less Trash this Weekend"
Words to include and avoid
There are a few words that have a proven impact on open rates — but they shouldn't be used liberally:
Free: This enticing word increases open rates by 10%, but use it sparingly so you don't sound like a spammer.
Urgency words: Words and phrases like "this weekend," "right away," and "now" increase open rates by 22%.
Only add these words if they honestly describe the content within your email. Tricking your readers and overpromising them something through a misleading subject line will only damage their trust in you.
On the flipside, you'll want to avoid using the following in any email subject line:
Fw: Emails that appear to be forwarded are 17% less likely to be opened.
Newsletter: Avoid using this word — it drops open rates by 18.7%.‌
The best nonprofit email subject lines
For inspiration, look back at your email sign-up form. What were people hoping to read about when they joined your list?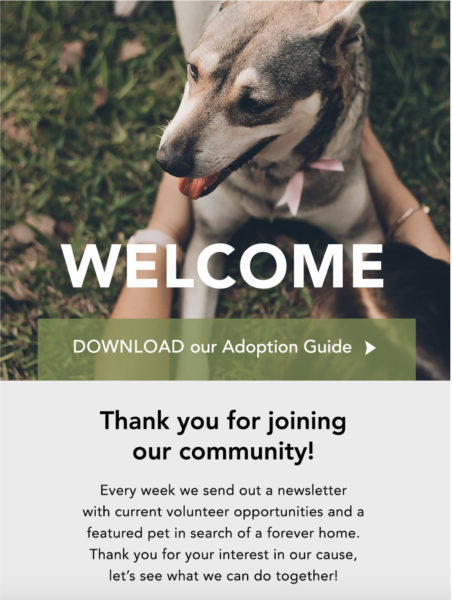 Below are some examples of subject lines that hit all the right buttons.
Nonprofit newsletter subject lines
While people don't want to read newsletters, they still love to receive news. Tease your lead story or appeal to the reasons they signed up for your newsletter in the first place:
Hot Scoops! The Latest News from [Your Organization or Community]
7 Ways to Fight Crime in Your Neighborhood Now
5 Things Your Donation Made Possible This Month
Three tragic stories with happy endings
Donation subject lines‌
When it's time to ask for donations, make it urgent, specific, and all about the impact:
With your help, we can save a hundred dogs before the end of the month.
We can't do this without you. Will you join us today?
Congress is about to vote — we need your support to protect [issue].
Thank you subject lines‌
Gratitude messages are a great opportunity to bond with a new donor. Use the subject line to make the donor feel good. Instead of "Thank you for your donation," try something like:
You just made a huge difference
You are a hero
Welcome to our family
Nonprofit email preheaders
The preheader is the text that appears next to the subject line in some email programs. It gives you a little more space to hook people into your message. Think of the preheader as a tagline that helps you sell your email to the reader. Mobile inboxes typically display 80-100 characters, so aim for 6-11 words.
In order to make sense in an inbox, your preheader should relate to your subject line in some way — but that doesn't mean you can't introduce a second idea. Just start with the word "also."
If you can think of a way to make the preheader about the reader, do it. For instance "You could be a hero to this dog" or "You hold the power to make her dream come true."
The preheader is a great place to include the recipient's name if you weren't able to get it in the subject line.
How to know your email subject line is a good one
Email subject lines are vital for helping you get your messages read. Practice creating subject lines that are brief, personalized, concrete, and filled with powerful word choices.

The best way to measure the success of your work is to monitor your open rate. Constant Contact offers full reporting so that you can review the performance of your past subject lines and see what works best for your brand and audience.

Check out our free nonprofit marketing guide to learn more about digital marketing for community and nonprofit organizations. You can also explore nonprofit email marketing metrics to keep an eye on.

Share with your network