There are so many social media platforms out there today and everyone has a different opinion about which platform is best for your business.
As a marketing consultant, you probably dabble in all of the big social media sites for your clients but, which ones do you use for yourself?
Pinterest might be one of them.
This colorful social media platform is a great way to drive traffic back to your website and get even more exposure for your business. The question is…how do you use it as a marketing consultant? Most people will tell you that Pinterest is mainly for B2Cs (Business to Consumers) but, there are plenty of ways that B2Bs (Business to Business) and specifically marketing consultants can use Pinterest to grow their reach and drive traffic back to their site.
Below you will find 4 examples of how Constant Contact's Solution Providers (our version of Marketing Consultants around the country) use Pinterest to their advantage.
1. Drive back to your content
Who: Shelley Roth
What: Driving back to your original content is a great example of how any B2B can use Pinterest. This platform gives you one more place on the internet that your current and prospective clients or customers can find your content. Pinterest can also help build your SEO (search engine optimization) and it allows videos. This is just one example of how Pinterest is a great way to drive traffic back to your website or original content.

2. Showcase your expertise
Who: Romona Foster of Admin Tech Consulting
What: As a Marketing Consultant, one of the most important things you can do is prove to your prospective clients that you know what you're talking about. By creating "boards" around your specialty and expressing your knowledge through "pins," you can really showcase your expertise. Romona, Social Media Trainer, does a great job at showing her knowledge by offering over 60 tips on how to use Pinterest and just using her Pinterest account correctly…bonus!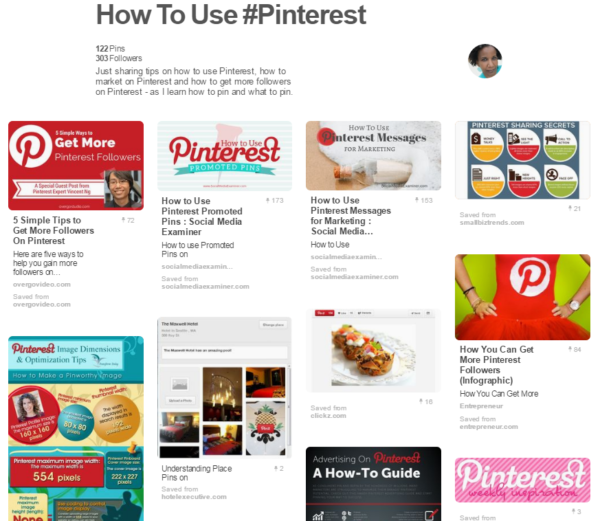 3. Let your personality shine through
Who: flyte new media
What: Pinterest is a great place to let the personality of your brand shine through. Social Media is unique because it allows you to have a little more fun than you would in traditional advertising and the name of your business may get in front of more people just from others "repinning" your fun content. So get out there and enjoy yourself!
4. Show off your current clients
Who: BJC Branding
What: One of the best ways to convince your prospective clients or customers that they should go with your business is by highlighting the fabulous work you've already done. By creating a board with your current clients and projects, you not only get to brag about the work you've done but, you also have the opportunity to drive more traffic to your client's websites. This is a win-win in my book.
Give it a try
There are many ways B2B's can use Pinterest to gain even more exposure and traffic to their brand and website. As a Marketing Consultant, you have a unique opportunity to use Pinterest to showcase what you've done, what you know, and why prospective clients should choose you.
Don't feel confined by the "norm" either. There are many ways you can use Pinterest to brand yourself and your business as well as stay top of mind.
Go ahead…dive right in…and let us know how you're using Pinterest for your business in the comment section below.
Share with your network