Point-of-purchase marketing is messaging delivered to customers after they've already stepped inside your store. When you have a brick-and-mortar location, the majority of your marketing efforts aim to get people in the door. That's a worthy task, but it's not enough to capitalize on conversions.
Research shows common reasons customers leave stores without buying anything:
Couldn't find the product they came for (67%)
Product wasn't available or in stock (66%)
Long checkout lines (51%)
Customer service or lack thereof (39%)
What can you do to make sure browsing shoppers don't leave empty-handed? Enter point-of-purchase marketing.
Ready to do more business with email marketing?
What is point-of-purchase marketing?
Simply put, point-of-purchase marketing entices customers to buy something they didn't know they needed or wanted. It's an effective tool that you may notice many stores using for cross-selling and upselling.
Visual marketing with product displays and signage
Impulse buyers have point-of-purchase marketing to thank for grabbing something they didn't intend to pick up in the checkout line. Grocery stores in particular have this form of marketing down to a science.
Years ago, it may not have been called marketing, but forcing customers to pass by cold drinks and candy bars at checkout is intentional. Seemingly random product displays at the end of aisles are also placed there for a specific reason.
This goes well beyond the grocery aisles. The product displays and signage in any store are also point-of-purchase marketing strategies, whether customers realize it or not.
Branches of big retail stores typically receive marketing materials from their corporate offices. They're instructed how and where to place products, often with pictures of a mock store floor set for reference. It's effective and enhances their brand awareness and customer experience. You can go across the country and see similar displays and signage at big retailers at any given time.
Small businesses can successfully use point-of-purchase marketing as well, with a bit of inspiration and creativity.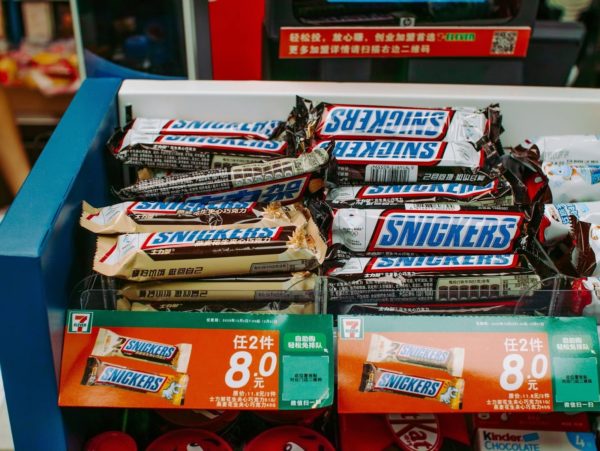 Product samples and demonstrations
National grocers and retailers like Trader Joe's and Sam's Club are known for having product samples out on the floor. It's definitely a point of purchase marketing tactic to try for small businesses.
It can also extend past food samples. Letting customers try a product like hand lotion could be effective, especially if it's a limited edition or seasonal scent. Combining the sample experience with signage promoting a discount or special on the product further increases your chances of closing the sale.
It's best to have only one or two sample varieties. Too many options to choose from can be too much work for customers passing by who aren't prepared to make that many decisions.
If your products are non-consumable, demonstrations can be equally effective. If an in-person presentation isn't possible, run a video demo on a loop as part of the product display. For example, a black and white color-changing shirt looks like a plain black and white shirt until it's exposed to light, when a colored design emerges. You'd be doing your business a disservice without a light on the display to reveal the changing design — or a promo video that effectively shows it.
Field marketing
Field marketing is a hands-on point-of-purchase strategy that puts boots on the ground. The beverage industry seems to have mastered this. Red Bull, types of beer, and other beverage brands are known to send company representatives out to restaurants and bars. This approach might be considered event marketing or a public relations tactic, but it's really point-of-purchase marketing.
When people are sitting or standing at a restaurant or bar, it's comparable to someone stepping foot inside a retail store. In fact, people who enter bars and restaurants are very likely to spend money just by stepping inside. Picture a group of friends sitting around a high-top table watching a game at a bar. They all plan to stay for the whole game, order some food, and have a drink or two.
Field marketing reps come equipped with branded swag and go table to table. They often provide drink samples or encourage customers to answer trivia questions to try to close the sale. Some incentives to try:
Buy the beer or beverage you sampled and get a free branded T-shirt (come with a range of sizes on hand).
Answer trivia questions about the brand for an incentive.
Sign up for company communications or alerts.
Enter a contest with a sizable cash giveaway.
Pop-up shops
‌There are a few effective ways small businesses can use the method of a pop-up shop to drive sales. The first is to set up a pop-up-style product display in your own store.
The second idea is to partner with another small business in your community. It's a great idea to partner with a business whose product offering complements yours, but it's not 100% necessary. It can revolve around cause-marketing efforts if you're passionate about something in your community.
Out-of-stock product solutions
Remember how 66% of customers reported leaving a store empty-handed because the product they were looking for wasn't in stock? This presents a major opportunity to serve customers with a positive brand experience.
Communicate this policy with in-store signage, but have the message cross multiple channels like newsletters, email announcements, receipts, and landing pages. Every time someone sees something about your company, your brand awareness and reputation are nurtured, even if it's the same message or reminder over and over.
Here are some examples of retail brands that handle stock issues effectively:
The item needs to be in stock at another store location or a warehouse for this to work. If a product is on backorder and/or isn't accessible at all, even a store manager can't place a special order for a customer. Offering to order a replacement or similar item you don't even carry would go above and beyond to ensure a positive customer experience.
Training and utilizing your staff
As noted earlier, 49% of customers have left a store without making a purchase because of poor customer service. Your staff should be trained to help drive point-of-purchase marketing with strategies that make sense for your brand and industry. It will vary drastically from industry to industry and company to company, but it comes down to understanding your target audience.
Some shoppers will leave early if store employees approach them too aggressively. Others develop sour feelings toward the brand if they're not greeted by someone as soon as they walk in the door. One unpleasant interaction can make or break a customer's perception of your brand and products, but so can one pleasant interaction. You know your customers best. Teach your employees the importance of point-of-purchase marketing efforts.
A bookstore is a great example of a retailer that can use in-store marketing. Signs in front of a book saying "[Employee name] highly recommends!" with a picture or short note about the book could get people to stop. Offer incentives for employees to increase product/brand knowledge or have a competition among workers to encourage this. Staff who can't effectively answer shoppers' questions could cost you the sale.
Can point-of-purchase marketing be used in ecommerce?
Ecommerce can be a little bit different in that people browse and online shop for multiple reasons with varying intentions. You have them on your site, but you don't have them in your store. Still, there are point-of-purchase marketing strategies that make sense for online shopping. Customers who put items in their cart on your ecommerce site are about as close as it comes to being in a store.
Offers during checkout
Pop-ups are an effective digital marketing technique. Set up a pop-up that launches directly on the checkout screen with a free shipping offer. Saving an extra couple of dollars might be all that's necessary to close the sale. Offering free shipping at the exact decision-making moment reduces the chance of the buyer abandoning their cart.
Another technique is to have pages or pop-ups appear before the final order confirmation page. The U.S.-owned and operated small business Baby Teething Tubes has mastered this point-of-purchase marketing technique. If a customer completes all checkout steps for one teething tube, they'll get a prompt to add another at a discount such as 50% off. To opt-out and get to the order confirmation, customers have an option to click "no thanks."
You can take it even further by asking more than once and upping the offer each time a customer says no. Something along the lines of adding three more teethers to your cart for the price of one, partnered with strategic marketing lingo, can help close the sale.
Here are a few sample key phrases to try out:
Last chance!
One-time offer
Are you sure?
There's no going back
Abandoned cart messaging
Roughly 88% of online customers abandon their carts. Luckily, marketers across industries have taken advantage of this and flipped it to a point-of-purchase marketing strategy. If the customer who abandoned their cart entered their email address at any point while shopping, brands capture the information and send messages aiming to complete the sale.
Some examples of subject lines for abandoned cart emails include:
Did you forget something?
Grab it before it's gone
You left something in your cart
We're holding your cart for you
Would free shipping sweeten the deal?
Are you OK?
Humor can be an effective tactic here, but make sure it aligns with your brand voice and guidelines.
As more and more brands launch SMS messaging programs, abandoned cart text messages are increasingly popular. It depends on user preference, but text messaging can seem more personal.
The most effective abandoned cart SMS messages have an offer or discount and a direct link to the cart to get buyers to come back and complete the purchase. This involves fewer steps than going to your inbox, opening an email, clicking the "Show Images" button, and then finally reading the message.
Live chat for customer questions during checkout
You can utilize and train your in-store staff to help close sales, but what can you do with ecommerce? A good solution would be to have live chat available so that customers can get answers to questions that may be hindering them from officially checking out.
This is easier said than done because it takes time and resources to monitor a 24/7 chat. But don't let that overwhelm you, especially if you already have a chat functionality — automated or live — in place. Do a test period where you have live chat available for a few hours and see how customers respond.
Here's a tip: Start with hours when your brick-and-mortar shop is closed. It gives customers a way to reach you when they can't call or stop by, and they're more likely to shop online during off-hours.
Is your ecommerce site optimized for mobile use?
‌‌If a customer is trying to shop on a mobile device, they may have every intention of making a purchase. However, if you don't have an ecommerce site optimized for mobile, they could get frustrated or annoyed and not complete the checkout process. This could involve abandoning the cart, but it's also possible that shoppers won't even get that far in the buying process.
While there are countless advantages to online shopping using smart devices, it comes with its challenges:
‌Small screens with text that's difficult to read
Checkout form fields to enter text with tiny keyboards for typing
Having to enter a credit card number with a traditional keyboard rather than a numeric keypad
Being forced to create a customer account before buying anything
Biggest overall opportunity in point-of-purchase marketing
Many customers buy products in-store and shop online. What about being online while shopping inside a store? Are customers doing this? The answer is yes, nearly half of them do. And in fact, there's a positive correlation between people using smartphones in brick-and-mortar stores and them returning to stores.
This is an opportunity you can take advantage of, if you know what they're looking for. Here are some of the top reasons reported, according to a 2019 PYMNTS study:
46.8% look for discounts or coupons
43.3% look up product information
33.6% compare prices
‌A new app or section of your site with resources for in-store shopping isn't something many companies have in place… yet. Talk to your customers and find out what else they'd like to see when they're on their phones in a store.
Enhance the customer experience by making the info that you know in-store shoppers are looking for easy to access, concise, and attractive on a small screen. Get ahead of the game now. By the time competitors catch up, you'll have worked out all the kinks.
Start point-of-purchase marketing now
The great thing about point-of-purchase marketing is the possibilities. You know your store, website, and customers better than anyone else. Start small if you need to and try some different ideas. Measure data and analytics with a trusted platform, so you know what's working and what isn't. And don't give up if something is ineffective the first time. Just keep trying new things and soon you'll see how point-of-purchase marketing can boost that bottom line.