As a real estate agent, you have the opportunity to tap into a platform that hosts billions of users worldwide when you utilize Facebook ads. Additionally, real estate clients who use the Constant Contact Facebook Ads Tool report an average of 44 leads per ad, at an average cost-per-lead of $2.44.
Numbers talk, and these numbers say loudly and clearly that Facebook ads work for real estate agents and that Facebook is a great place to gain exposure to new leads. But how do you reach them? This article will show you real estate Facebook ad examples to help you launch your next marketing campaign.
We make it easy for you to have a growing and connected client base with all the marketing tools you need, synced to the tools you're already using.
5 real estate Facebook ad examples
1. Making the home buying journey approachable
This Facebook ad from Nelson Team Real Estate is a great example of a simple ad that works on multiple levels because it includes the following elements:
Bright professional imagery
This ad pops from the screen because of its vibrant colors and pleasing aesthetic. With its picturesque blue skies and flawless green lawn, this photo is selling the audience more than a house — it's selling a slice of every home buyer's dream. Using bright photos taken by a professional photographer can make all the difference in your Facebook ad.
Positive language
The language you choose in your Facebook ad can have a major impact on your audience's experience. This ad invites potential clients in with an encouraging opening line: "Your home search has never been easier." This makes the home buying process — which can be stressful for many clients — feel approachable and positions you as their support system.
This is reinforced by the final call to action (CTA), "Let our website help you find the perfect place to call home." Using a friendly imperative statement — "Let us help you" — invites prospective customers to enjoy your services.
Targeting local audience
This ad effectively targets its local audience by encouraging them to "Search all Santa Ana Homes for Sale." In addition, you can target your Facebook ads by location using the Special Ad Category to specify your audience. What you need to know about these Special Ad Categories is they provide powerful tools for finding your perfect niche.
2. Appealing to a specific demographic
Beyond generating posts that grab attention and investing in Facebook ads, it is important to tailor your ads and content to a target audience.
These examples from Flyhomes have clearly been designed with specific demographics in mind. Flyhomes has effectively approached design from two unique angles:
Being a resource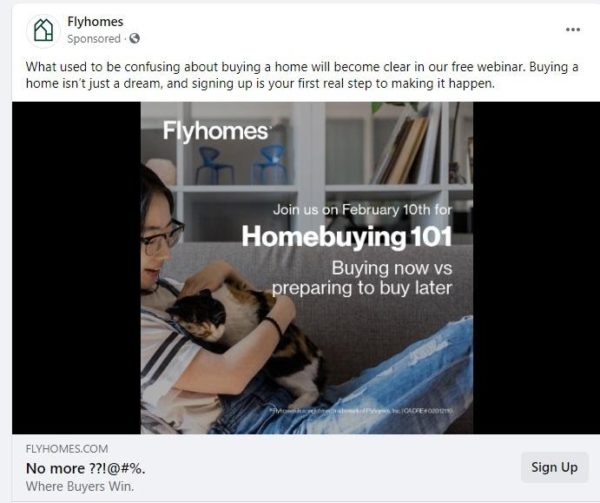 In this ad, Flyhomes invites its audience to check out their free webinar, "Homebuying 101." This not only provides prospective clients with actionable resources they can use to start the home buying process, but it also acts as an effective lead magnet — building a connection and gathering information about a potential customer. Through continued relationship building via email marketing campaigns and more, these customers are likely to use Flyhomes's services in the future.
Appealing to multiple demographics
In this carousel-style ad, Flyhomes appeals to people from multiple demographics. One ad features a young couple with a dog, while the other features two small children — both units may be first-time home buyers. These images are important because they tell a story and invite the audience to position themselves within it. This ad could appeal to individuals who relate with the families in the ad as well as those who aspire to be a part of these demographics.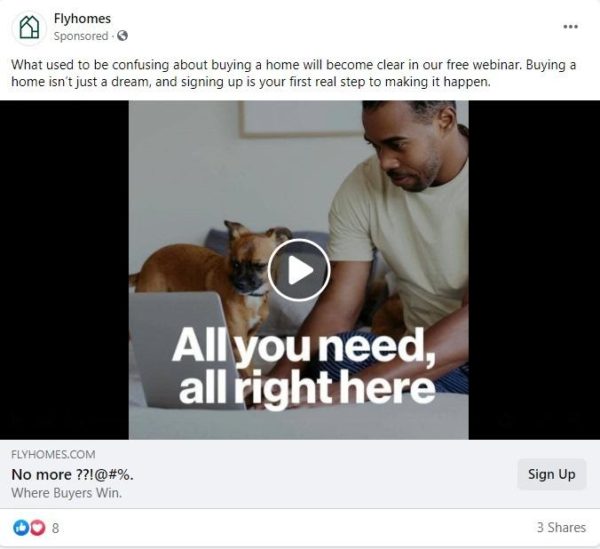 In this final ad, Flyhomes appeals to younger, potentially single home buyers. This angle is strengthened by the well-placed, adorable dog and the clever tagline, "All you need. All right here." This conveys both the convenience of Flyhomes's services and a positive message to audience members who might see themselves reflected in the ad. All you need — you, yourself, and maybe a dog — is already here! You can start your home buying process whenever you want! This message acts as a powerful CTA for the target demographic, which is most likely single young adults with a substantial income.
3. Leveraging exclusive access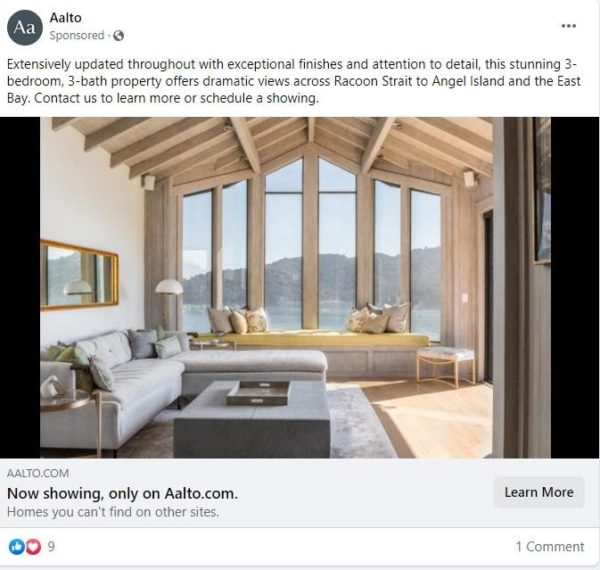 Some customers love to feel like VIPs. Fortunately, you can create the effect pretty easily in your ads.
This example from Aalto is effective in invoking a luxury-home angle. Beyond the stunning photography of what is clearly a gorgeous high-end home, Aalto highlights the exclusive access they provide: "Now showing, only on Aalto.com." If a potential client was interested in the striking views of this Bay Area home, they would have to contact Aalto. This acts as a powerful CTA for the right client.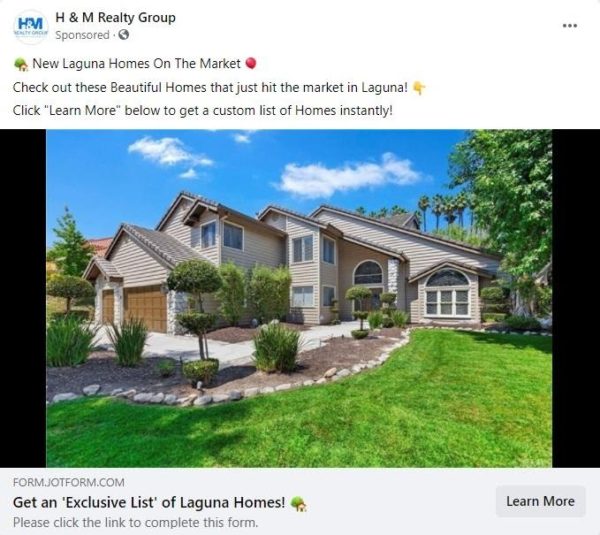 In their ad, H & M Realty Group offers an "exclusive list" of homes that are available in the area. This resource would be useful to potential homebuyers who are more than likely scouring this particular area for homes. By positioning themselves as an asset to potential clients, H & M is more likely to convert an audience member to a paying customer.
4. Being timely and relevant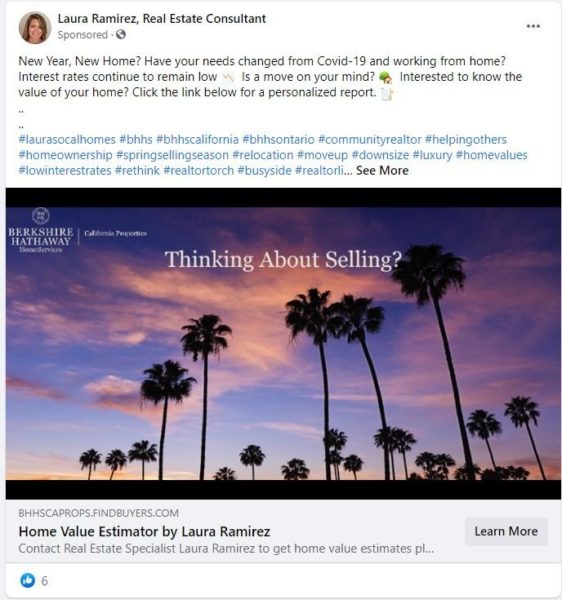 "Have your needs changed from Covid-19 and working from home?" Consider how many people that question appeals to! This ad from Laura Ramirez, a real estate consultant, harnesses the power of the current times. While Covid-19 is a particularly influential hallmark of the present, tailoring your ads to current events and even marketing for upcoming holidays can have a major impact on your potential clients.
With its dreamy imagery and its use of questions to engage the audience — "Thinking about selling?" — this ad seeks to inspire clients to take action. It latches on to the uncertainty of the moment and uses it as a motivator for selling a home and utilizing real estate services.
5. Creating a compelling call to action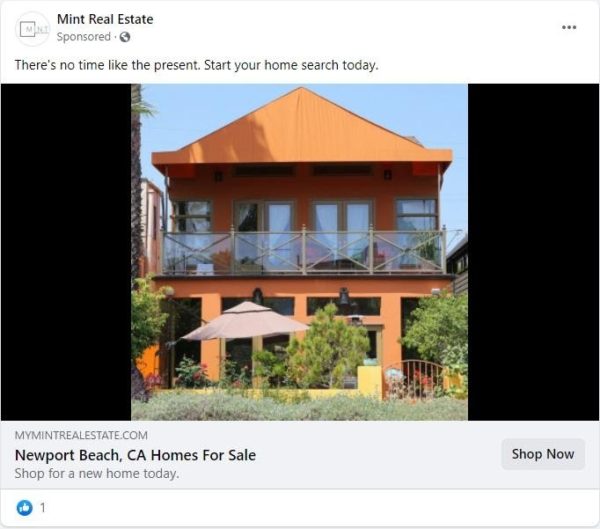 With the Facebook ads tool, it has never been easier to create an impactful ad for your real estate business. When you design your next campaign, remember to including a compelling call to action. Mint Real Estate catches the potential lead's eye with vibrant imagery and a captivating CTA, "There's no time like the present. Start your home search today."
While this statement is somewhat general, it capitalizes on the individual audience member's current state of mind. Feeling ready for a change? Dragging your feet on making a commitment? Looking for your new home? This CTA would be inspiring for clients in a wide range of mindsets. The bottom line is this: be creative when creating your Facebook ad! Appeal to the heart of your client's wants and needs.
Takeaways
Now that you've seen some effective real estate Facebook ad examples, are you inspired to generate your own? If you want to learn how to integrate your Facebook ads with your well-designed website and your newest marketing campaigns, check out The Download: Making Sense of Online Marketing for Real Estate, a free marketing guide for real estate professionals or If you would like, take a look at out Email Marketing Guide for Real Estate Agents.

Share with your network