The summer sun has waned, and people are eager for the first hint of freshly fallen snow. At a time when it can seem like there's nothing exciting to do, skiing and snowboarding provide an exhilarating experience. In the 2019 to 2020 season, more than 51 million people visited ski resorts across the United States. Digital ski resort marketing can help you attract skiers and snowboarders in your area, convincing them to learn more about your resort and potentially buy a lift ticket. Read on to learn:
‌Why your ski resort needs digital marketing
‌Common ski resort marketing tools
‌Marketing basics
‌Where to begin
Get the expert marketing advice and tools you need to increase visits and word of mouth.
Why your ski resort needs digital marketing
Across the country, 37 states offer ski resorts to the public, with New York featuring the most at 51. This means that you're up against some pretty stiff competition as a ski resort owner.
Digital marketing lets you expand your brand presence to reach winter sports enthusiasts in your area and around the globe. If you're operating a smaller resort, you can use marketing to stand out among well-known, high-volume ski destinations. Use these marketing tools to help improve your visibility and draw more skiers and snowboarders onto your slopes.
Common ski resort marketing tools
If you're thinking about revitalizing your ski resort marketing strategy, these essential tools will help you get started.
‌Search Engine Optimization (SEO)
SEO is the most important digital marketing tool for improving your visibility. SEO involves adding keywords and phrases to your website, social media pages, and anywhere else you have a digital footprint. These keywords make it easy for potential visitors to find your site using search engines.
Ski resort website
Your website is your primary marketing tool. SEO helps people find you on the internet, and your website is often people's first exposure to your brand. Your website should be visually appealing, informative, and easy to navigate. Important information and features like your hours, directions to your resort, and the option to purchase lift tickets should be prominently displayed and easy to understand.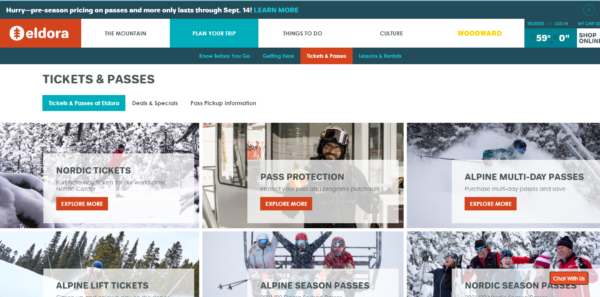 Email marketing
Ski resort marketing isn't just about getting people onto your lifts; it's also about making sure they want to come back. Stay in touch with interested visitors and previous guests through email marketing. Sending out regular newsletters and automated messages lets you connect with your guests.
Send out a monthly newsletter with snow conditions, exciting sports events at your resort, local attractions, and any other updates you think readers will find interesting. Use your email list to send promotional offers like weekday discounts or deals on equipment rentals.
You can automate a welcome email message to send whenever someone buys a lift ticket with directions and a parking guide. Send a follow-up email a week after someone visits your ski resort, thanking them for their visit and asking them to stay tuned for promotions and other deals.
Social media
Use apps like Facebook, TikTok, Instagram, and Twitter to boost your online following. The ski and snowboard industry is perfect for content marketing since your product is picturesque and entertaining. Develop a content marketing plan to determine what you will post. Add hashtags in the descriptions like #Snowboarding, #skiing, or #wintersports.
You can help ease the nerves of your novice visitors by posting short tutorials featuring your instructors, so they know what to expect from lessons. Highlight people having fun on your mountain by sharing videos and encourage your guests to tag you in their own social media posts. Make sure you follow your own hashtag on Instagram and Facebook to see when people are posting about you.
Paid ads
Ski resort advertising is no longer limited to offline opportunities. You don't have to guess which billboard placement will get you the most visibility. Use paid ads on Facebook and Instagram to target potential visitors in your demographic and generate new leads.
Facebook and Instagram ads are managed through Facebook Ads Manager, which you can access through your business Facebook profile. You can create posts and select your target audience. Facebook and Instagram will put your ad into various user feeds based on your filters. You can even choose to target people by their demographics, location, or interests. These ads look like normal posts, but they include the word "Sponsored" in the description.
If you're not sure what to do, Constant Contact offers tools and templates you can use to create Facebook and Instagram ads. Use templates to create test ads and run them against each other with a small audience. Facebook lets you set up your budget based on the number of impressions. You can test an ad for a few dollars.
Marketing basics
It's tempting to jump in and start marketing without a plan, but having one in place will improve your chances of running successful campaigns. Before you start, outline your goals and objectives. Are you interested in generating brand recognition? Do you want to attract more repeat business? Your objectives will help you identify relevant messages and the best channels to promote them on.
Do some market research before creating your plan. If you have data on your past guests, use it to develop your marketing strategy. Looking through past bookings will help you get a sense of which demographic each program appeals to.
You can also research your competitors. If you have access to industry data showing their customer bases, use it. If not, look through their social media pages to get a sense of their followers. Knowing where you stand in the market can help you differentiate your ski resort from the competition.
You might find that one of your competitors is popular with tourists. In this case, you might choose to market yourself as the best option for locals and create ads that appeal to skiers and snowboarders in your surrounding area.
Maybe you have a large terrain park that's popular with visitors looking to practice tricks. Market yourself to these users. Post videos on social media showcasing people practicing on your rails or your halfpipe. Appeal to parents by writing a blog about terrain park safety.
Where to begin
Start your digital marketing journey by creating a strategy. Look through your business plan and outline your marketing goals and objectives. When you've nailed down your desired position among your competitors, do some keyword research, and use SEO to start branding yourself with your chosen position.

Next, look through your website and make sure it's well designed and user-friendly. Look at it on multiple devices, including mobile, so you can see what your customers will see.

Marketing your resort doesn't have to be tricky. Taking a solid step, like creating your marketing plan and building on it with small steps, will help you achieve your marketing objectives in no time.

Share with your network