Starting a fitness Instagram might be the missing piece to your business. And if you're not familiar with Instagram, the fast-moving pace may seem a little daunting. However, having, managing, and maintaining a business Instagram account is a lot easier than you think, and you can get started today.
This guide will answer your questions and explain how to make a fitness Instagram that goes viral.
Ready to find more customers and get expert fitness marketing advice, all in one place?
Why choose Instagram?
Instagram is a social media platform with over 1 billion monthly users. The platform is based upon images and micro-videos and members can follow people and see all the images they post — in real-time.
Since the platform is based around images and videos, with a massive amount of traffic, it's a no-brainer for fitness and health businesses that can post images of healthy meals, body mechanics for proper exercise movements, and before and after images of clients.
Who should make a fitness Instagram?
Every gym owner, personal trainer, studio owner, or yoga instructor needs a fitness Instagram. It's one of the easiest steps to building your brand and establishing a wider reach.
This is especially useful for people who offer online content. Since Instagram is a global platform, you can reach customers across the world. If you sell classes, nutrition plans, or lessons online, this is great news.
By tapping into the global market, your profits will soar. It's an easy form of digital marketing that will help your fitness business.
People who run brick-and-mortar businesses can also get a boost to their business, as well. They can target people based on their location and build a strong following.
4 steps for starting a fitness Instagram
Here are the steps to follow to create your business account. Later, you'll learn the tips and tricks for how to run it.
1. Getting started
First, download Instagram on your smartphone or navigate to https://www.instagram.com/.
2. Signing up
Click "sign up" and use an email address or phone number to get started. Fill in the information in each box and submit the form.
3. Switch to business account
When you're set-up, hit the gear icon, which takes you to your settings. Click on "Account" and navigate to the bottom of the list. Click "Switch to business account".
If you already have a Facebook business account, you're all set. Otherwise, you'll need to make one on Facebook with your company's name, professional fitness logo, and information about your brand.
4. Add some content
Before you wrap up, you need to add 10 to 15 posts. People will only follow an account that has some posts, so it's a good idea to pad your account before searching for followers.
Make sure the posts are relevant. Later in this article, you'll learn what to include in these posts.
What to include in the bio
Your bio is the blurb of text next to your name. When someone navigates to your page, they'll see your image and your bio. Your bio is the heart of your fitness marketing on your Instagram account.

Your bio has a limited number of characters, so you'll have to be concise. Even so, you'll definitely want to include the following in your bio:
Your business name
First and foremost, you need the name of your business clearly visible. You can also use the name of your business as your profile name to further promote your business.
People need to be able to recognize your business.
Your location
Where are you located? This doesn't matter so much for digital companies, but it really matters for physical locations.
Be general, since people viewing your site won't all be locals. Say your town and state or what city you're near. But, there's no need to put in your entire address. If someone wants to know exactly where you're located, they can always go to your website.
A link to your website
The primary function of your Instagram is to direct people to your fitness business website. So it's critical that your bio contains a link to your website.
In general, you should link to your homepage. Allowing the visitor to choose where they want to navigate from there.
What you do
Are you a yoga instructor, personal trainer, CrossFit wizard, or are you home to the Fit Squad?
A quick word or two is all that's needed but it's not a bad idea to include any professional associations, specializes, or certificates you have as well. For example, are you a Bishram yoga instructor, are you certified or licensed? This type of additional information helps to give followers a clearer picture of what you do.
A memorable line
With your remaining characters, put together a memorable line. It should be in line with your brand and voice. If possible, go for something quirky, funny, or quotable.
The best-case scenario would be a bio that's interesting enough to have people screenshot and show their friends.
Things your fitness Instagram needs
With the bio covered, it's time to understand the rest of your profile. These are things that you need to include in your Instagram account to find success.
An attractive profile picture
Every time you post, your profile picture and name will accompany your post. When people go to your page, your profile picture and bio will be at the top of the page.
Your fitness page should showcase an attractive profile picture that draws people in. This could be a selfie, your business logo, or a shot of your team. This is a good place to show off your body and your physique.
Since the profile picture is relatively small, make sure the shot is easy for anyone to recognize. They should be able to tell at a glance that your account is a fitness business.
A distinct brand voice
From post to post and within your bio, you need to use a distinct brand voice. Since this is Instagram, you can go for a more informal, conversational tone, but the voice needs to stay in alignment with your overall brand.
It's important to remember that the voice you use on Instagram needs to be the same one used on other social media platforms, in your emails, and on your website. If content on each platform sounds like it's being created by someone different not only will you appear unprofessional, but it will also be shocking to your followers. Consistency is key.
Memorable captions
Your captions can make or break your post. Every image or video you post comes with a chunk of text that you put in, called the caption.
Captions will help get engagement with your post, promote your website, and use hashtags to get more viewers.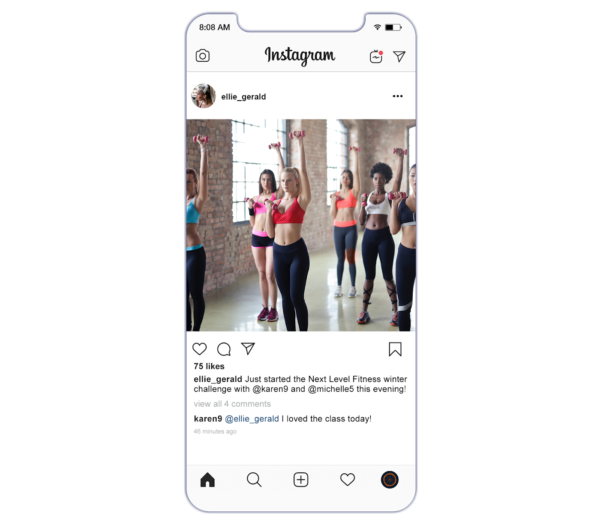 Hashtags
It's time to talk about the power of a hashtag. On Instagram, a user can look up a hashtag to see content within that niche.
Things like #fitness, #workout, and #gymbody are common hashtags in the world of fitness. People commonly look up these hashtags, so it's wise to include comparable hashtags.
How does it work? When a user looks up "workout", they'll see a list of posts that use that hashtag. If your post is there, you have an opportunity to get interaction with your post. This could mean a "like," a comment, or a follow.
These types of interactions can broaden your reach as followers of your followers start to see your content on their feeds.
Consistent posts
Posting consistently is the key to a well-run Instagram account. You don't want to overburden people with posts every hour, otherwise, they'll unfollow. A post every few days is frequent enough to help get eyes on your business without going overboard.
If you're in the early stages of starting a fitness Instagram, you may want to test different post times to find out when your posts get the most engagement.
The right account managers
You can give multiple people permission to use your Instagram account. But, it's a good idea to brief everyone before giving them access to your account. Remind them to stay consistent and keep up your brand's voice.
Having multiple account managers makes it easier to keep up with the interactions. They can respond to comments, put out content, and follow people back. So, think about assigning each individual a specific task on the account. One person is in charge of workout posts, another is responsible for responding to comments, and so on.
Make sure you trust the account managers because they can make or break your account. An account manager can delete the entire account if they feel like it, so choose wisely.
Use your Instagram Stories
An Instagram Story is a temporary image or video that gets posted to your Instagram profile. It stays in the Stories section, rather than your permanent profile. It will be viewable for 24 hours and then go away.
You should have at least one post on your Stories at all times. When someone finds your profile and clicks your profile picture, they will view your Stories. You can add captions, links, filters, and effects to these posts.
These are a great place to showcase promotions, show yourself working out, and add links to your website.
What to post
The success you find after starting a fitness Instagram always boils down to your posts. Here are a few examples of what you can post:
High-quality, attractive images
The focus of your account should be to post high-quality, attractive images. This could be images of food, your gym, trainers, or flexing selfies. Using the right fitness imagery trends will get you more interactions.
As people scroll through their feed, you want them to stop on your post and interact. No matter what kind of post you're putting up, you need to make sure the quality is high. Blurry photos are never desirable.
Workout routines
A lot of people find success in starting a fitness Instagram account just to show workout routines. Since workouts are easy to showcase through a short video, Instagram is the perfect place.
Take a video of a single workout and post it on your page. Add a caption explaining how to do the workout and put some music in the background.
The video should be simple, and there shouldn't be any distractions. Try to shoot it facing a wall so the viewer only sees the workout instructor.
You can put together a series of these posts that show the correct form and reps for any workout.
Meet the staff
To add some personality to your account, make sure you introduce your staff. Put up a smiling selfie and a quick blurb about who they are, what they do, and why you're so excited to have them on the team.
Of course, this applies mostly to clubs, studios, and gyms, where the team will interact a lot with members — both on and offline.
Recipes and meal plans
Similar to workout videos, showing recipes and meal plans is a great way to gain the right following. People are following you because they want to look like you and achieve their perfect body.
Again, the video should only focus on the food being made. A popular style to shoot these videos is a birds-eye view of the counter. Edit the video so there's no wasted time. Add music to the background and put captions on the video that explain ingredients and quantities.
You don't have to be a nutritionist to put together these types of posts. If you know how to eat healthily, then you can share your expertise.
Sponsored posts
From time to time, you might get an opportunity to put together an ad for another company. These sponsored posts will debut a product, software, or service that fits within the health and fitness space.
Try to balance your sponsored and unsponsored posts you do so you don't lose your followers' interest. Promoting a product like resistance bands, protein shake powder, or apparel could work well for your followers.
Interesting fitness facts
One way to get followers is to introduce interesting facts about fitness. This establishes your knowledge in your industry and adds authenticity to your profile.
You want to make posts that are interesting enough for people to tag their friends and share the information with others.
Quick fitness tips
Similar to the fitness fact is a quick fitness tip. For example, this could be a post explaining the true form of a bicep curl. This post might also highlight the do's and don'ts of fitness and health.
Again, you want something short and shareable.
How to grow your fitness Instagram following
There are two simple ways to grow your following on Instagram. The previous tips and tricks about starting a fitness Instagram come into play here, but these two factors haven't been discussed yet.
Adding back followers
The industry is split on whether or not you should follow back everyone who follows you. There's something respectable about a business that only follows a handful of relevant people.
This won't stop you from gaining followers — it will just determine how people perceive your profile.
If you follow everyone back, they'll think that you're highly interactive. If you only follow a few fitness pages, then you'll look like an industry leader with authority.
Interact with your followers
Whether or not you follow people back, you need to interact with your followers. When they comment, you should reply when applicable.
If someone direct messages you, try to answer it as quickly as you can. The more you interact with your followers, the closer they'll feel to your company. You're creating a tight-knit community surrounding your business.
Conclusion
Now you have the right information for starting a fitness Instagram for your business. This account can help you connect with the right people and increase your revenue. Whether you're an individual or a massive gym, you need to have a fitness Instagram account. Get more information about marketing your fitness brand with this free guide.

Share with your network