‌For small business owners in all industries, networking is a proven way to grow. Those who operate in the tech space know that competition is fierce. Attending tech events is a great way to supplement your online technology services networking with others in the industry while learning about and trying all of the latest in technology. These events let you exchange and generate new ideas and connect with potential new clients and investors. These insights help you keep up with — and get an edge on — the competition.
In this article, we'll explore what your business can gain from a tech event, how to attend and navigate an event in-person or online, how to incorporate tech into your own event‌, and the top 10 tech events from 2021/2022 to look out for.
What a tech event does for you and your business
‌Every industry offers an abundance of in-person and online conferences. You should plan your schedule to attend those events that add the most value to your business, including relevant tech conventions. Attending a tech event:
Introduces you to new technology
Allows you to network
Serves as a place to attract new talent
‌‌Introduces you to new technology
‌A tech event helps you become familiar with tools you can use to streamline your operations. You can discover new hardware, software, apps, and other tech that will make your own events easier to host while offering added value to your clients. A tech convention is also a good place to learn about analytics you can use to improve your own events.
‌‌Keeping up with the latest technology lets you stay competitive in your market. Some of your competitors are likely familiar with newer technology and may already be using it. Attending tech events lets you see and test these technological tools in person.
Allows you to network
‌Tech conferences attract a variety of professionals in many industries. Like you, some are there to learn about new software and other technologies that can enhance their businesses. Some tech professionals may be there to showcase prototypes of new products and gather opinions so they can refine their products before launch.
‌‌The variety of people attending tech events makes them a good place to connect with professionals, potential vendors, and clients.
S‌erves as a place to attract new talent
‌If you're in the market to hire new tech employees, a conference is a good way to meet up-and-coming professionals. When you're in a session or attending a networking event, talk to your neighbors to see if they are looking for a position or know anyone who might be.
‌How to attend and navigate an event in-person or online
‌Most large events and multi-day conferences have been on hold until after the COVID-19 pandemic. Following related shutdowns, conferences were either canceled or shifted to online platforms, allowing people to attend via Zoom or another virtual meeting space.
‌As the world reopens, tech conferences will likely shift back to being held in person. It's easier to host product demonstrations and answer questions in real time when everyone is in the same room, but some smaller conferences might still be available online, and there are still a variety of tech webinars available.
To attend an event in person:
‌Search for the event website
‌Register for your desired package
‌Search for the event website
‌Every event should have a website you can use to find details, including venue information, dates, and registration information. Look through the site for potential restrictions. Some conferences limit attendance to members only or make non-members pay a higher registration fee.
Register for your desired package
‌If you can't work the whole conference into your schedule, opt for a single-day registration. This information will be available on the registration page, but if you have questions, get in touch with the organizer before booking. Pick the day that works best for you by looking through programming and taking note of which sessions you'd like to attend. Ask to access recordings of sessions you missed.
If the event is being held in an unfamiliar city, consider getting there early so you can scope out the traffic and plan your route to the venue. Go with colleagues and offer to carpool. Book your hotel in advance. Hotels near the event venue tend to book quickly, and if you don't get a room, you could be in for a long commute to the conference.
When you don't have the time or budget to attend multi-day conferences in person, consider an online event.
To attend an event online:
‌Online events let you pop in and out based on the sessions you want to attend. Online registration may be less expensive, and you'll save travel costs and time as well. A drawback of online events is that you don't usually have the same level of pre-session chit-chat that you would get in person.
For online events:
‌Register for the event
‌Become familiar with the platform
‌Log in to the digital platform using the code provided
‌Interact‌
Register for the event
‌The registration fees for online tech events are usually less expensive. You might be able to find short sessions for free, which is perfect for learning about new tech during the course of a lunch hour. On the event website, look for the registration portal and submit your information.
‌‌When you've registered successfully, you should receive a confirmation email with an event link and login details. Check this link or the event website to see which platform will be used to host the conference.
Become familiar with the platform
‌Nothing will derail your experience faster than technical difficulties. Learning the platform before attending the conference will help you concentrate on the speaker. Before the conference, test your internet connection and your sound system. Host a few practice sessions with your staff and try features like the chat and mute functions.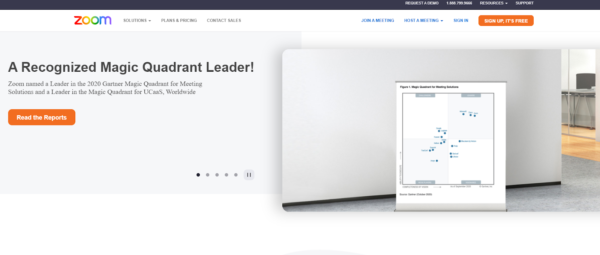 Log in to the digital platform using the code provided
‌Your confirmation email should contain all the information needed to log in to the digital tech conference. Log in before the event starts to give yourself time for technical difficulties. When you're on, you might be able to network with other attendees before the event, but the organizer might also mute everyone to eliminate background noise.
Interact
‌You want to get value from a tech event, so it's important to listen to the speaker and take notes, but you should also interact. Ask thoughtful questions and provide insights when asked. Every event you attend is a chance to build brand awareness, so interact with others at the event as much as you can on the online platform.
How to incorporate tech into your own event
‌Once you've learned about new tech tools and upgrades to your existing software and hardware, you can start applying the lessons. Perhaps you thought that an event was too crowded making it hard for participants to ask questions or start a dialogue. You can use this feedback to either limit registration on your own online event or use features like breakout chat rooms to facilitate better discussions among smaller groups.
‌‌Technology lets you bring your in-person events to people who can't attend. Using social media tools like Instagram Live or Facebook Live Stream gives you the option to broadcast an in-person lecture or seminar to your out-of-state customers. Or create a video or series of videos out of the recording and post it to your social media feeds to build credibility.
‌15 tech events to look out for in 2021-2022‌‌
1‌. Venture Summit
‌July 6-8, 2021 (Virtual)
Venture Summit is an online tech event that gives tech entrepreneurs a chance to network with each other and potential investors. This year's summit is being held virtually. The event includes a variety of investor panels from professionals throughout the industry. New tech business owners can learn more about the process of investing and find out how to increase their chances of being funded.

2. Ignite 2021, Hosted by PCS
August 3-5, 2021 (San Antonio, TX)
If your business relies on technology in the supply chain and logistics industry, you'll find value in this conference. This year's topics include achieving better automation, sustainability in the industry, supply chain management, and more. Explore innovations throughout the supply chain and exchange ideas on how to best serve clients.
3. Data Center World
‌August 16-19, 2021 (Orlando, FL)
‌For IT professionals and anyone who manages data centers and IT infrastructure, the Data Center World conference will help you expand your professional knowledge. This year's conference covers timely topics in the industry such as how to connect mentors to mentees and how to improve the efficiency of data centers.
Learn to manage your network more effectively and prepare for new tech developments that could impact your business's operations.
‌‌4. Fintech
September 7-9, 2021 (Denver, CO)
Financial professionals can learn a lot about industry tech developments to move their businesses forward. The convention caters to developers and fintech professionals, but anyone who wants to learn more about payment processing, compliance, and investment platforms should mark this event on their calendar.
5. Gartner IT Symposium
‌October 18-21, 2021 (Orlando, FL)
‌The pandemic in 2020 shifted how business owners work with technology. Many have adapted and are now bringing a hybrid virtual and in-person model to the workforce. This year's Gartner IT Symposium is all about how to weather those changes and bring your office to the next level.
Topics for 2021 include sessions on funding for increased technology needs, strategic planning, and customer experience design, among others.
6‌. SaaS Connect
‌November 9-10, 2021 (San Francisco, CA)
‌If your company provides an app, a cloud-based software platform, or any other SaaS product, this conference is a must-attend. It will give you the chance to connect with other leaders in the industry while learning about new ways to host and distribute your products.
‌‌Hosted in San Francisco, this conference is located near Silicon Valley, giving you the ability to reach partnership leaders and potential investors. Registered speakers for this year's conference include Molly Siems from JustWorks and Jacob Burkhardt from Kabbage.
7. Droidcon
November 10-11 (New York, NY)
Interested in learning more about Android app development? Check out the Droidcon conference as it hits New York. Experts at this conference will discuss app developments, leaving you with ideas about how to create or improve your business' app. The conference attracts hundreds of tech professionals and offers five different topic tracks.
8‌‌. Microsoft HQ Live! 360
November 14-19, 2021 (Orlando, FL)
After being twice delayed due to COVID-19, Microsoft's HQ Live! 360 Visual Studio returns for 2021 in November. Coders, IT professionals, developers, data scientists, and more will benefit from educational sessions at this conference. Offering product demonstrations, hands-on labs, and onsite training, tech professionals will return from this conference ready to tackle their company's most pressing IT issues.
9. Disney Data & Analytics Conference
‌November 30 – December 1, 2021 (Orlando, FL)
‌Held at Disney's Coronado Springs Resort, the Disney Data & Analytics Conference offers sessions with topics of interest to business owners in many fields. You likely analyze data to inform many parts of your operation, and this conference will teach you how to better manage and assess your data. Tracks include marketing insights and how to look beyond your numbers.
10. T‌ech Leader Summit
December 8-10, 2021 (Clearwater, FL)
The 2021 Tech Leader Summit features topics ranging from software development to attracting and retaining top talent. This year's conference is being held in person, with the option to attend virtual presentations. Stretching beyond software, the convention also offers sessions that can help you refine your leadership style. Learn how to be a better manager.
11. CES
‌January 5-8, 2022 (Las Vegas, NV and Digital)
‌CES is one of the premier annual tech conferences, featuring a long list of speakers and exhibitioners. In January, the conference returns to its in-person format in Las Vegas, but participants can also attend digitally.
The event will host over 1,000 tech companies of all sizes who will showcase new products and developments. Companies like Amazon, Lenovo, Qualcomm, and Sony will be in attendance alongside multiple tech startups from all over the world. Its exhibitors come from a wide range of industries. You are likely to find a new product or platform to benefit your business.
12. SXSW
‌March 11-20, 2022 (Austin, TX)
‌While South by Southwest is most commonly associated with its film and music festival, the organization also runs a conference featuring influential people in tech and business. This conference offers different tracks devoted to technology, film, culture, and music.
‌‌The technology track offers valuable networking with professionals across industries. Potential topics that are being explored for the 2022 technology track include cryptocurrency, internet of things (IOT), data ethics, accessibility, and more.
13. Women Tech Global Conference 2022
‌June 7-9, 2022 (Hybrid)
‌While the official location for this conference has not yet been announced, the Women Tech Global Conference is one to keep on your radar. It is a highly interactive experience bringing together people from the top tech companies including Google, Tesla, Microsoft, and more.
‌‌You will have the chance to hear case studies and keynote speeches from leaders in the industry along with fruitful networking sessions. Stay tuned for more details about the 2022 event.
14. Cisco Live
‌June 12-16, 2022 (Las Vegas, NV)
‌Another comprehensive tech conference, Cisco Live connects attendees to all things tech. You can choose from a variety of tracks with sessions on everything ranging from cloud computing to must-have tech for small business owners.
‌The 2022 lineup is still being finalized, so stay tuned for more information. In the meantime, Cisco offers over 500 virtual sessions from its 2021 virtual conference which you can register for now.
15. HPE Discover
‌While the 2021 conference has wrapped up, you should mark your calendar for the 2022 HPE Discover event. With an abundance of material, HPE lets you design your own experience. Topics include using tech to build a better customer experience, future innovations, business spotlights, and much more.
‌You can also see new product demonstrations from a variety of vendors, learning about everything from AI in automobiles to intelligent data storage.
Plan ahead to connect
‌Tech events offer a wealth of knowledge and networking opportunities. With an abundance of in-person and virtual conferences, there is likely a conference available that can help you better meet the needs of your customers.
Although in-person attendance is costly, it offers valuable opportunities to ask important questions and interact with potential vendors, clients, and investors face-to-face. Once you've become familiar with new technology and trends in the industry, you can use it to make your events more successful. These events provide a chance for you to build brand awareness and find ways to streamline your business.
‌Check out some of these highlighted conferences. With a little research and planning, you can mark your calendar and budget for those that will add value to your business.