As a web designer, your business relies on a steady project flow. But maintaining the ideal workflow can seem like an endless process, with constant outreach, follow-up, and content creation.
This is where web design ads come in. Paid ads are a must-have to attract prospective web design customers and keep consistent business. This article will cover nine tips for creating effective web design ads to win new clients:‌
Targeting your niche audience
Using Facebook Ads for website design services
Providing free resources
Hosting a webinar
Forecasting trends
Creating aspirational content
Using Google Ads for website design services
Making it into the 3-pack
Pairing your web design ads with SEO and a well-designed website
1. Targeting your niche audience
When marketing web design services, you will want to focus on your specific audience first. Whether you are using Google Ads or Facebook Ads, audience details matter. Both platforms offer ample opportunity to create a laser focus on your niche. You can use tools that help your ads get seen based on:
Location. Both platforms allow you to target your ads based on location and proximity. Facebook provides you with a pin-drop tool to establish a 15-mile radius, while Google bases its location targeting on the searcher's location or the specific locale they are seeking in their keywords. Both are valuable when connecting with local people interested in your services.
Interest. Facebook's ad services are based on interest. This means that you can target an audience that has searched for or engaged with content related to your type of business. For example, a user who has engaged with other web design-related content might see your ad.
Intent. While Facebook is interest-based, Google is intent-based. This means that Google targets its ads relative to the user's searches, rather than their interests. For example, a searcher would need to look up "web design texas" directly to see an ad for a Texas-based designer, rather than engage with similar content.
Demographics. It is important to note that you can't target audiences based on gender or other factors. However, it is still best to design your ads to appeal to the niche audience you seek.
‌2. Using Facebook Ads for website design services
With over 1 billion people connecting with small businesses via Facebook, Facebook Ads gives you a great opportunity to reach new audiences. If you decide that Facebook is the platform for you, there are several steps to take to launch your campaign, including:
Choosing your objective. In the Facebook Ad tool, there is an option to set your campaign's objective. It helps to answer the question, "What is your goal?" before launching your advertising campaign. Consider your answer carefully and use it to motivate your design choices.
Selecting your audience. Select your audience based on age, location, and interest.
Deciding where to run your ad. Facebook Ads allows you to choose the elements of the platform that will house your ad. Choices include Facebook, Instagram, Messenger, Audience Network, or all four.
Setting a budget. You will be asked to enter a daily or lifetime budget and the period during which your ad will run.
Picking a format. As a designer, you probably love having options. Facebook offers multiple unique formats for its ads, including single image, video, ad, multi-image design, and more.
Confirming your order with Facebook. This element launches your ad to the ad auction section of the platform.
Measuring and managing your ad. After launching your ad, you can track its performance and make changes in Facebook's Ads Manager, which lets you use A/B testing and make edits accordingly.
Besides creating a stand-alone ad, another way of advertising on Facebook is by "boosting" your organic posts. When you boost a post with Facebook you're basically taking your regular post and sending it out to a larger audience. Just like with a regular ad, with Facebook Boost you get to choose the audience and set your budget.
Facebook Ads work best when paired with a strong social media marketing campaign. Constant Contact can help you maximize your efforts with its comprehensive Facebook Ads tool, which makes the advertising process seamless and even more impactful.
In this example of Facebook Ads, Creative JK Designs, a web designer, grabs the reader's attention with an inviting question: "Is your brand 2021 ready?" The ad entices viewers with visually appealing examples of her work, distinctive visual branding, and an approachable voice.
3. Providing free resources and services
Offering potential clients free resources or services is a powerful tool for advertising web design services. When you offer free educational content, you position your design business as an industry expert and leverage content marketing strategy. When you offer a free service — such as a live demo or quote — you attract more leads and drive more traffic to your website. To boost business, create content such as:
Blog posts or podcasts
Whitepages or guides
Tutorial videos
Checklists or quick tips
Free quotes or demos
‌In this example, Creative JK Designs offers access to a free quote in exchange for a quick email. This ad hooks the reader with the promise of free service and a seasonal sale. This tactic can build important brand connections. Notice Creative JK's creative display of multiple designs in this vibrant ad.
4. Collaborating with other designers
Another form of impactful content creation as marketing is collaborating with other designers. In this ad, Creative JK Designs connects with potential leads by sharing designs that they have developed with other creative professionals. This strategy is useful for both designers, expanding their audience while offering intriguing content to their customers and leads.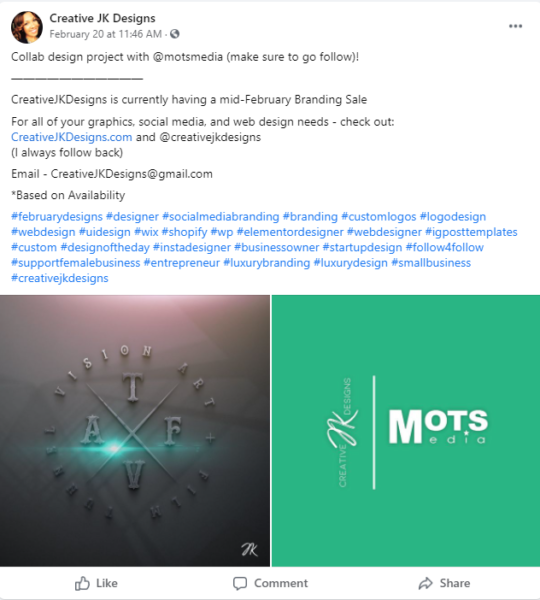 5. Posting seasonal content
Another way to position your web design business at the fore of the industry is to post content that is of the moment. Creative JK Designs does this by sharing a Women's History Month design she created for one of her clients. This strategy keeps your social media stream looking current and gives you the perfect content to post to your blog.
6. Creating aspirational content
Social media users love aspirational content. That is why this final Creative JK Designs ad is so effective. Though it seems simple, this refreshing quote and uplifting post may drive someone to choose Creative JK Designs as their web designer. Ads like this, which support the viewer, can build a positive relationship with prospective customers.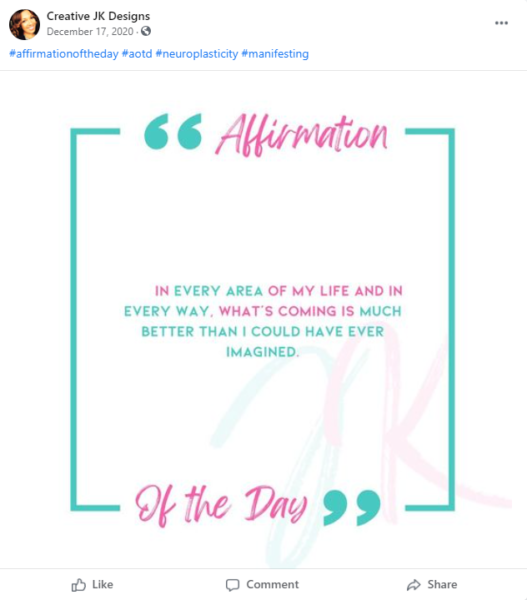 7. Using Google Ads for website design services
With Google handling well over half of all searches in the US, it's no surprise Google Ads is a great way to get in front of new customers. When you use Google Ads, you will appear at the top of searches on both Google Maps and Search. And you only pay for Google Ads when your ad inspires a click to your website. Like Facebook, there are a few steps to launching your Google Ad campaign, including:
Choosing a goal
Deciding where to advertise your web design business
Crafting your message
Setting your budget
Going live
Analyzing your results
‌Google Ads is a pretty intuitive tool, but Constant Contact can help make it even easier to appear at the top of Google Search with its Google Ads tool.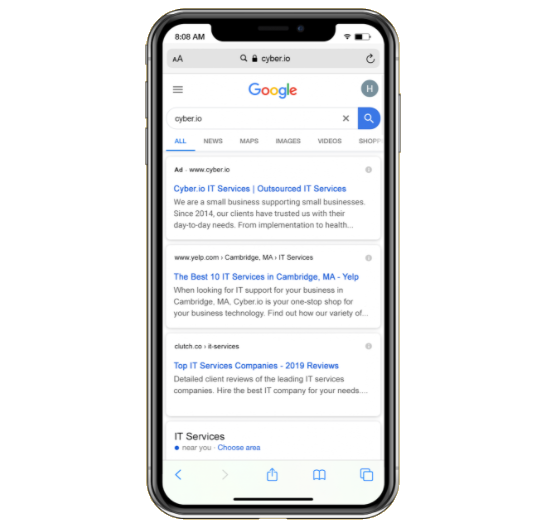 8. Making it into the 3-pack
To make the most of Google, your goal is to appear in the "Local 3-pack," which is the cluster of three businesses that appears at the top of a local search.
In this example, The Web Designs Group has earned this spot by managing its business profile well. When paired with paid Google Ads, Google's free business management tool — Google Business Profile — can be far more powerful. This web design business has garnered enough positive reviews, incorporated SEO, and used effective website design advertisements to earn this top spot.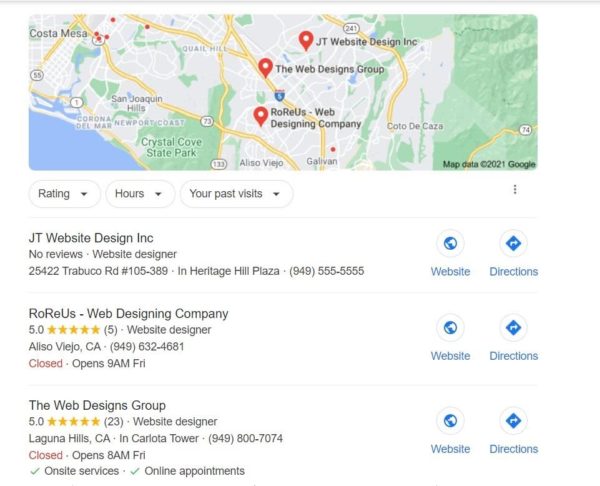 9. Pairing your ads with SEO and a well-designed website
Once you've elevated your Facebook and Google Ad strategies, you should pair your paid advertising efforts with solid SEO tactics. The paid ads are meant to funnel leads to your web design website. Once they arrive, your website needs to be mobile-responsive, easy to use, and aesthetically pleasing.
As a web design business, the bar for your website design is high! Take the time to dial in your SEO with online tools and optimize web design with a website builder to make the most of your advertisements.
Creative JK Designs' efforts lead us to a sleek, well-designed website that is cohesive with her advertisement branding. This landing page is ideal because of its visible "Packages," "Services," and "Portfolio" buttons, which all urge visitors to take action.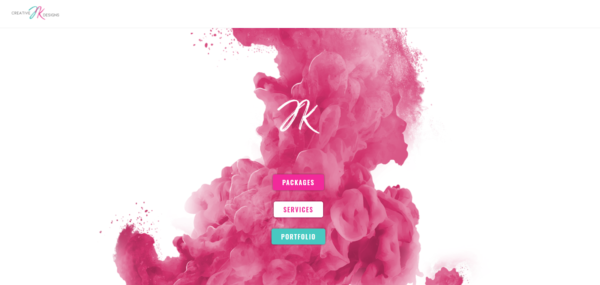 Share with your network