Despite the ongoing pandemic — or perhaps because of it — many brands continue to embrace the digital transformation from brick-and-mortar retail sales to ecommerce.
While the idea of selling products strictly online is nothing new, a different form of online shopping is quickly gaining steam and changing the way people discover and purchase items online. Social commerce is what it's called, and it's making a big impact on how companies engage their customers.
In 2020, global social commerce sales surpassed half a trillion dollars, with trends suggesting robust growth into the years ahead.
Although social commerce is a relatively new phenomenon in the U.S., brands in countries like China and India have long recognized the potential of social media to grow their business and sell their products. For example, ecommerce giant Alibaba has gathered more than 500,000 followers on Pinterest alone, sharing images with links to everything from furniture or clothing to household appliances and food.
As social commerce builds momentum, businesses should consider adjusting their digital marketing strategies to take advantage of this growing trend.
Get all the tools you need to quickly find new customers and grow your retail store's sales.
What is social commerce?
Social commerce involves the showcasing and sale of products or services directly through one or more social media platforms.
While social media marketing has long been used to spread brand awareness and attract new customers, social commerce focuses on converting customers through the apps they're using. In this way, social commerce offers businesses a new way to integrate social media engagement with ecommerce, allowing customers to purchase products the moment they discover them.
Before the rise of social commerce, customers interested in making an online purchase from a company needed to navigate to the brand's main website, sign up for an account, locate the item they wished to buy, and proceed with the checkout process.
This clunky, time-consuming process puts unnecessary barriers between the consumer and what they want to purchase, potentially causing them to lose interest.
With social commerce apps and websites, customers can skip straight to the checkout screen directly within the platform. This convenience and ease of use are the main reasons why social commerce is fast becoming one of the hottest emerging digital marketing trends today.
Why is social commerce important?
In many ways, social commerce is what represents the next logical evolution of the ecommerce marketplace.
By using platforms that support social commerce, brands can streamline the purchasing process for customers while simultaneously gaining broader exposure globally.
Considering that millions of people already use social media for news, entertainment, and communication with friends, it makes sense for brands to focus on selling products through the apps that potential customers are already comfortable using.
At the start of 2020, social media usage worldwide reached nearly 50% — that's 3.6 billion active users. With usage expected to continue in the years ahead, apps like TikTok, Instagram, Pinterest, and Facebook show extraordinary potential for connecting prospects with the products and services they want to buy.
Many of these apps have already begun to incorporate social commerce features into their platforms, presenting brands with a unique opportunity to bring the shopping experience straight to customers.
Because social commerce targets loyal subscribers across various platforms, the chance of landing a conversion is much higher. In other words, customers wouldn't engage with your brand on Instagram or Facebook if they weren't interested in purchasing a product at some point.
Delivering shoppable content to these qualified leads can contribute to a greater ROI on ecommerce marketing endeavors, ensuring your company doesn't waste money on engaging the wrong target audience.
What are the social commerce types?
Social commerce is a rather nebulous term that encompasses several different community-based shopping experiences online.
Finding the right approach for your brand will depend on what you're selling and which target audience you hope to reach.
Shopping based on customer feedback
User reviews and recommendations play a big part in why people choose to buy from one company or another.
With popular websites like Yelp, customers can share their experiences with local businesses and assign a star rating to the company for the whole world to see. A few bad reviews can negatively impact the reputation of a business, incentivizing brands to provide consistent, quality service to every customer.
Ecommerce companies like Amazon have taken this a step further to allow user reviews on all products sold, and it's easy to filter out search results with unfavorable feedback.
In addition, Amazon users can scroll down below a product description to browse through other related items customers tend to buy at checkout.
Another online shopping brand breaking into social commerce is Etsy. With their people search feature, shoppers on Etsy can follow other users to see the brands they support and the type of products they like to buy.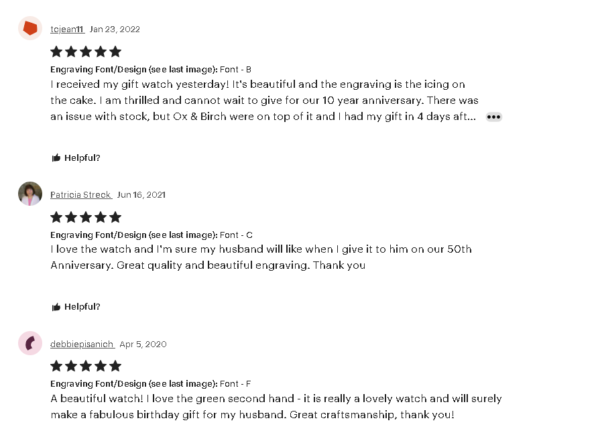 Creating user-generated video content
Online personalities and influencers have enormous power when it comes to introducing new brands or products to digital communities.
Brief videos created by real, influential people provide an element of credibility, attractiveness and trust that conventional digital marketing strategies like PPC ads or email marketing can sometimes fail to deliver.
Customer-created video reviews of products or brand mentions in Facebook feeds are good examples of what social commerce is because they show how a tremendous amount of buzz can be generated about your business, especially if it's coming from an influencer with an established fan base.
On platforms like YouTube, TikTok, or Twitch, companies can find plenty of affiliate marketing opportunities, as many influencers are eager to share their shopping experiences with loyal followers.
These online communities are ideal for hosting short, easily-consumable videos that resonate with potential customers, increasing your brand awareness through the sharing of content and word of mouth.
Linking to products in social media posts
As you would suspect, social media channels are the central focus of most social commerce activities.
If you're already familiar with the basics of social media marketing, you're probably well aware of how platforms like Facebook or Instagram can be invaluable tools for showcasing your products to a wider audience.
Most social commerce on these sites takes the form of image or video ads containing tags to certain companies, products, or services. After clicking on the ad, customers navigate to the company's website to fill in their payment details and finalize the purchase.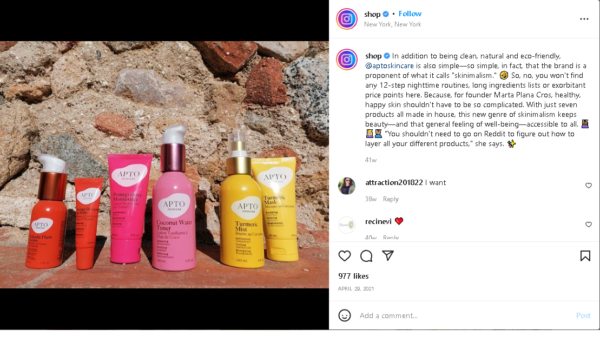 While this method works well to engage customers, today's social media platforms are starting to introduce new features like in-app checkout to make things even more convenient.
Apps like WeChat remain quite popular for offering integrated checkout through their WePay service, and many other social media apps appear to be following suit.
In 2021, TikTok announced plans to roll out TikTok Shopping, a component of TikTok World that offers a range of features like centralized in-app shopping and the ability for businesses to host live product demonstrations.
Instagram Shopping is another great example of what social commerce is, demonstrating how ecommerce and social media are beginning to merge.
Now available to some U.S. businesses, Instagram Shopping makes it possible to add clickable price tags to products in a social media post or give permission to partners to tag their own content.
Crowdfunding on social platforms
Also known as participatory commerce, crowdfunding is another form of social commerce that's quickly gaining steam.
With popular websites like Wefunder or Kickstarter, people can donate to support the development of startups and innovative products still in development.
Investors who contribute a certain amount to a funding campaign may qualify for perks like discounts on the finished product or a limited edition version of the item.
Only projects that receive enough community support hit the market while those that fail to excite are often scrapped altogether. Ultimately, the community decides which products they want to become a reality.
Crowdfunding presents a unique opportunity for brands to demo new product ideas long before they're ever brought to market, mitigating the risk of wasting company money on funding unpopular concepts.
In this way, crowdfunding platforms can serve as giant focus groups for pitching ideas and learning more about what customers want. An enormous number of products have been successfully launched from participatory commerce platforms, all made possible by online communities.
HEAVYS Kickstarter campaign
More than 5,500 customers from all around the world came together to raise over $1 million, so far, to help make HEAVYS headphones a reality.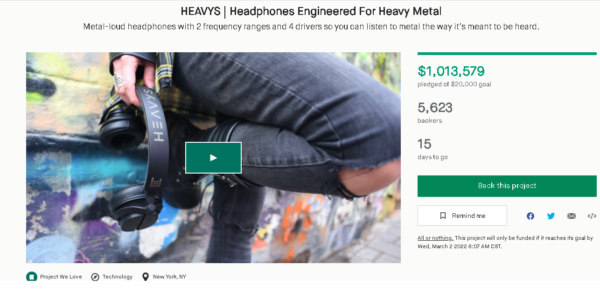 After surpassing its funding goal within the time limit, HEAVYS headphones are now scheduled to hit the market sometime in August of 2022. Investors who pledged to invest $149 or more will receive a pair of these headphones shipped straight to their door at over 40% off.
This success story demonstrates the real power of social commerce and what can happen when brands pay attention to what their audience truly wants.
Through crowdfunding websites like Kickstarter or Indiegogo, startups and entrepreneurs continue to fund some of today's most innovative products, all thanks to the support of online communities.
Live shopping
Live shopping serves as another good example of what social commerce is, with brands and influencers using these digital broadcasts to showcase various products in real-time.
This type of virtual event allows customers to discover new brands while chatting with other like-minded people on the platform.
Live shopping began to take off during the start of the Covid-19 pandemic as it provided an alternative to visiting crowded brick and mortar stores, allowing customers to enjoy a more three-dimensional shopping experience without any of the headaches.
Community shopping or group buying
This type of social commerce is also called collective buying.
It sort of works like group bargaining where customers can get great discounts on goods or services when enough people make a purchase. Sellers can justify marking down prices due to the high volume of sales group buying can generate.
This form of online shopping is especially useful for families seeking local deals at restaurants or retail outlets, but virtually anyone can find something to appreciate on community shopping platforms.
Websites like Groupon or RetailMeNot offer some amazing coupon deals on select products, travel packages, entertainment venues, and more.
What are the features of social ecommerce?
The evolution of ecommerce continues to change the way customers interact with brands and their products.
Unlike traditional online shopping, which is often a solitary experience, new social features on apps today work to create a more community-based experience for users. Here are three of the primary features of social commerce that are cropping up in platforms today.
Customer participation
Engagement is what social commerce focuses on, which makes encouraging community involvement one of its most prominent aspects.
This customer input can take the form of product reviews, sharable content, or interactive features that allow online shoppers to connect with brands and influencers in a more personal way.
Issuing a TikTok challenge is a great way to generate brand awareness through customer-generated content, but you can also consider running a photo or video contest where your audience can share their creativity, stories, and unique perspectives on their experiences with your product or service.
Shoppable images and videos
Another common feature of social ecommerce platforms and websites is the ability for customers to scroll through galleries of shoppable photographs of products.
After clicking on an image, users may either navigate directly to an in-app cart or to the company's website to complete the transaction.
Amazon Live is an excellent example of how brands can make the shopping experience more engaging and convenient for customers with clickable content.
Since Amazon already has its own built-in, centralized checkout system, users can immediately add products they want to their cart without needing to open a new browser tab or enter any personal information on another vendor's website.
During shoppable live streams, influencers can demonstrate various products in action and include direct links to the items beneath the video.
Embedded chat capabilities
The biggest social ecommerce platforms today often incorporate some form of group chat during live shopping streams where customers can chat with other shoppers or share their thoughts with the influencers themselves.
Some brands also offer useful AI-powered chatbot support to answer common customer questions, locate certain products, or provide access to knowledge center resources. These features offer many valuable insights into what customers are thinking, how they shop, and which obstacles could be slowing down your conversions.
Social commerce vs. ecommerce: What is the difference?
While social commerce and ecommerce may seem similar, it's essential to recognize that there are several differences between them.
First of all, ecommerce defines a range of online transactions between businesses and customers that may or may not have a social element involved. Meanwhile, social commerce only relates to purchases taking place through social media, collective buying, or some form of interactive group environment online.
When a customer searches for an item on eBay or Amazon and purchases the product from a vendor, it may be categorized as ecommerce.
However, if that same customer makes another purchase based entirely on a social media post, TikTok video, or product review, it's considered a form of social commerce.
It can seem difficult to differentiate social media marketing from social commerce, but the main difference is that running a marketing campaign mainly aims to generate prospects and brand recognition while the primary goal of social commerce is to sell products.
Examples of social commerce
The idea of social commerce is a fairly new concept that's quickly changing the way brands approach online shopping.
As this type of ecommerce starts to gain traction, companies will need to consider pivoting their digital engagement strategies if they want to maintain a competitive edge.
To help illustrate exactly how social commerce works, it may help to look at a few specific examples.
buybuy BABY'S Instagram shop
As previously mentioned, Instagram is just now beginning to introduce their shop to the world and only a few businesses in the U.S. have access to all the features like integrated checkout or in-photo price tagging.
With that said, Instagram remains one of the most popular places for brands to gain greater exposure in the social-digital sphere. One brand called buybuy BABY is a perfect example of what social commerce is and how it should operate, providing followers with plenty of shoppable images for little ones, including toys, clothing, blankets, and more. Customers can swipe up on the products if they'd like to learn more or reply to the ads directly through the platform.
Live clothing demonstrations on Betabrand's Lookbook Live
Another shining example of social commerce at work is on the platform Betabrand, a place mainly devoted to women's clothing like yoga pants, skirts, and casual wear.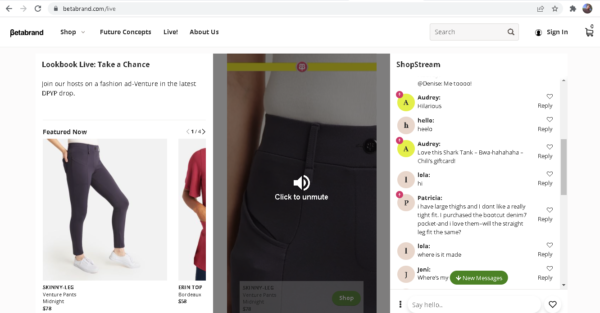 Like Amazon Live, Betabrand hosts live shopping streams featuring popular influencers four nights a week. The influencers wear and discuss the latest products available on the site, and an embedded chat feature allows customers to share their thoughts in real-time while clickable links in the live streams make it quick and easy to make a purchase.
How to get started with social commerce
It's easy to learn how to navigate the world of social commerce, especially if you're already familiar with promoting your brand through today's most popular social media platforms like Facebook, Instagram, or TikTok.
Social commerce remains a relatively new idea, and many companies are just beginning to break into this way of selling. Brands that take steps to understand the basics of selling products on social media today will have much more success managing changes as ecommerce evolves in the future. If you're not sure what to do first, these tips can help get you started.
Utilize new features on social media and websites
As discussed earlier, many apps and ecommerce platforms now support social commerce features.
Instagram Shopping, TikTok Shopping, Facebook Marketplace, and Amazon Live are just a few places where you can begin selling your products with more direct participation from the online community.
If you haven't yet, create accounts on apps like these to draw attention to your brand. Consider reaching out to popular influencers for product reviews, tags, or mentions so you can start generating more commotion about your company.
Create engaging, shoppable ads
Devote some time and resources to developing advertisements geared specifically for social commerce platforms.
Showcase a specific product in a photograph or short video and include a link in the description that leads straight to the checkout screen.
Better yet, start a contest for followers to send in their creative ideas for promoting your brand and share the winning concept across all your engagement channels.
Igniting your marketing with social commerce
It's time to find out how social commerce can help power your business!

Social commerce presents an exciting opportunity to market and sell products to a growing community of ecommerce shoppers.

To get a taste of the big, wide world of social commerce, start by focusing on your highest-performing social media channel and putting its social commerce features to work.

Once you've gotten the hang of it, branch out by checking out apps and websites that offer social commerce features like group chat, integrated checkout, or price tagging of promotional content.

With social commerce, you'll be boosting your bottom line in no time.

Share with your network