Yoga continues to increase in popularity as people reap its benefits. Yoga can reduce stress and improve flexibility. It's also easily modified for people with limited mobility and other issues that keep them from participating in high-impact workouts. You may be considering starting a studio to tap into the industry, which is projected to reach $66 billion in the next five years, with yoga classes worth $9 billion in 2021.
If you're ready to start a new yoga studio, your business name can help you stand out among your competitors. Use these tips for choosing yoga business names to build a foundation for your brand. In this article, you will learn:
Why it's important to pick a good name
How to think of a business name
40 great yoga business names
How to build name recognition
How to get started now
We make it easy to get new clients and repeat business with all the marketing tools you need for your nails, hair, skin, or personal care business.
Why it's important to choose a good name
Your business name is a lot like a tattoo — you're pretty much stuck with it, especially if you've built a strong brand. So make sure you pick a name that resonates with you and fits your personality. Your business name introduces people to your yoga studio and helps attract students. 
When potential customers see your studio on the street or online, a strong name will help them remember to look you up. It may also compel them to click on your Google listing. You don't have to start from scratch, though. There are many ways to create yoga business names that stick out.
How to think of a yoga business name
You might be tempted to go with a traditional name that plays on poses. Or you might want to use some version of your name. Whichever direction you take, pick a name that aligns with your brand. Consider the following questions first.
What types of classes will you offer?
Deciding what types of classes you'll provide can help you determine a name. Here are some common types of yoga classes to build your schedule around:
Vinyasa yoga
Power yoga
Restorative and yin yoga
Fusion yoga (like yogalates)
Aerial yoga
Meditation
Who is your ideal customer?
Customers might not drive your name, but your name could impact the types of customers interested in your classes.
For example, people not interested in the meditative aspects of yoga may not be drawn to a yoga studio with "healing arts" in the name. Conversely, those more interested in yoga for relaxation may be turned off by a "power yoga" studio, which would imply more high-intensity classes.
How is your studio unique?
Highlighting your particular strengths and values will leave a lasting impression on potential customers. Are you a naturally optimistic person who likes motivating your clients? Go with an inspiring name. Are you more interested in helping clients relax and slow down? Aim for a name that conveys calmness and serenity.
Do you want to be the face of your brand?
Yoga business names don't have to be complicated. You can simply name the studio after your first or last name. If you've already started branding yourself as a well-known yoga instructor, capitalizing on your name, or putting a spin on your name, may be a good idea.
40 great yoga business names
Use these tips to start brainstorming your name:
Keep it simple
Short and sweet is the easiest to remember
Make sure there's an available website domain name
Names based on poses
Consider incorporating either Sanskrit or English poses into your name to attract advanced students and beginners. Here are some suggestions:
Virasana Yoga
Tadasana Today
Savasana and Serenity
Downward Dog Yoga
Goddess Yoga Studio
Inner Warrior Yoga
Soar Like an Eagle Yoga
Bodhi Tree Benders
Asana for Everyone
Lotus and Light
Calming names
If you intend to convey a sense of calm and relaxation, here are some potential names to inspire you:
Zen Flow Yoga
Creatively Calm Yoga Studio
Settled Serenity
Moving Meditation Yoga Studio
Tranquility and Flow
Breathe Deep Studio
Calm and Centered
Om
Be Still
Peace and Posing
Fusion names
Maybe you're more interested in yoga's health and fitness benefits and want to integrate it with other forms of exercise. Let people know you're practicing fusion in your name.
Pop Power Yoga
Dance and Downward Dog
Strength and Savasana
Fusion Flow
Jasmine's Yogalates
Tone and Tranquility
Main Street Cardio Yoga
Move & Flow
Just Breathe
All in the Movement
Specialty names
You may want to build your yoga business name around a specific type of yoga. For example, if you're opening a studio that specializes in hot yoga or aerial yoga, add a nod to that specialty in your name.
Hot and Zen Yoga
Atmosphere Aerial Yoga
Air and Strength Yoga
Elevation Studio
Sweat It Out
Fly High Yoga
The Heat Will Move You
Bend in the Sky
Fast Fusion Yoga
Bend and Breathe Yoga Studio
How to build name recognition
Once you've established a name for your yoga business, it's time to start marketing yourself — an important step before officially opening your doors. First, you need to get online. You'll want to do that well before opening your doors to build your name recognition. Use these tools to begin hyping up your studio. 
Social media
Create a social media page, get active, and stay consistent by joining various yoga groups and engaging with posts. Share content and start building yourself as an expert. Share photos of different poses and yoga benefits, and use hashtags so that people can find you.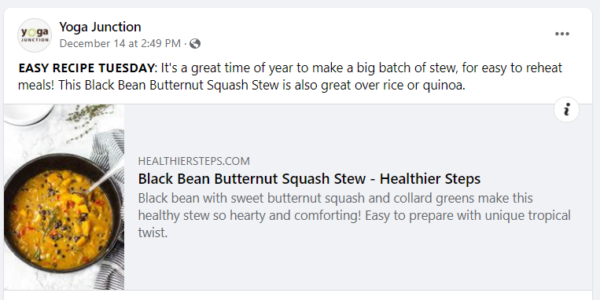 Website
Along with your name, your website will be most people's first touchpoint. Whether you're running a studio in a commercial location or teaching classes from your home, you want your online presence to be professional and inviting. 
Your site should be optimized for mobile searches, and it should be easy to find contact information.
Start an email list
Every yoga marketing strategy should include email. Start building your list before hosting your first class. Add a form to your website so that people can sign up for newsletters, promotions, class information, and more. 
Put together an engaging newsletter to invite people to your grand opening. You can also send personalized emails that include birthday deals and invites to special events.
How to get started now
You will be branding and building your business on the strength of its name, so take some time with this process. Start by identifying what you do and who you want to target. Consider what makes you unique and think of ways to add this into your name.
When you have a general direction, start brainstorming names. Narrow it down to your top five, and ask friends, family, and potential customers how the name resonates with them. Soon, you will have a name that makes you proud.