Editor's Note: The following is a guest post from Deven Patel, founder and CEO of Cyfe, an all-in-one business dashboard app that helps you monitor all your business data from one place. Cyfe easily integrates with your Constant Contact account. Learn more. 
Businesses can spend up to 80 percent of their time collecting, monitoring, analyzing, and reporting data.
With so many new online services popping up every day, this problem gets even worse. The bigger your presence is online, the more data you have to manage.
What impact can this have on your business?
Trying to juggle data for multiple websites, blogs, email accounts, social media accounts, and so forth becomes very cumbersome. And the data can become too overwhelming to understand. The web grows at an exponential rate so you would literally have to track a new piece of data every month.
This tedious and repetitive work is a complete waste of time. And as you may know, the number one thing a business needs is more time.
This is where a business dashboard comes into play.
A business dashboard can help you save time and make better business decisions at the same time.
An all-in-one business dashboard app like Cyfe is especially handy. It helps you easily monitor all your business data from one place (e.g. social media, analytics, marketing, sales, support, infrastructure, etc).
With Cyfe, you can take the frustration out of the entire process of monitoring and reporting on your business's performance. You no longer need to waste countless hours logging in and out of all the different web services you use for your business.
You can also access Cyfe from your mobile device to track your results and see what your customers are saying about your business in real time.
Cyfe lets you monitor individual departments, projects, multiple websites and anything else using dashboards. You can pull data from Constant Contact, and from other popular services like Google and Facebook using pre-built widgets. Or use custom widgets to securely display data from your company's databases.
Below are a few examples of dashboards you can create for your business.
Startup Dashboard: Track number of new sign ups, app downloads, subscriptions, and other related KPIs in real-time.
Social Media Dashboard: Monitor brand mentions, track number of Twitter followers over time, view Facebook demographics, and more.
Marketing Dashboard: Monitor all your marketing channels like email, SEO, social media, and analytics from one place.
Client Dashboard: Automate client reporting by bringing together their advertising, SEO, social media, and analytics data.
Web Analytics Dashboard: Track multiple websites, top referring domains, search engines, SEO keyword rankings, and more.
Finance Dashboard: Keep tabs on business expenses, company revenue, customer invoices, balances, and more.
Sales Dashboard: View sales goals, top sales reps, latest opportunities, win/loss reports, new customers, and more.
Project Management Dashboard: Get a bird's eye view of your latest projects, tasks, to-dos, upcoming calendar events, and more.
IT Dashboard: Network monitoring, website uptime, server load, app performance, and end-user tracking all in one place.
You can also monitor your Constant Contact email campaigns directly on your dashboards.
Stats are presented inside flexible widgets that can be customized to fit your own custom dashboards, allowing you to constantly keep tabs on your email campaigns without having to log into your Constant Contact account whenever you need an update:
And the best thing about using a dashboard tool is that you can share specific sets of data with specific members of your team without exposing confidential information about your business.
You can even schedule automated email reports and keep tabs on your business on the go!
Ready to get started?
Visit Cyfe.com to learn more about how you can save time and make better business decisions using dashboards. It takes less than 60 seconds to set up a business dashboard and it's free to get started!
About the Author: Deven Patel is an entrepreneur who has always had a burning passion to create products that solve real world problems. For example, Cyfe was built to solve a specific problem he faced many times in the past.
Editor's Note: The following is a guest post from Ella Wirtz, co-founder of Boutique Window, an easy-to-use platform that makes online marketing simple for small retailers. Boutique Window easily integrates with your Constant Contact account. Learn more.
Instagram is one of the fastest growing social networks and has proven to be an exciting (and effective) place for retailers to connect with shoppers.
Instagram just announced that they've reached 200 million active monthly users and over 20 billion photos have been shared.
With easy mobile access and a beautiful visual browsing experience, it's a no brainer for retail stores to join the bandwagon.
So what is Instagram?
Simply put, it's a photo and video sharing social network app for mobile devices. Businesses and individuals alike can create a profile to instantly snap and share visual content with their followers. Users can like or comment on posts and explore new content by searching for #hashtags. Unlike Facebook, Instagram's feed remains unfiltered and shoppers will be able to browse all of the content posted by the friends and businesses they follow.
Here at Boutique Window, we love Instagram so much that we made it easy for independent retailers using our tool to share photos and collages of their merchandise on Instagram, right from our marketing platform.
We recommend sharing on Instagram a minimum of 2-3 times per week and a maximum of 2-3 times per day. Remember to spread your shares out throughout the day to reach the maximum number of your shoppers (and to be sure not to annoy them with too much content!).
If you're just getting started with Instagram or simply looking for new inspiration on what to share, use these 5 simple tips to getting the most out of Instagram for your retail store.
1. Showcase your merchandise.
Shoppers want to see what you have available for sale! Keep your smartphone nearby so you can snap quick product photos of new arrivals and bestsellers. Worried about your photography skills? Use these simple tips to take photos like a pro.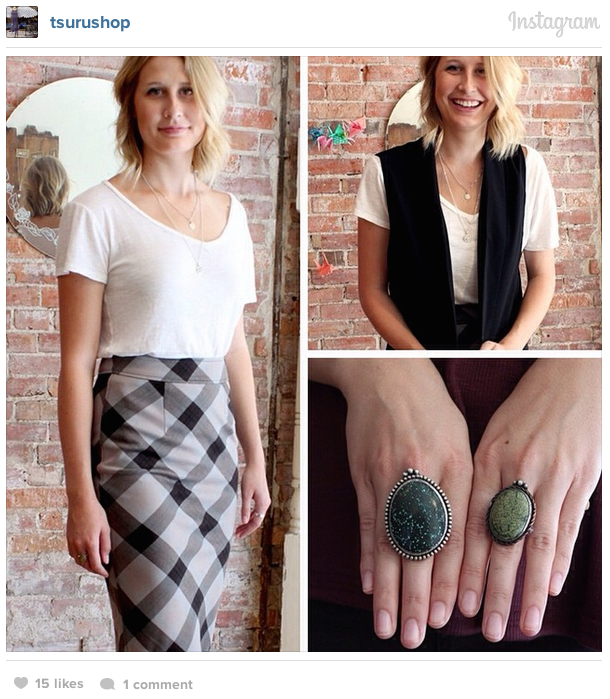 2. Exhibit your styling expertise in the real world.
Lifestyle photos are a huge hit on Instagram. Recruit an employee to model your merchandise around town or show off a room in a client's home that you've designed.

3. Get shoppers engaged with a contest.
Running a contest or promotion on Instagram is a great way to get shoppers talking. Offer free swag, a gift card to your store or a private shopping event. Include details on how to participate in the contest in the caption. Don't forget to include the promotion end date and to announce the winner once they have been selected!
4. Go behind the scenes.
Shoppers feel especially connected when they get a taste of what your everyday life is like. Share travel photos when you're headed to market, post videos when you're prepping for a big fashion show, or recommend your favorite local restaurant the next time you're enjoying a meal.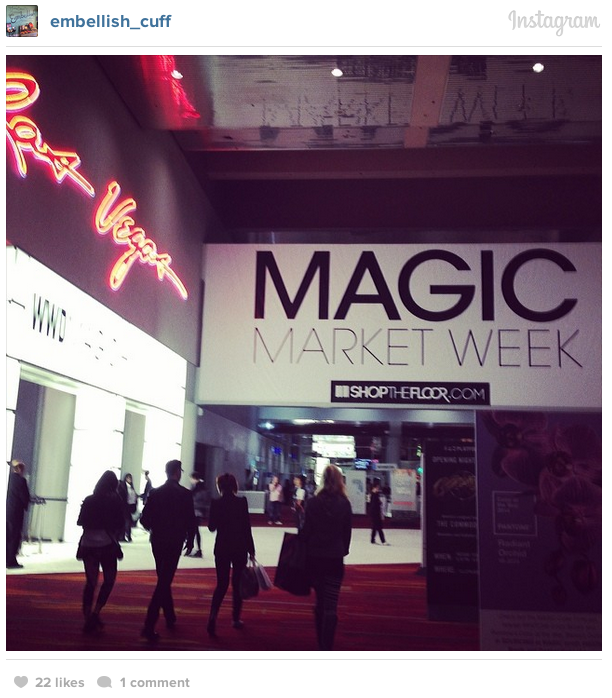 5. Let shoppers know about an upcoming sale.
Your shoppers want to know when you have newly discounted merchandise and about upcoming sales so they know when to shop! Be sure to let your followers on Instagram know when you're hosting a sale and what kind of savings they can see.
Tip: If you don't have the time to design images like the one below to promote your upcoming sales or promotions, the Boutique Window Content Library is full of beautifully designed social posts.
Need help with your online marketing?
Boutique Window is the simplest, most effective online marketing platform for your store. In addition to helpful tools for creating engaging posts on social media, Boutique Window integrates with Constant Contact and allows you to manage your social media, email marketing and retail website from one easy-to-use tool.
Save time, stay organized, and make more sales with Boutique Window!
Special Offer for Constant Contact readers: Get started with your 15-day free trial today. Sign up with coupon code STARTER to get 50% off your first year!
About the Author: Ella Wirtz is the founder of Boutique Window, an easy-to-use platform that makes online marketing simple for small retailers. Ella helps retailers across the world better engage with their shoppers online and increase their sales. Check out her other great resources on the Boutique Window blog and download her Free Guide to Fall Marketing.
You've started using YouTube to upload and share videos for your business or organization.
Now you're wondering who is actually watching your videos and how they can get more views and better engagement.
That's where using YouTube Analytics comes in.
Building a bustling YouTube channel requires you to understand who your audience is and how they're engaging with your videos.
Luckily, YouTube Analytics can tell you a lot about who your audience is, what they like, and what kind of content you should be creating to be successful.
To help you make the most of this valuable tool, I've put together a step-by-step overview of YouTube Analytics, the different insights it provides, and how you can use the information available in your reports to improve your results!
Want to try email marketing for your business? Sign up for your free 60-day Constant Contact trial here.
To get started, sign in to your Google account and navigate to your YouTube channel page.
At the top of your channel page, you will see subscribers, views and a link called Video Manager.
Click views to go directly to your channel's analytics.

You are now looking at the Overview of your analytics. The default setting gives you data for the past 28 days, but you can change that to any period of time that you wish to retrieve analytics from.
This page gives you key information on performance and engagement in a concise and easy-to-read format. For a quick snapshot of your channel's performance, Overview is the best place to go.
Every category on the Overview page has its own dedicated page with a more expansive breakdown. In the margin on the left hand side of this page you will find tabs for each aspect of the analytics YouTube provides.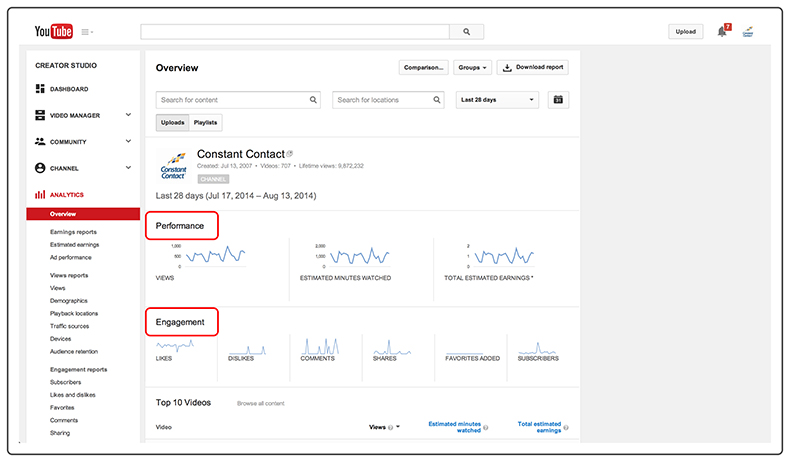 Let's take a closer look at each of these reports and how they can be used to your advantage:
Views
The Views Report provides insight into the overall performance of your YouTube channel, and can also be used to dive deeper into the performance of individual videos.
Using the search function at the top of the page, you can search for videos by name or location. You can also click on the calendar icon to choose a date range to analyze.
Within the Views Report you will see:
Views: See how many people have watched your video and more specifically how many have clicked a link that began playing your video. Whether a person only watches one second of your video before turning it off, or watches the entire video, both count as a view.
Estimated minutes watched: YouTube adds up the time that people have spent watching the videos you have shared. This simply shows how many minutes of your videos have collectively been watched on your channel.
Average view duration: See if people are watching your video all the way to the end or cutting before your video is finished. This is a great tool for determining the ideal length for videos you decide to create in the future.
Tip: Getting lots of views is great for branding and advertising, but that shouldn't be the main measure by which you judge whether or not your video was successful. High engagement, good view duration, and growing subscription to your channel can be more rewarding than views. Quality viewers are more important than quantity.
Demographics
Beyond views, YouTube also provides insight into the demographic breakdown of your audience.
The two insights currently available under Demographics are: gender and location.
Tip: For a small business that's focused on a local clientele, YouTube's geographic insights can provide a helpful look into whether or not your videos are reaching the right people. While it's great to have a ton of views, you also want to make sure that you're reaching a relevant audience for your business.
Playback locations
One of the great things about YouTube is that when you create a video that is fun, entertaining, or both — your videos can be shared in a number of different ways. One of the ways that people can share your videos is to embed them on their own website or blog.
The Playback locations report shows the sites your videos are being viewed on. This page also gives estimated minutes watched and average view duration, but this time broken down by location. This is a great way to see if people are embedding your videos on their sites or blogs and what those sites are.
Traffic sources
YouTube makes it easy to see how people are finding your videos.
Types of traffic sources include YouTube search, YouTube suggested videos (found within YouTube by clicking a thumbnail), YouTube channel page, and YouTube playlist. There are also categories for videos that are featured by YouTube on their masthead or by a guide feature YouTube generates based on what channels users follow.
Tip: One of the best ways to get more views on YouTube is to share your videos across your different communication channels — like email and social media. As you start to grow your channel and promote your videos, you can use this report to identify your most valuable sources of traffic.
Devices
This report lets you know what devices and operating systems people are watching your videos on. Computer, Mobile phone, Tablet, and Game console all have their own breakdown for you to get deeper into this data.
Tip: The vast majority of people watch YouTube videos on a computer. For this reason we suggest putting your videos into playlists. When viewing a video that is in a playlist on a computer, the layout changes to highlight the other videos in that sequence and will play the next video in that playlist, keeping the viewer watching your videos uninterrupted.
Audience retention
See how much of your video is being watched and, on average, when people are turning it off.
Tip: We recommend making videos between 30-90 seconds in length. It doesn't sound like much time to get a lot of information out, but it's an eternity on YouTube. Most people will watch your 30 second video all the way through, whereas very few people will watch your seven minute opus. The bottom line: shorter videos are more engaging than longer videos.
Below the Views reports are the Engagement reports.
Views are just one part of building a successful YouTube Channel. As you start to share content on YouTube and build an audience, you'll also want to be mindful of the type of engagement your videos are generating.
Here's a closer look at  the different Engagement reports available in YouTube Analytics:
Subscribers
See how many people have subscribed and unsubscribed to your channel. This is a great measure of success for your video content. You want to be creating videos that make people come back for more; you want to be a resource for information, inspiration, or entertainment.
Tip: According to Google, YouTube is the second largest search engine with over 3 billion searches a month. Get more subscribers by thinking about what people are searching for and creating content that's valuable to them.
Likes and dislikes
YouTube makes it easy to see how people are responding to your videos — both positively and negatively.
Keep in mind that inspiring and entertaining videos typically garner the most amount of likes on YouTube. Other types of videos — like educational content, advertisements, or product focused videos — may not generate the same amount of likes, but will still play an important role in your YouTube strategy.
Favorites
This report shows both when a video was marked as a favorite and also when it was unmarked. When a person marks your video as a favorite your video becomes a part of their favorites category on their personal YouTube profile. While a favorite is a great indicator of engagement for your video, having a person remove the favorite marker might just mean they don't want it to be a part of their public profile anymore.
Comments
See how many comments each of your videos has received. Comments can be a great way to interact with your viewers. Keep up with your comments and respond promptly to any questions or criticism.
Always be professional. Avoid arguing with someone on a comment thread; simply ask them to follow up with you via email, so you can handle any concerns in a less public setting.
Sharing
This report shows you the number of times your video has been shared, and which social network it is shared on. You can also view this data by date rather than video or sharing service.
Annotations
Adding annotations to your videos gives viewers the ability to click through to your website or blog to read more.
This report provides details of the activity, click-through data, and close rates for each annotation you add to your videos.
If you want people to be able to link to your website or domain directly from your video (Associated Website annotations), you will need to enable this feature first. A Google Webmaster Tools account is required and you will have to verify your website with Google as well. This process takes a few steps but it's worth it to be able to point people directly to your site from a video.
Tip: We have found that adding a single, clear, call to action at the end of your video is the most effective. This call to action should not be to buy a product or service — that's not why people are on YouTube. Giving people the opportunity to learn more about your company or services, however, can be very effective. Try driving traffic to your website at the end of your video.  
With these analytics you should have no problem measuring your success on YouTube.
Remember, YouTube is a social channel, not a place for you to advertise or sell your products or services.
The most valuable indicator of success is building an audience that cares about your brand and message and shows their enthusiasm through likes, comments, shares, and long engagement time. These are the folks that will click through your annotations and the people who will subscribe to your channel.
Using YouTube Analytics will help you decide which types of videos you should focus on. Your audience might be most interested in how-to's, inspirational videos, or something that will make them laugh.
Pay attention to what they're engaging with and create something that they will appreciate.
Ask us any questions about YouTube Analytics in the comments below — we're happy to help!
Want to try email marketing for your business? Sign up for your free 60-day Constant Contact trial here.
**Bell rings**
Welcome back students! Hope you all had a wonderful summer.
My name is Professor Ryan Kettler — welcome to Content Marketing 101. My job is to help you be successful with your content marketing efforts this semester and beyond.
Content marketing is the process of writing and distributing valuable, compelling, educational and relevant content to attract and acquire a clearly defined audience — with the objective of increasing qualified traffic and customers to your business.
School's back in session, so listen up and get ready to take some notes!
Let's begin by reviewing your syllabus and going over each of the lessons we'll be completing:
Lesson 1: Research your target audience
The first, and most important step for any content marketing campaign is to research your target audience to find out the following:
Who they are (demographically)
What they enjoy reading about
What they're afraid of
What they need help with
How they prefer to receive information (where they hang out online)
Finding this information will allow you to shape and structure your content in such a way that it's well-received. It never feels good to publish a piece of content you think is amazing, only to have it be a complete flop.
Researching helps you avoid content marketing duds.
The easiest way to research your audience is to start engaging them. Add a newsletter signup form to your blog and then send surveys out once every quarter asking your subscribers what they want to read about to get the answers and insight you're looking for.
Another great tactic from Jason Falls is asking a research-type question to your Facebook audience every week to stay in tune.
Lesson 2: Brainstorm your blog topics
Now that you know more about your target audience, you should be able to easily come up with some relevant blog topics that are of interest to them.
Let's say you're a coffee roaster. Your company imports coffee beans from all over the world and roasts them to make some super-tasty, caffeine-laden work fuel.
You know through your research that your audience loves reading about the different regions where coffee is cultivated.
**Ding-Ding**
You have your first topic to write about! Not only that, this topic can easily be turned into a series where you highlight each of the countries that produce coffee and their cultures: Ethiopia, Kenya, Papua New Guinea, Honduras, Costa Rica, Guatemala, etc.
You can determine one region to highlight each month. This allows you to easily plan out at least a year's worth of posts, which brings us to our next lesson.
Lesson 3: Schedule your content marketing calendar
You've researched your audience and brainstormed some topics that would interest them. Now it's time to schedule your content marketing calendar and get to writing.
This means planning for, and writing one relevant blog post a week, for 52 weeks. It may seem like a lot, but trust me, you can do it. Don't worry about length, instead try to make the articles as interesting and engaging as possible.
Set a day of the week when you're going to publish posts so your regular readers know when to expect new content from you.
By planning and scheduling your content marketing calendar, you're going to be way ahead of the game. There are a lot of marketers who write content about topics without having the slightest clue if they'll resonate with their audience or not. That's a dangerous habit prone to producing fewer results.
Check out Jamie Griffiths' handy content calendar template over on the Convince & Convert blog.
Lesson 4: Build your audience through teamwork
If you have an internal team or colleague that can assist you with your content marketing, that can take a good portion of the workload off your plate. Some of you might be working by yourself and thinking, "there's no way I can do this" and "I just don't have the time."
I hear you loud and clear and want to share a secret — you can do it, and you do have the time. You just have to make it by prioritizing your content marketing.
One great way to save time is to work with other relevant businesses by having them promote your content. This is called co-marketing, and it's a super-tactic for you to implement in your strategy.
Going back to our coffee roaster business, we know that our audience is people who love and have a passion for all things coffee. That's a pretty big audience which means there are thousands of other relevant businesses who you could provide content to in exchange for a relevant backlink. Links from other sites are even better than content on your own website, since they connect other audiences with your business.
For example, you probably sell coffee accessories along with your coffee: grinders, scales, pour-over setups, tea kettles, etc. You should reach out to some of the vendors whose products you sell and pitch them on some guest post ideas. An example would be reaching out to the vendor that provides you with the grinders you sell in-store and asking them if you can provide them with a guest article about "How different grinding coarseness affects your coffee's taste".
I'm sure the vendor would agree to publish your article in a heartbeat. It's a topic you're already an expert on and it's relevant to both of your businesses and audiences. It's a match made in coffee heaven that's sure to generate some buzz. Later on, the grinder vendor could reciprocate by providing you with a guest blog post for your website.
Lesson 5: Review and grade your progress
After you have started publishing and promoting blog posts on your blog as well as your co-marketing partners' blogs, it's time to review and grade your results.
In order to do this effectively, make sure that you have installed Google Analytics on your website. The will ensure that each of your posts, both on- and off-site are tracked and analyzed. Another great way to keep track of your content partnership team and audience is using BoostSuite's co-marketing audience metric.
Success with content marketing can be measured many ways: comments, shares, retweets/mentions, sign ups, form submissions, etc. The key is to have a goal in mind around one or a couple of these metrics.
Here's an awesome beginner's guide to setting up goals in Google Analytics from the Search Engine Land blog for your reference.
An additional technique to use when reviewing results is creating custom campaigns and trying Google's URL Builder to track referral traffic from the posts your partners publish.
Following these tips will allow you to quickly and easily review your results and give yourself a grade as to how close you were to meeting your goals. If you didn't quite get there, then you should be able to tell how you can improve next semester. Obviously if you exceed your goals, you get an A+!
I wish you the best of luck with your content marketing this semester and well into the future. If you're able to follow my lesson plan step by step, I'm sure you'll pass Content Marketing 101 with flying colors and make the Dean's list!
Please rate your professor's knowledge and advice in the comments below!
About the Author: 

Ryan Kettler is Director of Communications for BoostSuite, the collaborative marketing tool for small businesses.

Ryan is an Internet marketing zealot, sports fanatic, devoted runner, avid golfer, beer connoisseur, and live music enthusiast. When he's not helping BoostSuite customers he can be found running 5ks, sampling IPAs, and cheering on his North Carolina State Wolfpack.

Follow BoostSuite on Twitter and Facebook to stay up to date on the latest content marketing news and insights.
Social media is no longer the exception when it comes to small business marketing – it's the rule.
So why are so many marketing experts turning up their noses at Facebook and Twitter, and instead focusing on email marketing?
The answer is simple: email marketing is the #1 way to build profitable relationships with your customers.
By making email marketing your top marketing priority, you'll be able to cash in on relationships that are infinitely more intimate than those cultivated on social media.
After all, receiving a personal email in your inbox is a lot more meaningful than glancing at a post on Facebook that's been shared with 800 other people.
So how can you tap into the power of email marketing?
By following these 7 steps, which will show you how to monetize your email list through relationship building.
1. Be consistent
Think of your closest relationships with friends and family.
Chances are those relationships include social interactions on and offline, phone calls, and getting together for dinner or coffee on a regular basis.
Your email relationships are no different. Be sure you're sending emails to your list on a regular basis, which could be anywhere from twice a month to twice a week depending on your brand and style.
Whatever you do, don't email your list only when you have something to sell!
2. Fine tune your subject lines
It's impossible to build profitable relationships with your list if no one is opening your emails.
Try these subject line best practices to increase your open rates:
Include numbers ("5 quick ways to improve your Pinterest profile")
Indicate when there is a [VIDEO] or [FREE REPORT] inside by using brackets and capital letters
Ask a question ("Are you making these 3 common mistakes on social media?")
Use "this" and "that' to create curiosity ("Why I can't live without this new iPhone app")
Be sure to test your subject lines to see which style and technique gets the highest open rates with your particular audience.
3. Share relevant content
Position yourself as an expert and trusted resource by sharing relevant content with your list via email.
You might share things like…
YouTube videos
Product deals and discounts
Funny pins or eye-catching Instagram photos
Informative blog posts (written by you and by others in your field)
When your emails are packed with great content, readers are much more likely to keep opening, keep clicking, and keep buying.
4. Sell less stuff
If every email you send your list is a sales email, people will soon grow weary of opening them.
No one wants to be sold to all the time. A good rule of thumb is the 80/20 rule – 80% of your emails should be packed with great content and helpful resources (see #3 above). 20% should include paid offers for your products and services.
In this way, you treat the customer like you would a friend, cultivating a relationship based on mutual interests.
When you do happen to have a new product or service you'd like to sell, your customer will be far more likely to make a purchase because they've already been ushered through your sales funnel with all the great content you've been providing.
5. Include a call to action
The two most common mistakes regarding calls to action are:
a) Not including one
b) Including way too many!
With each email you send, ask yourself "What do I want the reader to do?"
The answer might be…
Click on a link
Share your content on social media
Make a purchase
Choose one specific call to action and explicitly ask your customer to follow through on that action.
For example, "To read the rest of this awesome blog post, click here now."
6. Include affiliate offers
Every email you send can include a single or multiple affiliate offers, which will boost your chances of profitability.
An affiliate offer is an offer from another non-competitive business, that provides solutions that compliment your offerings and can provide value to your target audience.
You might showcase an affiliate product or service on your blog and use an email to drive traffic back to your post.
You can also include several relevant affiliate offers in the body of your email – just make sure they are products and services your customers need and want.
7. Give discounts and freebies
We're all bombarded by emails every day. A subscriber who joins your list and stays on your list should be rewarded for their loyalty.
Thank your subscribers regularly with coupons, discounts, freebies, and special offers that non-subscribers don't get.
For example, you might offer a paid course or eBook that's $50 on Amazon, but only $25 for email subscribers.
The most profitable email relationships are built with:
1. Consistency
2. Great subject lines
3. Relevant content
4. Infrequent sales
5. Strong calls to action
6. Relevant affiliate offers
7. Exciting discounts and freebies
By using these 7 proven methods for building a profitable email list, you'll be grooming long-lasting relationships and customer loyalty while increasing revenue with each email you send.
Learning about online marketing can be a challenge.
Learning about online marketing, while also trying to sort through all of the vocabulary that comes with it, can be downright scary.
From tired buzzwords to misused jargon, it can be hard to get to the bottom of what some marketing concepts actually mean and how exactly they can be applied to your business strategy.
To help you cut down on the confusion, here's a short list of some common marketing terms that are often misused or misunderstood.
1. Content
I like to think of content as a gift to your audience.
Whether it takes the form of a blog post, webinar, podcast, image, tweet, E-book, or infographic, content should be valuable to your audience. It should also help you build trust and authority with the people you share it with.
Think about the best gift you've ever received. Most likely what made the gift special was the feeling that the person who gave it to you knew you so well. When you're creating and sharing content, always have your audience in mind and offer them something meaningful.
If you get stuck, just remember that the best type of content is something your audience will thank you for.
2. Marketing
Think of marketing as the bridge you build to connect you and someone you want to develop a strong, long-lasting, professional relationship with.
Good marketing should effectively communicate what your business or organization can do for other people. The major goal of marketing is to share the right message with the right people at the right time in the hopes of building a mutually beneficial connection.
3. Content marketing
Ready to bring the two together?
Content marketing is giving people something valuable and relevant, to connect them with your business and create a strong relationship.
4. Marketing campaign
If marketing is the overarching philosophy you're working with, a campaign is marketing in action.
A marketing campaign is a specific, well planned, and concentrated effort to attract people to your business or organization.
Campaigns can take a lot of different forms. Here are some of the most effective:
Email campaign – Email is one of the most direct ways to reach your audience because you're sending to a place most people go every day — their inbox. Using a professional looking email template, adding engaging content, and providing a clear action for readers to take is a smart approach to building a connection.
Survey – Getting feedback regularly is the best way to know if your marketing is on track and to find out where there's room for improvement. Ask your audience what's working for them and what not and really listen to what they have to say. Making adjustments based on their input will go a long way in showing your audience that their opinion matters to you.
Local deal – Who doesn't like a good deal? Giving your audience a special offer or discount is a great way to inspire them to be generous with you. But be careful — making an offer without thinking it through could backfire and end up hurting your business and reputation. Take the time to formulate a plan and make sure you can deliver on what you're offering.
Event – You may not realize it, but events are one of the most effective marketing campaigns you can run. For small businesses, events provide an opportunity to take customer relationships offline, and bring new people into your store, restaurant, or office. With online marketing tools, you can easily promote your events through email and social media, collect registrations online, and send follow ups to keep relationships going, long after the event has ended.
5. Brand
For a campaign to be successful, it needs to be unique. In other words, it needs to incorporate your signature style or brand.
Branding is what sets you apart from your competitors. Building a brand is about identifying your strengths and making promises you know you can deliver on.
6. Lead
A lead is an individual or organization whose needs align well with what your business or organization has to offer. A lead has expressed interest in some way, whether that's visiting your website, coming into your store, or connecting with you on social media. You should actively be pursuing leads to grow your business.
7. Lead capture
As menacing as the word "capture" may sound, don't let it turn you off. Ultimately, lead capture ensures you are not ignoring people who are interested in your business or organization.
Encourage leads to share their contact information through a form to your website or utilize one of the many campaign types already mentioned. The next step is to nurture your leads.
8. Lead nurture
If marketing is the bridge between you and your target audience, think of lead nurturing as all the steps you're encouraging people to take to get on your side.
In more concrete terms: once a lead has connected with you, you need to cultivate that relationship by giving them relevant and consistent information to guide them to a place where they are comfortable with and committed to you.
9. Conversion
Throughout all your marketing efforts, one of your biggest goals will always be conversion. Conversion happens when someone performs a desired action based on your hard work.
Conversions can range from minor things like when a contact opens an email or clicks on a link, to larger actions like when a lead signs up for one of your services. Ideally, you want every minor conversion to bring your lead one step closer to a major conversion.
Hopefully this was helpful in making a few marketing terms less daunting.
Of course, there are plenty more marketing terms out there that could leave you scratching your head.
We're here to help! We're already at work, building our next list of marketing terms and want to make sure we're giving you the help you need to be successful.
If you're using social media to promote your business or nonprofit, I have a question for you: is your business's content on Pinterest?
If you've been pinning it yourself, then of course it is.
If not, you could be in store for a surprise.
People might already be pinning things from your site without you even knowing!
Luckily, Pinterest makes it very easy to tell. Open up your Internet browser and type in pinterest.com/source/your website.
For example: pinterest.com/source/www.constantcontact.com/blog.
See some pins there? Great! This means people already like what's on our website and are pinning your product images, photos, blog posts and other visual content.
To take advantage of this, the next thing you should do – if you haven't already – is to create a Pinterest business page for your organization. Then, connect it to your website.
Once you know people are pinning from your website, what else should you do?
After you connect your website with your Pinterest page, you can find out more details with Pinterest's analytics tools.
To find Pinterest analytics, go to your Pinterest account and click Analytics on the top left of the page.
What you'll find in Pinterest analytics
Pinterest analytics gives you access to the following information:
Overview

When you click on Overview, you'll see a summary of your profile, your followers, and pinning activity from your website, as well as the top pins from the last month. Click on More next to each category to view detailed information – you can select time periods of the last 7 days, 14 days, or 30 days in each category.
Profile
The profile metrics will show you impressions of your pins, which is how many times your pins appeared in the feeds of Pinterest users, as well as the average daily impressions, and average daily viewers. Click on Repins to view the number of average daily repins and the average daily number of people saving your pins. The Clicks shares the average daily clicks and average daily visitors of your pins. The All-time section displays metrics for all of your Pinterest pins, including your most shared pins, the pins that rank highest in Pinterest searches, and your "Power Pins," which are pins with a high mix of saves, clicks, and engagement.
People you reach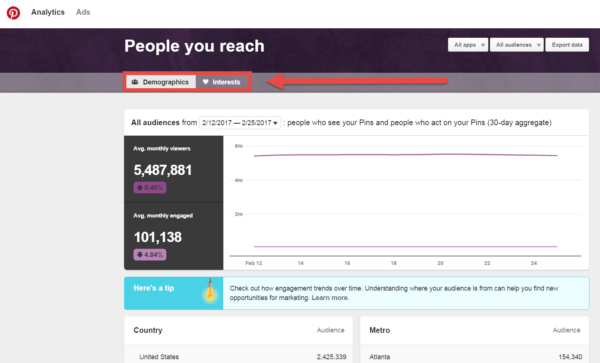 This category gives you information on the people who engage with your Pinterest content. The demographics show you the average viewers and engaged pinners who interact with your pins. You can also see the top countries, cities, languages, and gender of the people who engage with your content. Click on Interests to view topics that your audience engages with the most on Pinterest. From here you can also click on the top 20 boards that have a lot of your pins, and the top 10 brands your audience engages with on Pinterest.
Website
If you've confirmed your website with Pinterest, you'll have access to analytics that track what images people are pinning from your site to Pinterest. The impressions metrics display the average daily impressions and viewers that pins created from your site received. Click on Repins to view the average daily saves and average number of people saving repins created from your website. The Clicks share the average daily clicks and average daily visitors of content pinned from your website. The Original Pins section displays the average number of pins created daily from your website, and the average number of people creating pins. All-time will show you your most shared pins, pins that rank the highest in search, and pins that have the most engagement.
What should you do with this information?
Pinterest analytics will show you the most popular products, topics and information people are interested in from your website. Use that information to come up with content about the things they like. If you are providing your audience with what they want, they will continue to engage with you, pin your content, endorse you, visit your website and buy from you.
Make it easy for your audience to pin from your website by installing the Pin It button.
Then, start pinning from your website. Create boards with themes relevant to your business and pin your content. Get your content found by using large images, adding the right keywords, pinning content people are interested in, and engaging with other Pinterest users.
It's also important to strike a balance of content on Pinterest – don't just talk about yourself all the time. Make sure to balance your content with related curated content.
And keep learning about Pinterest! Follow Constant Contact's Pinterest Tips on Pinterest board for more information on using Pinterest to promote your business.
Have questions about using Pinterest Analytics? Post them in the comments below!
Derek Gerber, senior account executive at Tallega Software had a goal to reshape the way his software company communicated with its audience online.
"We've been in business for almost 10 years, and are constantly on the lookout for new technologies to help us grow," Derek explains. "We've been using email for the last few years, and have seen some great results. But we really wanted to take things a step further."
With over 8,000 email contacts, Tallega Software, which offers solutions to help clients store documents and keep their business running smoothly, had already seen the power of email to generate new and repeat business.
But Derek also knew there was one opportunity Tallega had been missing out on.
"My goal was to create a system to help introduce potential clients to our company when they join our email list," Derek explains.  "I had learned a lot about nurturing leads and what I really wanted was to find a way to introduce people to our business right from the start."
In April, Derek found out about using automated email series in Constant Contact.
"This is really exciting because we're able to create an automated series of emails, and know that we're reaching the right people with the right message," Derek explains.
Derek set up an automated series of 12 emails, each with a different piece of content to help educate potential clients about the benefits of working with Tallega Software.
The first email provides an introduction to new contacts with details about setting up a call to learn more. This is followed by a series of emails with strategically timed assets including a downloadable white paper, helpful tips and information, and links to articles on the Tallega Software Blog.
"What I've tried to do is to create a really unique, attention grabbing series of messages that drive people back to our website or encourage people to take another action," Derek explains. "We've seen some great initial results and are really excited to do more with the tool."
If you've been looking for a better way to engage your customers and generate new opportunities for your business — automated email series can help.
Here's a closer look at how Tallega Software set up their first automated email series:
1. Plan ahead
One of the biggest benefits of using automated email series is that they run on autopilot. This can save you time, while also offering an entirely new way to engage your base.
But while automated email series can certainly save you time in the long run, Derek explains that you also need to put in some effort at the start.
"You need to make sure you're doing your homework," Derek explains. "When I first got started, I knew what I wanted to accomplish but really wasn't sure how I would do it. So, I focused on what I wanted to get across and then built a plan to help me do it."
Derek estimates that it took about two weeks to plan out all of the content for his automated email series.
2. Put your audience first
Once Derek understood how he wanted to communicate, he then shifted his focus to the people who would be receiving his emails.
"One of the things we really try to do is to put ourselves in the shoes of the customer," Derek explains. "We know that people will pay attention to messages that are relevant to them. So, we focus on what problems they might be facing, or possible solutions they might be looking for."
One example of how Tallega Software puts its customers first is in an email with a simple subject line: Lost Information.
The email starts with a simple question: Have you lost any important documents or information in the past few days?
It goes on to explain that lost information is a problem that slows down businesses. Then, Derek provides a downloadable whitepaper with solutions for solving this growing problem.
Remember these three questions when planning your first series:
What do your contacts want to know?
What do they need to know?
What are their needs, problems, and challenges?
3. Use what you have
When planning his automated email series, Derek realized that many of the assets he needed were already available.
"One of the things we've learned is that it's really important to have your content ready," explains Derek. "We're constantly creating new assets and collecting helpful information to share with our customers. That's saved us a lot of time with creating our series."
Take a look at the content you've created in the past. Does your website have a blog? Are there articles you've shared on your social media channels or in your email newsletter that could be repurposed?
Look to see what you already have available before spending hours creating something new.
This is true when it comes to your content, and is also true when designing the emails for your series.
"We thought that creating 12 different emails was going to take a ton of time," Derek explains. "But once we designed our first email, we were able to copy and use the same template without starting over. That also saved us a lot of time, because we just needed to switch out the content and schedule."
4. Track your results
As Derek rolls out his first automated email series, he's also careful to keep an eye on how new contacts are responding.
With detailed reporting on the number of opens and clicks each email receives, Derek says that he is constantly identifying places where he can make improvements.
"We've been really excited with our early results, but we are already looking to do more with automated email series," Derek explains. "One of the things we're really focused on is our clicks. How can we make sure people are opening and taking the next step?"
One of the ways Derek is looking to improve his results is to start planning a second automated email series focused on specific types of industries.
By tracking the results of your automated email series, you'll be able to see what's working, what's not, and how you can tweak your strategy to improve your results.
Get started today!
Automation makes it easy to increase engagement with your contacts by delivering personalized, timely, and relevant messages. Once an automated email series is created you'll be able to eliminate parts of your manual campaign management, giving you more time to focus on other areas of your business!
Login or sign up to start using automated email series today.