Auto repair businesses are fast and busy shops, where no one has time to do anything but get the cars and trucks checked out and repaired as fast as possible. But in between ordering inventory and cleaning up, you need to get customers through the doors — and that's where digital marketing comes in.
You're probably not the only game in town when it comes to servicing automobiles, so you can't simply rely on your neighbors to turn to you. With so many repair shops lacking integrity and giving the industry a bad name, you need a way to stand out and show your quality work.
The key to successful marketing is to focus on the things that work and create a foundation that helps future customers build trust in your team and your company. It's worth scheduling some time for the fast five "must-have" basics for your auto repair shop marketing strategy:
A mobile-responsive website
Email marketing
A primary social media channel
Up-to-date business listings
Easy content creation
Let's take a closer look at how to approach these vital mechanic marketing strategies.
We make it easy to find new customers and get repeat business with marketing tools and expert advice.
1. A mobile-responsive website
Just because your business is part of a hands-on industry doesn't mean you shouldn't have a website. If you want to grow your business and present yourself as the professional you are, you absolutely must have an online presence for your company.
Your website doesn't have to be fancy, but it does have to be mobile-responsive. This means it should be designed to work just as seamlessly on a smartphone as it does on a desktop computer. Think about your customers who searched for a mechanic — they may be Googling while broken down on the side of the road.
To build your site, you'll want to employ a user-friendly tool like Constant Contact's Website Builder. The Website Builder will allow you to input your type of business and automatically create a basic website for you in minutes. Then, you'll want to make sure your auto repair website has at least four pages:
Homepage, which shows photos of your garage or happy customers
Services page, which outlines what you offer and specialize in
About Us page, which explains your team's expertise, experience, and values
Contact Us page, which helps your customers connect with you
You can add more with time, but start simple so you don't feel overwhelmed. A basic, clear, and well-designed website is better than none at all.
2. Email marketing
Are you collecting email addresses for all your current, loyal customers? You should start right away because email marketing is one of the most effective auto repair marketing techniques with the best return on investment.
You know it takes time for people to trust their mechanic, but once they do, they'll be your best advocates when their friends and family members need help with their automobiles. To expedite your email strategy, sign up for an email service provider like Constant Contact.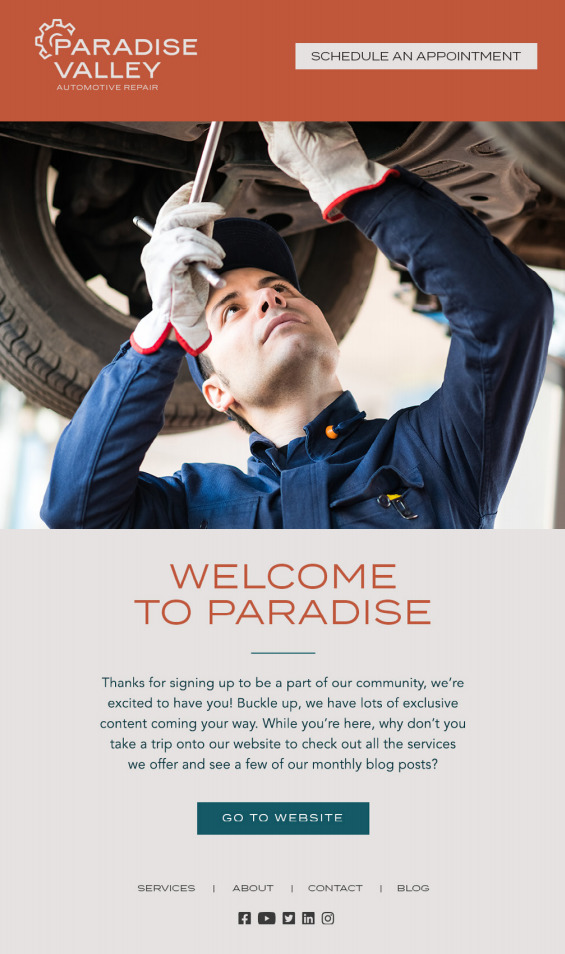 After you've picked one of the easy-to-use templates, you should plan to send an email to your customer list at least once a month. Think about sharing driving tips, discounts or specials on preventive maintenance, or simple holiday greetings. You'll stay top of mind for the next time they need service on their vehicle.
3. A primary social media channel
No, you don't have to post pictures about what you and the guys ate for lunch, but you do need at least one social media outlet for your business. That's because the majority of American adults use social media not only for personal but also for professional reasons. It's one place where people go to research before doing business.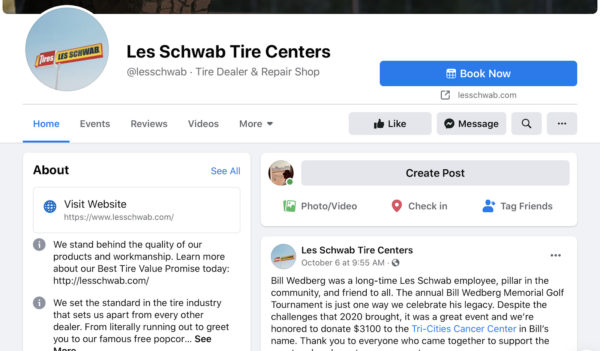 A good place to start is Facebook. Using your personal account, you can create a Facebook business page. Fill out all the information with the same words you used for your website, and upload the same photo you used on your site's homepage for your Facebook cover photo. Then, invite your personal contacts to become fans of your business page.
From there, the opportunities are endless for social media marketing. You can post maintenance tips, interesting articles from industry publications, and links to your monthly e-newsletter. Once you feel comfortable, you can also commit a small budget to paid digital advertising to target people in your region.
4. Up-to-date business listings
Another reason why you should set up your Facebook business page is that people also use the site to provide reviews, which are the modern-day version of word-of-mouth advertising. It's hard to believe, but today's consumers are just as likely to believe a stranger's opinion as that of a family member.
To take control of your online listings and reviews, you need to claim your business. Along with Facebook, you should also search for your company through Google My Business. It may already show up if one of your customers created your listing. You can claim your business and check for errors and omissions.
Other listing sites such as Yelp and Angie's List are also important to claim. For each of these platforms, be sure to completely fill out all the available information so that people can easily contact you and find your location accurately.
You may also already have reviews from customers. You should routinely check for new reviews and respond to them as quickly as possible. For positive reviews, all you need to do is thank the customer for their business and trust.
For negative reviews, stay professional. Acknowledge their frustration and explain the situation from your perspective, but without making excuses. Invite them to contact you directly by providing your phone number.
5. Easy content creation
The next step in your marketing strategy should be to let Google and other search engines work for you. When people search "auto repair Austin Texas," your website won't appear if those exact words aren't anywhere on your site.
These terms are known as keywords, which are an important part of search engine optimization, or SEO. To get noticed by Google — and new customers — you can improve your SEO through a process known as content marketing.
The easiest way to add content to your website is through a blog. If you feel uncomfortable writing for publication, work with a marketing professional who can help take your expert knowledge and transform it into a clear, well-organized article. These blogs can be great additions to your email marketing, and you can share them on your social media page, too.
Ready to learn more?
Marketing for auto repair shops is easier than it may first seem. To get up to speed on how to start with these five basics, check out Constant Contact's The Download. This free guide for marketing auto repair shops will help you position your business to gain new customers and stand out from the competition.

Share with your network