If you've always been inspired by the glitz and glamour of the runway, you might be dreaming of a career in fashion. You might believe your path is limited to fashion design, reporting, or selling but one alternative is to become a fashion consultant. This exciting job offers great potential for you to share your style and earn a high income. Sound interesting? Then read on.‌
Get new clients and repeat business with all the tools and marketing advice you need, all in one place.
What is a fashion consultant?
Some retailers refer to their sales associates as fashion consultants, but the term is broader than that. Fashion consultants can also work in personal styling and image consulting. As a stylist, you help personal clients revamp their wardrobe by assessing their style, learning their needs, and cultivating looks that take their closet to the next level.
‌‌You can also work for commercial clients such as magazines and ad agencies pulling clothing for photoshoots. Many of these stylists work directly for the agency, but sometimes, businesses use freelance stylists.
‌‌An image consultant helps clients use clothing and accessories to communicate their personal brand. You go beyond choosing a personal wardrobe and instead show your clients how to revamp their clothing and online presence to enhance their image.
How to become a fashion consultant
Attending fashion school can help you become a fashion consultant, but it's not a requirement. If you have retail experience, connections in the industry, or any other experience that has improved your fashion skills, you might not need a degree.
Work in retail or a studio
Working in a clothing store or a small boutique gives you valuable styling skills. You learn how to interact with customers and pull outfits that meet their needs. You can also learn visual merchandising skills by creating window and in-store displays that catch the eye. This is a must for styling.
‌If you're in college, apply for internships with fashion brands, magazines, area designers, fashion publicists, or stylists in your area. You will learn the ropes of the business while adding to your resume and portfolio.
Build your portfolio
If you want to show clients your capabilities, you need a portfolio. Thankfully, you don't have to lug a huge physical photo album around anymore. You can make a digital portfolio using a website. If you're working at a boutique, ask if you can photograph any displays you created or that you assisted with during the design phase.
‌‌If you styled your friend for a job interview, snap a photo and add it to your website. Make the shot look professional, and use good lighting and a high-quality camera for all of your photos.
Develop your social media presence
Parlaying your social media personality into a full-fledged design career is tricky these days. The fashion influencer market is saturated. Unless you're a socialite with a direct line to Olivier Rousting, it's hard to stand out. But curating a social media grid with outfits that showcase your own personal style will give potential clients an idea of what you can do.
7 tips for becoming a fashion consultant and finding clients
When you've decided to become a fashion consultant, your priority will be attracting clients. But first, you need to set up your business.
1. Define your niche
Start your business plan by deciding what niche your business will be in. Are you going to style people? Are you interested in styling for commercial clients? What genre of publications are you interested in styling?
2. Research the market
After you've selected your niche, research the competition. See what other businesses exist so that you can figure out what makes you unique. If you're trying to compete with multiple experienced professionals in your market, you might consider changing tactics.
3. Get online
When you've settled on a niche and a name, you can begin marketing. Digital marketing is an affordable and effective way to put yourself out there and start attracting new clients. To do so, first, build your website. There are plenty of platforms you can use to build your site. Use your digital portfolio as a guide and build a website from there. Or, you can start fresh and create a new portfolio.
‌On your website, be sure to include contact information, services, and a separate page sharing your story with potential clients.
4. Start networking
You've put a lot of hard work into your Instagram feed, but don't neglect LinkedIn. Use this network to connect with other freelance stylists and meet potential clients. Post links to various fashion articles, promote your projects, and join group discussions on various pages.
‌When you join LinkedIn groups, monitor them regularly and contribute valuable comments in the discussions to show your expertise.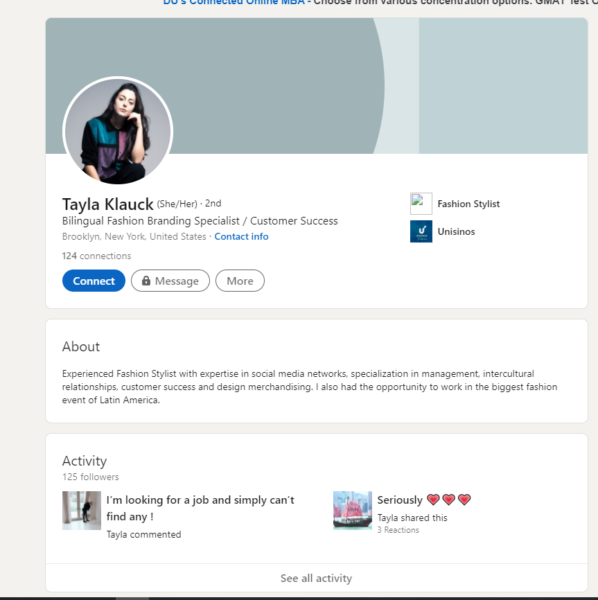 5. Build your email list
As you become a fashion consultant and establish your brand, creating and automating personalized email messages are great for generating new business leads. They help you highlight your experience and keep you relevant to your subscribers. 
On your website, add a contact form so potential clients can sign up for your newsletter. Send out style tips, promotional events, and links to your content.
‌‌Moreover, segment your list into various groups and create targeted messages. You might group people by location, demographic information, or other small categories.
6. Pay for ads
If you want to boost your social media following and promote your styling services, consider running sponsored posts on Facebook and Instagram. Simply set up a business profile on Facebook and use Facebook Ads Manager to create your campaign. 
‌‌Create an ad using high-quality, visually appealing images and overlay them with text that tells the viewer what you want them to do. Your call to action could be as simple as "contact me for more information."
‌‌Next, use the ads manager to choose your target audience, set your budget, and publish your ad. You can target people based on interests, demographics, or location. If you're not sure who to target, run two test campaigns for $5.00 each and use the analytics tools to see which ad drove more clicks to your site.
If you're a Constant Contact customer, you can create and run your Facebook and Instagram ads right from your account.
7. Stay on top of trends
As a fashion consultant, your clients are looking to you for knowledge. Keep up with the industry by reading trade publications such as Women's Wear Daily, digital fashion magazines, and reputable fashion blogs. Additionally, follow top fashion industry leaders and designers on social media.
‌You don't necessarily need a fashion degree to be a consultant, but you should brush up on fashion history and become familiar with the terminology. Read books or take some beginning design classes to learn how different styles fit different people.
Taking your first steps
If you're ready to become a fashion consultant, you might be wondering how to begin. If you've already got fashion knowledge and some experience with styling, start researching different styling niches. And, begin building your digital portfolio as you work to establish your brand's presence on social media platforms like Instagram and LinkedIn.
Once you've found your niche in the business, get started on your business plan by researching your competitors, defining your target audience, and more. Continue establishing yourself as a fashion consultant through networking and digital marketing. And be sure to build your email list and stay on top of industry trends.
I know it may seem like a lot to do but don't let it overwhelm you. Take it one step at a time, breaking the process down into small goals and you'll be up and running in your new career in no time at all.