For retailers, the holiday season is one of the busiest of the year. As people shop for gifts, groceries, home décor, and other items to make the season festive and cheery, they spend loads of cash. In 2021, holiday sales reached about $850 billion.
As a small business owner, you're probably wondering how to compete with large retail chains. Use these Christmas giveaway ideas to lure customers into your shop and get your piece of the holiday sales rush.
Why Christmas giveaways are beneficial for your business
‌Your customers are likely busy — even more so during the holidays. Between shopping for presents, cleaning and decorating the house, hosting parties, and attending company parties and other functions, they're probably stretched thin.
‌Hosting Christmas giveaways and contests gives them a break from the holiday stress, and this type of interactive content lets you engage them. Giving your customers a chance to win a contest can help boost their holiday excitement and cheer. Your prize could help them tick a present off their list or brighten their holiday.
When customers enter your Christmas contests, they also think about you while they're doing other shopping. They could be on your website entering your contest and see something in your catalog that would make a great gift for someone on their shopping list. Get started now to be ready by the time the season kicks off.
8 Christmas giveaway ideas
‌‌1. Cash prize
Of all the Christmas giveaway ideas on the list, this is probably the most appreciated.
Everyone appreciates more money during the holiday season. Since they're out spending more than usual, give your customers a chance to win some extra cash or even a gift card to your shop. Host an Instagram photo contest with people tagging your products in creative posts and offer the winner a cash prize.
Add a link in your bio to a shoppable landing page and use a branded hashtag to find all the contest entries. You can pick the winner yourself or let fans vote on your website.
‌2. Give your customers a break
‌For some, Christmas can be a stressful time. In a 2019 survey, 88% of respondents said that the holidays stressed them out more than any other time of the year — note that this survey was conducted pre-pandemic, but that doesn't mean it's no longer true. It seems like people have always been frazzled during the holiday season.
To give your customers some stress-relieve this year, host a contest with a prize that gives your winner a break. Offer a gift card to a day spa or another relaxing activity to drum up interest. Host a photo contest asking your customers for creative ways to beat the holiday nerves. This idea is a win-win because people can enter to win some relaxation while also getting tips on dealing with stress on their own.
3. Free Christmas lighting
‌One dreaded item on the holiday to-do list is prepping the house. Host a giveaway in which the winner gets their Christmas lights hung for free by professional holiday decorators. Add an entry form on your website and promote the contest with social media posts of beautifully decorated homes. Appeal to their desire to be the most festive house on the block.
4. Tickets for holiday events
‌Not everyone has a fully booked calendar of holiday parties. Some of your customers might be new in town and looking for places to meet people in the neighborhood. If you know of a local business hosting a holiday party, ask the owner or manager for some tickets to the event to give away.
By partnering with another business, you can cross-promote on each other's websites and social media pages. Post photos of past parties that drum up interest and excitement for the grand prize.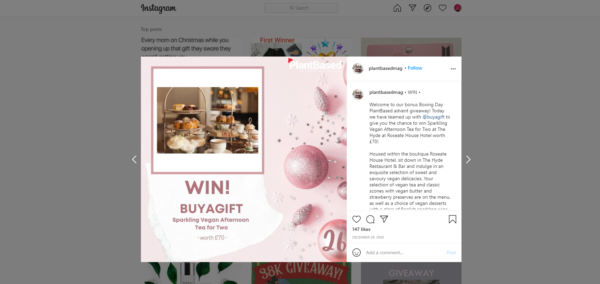 ‌5. Big-ticket gifts
‌Christmas giveaway ideas don't have to be focused on existing customers. Use a giveaway to help people in your community. Not every family can afford to get every item on their child's wish list. Host a competition in which the prize is a big-ticket item their kids want or need. Find out which expensive gifts are trending and pick one or two of them to offer as prizes. You can use a random generator to pick a winner.
6. Free Christmas dinner
‌Another way to help people in your area is to offer a free Christmas dinner. If you run a small grocery store, you can give away free turkeys and hams to a select number of winners in your area. Or you can give away catered dinners to your contest winners.
7. Give away a gift card with purchase
‌Offer a gift card or discount when people spend a certain dollar amount in your store. This promotion inspires customers to buy more during their visit for the chance to get a gift card. It also encourages them to come back and shop later. You can frame the gift card as a free stocking stuffer that builds your brand awareness by driving the giftee into your store.
8. Give away free products
‌Introduce people to your brand by hosting a random giveaway in which the winner gets a gift box with free samples. Use the contest to gain followers by making entrants like and follow you as part of their entry. Offer extra entries to people who share the contest via social media.
Getting started
‌Christmas giveaway ideas don't have to be complicated. Before you start, look at your target audience and choose a prize that appeals to them. Layout your budget considerations and offer a prize that fits within your limits. If you're a small online retailer, you probably don't want to give away an all-expenses-paid trip to Mexico, but you could probably handle a $50 gift card.
It's ok to start your Christmas giveaway early to get a jump on holiday ads from big box stores. Start by figuring out your prize and establishing the rules for entry.
When you've settled on a prize, use your email list to invite your current customers to enter the contest. Choose an email subject line that creates excitement. In the email, clearly explain the contest rules, including how to enter. If you're hosting a photo contest, for example, establish rules for the kinds of content you're looking for. Also, include rules about what kinds of photos are unacceptable.
Post about your contest early and often on social media with multiple hashtags to increase visibility. If you've chosen to offer small prizes, host multiple contests in the weeks leading up to Christmas. Bundle deals with contest entries to entice people to buy something.
Consider using social media ads to promote your contest to land in a wider range of customer feeds. Pair your specific contest hashtag with generic hashtags that help more people find your post.
Christmas giveaways are a way to connect with current and future customers and persuade them to remember you during the holidays. You can use them to offer a fun respite from holiday stress while driving traffic to your shop.
While these Christmas giveaway ideas will help you drive traffic to your store, once shoppers get there, here's how you can add holiday value without offering a discount.