As an owner of an auto repair and maintenance shop, you know a lot about cars. You probably have a few tips that you tell your favorite customers to help them keep their cars alive longer. There might be common mistakes that people often make or misconceptions that you always have to correct. This is why auto content marketing could serve your business well.
In the following sections, you'll learn everything you need to know about auto content marketing. By the end, you should know what it is, how it works, and how to get started.
We make it easy to find new customers and get repeat business with marketing tools and expert advice.
What is content marketing?
Content marketing is the use of information, videos, or graphics online to help market your company to a specific audience. What does that look like for an auto repair shop? It could be blog posts, instructional videos, or a wide range of other types of content.
The idea behind this form of marketing is that people like easily digestible content. They can look at something, learn what they need to, and keep moving.
A lot of companies aim to create viral content that gets plenty of shares. The more views you get, the more people become aware of your business. You can also direct the traffic right to your website. That's why it's important to make sure your website is set up correctly (more on that later).
Does your repair shop need content marketing?
Whether you own a tiny shop or a massive company, you can benefit from content marketing. It can enhance your success and help you reach more people. Marketing your auto repair shop is easy enough to do once you learn how, so there's no need to stress out ahead of time. In a few minutes, we'll walk you through the process.
The role of content marketing
Content marketing is always aimed at a certain core of people. In your case, you'll want to target people who own cars and live within driving distance of your shop. The way that you reach this audience all depends on what type of content marketing you use.
Auto content marketing ideas
You can get pretty creative as you put together different pieces of content. Here are a few common content marketing ideas that you can choose from:
Repair videos. When someone runs into car troubles, their first instinct might be to look up how to fix it. If you put together an extensive library of videos that walk viewers through solutions to common car problems, you have a good chance of getting views.
Reviews of car products. People are also curious about what products can help them take care of their vehicles. This might refer to cleaning, maintaining, or repairing a car. Give your honest opinion about different products and show them in action.‌
General car care information. You can offer car care information through videos, infographics, or blog posts. The idea is to help people understand how to keep their cars alive longer.‌
"Did you know" posts. There are a lot of common misconceptions about cars out there. For example, people think that premium gas makes their standard car perform better. As an auto repair expert, you can create interesting blog posts or videos that explain the truth behind the myths.‌
History of cars. Cars have such a rich history that's fun to learn about. Walk your readers through a brief history of some interesting models or manufacturers. The market for this is huge, using the "Ford v Ferrari" movie as a benchmark.‌
The latest automotive news. You can also talk about the present and future of cars. Highlight interesting car news and talk about what's to come.
How to get started with content marketing
If these types of content interest you, you might want to get to work immediately. We'll tell you how to get started with your auto repair content marketing.
Start a blog
Blogs are one of the most common ways to run a content marketing campaign. If you run the blog, you have free rein when it comes to the topics you write about and how you present the information.
Additionally, blogs can be profit machines if you run them correctly. You can run one directly through your website. If you don't have a site yet, check out Constant Contact's guide for building an awesome auto repair website.
If you struggle to come up with blog ideas, think about common conversations you have with clients or peers. Is there a certain area that you consider yourself an expert in? What do customers do to their cars that drives you crazy? All of these can be viable blog post topics.
Remember, you're writing content that people want to read, enjoy, and share.
Focus on social media
Social media is a hive of shared content. This is an area that offers you a lot of flexibility and the ability to try different kinds of content marketing. You can upload videos, infographics, or written posts.
When it comes to social media marketing for auto shops, focus on your target audience. Always aim to post viral content and make it easy for people to get connected with you. It's a good idea to link your website and email signature to your social media channels.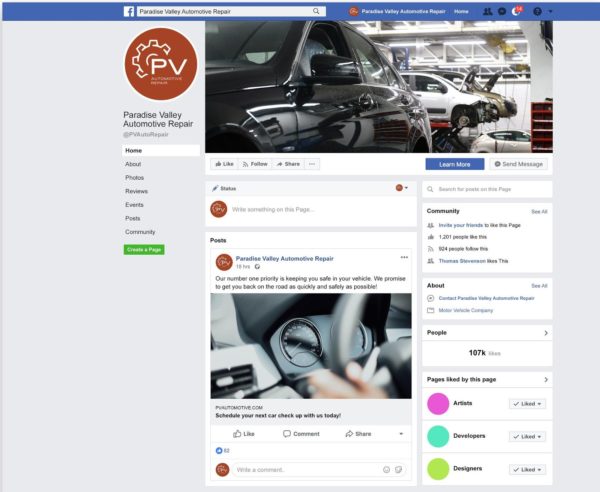 Make sure your site uses SEO techniques
Knowing how to build an auto repair site involves using search engine optimization (SEO) strategies. SEO helps your blog and site show up on people's Google results.
Even beginners can use SEO with a few tips. Make sure you target specific keywords or keyphrases — terms that someone might use in a Google search to find auto-related content like yours.
An example might be "how to change a flat tire." Your blog or instructional video on this topic should contain the keyword or key phrase a number of times. With SEO, your site might get more views and start climbing the ranks until it's on the first page of Google search results.
Using a website builder with built-in SEO tools is the best method to help you get started. If you already have a site, use an SEO audit from Constant Contact to see how you're doing and help boost your performance.
More help in growing your auto repair business
Content marketing is the preferred method for a lot of auto shops. You just learned more about what it is, how it works, and how to do it yourself. Content marketing is just the tip of the marketing iceberg. If you want to learn more, download the free marketing guide, The Download. It will tell you everything you need to know about marketing your auto repair and maintenance shop.

Share with your network