Automotive social media can be a helpful tool for your business. It can generate new leads, lead to more profit, and help grow your company. In the following sections, you'll learn what goes into social media marketing and how you can do it. In this post, you will learn about:
Why social media is beneficial for auto repair businesses
Types of automotive social media marketing
How to get started with social media for automotive repair
We make it easy to find new customers and get repeat business with marketing tools and expert advice.
Why social media is beneficial for repair businesses
There are a number of reasons why social media works well for any business, including automotive repair. Social media is a word of mouth marketing tool that is free and easy to use. Here are some of the benefits of using social media for your business.
Connect better with your customers
When people follow a company's social media account, they establish a connection. You can send direct messages to them or respond to any of their questions and time-sensitive messages. They might publicly talk to you and give you an opportunity to show what a good company you are.
It also gives you an opportunity to connect and communicate with your existing customers to stay top of mind.
Increase your company's visibility
Every time you make a post, other users can repost it to their accounts. It keeps all of your information intact and provides a link for a new viewer to see your page. In other words, you now have an even larger audience, and your company's visibility shoots up.
Build brand awareness
A customer's recognition of your brand and what you do is called brand awareness.
As more people notice you, they'll become more aware of your brand. This is why it's so important to keep your brand's voice in every post.
Brand awareness helps people make decisions when they consider who they want to do their auto repairs. If someone has simply just seen your name before, this will give them a starting point and increase your chances of being the business that pops into their head when they need an auto repair.
Showcase your industry expertise
Posting informational and helpful content will help people understand your expertise. They'll recognize you as a knowledgeable company within the world of auto repairs. This is why car-related topics should be your focus for your social media. Here are some post ideas you might consider:
Best car maintenance practices – when to change your oil, rotate your tires, replace your timing belt, etc.
Auto repair facts – the mechanics of an oil change, what happens after the airbags deploy, etc.
Personal connections – staff bios and photos from your company, invitations for people to "ask a mechanic," etc.
This also plays a part in your brand awareness. People will see your name and recognize you as a knowledgeable auto repair company.
Types of automotive social media marketing
Every social media app has a different method for marketing. In general, there are a few different types of automotive social media marketing.
Organic posts
Organic posts are just regular posts that you make from your account. They are tied to your company and can easily be shared across the social media platform.
These posts can use text, images, and links to create the message. You can also link to videos that you have posted on your company's YouTube or other video accounts.
Promoted posts
You can pay a little money and put together a promoted post. This post is basically an advertisement that shows up on people's feeds, even if they haven't followed you on social media. This type of post works best when the content tells customers what your company does and how you can help them.
Facebook and Instagram ads
If you want to advertise your auto repair company, Facebook and Instagram ads are the way to do it. These ads can be targeted so only specific people see them. Using online tools to monitor and optimize the posts will give you even better results.
These ads will show up as people scroll through their social media feed. Link to your website so the user can immediately learn more about you.
Facebook lead ads
If you want to use Facebook to get more email leads, you definitely can. Social media marketing is also a way to get email addresses so you can use them for your email marketing campaign.
Every Facebook account has an associated email address, so everyone is a potential lead. These ads aim to get people to sign up with their email address so you can send them messages. This is a nice segue into your email marketing campaign.
How to get started with social media for automotive repair
Check out these tips for getting started on social media. Below are also some easy tips to launch your automotive social media accounts.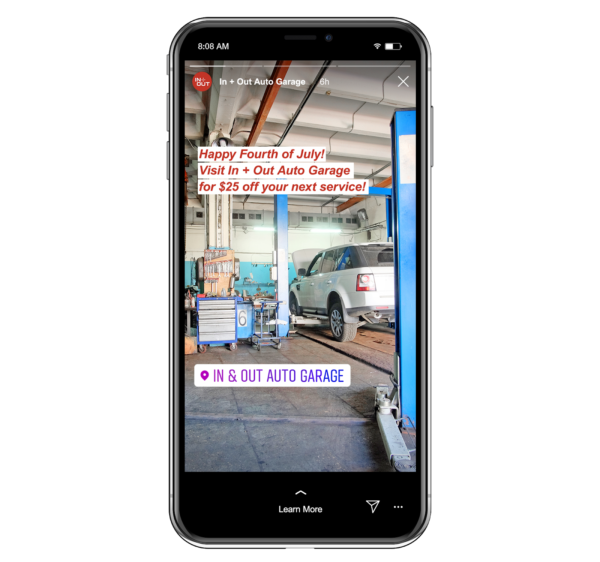 Start with one platform
Since every social media platform is different, the best idea is to start with one and slowly build up. Facebook tends to be a good choice for auto repair businesses. Once you successfully start one account, you'll have a better idea of what to do on the other accounts. If you use social media personally, you're already off to a good start. Your company's accounts will be operated in a similar way.
Create business goals
Your accounts are useless if you're not targeting certain goals. Different goals can be brand awareness, getting people to click your links, showcasing your superior customer service, and driving people to your website. Track these goals in order to get a better idea of what's working and what isn't.
Be consistent
With social media, consistency is key. This means posting regularly and uploading the same types of posts. If you go overboard and post too often, people might unfollow you and become uninterested.
Make sure your brand's voice is consistent from post to post. Regularly interact with anyone who messages or mentions you on any of your social media accounts.
Use automation wherever you can
If you want to free up some time, you should consider using automation. Constant Contact can help with automatic social media tools that allow you to create and schedule your posts and advertisements ahead of time. If you schedule these on a weekly or monthly basis, it can increase your efficiency while keeping your business present across your social media platforms.
By freeing up this time, you have more time to work on your business. It's the equivalent of having an assistant do all the work for you, but it's significantly less expensive and has much more functionality. It will help you make more meaningful connections through your social media accounts.
Conclusion
Automotive social media accounts are a big way to generate leads and make more money. These definitions and tips should help you get started. If you want to learn more about online marketing, you can download the ultimate guide to auto repair marketing.

Share with your network