This year, Cyber Monday sales are expected to top $11 billion in sales. And small businesses stand to rake in some major Cyber Monday revenue if they can put together a compelling offer and effectively promote it with an email series.
Not sure how to take advantage of all that spending? You've come to the right place! In this article, I'll help you get prepared to send a sales-generating Cyber Monday email, and I'll share some real Cyber Monday email examples to help inspire your campaign.
When is Cyber Monday 2022?
Cyber Monday falls each year on the Monday after Thanksgiving. This year, Cyber Monday is on November 28, 2022.
How to create a great Cyber Monday email campaign
Before we dive into how to create a great Cyber Monday email, I want to take a moment for you to consider doing an email series rather than a single email.
Why a Cyber Monday email series is more effective than a single email
Just like with Black Friday emails, it's best to promote your small business's Cyber Monday sale with an email series of three emails, rather than just one email on November 28th. Here's how a three-email series helps you attract more customers than a single email:
Your first email should go out a few days before Cyber Monday and contain a simple tease of your upcoming sale or offer. Sending this first email will get subscribers excited about your offer, and let them know to look out for your email on Cyber Monday, so it doesn't get lost in the shuffle with all the other Cyber Monday emails they'll receive.
Your second email is your main Cyber Monday sale email. It should be sent on the morning of November 28th and be very focused on one thing: Your Cyber Monday offer, with a button that your email readers can click to take advantage of the offer. We'll spend most of this article focused on what this email should look like since it's the most important in your series.
The third email in your Cyber Monday series is a "last chance" email. You should send it out in the afternoon of November 28th to remind your customers that they have just a few hours to take advantage of the offer. After reminding them that this is their last chance to participate in your sale, your email should share the same great, focused, offer details you sent in your previous Cyber Monday email.
What to include in your main Cyber Monday email
As I mentioned above, your main Cyber Monday email should be hyper-focused on one thing: Getting your subscribers to take advantage of your Cyber Monday offer. So be careful not to pack your email with too much information.
Remember, you want your subscribers to click the link in your email to bring them to your website or online store — where they're one step closer to making a purchase.
To create the best possible Cyber Monday email, include just these three things:
A great subject line that features the most compelling part of your offer and motivates people to open your email and learn more (We have tips on Cyber Monday subject lines in the next section, so read on!).
A clear, compelling, and concise description of your offer. Don't be shy here! If you're offering a free gift, include "FREE GIFT" in bold text right at the top of your email. If you're offering 15% off your entire inventory, include a bold graphic or some stylized text at the beginning of your email that highlights that number. Just identify the most exciting thing you're offering to customers on Cyber Monday, and make that the star of your email.
A prominent call to action (CTA) button or link that people can click on to take advantage of the sale. Make this button super easy to find. If your email contains a big bold graphic or product image, you can even make the entire image a clickable link to your website. And make sure that the link goes to a page on your website that includes some type of message about Cyber Monday, so your customers know they've landed at the right place and that they're getting your Cyber Monday deal.
We'll show you how it all comes together with some real-world examples below. But first, we need to make sure that your email subscribers actually open your email in the first place. The way we do that is by using a great Cyber Monday subject line for your email.
How to write the best Cyber Monday subject lines
The whole point of a great email subject line is getting people to open your email so that hopefully they'll make a purchase during your Cyber Monday sale.
According to our Small Business Now Report, emails with a discount or coupon are the most likely to be opened. In fact, 77 percent of consumers said they opened emails that contained a clear discount offer. And 67 percent of consumers said they actually go on to make a purchase from these types of emails.
The takeaway? Put your offer in the subject line of your Cyber Monday email! Your subject line is the single most important factor in making sure your email gets opened. At the very least, you'll need to tease your offer in the subject line. After all, what's the point of putting together a great sale if you aren't getting the word out to your customers?
We'll share some examples of creative Cyber Monday subject lines below and — spoiler alert — some don't feature their offer in the subject line. These less direct subject lines can be effective for larger brands that people are already very familiar with, but small businesses should be more upfront with their offer in order to compete for attention in the inbox. For small businesses to create the best Cyber Monday email they possibly can, I highly recommend featuring the offer right in the subject line.
Here are some examples of effective Cyber Monday subject lines using this tactic:
"35% off site-wide TODAY ONLY"
"Get a FREE GIFT with your purchase when you buy TODAY"
"⏰ Save up to $35 on dog collars until 8PM EST! ⏰"
"???? CYBER MONDAY DEAL: 15% off EVERYTHING"
"CYBER MONDAY SALE: Buy one, get one free (TODAY ONLY)"
Now you might be thinking these sound a little bit spammy, especially with the use of capitalization. And that's a great extinct! You don't want to be spammy in your email marketing, but when you have a genuinely valuable offer or discount, your customers will want to know about it. In fact, that's likely why they subscribed to your email list in the first place. So when you're promoting a great deal, your email list will be more forgiving (or even thank you) for being bold, clear, and yes — using attention-grabbing language with capitalization, exclamation points, and emojis.
Notice how the examples above also include urgency with language like "TODAY ONLY" or "until 8PM EST!" Not only does urgency help motivate people to take action and make a purchase, but it also makes it clear to your customers that your offer is only for a limited time, so they don't miss it.
The 4 best Cyber Monday email examples
Take inspiration from some of my favorite Cyber Monday sale email examples, from big brands and small businesses alike!
Bonobos' animated GIF Cyber Monday email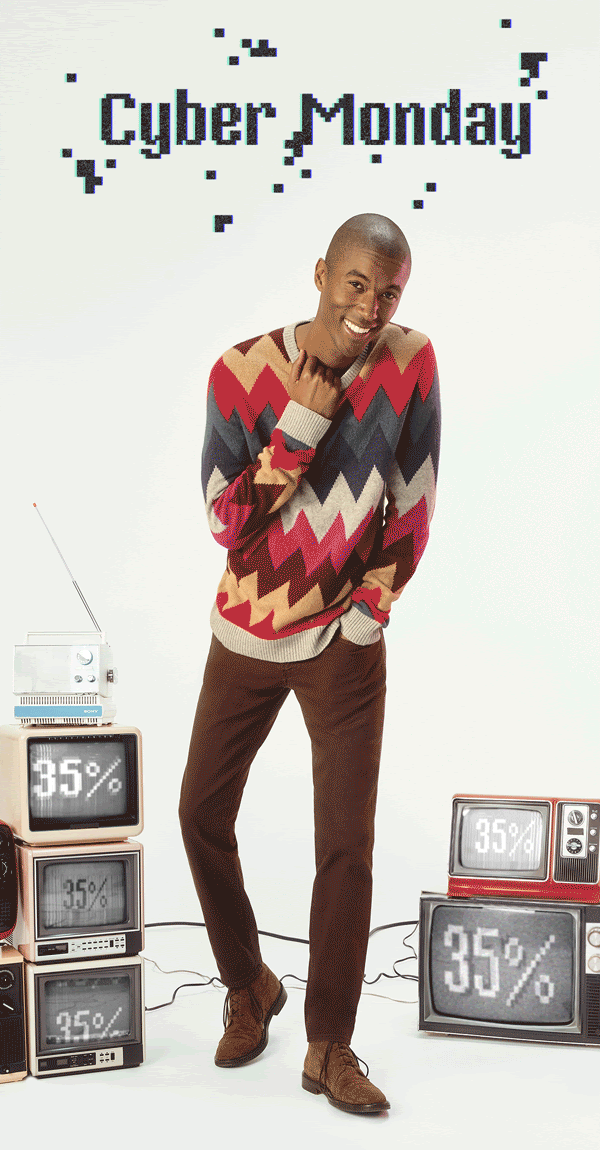 Subject line: ???? Literal final hours for 35% off Cyber Monday ????
What I love about this email: I'm a sucker for a good animated GIF. This email from Bonobos is super eye-catching, and I really like how they managed to create a tasteful, compelling, animated image that highlights their product (Men's clothes) and their offer (35% off) at the same time.
Including an animated GIF if your email is a great way to stand out, and you don't need to be a computer expert to do so! Check out our article on how to insert a GIF into an email.
Getaway's Cyber Monday sale email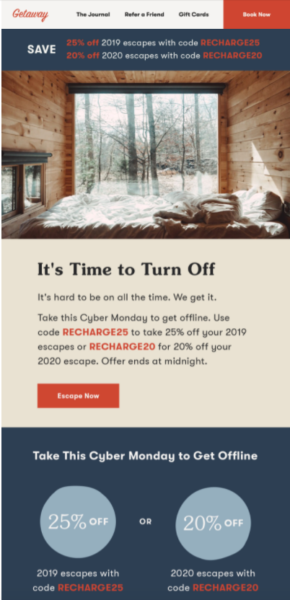 Subject line: Let Cyber Monday Take You Offline
What I love about this email: This email from the cabin rental company Getaway has a playful subject line that fits perfectly with their brand, which is all about giving people a break from the hustle and bustle of a modern digital lifestyle. And even though they don't feature their offer in their subject line, it's clear to see once you open the email. The inviting image, clear offer, and singular action button to "Escape Now" compel the reader to click and book their next camping trip.
Hydroflask's Cyber Monday site-wide deal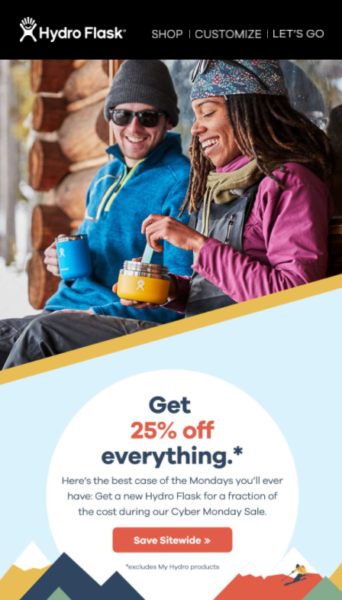 Subject line: We ???? (Cyber) Mondays
What I love about this email: This campaign from Hydro Flask is a great example of a focused Cyber Monday email. It has a colorful, inviting design and a very simple message that boldly highlights their offer, along with a big bright button that makes it easy for email readers to take advantage and save.
La Provence: Free gift email
And just to show you again that Cyber Monday is for small businesses, here's a real Cyber Monday email from one of my favorite small businesses, La Provence in Rockport, Massachusetts.
Subject line: CYBER MONDAY!!! – FREE GIFT with Purchase
What I love about this email: First of all, the subject line clearly highlights La Provence's Cyber Monday offer — a free gift with qualifying purchase. When you open the email, there is a very clear and concise description of the offer details. It's also a great example of how you don't need to offer a percentage off your entire inventory to have a great Cyber Monday promotion. You can offer a free gift (as La Provence does), free shipping, or a gift card with qualifying purchase.
Check out more ways you can add holiday value for customers without offering a discount.
Real-world example: How one small business made $67,000 from their Cyber Monday email
By now, hopefully, you understand the theory behind how a Cyber Monday email campaign can help you generate a spike in sales. But just to drive home the point, let's take a look at the real example of how one small business made $67,000 from its Cyber Monday email.
When Heath Bowman, owner of Southeastern Underdeck Systems, sent out an email one Cyber Monday, he wasn't expecting anything groundbreaking.
"Our Cyber Monday offer was our first email with Constant Contact. To be honest, I really wasn't expecting anything from it. I had never run a special before, and we did it super last minute on the morning of Cyber Monday," Heath explains.
But when you own a small business, you start to expect the unexpected.
"After I sent our email, my phone didn't stop for the next 10 hours! I was literally taking calls at midnight," says Heath.
In total, Heath sold 27 jobs on Cyber Monday — resulting in $67,000 in sales.
This is the most jobs Heath has ever sold in a single day.
"I had the idea because I was getting so many Cyber Monday emails myself that day," Heath remembers. "I thought: Why don't we send our own Cyber Monday deal?"
Using Constant Contact for email marketing, Heath was able to create his first email easily and get it out right away.
"We made it happen within a couple hours — created the design, and chose a discount. We told everyone it was a one-time deal, and it really resonated with a lot of people," he says.
Here's a look at the email Heath sent out:
While discounts are not something Heath offers often, he decided including a one-day-only 15 percent off coupon might persuade people to take action and drive some sales during the slower winter season.
Since his successful Cyber Monday email, Heath continues to see the benefits of using email marketing year-round.
He now sends monthly emails to keep in touch with existing leads and stay at the top of people's minds.
Rather than spending time cold calling people, Heath sees his emails as the best way to build relationships and gain trust with people before they decide to buy.
"Constant Contact has helped us bridge that gap, where we're not going to force you to buy something right now," Heath explains. "A lot of companies, if they don't close on a deal right away, they assume they can't make a sale, so they just move on. What we can do with Constant Contact is stay in contact with past customers and future customers. The past customers can learn about the new stuff we're offering, and the potential customers might buy a year after we first talk to them, so we don't give up on them."
Heath urges other business owners to remember the importance of educating and winning over clients, instead of focusing on the hard sell all the time.
"We haven't sent any offers again since," he says. "We'll definitely offer another discount this year on Cyber Monday, but the rest of the year, we really want to focus on education and new product offerings, and what's going on with our business. Our next newsletter is about one of our staff members and the recent certification he received for the remodeling industry."
Since getting started with email marketing a year ago, Heath has also changed his approach to his emails' layout.
"I recently sent a test email to myself, opened it up — and even though it was my company, I thought 'Wow I wouldn't read all that!' We went back to the drawing board because we were really adding too much content. Now we're going to try to do more frequent newsletters with less content to keep people clicking through."
Heath's new email layout is concise and focused with one clear call to action. With over 60 percent of all emails now opened on a mobile device, his approach is perfect for subscribers who are opening on their phones.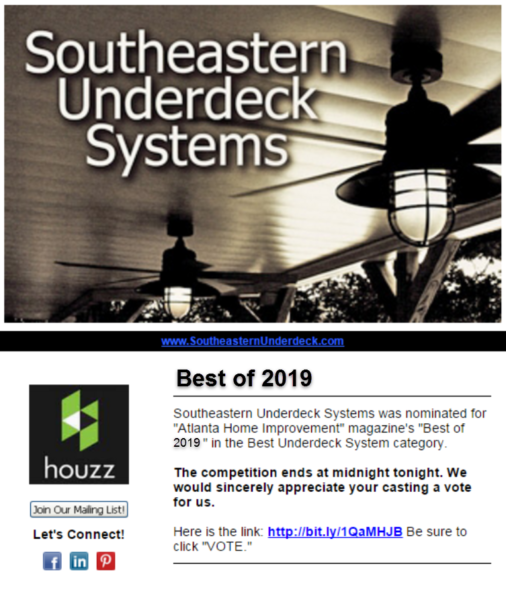 Heath's expectations for Cyber Monday have changed since his first email campaign.
Heath's confidence as a marketer for his business is growing, and he continues to drive sales during the holiday months.
Here's his advice for business owners who are thinking about sending their first Cyber Monday email this year:
"My advice for Cyber Monday is to actually do it. I really think people need to just take the first step. I could not believe how well we did with it. It's more important than a lot of advertising — because it's just following up with customers. The biggest problem is that people won't pull the trigger. You probably don't even need as much content as you start with, so just write something up and keep it simple."
Cyber Monday templates for your email campaign
Don't start your email from scratch! We offer a huge selection of email templates that you can customize for your Cyber Monday campaign. Here are a few of my favorite templates for Cyber Monday:
Animated Cyber Monday sale template
Robot-themed Cyber Monday template
Techie Cyber Monday sale template
It's time to build your own Cyber Monday campaign!
Now you're ready to plan your email campaign and generate sales this Cyber Monday!

Log into your Constant Contact account or start a free trial to begin building your campaign.

Share with your network