Perhaps spurred by a desire to help nonprofits weather the COVID-19 pandemic, donations increased by 10.6% in 2020 compared to 2019. Many organizations saw increases at every donation level, but not all news from 2020 was encouraging.
Although people were feeling extra charitable last year, donor retention fell by 4.1%. For a nonprofit organization, nurturing your relationships with current donors is critical to long-term success. Let them see how you're spending their money to give them a sense that their donations matter. Instead of emphasizing new contributions, spend some time engaging past and current supporters, encouraging them to become stewards of your organization.
Here are some steps you can take to cultivate a solid donor stewardship plan to inspire people to give regularly.
Keep your organization growing with expert advice and all the tools you need, all in one place.
What is donor stewardship?
Each time someone makes a charitable gift to your organization, you've formed a relationship with them. Donor stewardship involves the steps you take to nurture this association.
Your relationship with donors should be beneficial to both parties. You get money to keep fulfilling your mission, and your contributors feel good about supporting a cause that's important to them. Cultivate this relationship by keeping your sponsors updated on how their gifts are making a positive impact. And involve them in your organization by offering the chance to participate frequently.
Creating a donor stewardship plan gives you concrete steps you can take to connect with and engage each donor. When they feel appreciated and see their contributions are being put to good use, people are more likely to donate again.
7 steps for creating your donor stewardship plan
Creating a donor stewardship plan isn't as hard as you may think. Here are seven steps to creating one for your nonprofit.
1. Segment your donors by category
Splitting your donors into categories based on how much they give helps you personalize your outreach. Your donor stewardship plan is centered on connecting and building relationships.
Collect information about different sponsors including their name, contact information, contact preferences, and gift amount. Include a question on your contact form asking why a person contributed to your organization, and use this information to help you segment your list.
2. Say thank you
Sending out a thank-you message to each donor is common practice for nonprofit organizations. These emails allow you to show your appreciation for each supporter. But you can also include information that showcases how each gift will be used. Showcase some of your achievements to help inspire each contributor.
Create different automated messages for donors at each tier level to thank them for their gifts. Even though these messages will be automated, make sure the copy is thoughtful and genuine. Each email should match your organization's existing personality and branding.
3. Publicly recognize your donors
Don't limit your contributor outreach to thank-you letters. Engage regularly to foster connections and build a community. When collecting donor data, keep track of birthdays, donor anniversaries, and other important dates. On these important dates, send a physical card in the mail as well.
Invite your sponsors to sign up for your email newsletter and offer opportunities for various sponsors to be featured. Use your newsletter to invite previous contributors to volunteer for upcoming events or to attend galas and other fundraising experiences.
Give your most generous patrons a chance to be publicly recognized with a donor wall.
4. Seek out corporate gifts and matches
Some of your most generous donors are likely to be other businesses. If you have large corporations on your donor registry, promote the benefits of corporate matching. When you emphasize this, company employees are encouraged to give individual gifts that will be matched.
Fostering relationships with corporations in your industry that understand and support your mission is a simple way to make sure each donor's contribution is more impactful. Include a matching gift database on the donations page of your website so individual contributors can see if their company already has a matching program, as well as the resources they need to get the match.
5. Get organized
Managing outreach to multiple donors can be time-consuming. Create a communication strategy outlining how often you'll contact each donor based on your segments. You can use a communication matrix to help you visualize outreach strategies and timelines for each tier of contributors. Alternatively, you can create a content calendar to help organize your nonprofit marketing strategy and your outreach.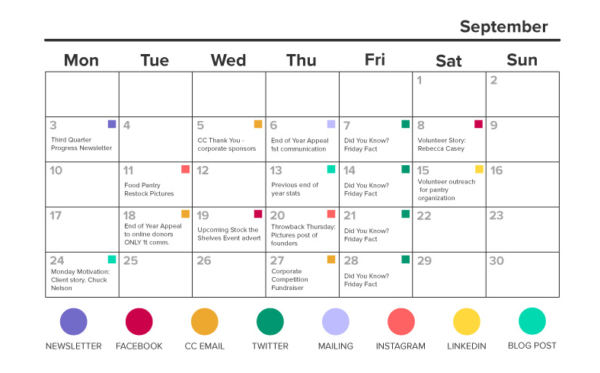 Communication matrices, content planners, and other tools help you stay on top of your outreach. The result of this is that you don't end up duplicating your efforts. Your sponsors don't want to feel like you're asking them for money regularly. Planning out your content helps you vary your messages and outreach.
6. Get feedback
Determine the success of your donor stewardship plan by getting feedback from existing donors. Send out surveys to your contacts asking what they want out of their sponsorship and how they view your organization.
Ask questions about your mission and why they find it important. Get a clear idea as to how they interact with your organization throughout the year and how they want you to contact them. Find out if they support other organizations, and assess where you rank among their charitable contributions.
You might find that your current donors don't really understand your mission as you intended. They might not have a clear understanding of how you're using their gifts or the positive impacts your organization has made in the previous year.
This feedback provides valuable data you can use to refine your outreach.
7. Change up your plan
When you've gathered feedback from a representative sample of contributors, use it to make changes to your donor stewardship plan. After the first year, you might find out that donors thought you asked them for money too often and didn't engage them enough.
Using this feedback, you can set a goal to send out more newsletters with information on initiatives and programs funded by donors. Instead of only contacting supporters during fundraising season, give them other chances to give back. This could involve volunteering or attending donor appreciation galas and other events.
Knowing why your donors might not be interested in giving to you again will help you improve your plan to build stronger relationships in the future. Keep reaching out, and show donors you're listening by implementing their suggested changes.
Set goals and start engaging your supporters
You don't have to build your donor stewardship plan overnight. Start by collecting information on your existing donors. Use past data, including their contributions, to split your donors into tiers. When you've identified everyone — from single contributors to large corporate sponsors — you can create a communication and outreach strategy.
To execute your plan, define your goals. Do you want to improve donor retention by 5% over last year? Do you want to increase your number of corporate sponsors? Knowing what you want to achieve will help you direct your focus. After you've segmented your donors and created an outreach strategy, start thinking of ways you can engage your existing sponsors based on your goals.
With some planning and regular outreach, you can remind your contributors why they felt compelled to give to your organization in the first place and inspire them to keep doing so.