I have a confession — I love shoes.
I love them so much that I once received a handwritten note from a store for buying so many.
I also love the yearly automated happy birthday email that my favorite shoe store sends. It may be automated, but it brightens my day and makes me feel special. And, it always has a coupon, which I happily use.
The fact is, birthday emails delight your audience, improve loyalty and retention, and generate long-term business results.
If you're diving into the world of email marketing automation, birthday emails are a great place to start.
How to send an automated happy birthday email to your subscribers
Sending an automated birthday email each year requires you to collect your contacts' birthday information.
One option is to collect the birthday at the beginning of your relationship, right when they subscribe to your list. Simply add the birthday field to any sign-up forms you use. Remember to keep your form as short as possible so people are more likely to complete the information.
Offering a birthday coupon or gift can be a great way to entice people to join your list in the first place. Let them know that they'll be added to your regular email list and the value they'll receive from those emails.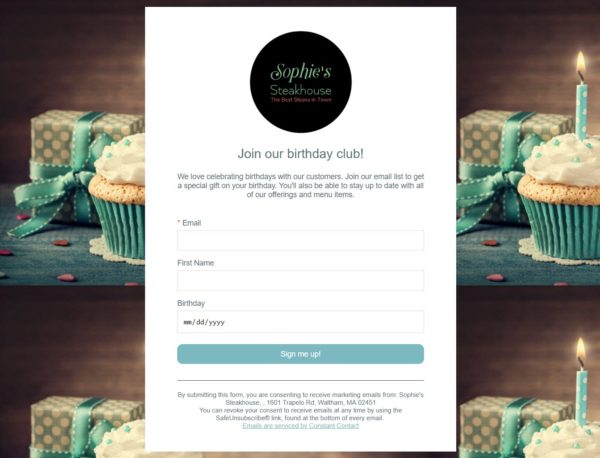 If you have existing contacts, but not their birthday, ask them to update their profile with you. Every email you send includes an "update profile" link in the footer. Direct your subscribers to click the link and complete the form.
I recommend creating an email that solely focuses on asking subscribers to update their information with you. That way, they won't be distracted by any other information or offers.
Also, let people know why you're asking them to update their profile. You might say something such as, "We'd like to send you a special gift on your birthday. Please update your profile with us."
See the email example below. Notice how simple and focused it is to direct people to click the 'update profile' link.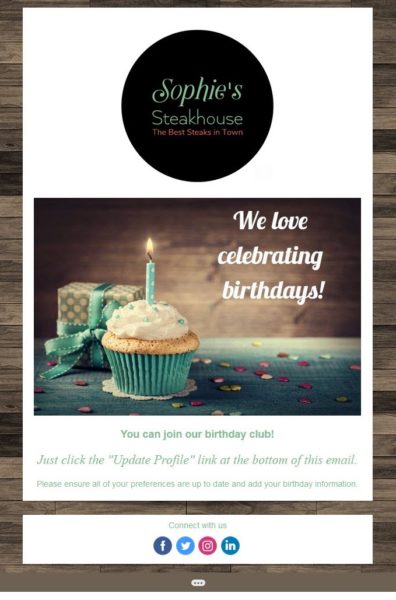 When your subscribers click the link, the Update Profile Email will be sent to their inbox with a link to update their information. You can customize the Update Profile Email with your logo, branding, and message details.
Be sure to customize the Update Profile Form with the birthday field. Again, only ask for the information that's absolutely necessary.
Create and design your birthday email template
When it comes to designing a great birthday email, it's ok to have some fun. Incorporate your branding, but also add in some celebratory elements to spice things up a bit.
To make it easy, you can start with a happy birthday email template and modify it to suit your needs by adding imagery that will catch your subscriber's attention. And, if you're feeling really fancy, try adding a video or animated GIF that adds movement and excitement to your email.
In Constant Contact, you can upload your own imagery or choose from a variety of playful designs in the stock image gallery.
How to write your automated birthday email message
Once you've spent some time designing your birthday template, think about your message.
You don't need to write paragraphs of information, make it short and sincere. Write the email to let your subscribers know just how much they mean to you and that you appreciate their business or support.
Use the headline text to say "Happy Birthday," and include something about your offer if you have one.
In the body text, write a few sentences to celebrate your subscriber — wish them a wonderful day and year ahead. Don't forget to add in some details about your offer and why it matters to your reader.
Even your birthday email should include a call to action that relates to your offer. If you aren't including an offer, you could simply encourage them to visit your website.
Make your automated birthday email feel more personal
In addition to feeling timely and relevant, your automated birthday email should make the recipient feel like the center of attention. So be sure to personalize your emails with their name or other details in the subject line or even within the body of the email.
You can even create separate birthday emails that target different groups of subscribers. For example, if you have a group of VIP members or donors, send them a unique offer or message. In the end, keep the content in your emails relevant to resonate with each individual subscriber.
Don't forget to include a gift in your happy birthday email
Everybody loves presents on their birthday. If possible, include a special gift. It could be a free item, coupon, or even a complimentary service that could bring them back to your business.
If you do offer a gift, consider adding an element of mystery. You could have them click to "reveal your mystery offer" or something to pique their interest.
How to schedule your automated birthday email
Once you have crafted your birthday email, it's ready to be scheduled. Scheduling an automated birthday email means that it will be sent once a year on each contact's birthday.
In Constant Contact, you can choose to schedule your email on their birthday or up to 14 days before.
Consider the offer or information you're sending to choose the right timing. If you have an offer that would make sense for them to redeem before their birthday, you might choose as far out as 14 days.
Many birthday emails are sent on a contact's birth date. So your message may stand out even more by sending before the actual birthdate.
Watch the on-demand webinar: Practical Uses for Email Automation
In this webinar, we go over all the practical ways you can use email automation to save time and drive results — including how to set up a happy birthday automation email.
Set up a happy birthday automation email today!
Start collecting birthday information and then design a birthday email template to send automatically every year.

Using an automated birthday email saves you time, makes your contacts feel special, and can stimulate sales making automated birthday emails a win-win situation for everyone.

Share with your network