Conducting market research is a core component of any effective marketing strategy. It not only serves as a cornerstone of your business plan, but also provides a foundation on which to build your marketing efforts. Market research gives you a better understanding of your business and your clients. The question is, "how do you do market research?"
The answer: start with this article. We'll not only explain how to do market research but also explain what it really is.
Market research defined
‌Market research involves compiling information about your target markets and customers. The process involves using a mix of data analysis and in-person research to gain an understanding about your customers, their personalities, and their buying habits.
If you developed a business plan prior to opening your company, you've probably conducted preliminary market research by answering the following questions:
‌Is there a need for my product or service?
‌Who are my primary competitors?
‌What makes my company different?
Answering these questions serves as a starting point. You could jump into business and start marketing without considering any of these questions, but studying your market to better understand your target clientele can give you a better idea of which marketing strategies will work for you.
Why you should be using market research
‌Although it's not a guaranteed predictor of your ultimate success, market research gives you a better understanding of your business and your customers. By interviewing your customers and scoping out your competition, you'll get a better idea of where you fit in and what your business does better than the rest.
Research serves as the foundation for your business and marketing plan
‌If you're thinking about starting a business, it's important to build awareness about customer preferences, buying patterns, trends in your industry, and competition in your area. Learning this information up front will help you tailor your products, services, and marketing to attract and retain customers.
Market research lets you gauge customer satisfaction
‌Even established businesses need to conduct market research on a regular basis. Market research helps you learn which of your products are doing well and which aren't. It lets you stay on top of trends in your industry and identify potential weaknesses in your products and services so you can fix them before they start costing you money.
‌It helps you maintain your edge
Market research lets you maintain your competitive advantage in your industry. Knowing how you stack up against your competitors — along with what your customers like best about your company — lets you define your advantage. You can better articulate the benefits your company offers to clients and focus your marketing efforts on this message.
‌There are many different methods of gathering relevant data. For the best results, you should choose a mix of techniques.
Types of market research
‌There are two primary categories of market research — primary and secondary. Primary research involves reaching out directly to people and getting their thoughts on your product, services, or company. It can also be used to learn about buying habits, preferences, and other useful data. Any time you interact directly with a customer (or potential customer), you're conducting primary research.
Secondary research involves analyzing data that already exists (such as data gathered from your primary research). Existing studies and consumer reports give you ideas about your customers and direction for your primary research. These reports can get expensive, but they are more affordable than hiring a firm to complete a study for you.
Primary research
‌Conducting primary research is more accessible than ever with digital tools that eliminate the need to address people in person. However, customers are being questioned by increasing numbers of companies, so they may be less inclined to participate. Tools you can use to gather primary data include:
‌Focus groups
‌Phone and mail surveys
‌Questionnaires
‌Social media polls
‌Customer interviews
‌Customer observation
Secondary research
‌With an abundance of free and affordable data available, secondary research mostly involves selecting the most relevant data and making it relevant to your business. Secondary research tools include:
‌Consumer reports
‌Trade publications
‌Website and social media analytics
‌Social media mentions
‌Professional market research reports
‌Competitive analysis
How to do market research
‌How much research you do depends on your time and your budget. You want to gather enough information to guide decision making, but you also want to get the most out of your market research budget. Here are some steps you can take to conduct effective market research:
‌Define your goals
‌Start with the secondary research
‌Develop your survey questions
‌Identify the best methods for conducting primary research
‌Collect your primary research
‌Compile the data
‌Use the data to guide your marketing practices
‌Define your goals
‌Before getting started, make a plan. Come up with a list of goals and objectives so you can be sure you're asking the right questions and gathering the right data. If your goal is to open a new business, your market research may be geared toward finding out if there is a market for your product.
‌If you're trying to improve your place in the market and pull customers away from your competitors, your goal may be to gain a solid understanding of your differentiators.
Knowing up front what you want to accomplish will keep you from spending needless time sifting through irrelevant data. Having a goal in place gives you direction for seeking out secondary sources, writing survey questions, and more.
‌Start with secondary research
‌Secondary research helps you further refine your goals, and it helps you solidify your primary research plan. There is a lot of secondary data on hand, but don't let it overwhelm you. Start by focusing on your own data.
Analytics
‌Website and social media analytics can be used to help you strengthen customer perceptions of your brand. You can use this information to track trends on how your customers are interacting with your company. If a certain webpage is gaining more engagement than others, you can use that information to identify keywords and other information that's driving visitors to your site.
If you are already using social media, track which posts get the most engagement from your followers. For example, let's say that you've posted a series of videos answering frequently asked questions. If one particular FAQ video is gaining traction, it might serve as a clue to your differentiators. Use this information to guide the development of primary research questions.
‌Trade publications
‌Most industries have professional associations and trade publications that are released regularly. These sources can provide valuable insight on consumer buying patterns, industry trends, and more.
Some industries have professional associations that are sorted into regions or specific states. If you can find newsletters and online magazines from state-level associations, you'll gain insight into local issues. If you're planning on expanding into another region or a different state, these publications can give you insight on how your business might perform in that area. Read articles and pay attention to what types of businesses are advertising in the issue.
Consumer reports
‌Market research firms specialize in collecting data from customers. These firms often break data down by industry-specific metrics. Start with an internet search for free market research reports in your industry. Free reports aren't as thorough, but they can serve as a starting point. You can look through the free reports as a first step toward identifying and hunting down the most useful data points for your business.
‌If you don't want to spend hundreds of dollars on an existing report, you can look for relevant research reports at your local library. Professional associations also compile State of the Industry reports that are available for a small fee. Be sure to set aside funding in your market research budget for professional reports. The data they provide gives you valuable insight, and it lets you focus your primary research on topics that are tailored to your business.
‌Competitive analysis
‌Conducting competitive analysis is an important part of market research. If you're starting a new business, this secondary data will help you determine whether customers want your product. You may find out that you are entering a saturated market, which means you will have to further differentiate yourself to stand out and find new customers.
Identify your biggest competitors. Look through their social media feeds and check their mentions to determine public perceptions of their brands. If your competitors are publicly traded, you can look online for annual reports to see their accomplishments and sales numbers for the previous year.
‌Look through their blogs or newsletters (if they're publicly available) to see how they track trends in your industry. Knowing how your competitors go about meeting the needs of clients in your industry can help you identify your own strengths and weaknesses. It helps you gain insight into what you're doing differently and identify any gaps you could be filling.
‌Sales reports
‌If your business is already established, look through your annual sales reports from the past few years to see which products and services are performing well and which aren't. Be sure to look at historic sell-through and trajectories so that you can differentiate consistent sellers from seasonal or fad items.
‌Demographic information
‌You can collect demographic information as part of your primary and secondary research. Gathering information about who lives in your area (ages, median income, education level, average home price, etc.) helps you understand your product's local potential. Much of this information can be obtained from the U.S. Census. You can also look at your local city or county website to find demographics reports.
‌If you're thinking of opening a new location or moving into another area in your city, this information can provide insight into where your business might fit. You may already have demographic information on file for your current customers.
You can also leverage past client surveys and email lists to gain insight into who has spent the most money with your company in the past.
‌Develop your survey instruments
‌Once you have compiled and analyzed your secondary data, you can start shaping your primary research. While sifting through reports and market studies, take note of gaps you can fill by talking to people in person.
Conduct primary research
Use your primary research to fill in the gaps and round out the information collected in your secondary research. You might choose to use a survey to collect some data and save the focus groups and client interviews for open-ended questions. Use any or all of these methods to interact with your clients:
‌Phone or email surveys
‌Online polls
‌Focus groups
‌Customer interviews
‌Customer questionnaires
Phone or mail surveys
‌Using a phone or email survey can give you insight into how customers feel about your company. If you want data from a random sample of people in your area, you might consider hiring a professional to conduct and analyze the survey.
It's generally accepted that surveys are most effective when they're kept short. People tend not to fill out long surveys, and you could end up with incomplete data by making the survey too long. Good survey questions include a mix of question types including multiple-choice, sliding scale and open-ended questions.
Hiring a professional survey firm adds cost, but it's a good way to get high-quality data distilled into information that's easy to interpret. Depending on your goals, you might consider adding this to your budget.
‌Online polls
‌You can use your social media accounts and your website to post online polls and distribute them to your followers. If you use a polling mechanism that lets users enter their own answers, you'll likely gain perspectives that you haven't yet considered.
Use online polls for simple questions like identifying people's favorite products and services or whether they have a favorable view of your company.
‌Focus groups
‌Conduct a focus group by gathering people in your target market and asking them questions. Since people are giving up their time to participate, stick to a small list of topics. Solidify your goals for the focus group beforehand and stay on topic.
To find participants for your focus group, you can contact customers who are already on your email list. Advertise on your social media pages, and add some posts on local boards like Nextdoor.
Promoting your focus groups in a variety of locations helps build awareness and increases the chances of people coming in to answer your questions. Find businesses that provide services to your target customers and see if you can post flyers in their lobby or at their cash wrap. You can even get creative and use sidewalk signs or chalk to try and attract participants from your neighborhood.
To improve your chances of finding participants, you may consider offering an incentive such as a gift certificate or discount. Nelson Research, a market research group in Los Angeles, California, regularly uses Facebook to promote focus groups. Each post thanks potential participants and highlights the incentive.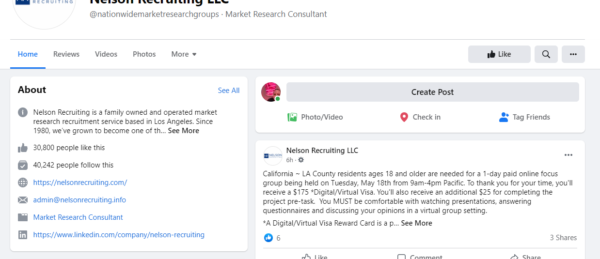 In order to encourage a discussion, ask open-ended questions. Use "how" and "why" questions that encourage people to elaborate on their answers. Asking questions that can be answered with a simple "yes" or "no" won't result in useful data.
‌Customer interviews
‌Talking to current, potential, and former customers can give you insight into how they view your company. When conducting these interviews, stay away from language that's overly sales-oriented.
‌Prepare your questions ahead of time, but be flexible. When you're talking to a client, they may answer a question in an unexpected manner that warrants a follow-up question. Make sure you are listening and taking notes, rather than simply waiting for them to answer so you can jump to the next question.
It's best to record these interviews, but make sure you tell your clients that they are being recorded. If you can handle constructive criticism, interviewing former clients can help you assess where your products or services have failed and devise solutions accordingly.
‌Customer questionnaires
‌Questionnaires let you talk to your customers during the sales process. They also help you determine their satisfaction with their customer experience or even your everyday operations.
You can even tailor the questionnaire to your market research goal and keep a stack at your cash register. These questionnaires can also be sent to your email list.
Compile the data
‌When you're done with your primary research, create a report summarizing the data. You can integrate this into the results of your secondary data or write a standalone document. Once you've compiled and analyzed your data, you can summarize relevant insights that popped out at you during the process.
‌If you stuck with your initial market research goals, you should have an idea of how your results can inform your marketing strategies. Your market research may have given you a clearer picture of your target market and your best customers.
‌When you know your customer demographics, you can tailor your marketing strategy and allocate your budget to channels that reach those groups. You might have learned that your business provides a benefit or solves a problem for customers that you hadn't previously considered. You can use this information to tailor your messaging or test out new social media ad campaigns.
Your data can also help you develop your typical buyer personality, enabling you to create ads, modify your brand voice, and develop other activities that speak to this persona.
Drawbacks of DIY market research
‌Now that you know how to do market research, you're ready to get out and conduct your first study. However, you'll need to watch out for the potential pitfalls of DIY studies. Some of the drawbacks of going it alone include:
‌Confirmation bias
‌Lack of time
‌Lack of anonymity
Confirmation bias
‌Confirmation bias occurs when you seek out information that confirms your conclusions and dismisses all of the other data. Most people who are guilty of confirmation bias aren't even aware they're doing it. Make sure that you're ready to hear negative feedback before you get started. After all, the whole point of market research is to identify areas for improvement, not pretend that everything's perfect already.
‌Lack of time
‌Conducting market research takes a long time. Between sifting through reports and existing data, developing questionnaires, advertising, and conducting focus groups, you run the risk of not having time to run your business.
‌Lack of anonymity
‌Another drawback to DIY market research is that your customers may not feel free to be honest with you. They might hold back valuable information because they don't want to hurt your feelings or say something rude to the owner of their favorite company.
‌Hiring a professional firm costs money, but it eliminates many of these drawbacks.
‌How to make market research work for your business
‌If you've clearly defined your goals and conducted a robust market research process that addresses them, you likely have valuable information that will boost your business. Look through your report to find insights on how best to market your products and services. Use unexpected information and insights about customer problems to improve your products or develop new ones.

Once you've conducted market research, you'll have the data you need to better serve your customers and improve your bottom line.

Share with your network