As a yoga teacher or studio owner, you are passionate about helping students achieve not only better physical health, but also inner peace and strength of mind. Without strong attendance numbers, however, you'll find these goals difficult to achieve. 
Many yoga enthusiasts view small class sizes as desirable, but a basic threshold must be met to keep your studio profitable. This is true regardless of whether you run your yoga business from home, work at a gym, or have a dedicated studio.
Are you at a loss for how to increase yoga class attendance? This effort rests on two main strategies:
Increase engagement among current students
Convince new students to give your class a try
Below, we've highlighted several tactics that help you accomplish these key objectives.
Ready to find more customers and get expert fitness marketing advice, all in one place?
Develop a compelling brand
Today's yoga students view their studios as more than workout facilities. They are serious about the mental and emotional benefits of yoga. What's more, they hope to join a thriving community centered around their passion.
Your studio can nurture a sense of community, but first, it must have a core identity. It all begins with branding. This can help you attract the specific types of students to which your studio caters.
The result? A uniquely engaged group of students who will ensure that your classes are never empty.
It all begins with determining who, exactly, you want to serve – and why. Consider the following:
Which classes do you most enjoy teaching?
Which classes receive the best feedback?
Where is attendance lacking? Which classes are consistently full?
Use attendance records to pinpoint patterns among current students. Over time, you may observe that certain types of people visit just once or twice a month, while others fit yoga into their daily routine.
One of the most important considerations for how to increase yoga class attendance – targeting the types of students who are clearly committed to your studio.
For example, upon analyzing membership and attendance data, you may realize that local retirees flock to your candlelight and chair yoga classes, while more intense options such as vinyasa flow and hot yoga struggle to attract a following.
In this situation, you might adjust your brand to emphasize adaptive yoga. Otherwise, you can set your sights on higher-intensity classes or even specialty offerings such as pre and postnatal yoga.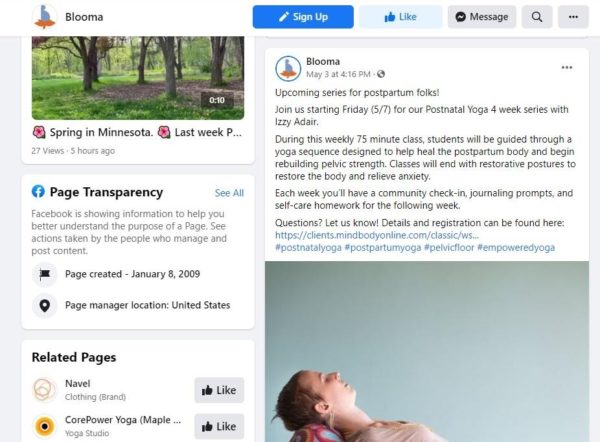 Help students find yoga classes on search engines
When potential students are interested in taking yoga classes, how do they find the best teachers or studios? Some rely on word of mouth, but many head straight for Google. There, searches such as "hot yoga near me" or "beginner yoga classes" make it easy for aspiring students to find the specific studios and programs they need.
Search engine optimization (SEO) efforts tap into users' desire for helpful information, even among people who are not initially looking to enroll in yoga classes. For example, somebody suffering from chronic back pain might search "best yoga poses for lower back pain" and discover one of your website's top blog posts on the search engine results page (SERP).
Blogs can provide a wealth of SEO opportunities, but you'll also find chances to integrate top yoga keywords into these key areas of your website:
About us page
Philosophy or mission statement
Yoga teacher bios
Class descriptions
Facility descriptions
Build a social media campaign
Social media is a critical tool for building engagement among new and current yoga studio members alike. This is where you develop a committed digital community to complement your in-person efforts.
Your social media campaign may include organic content or paid marketing solutions. Both play an important role in gaining visibility and developing authority status in the competitive fitness industry.
Organic posts do not involve paying directly for your campaign or results. Instead, they focus on attracting attention with photos, videos, and other content that followers find compelling. From there, you can encourage prospective students to sign up for drop-in classes or invest in studio memberships.
When developing organic posts, consider what followers will find most valuable. Many appreciate class updates or general news about your studio. Your social media pages should also feature content that benefits followers even when they're not planning on visiting your studio in person.
Helpful posts may include:
Types of poses for relieving specific types of pain
Poses that increase flexibility, stamina, or balance
Advice for bringing a yoga mindset to personal or professional challenges outside the studio
Humorous content about situations that yoga enthusiasts find relatable
Keep in mind that this content takes time to cultivate. If you stick to it, however, you could enjoy an impressive return on investment.
When possible, draw on the power of influencer marketing and user-generated content. Micro-influencers who attend your studio can chat about their experience on YouTube or share pictures from your studio on Instagram.
With paid social media marketing, you can target specific users and tailor your efforts based on a specific objective. For example, ads on Facebook can direct followers to membership interest forms or a class signup page on your yoga studio website. Paid campaigns should provide a quick boost in traffic to tide you over as you build your organic strategy over time.
Develop a referral marketing program
In an age of digital marketing, many yoga enthusiasts still rely on personal recommendations when determining where they want to practice. This makes sense given the yoga world's strong emphasis on emotional health, which encompasses social wellness. If they know their loved ones feel welcomed and accepted at a particular yoga studio, many potential students will be eager to join as well.
Your referral program may depend on how your studio is structured. For example, if members enjoy unlimited classes, give referrals the opportunity to bring a friend to the studio for one week of unlimited attendance. With a drop-in-oriented program, referrals might result from offering free classes or discounted punch cards.
Incentivize current members with promotions, such as a free month of membership. Promote these referral opportunities in your email newsletter, on your website, and on social media. Make it easy by giving current students referral codes or by creating a streamlined website form.
After you've secured referrals, pay attention to analytics. These will help you determine which types of students are more likely to respond to referral marketing – and whether those brought in as referrals ultimately become loyal studio members.
Build a yoga studio loyalty program
Referral programs are great for getting new students in the door, but what if you want to increase commitment among existing members? In an ideal world, your classes would attract impressive numbers based on their own merit.
In reality, however, you may need to entice students with extra incentives. These can be built into an official loyalty program, which promises special perks to those who take class on a regular basis.
Loyalty programs may be structured with points or by giving students the opportunity to win other rewards. For example, students may receive a specific number of points for attending classes or special workshops. Tie in your referral program by adding points or other benchmarks for successfully referring new students.
Keep students engaged with marketing emails
Use the power of email to provide current and future students alike a much-needed reminder of your yoga studio's value. Regular emails with punchy subject lines keep your yoga business on students' minds, while also making it easy for them to sign up for or commit to classes.
To begin, keep both current and former students in the loop with email newsletters. Like blogs and social media updates, these should include content that recipients find useful. 
For example, readers may enjoy learning about the transformations fellow students have undergone after committing to dedicated yoga regimens. Newsletter recipients may also appreciate wellness tips or reminders of upcoming events both at your studio and around town.
In addition to newsletters, automated marketing emails triggered by specific behaviors – or lack thereof – can make a difference. 
Begin by tracking attendance and sending emails after a predetermined amount of time. For example, an email sent one month after a lapsed student's last visit may be all the motivation required to get that individual into the studio.
Automated emails can be especially effective among new students, who may need a little nurturing to turn yoga from an occasional pursuit into a full-on habit. With a little encouragement, currently active students can become even more engaged. Give them the opportunity to sign up for reminder emails. These can be sent a few hours before class.
Don't forget to reach out to students who have reached important milestones. Examples could include celebratory emails for the student's anniversary of joining as a member or the 100th class attended.
Boost yoga class attendance with help from Constant Contact
Interested in learning even more about how to boost your yoga class attendance? The right marketing strategy can make all the difference. Our resources at Constant Contact will help. We offer email automation tools, templates, and many other solutions to help you gain new students or improve engagement among existing yoga studio members.
To learn more about all aspects of fitness marketing, check out The Download. This guide will give you valuable insight into how to increase yoga class attendance.