You should always remember that your potential clients want to find you. You offer exactly what they need: the best consulting services around. But how do you promote your consulting services so that the right people see your ads, find you in searches, and become familiar with your brand?
There are inexpensive – or even free – marketing strategies you should already have employed to advertise your business. To truly become competitive, though, you need to push beyond the free and craft digital ads that put your name in front of the right eyes. Get the most out of each advertising dollar with this overview, including the costs involved, expected returns, and best practices.
This article will give you seven marketing strategies to promote your consulting services. We'll cover:
Paid advertising options
Google Ads
Facebook and Instagram ads
Yelp and other directory ads
Free advertising options
Website
Social media accounts
Business listings
Email marketing
Paid advertising options
You don't need a huge advertising budget to generate leads with paid advertising. When asking yourself how to promote your consulting services most effectively, work (and spend) smarter, not harder.
Target your ideal market, tapping into their searches and the channels they follow. There are three kinds of digital ads you should consider:
Google Ads
Pay-per-click (PPC) advertising can be confusing. The same things that make Google Ads so effective for small businesses – its precise targeting and efficient pricing – create an overwhelming array of options.
There are two main types of Google Ads: search ads and display ads.
Google search ads put your listing onto the search engine results page (SERP) of someone searching for specific keywords.
Display ads appear as banners on other websites.
Search ads tend to be more effective and more expensive than display ads. Instead of organically ranking for certain keywords, which can be difficult for newer businesses, you can bid on keywords and phrases. When someone searches for them, your listing will then appear as an ad above or below the organic results.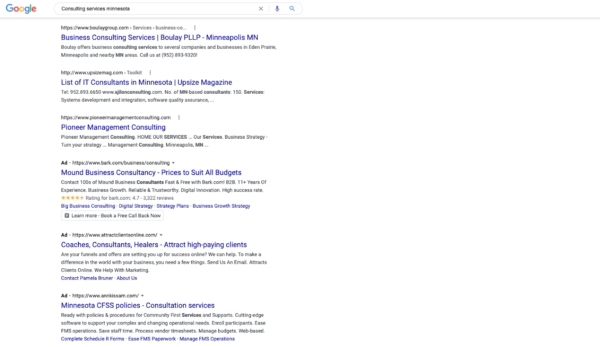 It's important to choose your keywords wisely. If you choose terms that are too competitive, they will drive up the price and may not be as effective as more targeted ones.
After selecting your keywords, you need to decide the maximum amount you're willing to pay per click. In 2018, the average cost per click (CPC) was $3.33 for business-to-business ads.
You also need to decide how you want to manage your advertising budget and assorted keywords. Unless you're very experienced with PPC advertising, your best bet is to use a Google Ads tool like the one Constant Contact offers.
Don't waste your money. Take a few hundred dollars and start small, experimenting with a few different options. As your ads go live, you'll be able to see what works and what doesn't.
Facebook and Instagram ads
With Google search ads, you're targeting potential clients' own searches. Instead, Facebook and Instagram ads require you to identify your audience by their preferred social media platform, demographic, and interests.
The more specific your targeting is, the better. If you are wondering how to advertise your marketing consulting business, you might target business owners who have demonstrated their interest in conversion optimization, public relations, and email marketing.
Facebook and Instagram ads are generally lead ads. They direct interested parties to a landing page that is generally pre-populated with information and allows you to collect potential clients' information, growing your email lists.
Facebook will allow you to set your daily budget, controlling how much you outlay. You can customize your ads and budget according to your objective. You may want to pay per click, per action, or per 1000 views. These factors influence the price. In 2020, Facebook and Instagram ads averaged:
$1.72 per click on Facebook
$18.68 per action on Facebook
$10 for 1000 views on Facebook
$5 for 1000 views on Instagram
Constant Contact's Facebook and Instagram ad tool can help you get the most out of your social media advertising, growing your list, and increasing brand awareness.
Once you're confident in your social media ad strategy, you can expand to other networks such as LinkedIn.
Yelp and other directory ads
Yelp ads operate similarly to Google Ads. You can ensure that your business listing appears as an advertisement at the top of a Yelp SERP or appear on your competitors' pages.
Yelp advertising is PPC, and the review site allows you to set a given budget. The cost ranges widely, but clicks tend to cost more than they do on Google or Facebook. You can get a more precise estimate for your business on the Yelp site.
If you're interested in adding directory advertising to your digital marketing arsenal, here are some B2B directories and review sites to consider.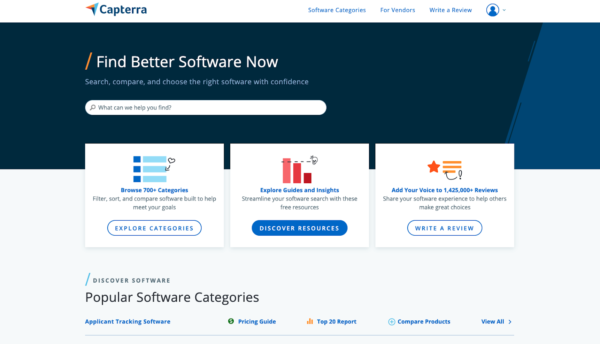 Free or low-cost advertising options
All of the following areas lead to impressive returns for minimal – or no – outlay. These are important first steps in your digital marketing journey.
Website
Most website platforms offer no-cost options for basic websites, and upgrading to secure a domain name can cost as little as a few dollars a month. You don't need to spend a lot of money to set up a professional website for your business.
More than just delivering basic information, your website should be optimized to showcase your consulting business.
At minimum, you need to have these four pages:
Homepage
About page
Services page
Contact page
Your website should rank for the right SEO terms, delivering relevant content that matches user intent. You should also make sure that your design is appealing and easy to navigate with a quality website builder. You don't want to lose leads to avoidable frustration.
Social media accounts
You don't need to pay for ads to develop a social media presence. Set up your accounts and engage with your client base, following the best practices for consultants on social media.
There's no need to remain glued to your computer. Use social media tools to post and monitor your accounts most efficiently.
Business listings
Incorrect information both loses customers and looks unprofessional. Claim your listings on popular sites such as Google and Yelp for free. You should also engage with your reviews, the good and the bad – just keep things positive!
Email marketing
Email marketing is an invaluable tool for consultants. You can easily set up a free email account for your business and start communicating with clients right away. This type of marketing is beneficial for a number of reasons.
Most people have email accounts and check them multiple times a day.
Unlike search engine listings, emails have no competition. When you send an email, it goes straight to the top of a client's inbox.
You can easily personalize your messages and have one-on-one conversations to boost engagement.
If you want to upgrade to track data and perform more advanced tasks, consider investing in an email marketing platform. Pricing varies based on the service you use, but low-cost options are available.
Further Reading
You now have some ideas on promoting your consulting services, using a combination of paid and free advertising for the best results. Remember that the best results will require trial and error. Be patient as you're figuring out what works best for your consulting business.

Take advantage of our free marketing guide: The Download: Making Sense of Online Marketing for Professional Services. And check back for more consultant-specific advice on everything from consulting presentation tips to client satisfaction surveys.

Share with your network