‌For people looking for a way to test their agility and build muscle, rock climbing has often been a dream workout. The sport has exploded in popularity as indoor climbing gyms provide a safer alternative to climbing outdoors. It even made its Olympic debut in Tokyo in 2021.
After a downturn due to COVID-19, the indoor climbing market is back on the rise. Climbing gyms are expected to generate $560 million in 2021, up $30 million from 2020.
‌Learn how to start a climbing gym to share your experience and passion for fitness. This article covers:
‌How to start a climbing gym
‌Best practices for marketing your gym and growing your business
‌Where to begin
Ready to find more customers and get expert fitness marketing advice, all in one place?
How to start a climbing gym
Figuring out how to start a climbing gym from the ground up can be daunting, but you can make it less so by breaking it into small steps. These tips for starting a climbing gym will set you on the path to opening your business.
1. Write your business plan
Before starting your business, you need to figure out if there are customers in the area to support it. And unless you're lucky enough to have a nest egg, you'll probably need some financial assistance.
Writing a business plan helps with these steps. It should include a plan for marketing, operations, and management.
Marketing plan
First, you need to demonstrate that there is a market in your area for a climbing gym. Do some competitive analysis to see what other fitness options are available. Compare demographics of people who frequent climbing gyms, including those in your area.
Next, consider how you will spread the word about your climbing gym and bring new business your way. Come up with some preliminary marketing strategies and outline them in your business plan.
Operations plan
If banks and other investors are going to help you, they want to see how you're going to be spending your money. Create an operations plan that covers these numbers. Factor in expenses like rent, equipment, staff, insurance, marketing, and administrative costs. Then, figure out how much you'll charge for memberships and drop-ins.
Figure out how many classes or sessions you'll offer per week and how many customers you expect. Use these numbers to predict your revenue. Be conservative with these estimates — it'll take some time to build your brand and find a steady clientele.
Management plan
Your business plan should also outline how your gym will be managed. Include your bio and background. Perhaps you're starting an indoor gym because you spent years climbing and want to share your passion with others. Include this information in your business plan.
If you have other instructors, list them and include brief bios in your business plan. You want to show that you have a skilled staff on board to attract clients.
2. Set up your legal business
A big part of starting a climbing gym is forming a legal entity. Choose your name and decide how your business will be formed. Common business types include a limited liability company (LLC), a corporation, and a sole proprietorship. Meet with a business attorney and review your options to decide which structure is best.
You can also decide to franchise a gym, whereby you open your own business with an existing brand. The corporate office will give you guidelines on décor, branding, and other aspects of the business. While you don't have as much control over your brand identity, you benefit from an existing name and customer base.
3. Create your brand and start marketing
You've named your gym when forming your legal entity, and now it's time to build a brand. Work with a designer, or use online tools to create a memorable logo. Choose your colors and use these brand elements to build your website.
Carry your brand over to T-shirts, water bottles, and other items you can sell in-store. Once you've launched your website, you can start branding to attract climbers.
4. Find your space
Once you've used your business plan to get approved for funding, it's time to find your space. Consider a location where there isn't much existing competition and one zoned for use as a gym. Factor in your monthly rent and choose a space you can comfortably afford. These factors can help you find a space that suits your needs.
5. Outfit your space
When you've signed the lease, it's time to buy your gear. First, gather your permits and hire professionals to design the space and install equipment. You'll need a climbing area, a locker room, a reception area, and a retail space if you plan to sell merchandise.
Best practices for marketing your gym and growing your business
Once you've grasped how to start a climbing gym, you can start building your brand. Take advantage of these marketing tools to grow your gym and bring in new customers:
Search engine optimization (SEO)
The best way for people to find your business is online, but 28% of small business owners don't have a website. Don't fall into this category. Create a website and optimize it for searches. Use keyword research to find words and phrases you can use to help people find you online.
‌Enhance your SEO with content like blog posts, videos, and social media.
Social media
Once you've landed on branding elements, create social media profiles for your business. Start with Facebook, Instagram, and Twitter profiles. If you don't have time to manage multiple social media feeds, use a tool to create and schedule posts in one place.
Regularly publishing content improves your SEO and makes your business more visible to customers in your area. It also helps you build a fitness community among your customers. You can use Facebook and Instagram ads to get your posts placed in the feeds of people in your target demographic.
Climbing gyms are great places to create visually appealing Instagram ads that appeal to a variety of fitness buffs.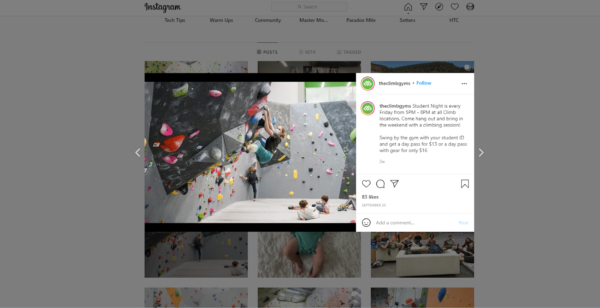 Email marketing
Sending emails to customers is an effective marketing strategy. You can use your email list to promote your business, offer deals, notify customers of special events, and share relevant content. Include a sign-up form on your website with a clear call to action that lets customers know what to expect when joining your email list.
Google Business Profile
Creating a listing in Google Business Profile makes it easier for you to appear in local searches. Create a free profile that includes your name, address, phone number, website, and hours. Once you verify your account, you will appear in local searches.‌
‌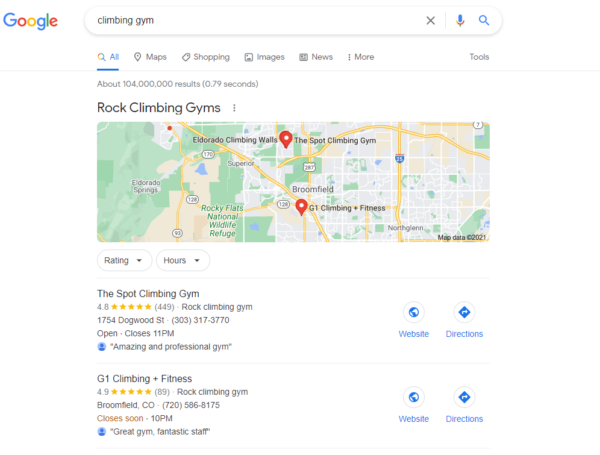 Where to begin
Now that you know how to start a climbing gym, you can get started. If you have a passion for climbing and want to use it to help others get in shape and challenge themselves, starting a gym might be a good business opportunity. The first step: creating a business plan.
You can begin by looking for competitors in your area of interest and then start scouting potential locations. When writing your business plan, you can start building marketing strategies to attract people to your business. Consider which social media channel(s) you'll use, and begin crafting a list of the top keywords to use on your website. Focus on the small steps and eventually, you'll find yourself opening your new climbing gym.