Do you have a knack for construction and carpentry? Do you love the outdoors and want to work with your hands? Building decks may be the perfect career for you. But first, you need to know how to start a deck building business.
Decks are popular home additions, and they need to be maintained regularly, so there's always demand for work. However, you'll need more than just deck-building skills to be successful — you'll also need someone on your team with solid business and marketing skills.
Here's a step-by-step review to help you start your deck-building business. Use it as a checklist to see what you already have in place and what you still need to create.
Ready to find more leads and get expert home services and construction marketing advice, all in one place?
Choose a legal entity
Some business owners opt for a simple sole proprietorship, but this is not recommended if you're looking to scale your business over time. Instead, you're better off choosing a business entity that protects your assets in case the company goes bankrupt or incurs debt.
The most popular legal entities for deck-building businesses are limited liability companies (LLCs) and corporations.
An LLC offers protection from liability, while a corporation offers limited liability protection and the option for both shareholders and employees to receive stock options.
An attorney can help you choose the right structure and set up your business as a legal entity.
Decide on your business infrastructure
When deciding how to structure your deck-building business, you'll need to set up a working plan for your day-to-day operations. Let's go over the essentials:
Labor
Will you hire employees or work with independent contractors? If you are hiring, you'll need to make sure that your company complies with all laws regarding workman's comp insurance, payroll taxes, health insurance, and workplace safety. It's generally best to hire a specialist for this task, as any errors or misunderstandings could be catastrophic for your business.
Bookkeeping
It's essential that you keep your personal finances separate from your business finances. You'll also need to keep track of the exact amounts you make and spend on each job. How will you track all of these details? Will you pay a bookkeeper, or will someone on your team be entering transactions regularly and creating reports?
Expenses
Get a clear picture of your overhead expenses — these are the expenses you'll have to pay whether you've booked any jobs or not. Rent, phones, marketing, insurance, and payroll for office staff are typical overhead expenses.
It's easy to overlook these costs in your calculations when you create bids for jobs, but they have to be covered before you can show a profit. Break your overhead expenses down into a weekly or daily figure and factor that into your calculations when you create estimates.
Insurance
What types of insurance do you need? Business owners need general liability, equipment, and property coverage.
You may also want to consider hiring a business broker or agent who can help with the nuances of the different markets where your company operates.
Licenses and permits
Different states have different requirements for permits and licenses.
If you're not sure what's required in your area, contact your local chamber of commerce or a lawyer to determine if there are any restrictions on starting up a business where you live or any contractor licenses you need to qualify for.
Your clients will expect you to understand all local building permit rules and have any necessary permits for your work, so it's in your best interest to stop by your city or county permit office and ask them for a clear set of rules.
Collect your tools and equipment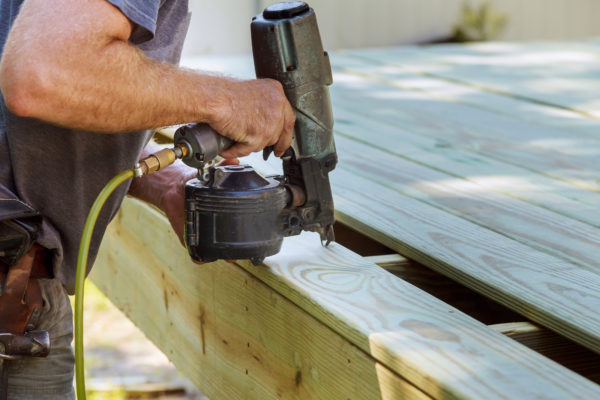 You may already have a truck and a variety of power tools, but it's still a good idea to make a list of everything that you need before each job. If you are partnering with anyone else in the business, keep clear records of all the equipment used and who owns it.
Open a business bank account
You'll need a checking account for receipts and deposits, as well as a savings account to help you set aside funds or pay taxes when they are due. If you're the sole proprietor and include your name in your business' name (e.g., John Smith Decks), you can open a business account without any extra paperwork.
A sole proprietor using a business name that doesn't include their name (e.g., Red Door Decking) will need to get a fictitious name certificate. Your county clerk should be able to help you with that.
If you've organized an LLC or corporation, your lawyer will provide you with all the paperwork you need to open a business bank account.
Know who your customers are
Knowing your target market is essential to the future success of your business. Do you have a specialty? Will you be designing elaborate multi-level decks for high-end homes, or will you focus on crafting more modest decks for middle-income homeowners?
Take a look at your competition and see if there's a niche for you in the local market.
Here are some questions you can ask to create a clear mental picture of your customers:
Where do they shop?
What is their annual income?
What neighborhoods do they live in?
What activities are their kids involved in?
How do they spend their leisure time?
What papers do they read?
What radio station do they listen to?
What social media channels do they follow?
Create a services list
What services will you offer in addition to deck building? Are you willing to tear away old decking? Rebuild parts of older decks? Would you be interested in building porches or gazebos as well as decks? If you offer a full range of services, you'll be able to make additional sales to your clients.
Make a marketing plan
Create a simple website to act as your home base on the internet. It doesn't have to be overly complex or expensive, but it should give people several ways to contact you, including phone, text, and email.
Be sure to include an "About Us" page to tell your story and showcase photos of some of the work you've done. Your site can also include a blog with content that will attract new customers.
Next, create a Google Business Profile listing. It's free, and it will help your business appear in local searches. You can add photos, business hours, product and service descriptions, and even special offers to your listings. Customer ratings submitted through your My Business listing will also appear here.
When people look at deck builders near them, they also read reviews on sites like Yelp, Thumbtack, or Angi. Make sure you're listed on those platforms and encourage satisfied clients to leave reviews.
Online advertising is another effective way to get the attention of potential clients in your area. Google Ads is a great place to start.
You'll want to market locally as well as on the internet. Your trucks and work uniforms should feature your logo. This will strengthen local recognition of your brand over time. You should also carry business cards to hand out to potential clients.
Some other tactics for local advertising include:
Have a booth at home shows
Apply branded magnets or wraps to your vehicles
Include flyers or coupons in new mover packets
Take out ads in community newspapers or magazines
Send postcards to neighbors with your contact information and recent work photos
Get involved in the community — volunteer with a local charity or sponsor a local youth sports team
Join local organizations like the Chamber of Commerce
Create yard signs to put out at worksites
Don't worry — you don't have to use all of these ideas. Just select the ones that will help you create a unique marketing plan for your business.
Set the right price
New business owners often price their work too low in an effort to attract clients. Underpricing can lead to a lot of stress and even cause bankruptcy. Build a little cushioning into your prices until you feel confident in your ability to cost out jobs effectively.
If you don't fully understand how to calculate a break-even point that takes into account your overhead and variable expenses, you can hire an accountant to teach you how.
Build good relationships
Now we'll tackle the most important part: building relationships with customers. Client reviews, both positive and negative, play a huge role in shaping the public opinion of your company.
Make sure you only take work that you're well suited for so that you always have happy clients. For this reason, it's important to get a clear picture of what each client wants before finalizing any contracts.
During projects, communicate with the homeowner. Make sure any misunderstandings are cleared up along the way before the work goes too far.
Small courtesies go a long way. Show up when you say you will, keep your work site clean, and obey all local noise ordinances.
Stay in touch with customers
Email marketing tools can help you keep in touch with your customers. After the job, send out a short survey to make sure they're happy, then ask them to leave you a review on your preferred platform(s). Follow up occasionally to let them know about any new services you're offering and make sure they remember you when they have a friend who needs a deck built.
Putting it all together
There's more to starting a decking business than just knowing how to build decks. You'll need to effectively market your services and stay on top of your business's day-to-day operations. Staying on top of employment laws is essential, and keeping up with bookkeeping will ensure that you're able to pay your staff and make money in your new business.