Once the flurry of the holidays has died down, people usually reflect on the past year and make plans for the new one. You've probably spent much of the past quarter focused on Black Friday and Cyber Monday ads since this time period generates nearly half of holiday shoppers. But New Year ads offer a new opportunity for you to capture post-holiday shoppers while they're still feeling festive.
How you can benefit from New Year ads
New Year ads are a great way to reach people after they've opened their gifts and are coming down from the holidays and looking forward to a new year.
Whether you focus on New Year's resolutions, review the previous year, or drum up excitement for new product offerings, use your New Year marketing campaign to revive your customers' interest and draw them back to your website.
New Year advertising ideas
To get started, here are some ideas you can use to wrap up your holiday marketing.
1. Run a retargeting campaign
Retargeting campaigns involve advertising to people who have already shopped with you. The week between Christmas and New Year's Day is one of the best times to hit up people who might have purchased your products as gifts.
Create an ad featuring your New Year's Day sales and target it to your previous shoppers. Facebook lets you run retargeting ads by installing a pixel on your website that targets user behaviors and shows people various ads depending on how they interact with you online.
2. Help your customers keep their resolutions
About 39% of Adults in America made New Year's resolutions for 2022. The most common resolutions include exercising more, eating healthier, losing weight, spending more time with family and friends, living more economically, spending less time on social media, reducing stress on the job, and quitting smoking. Unfortunately, "studies show that 91 % of us won't achieve our New Year's resolutions."
Create digital ads that encourage your customers to meet their goals. Design email and other New Year ads that highlight how you can help.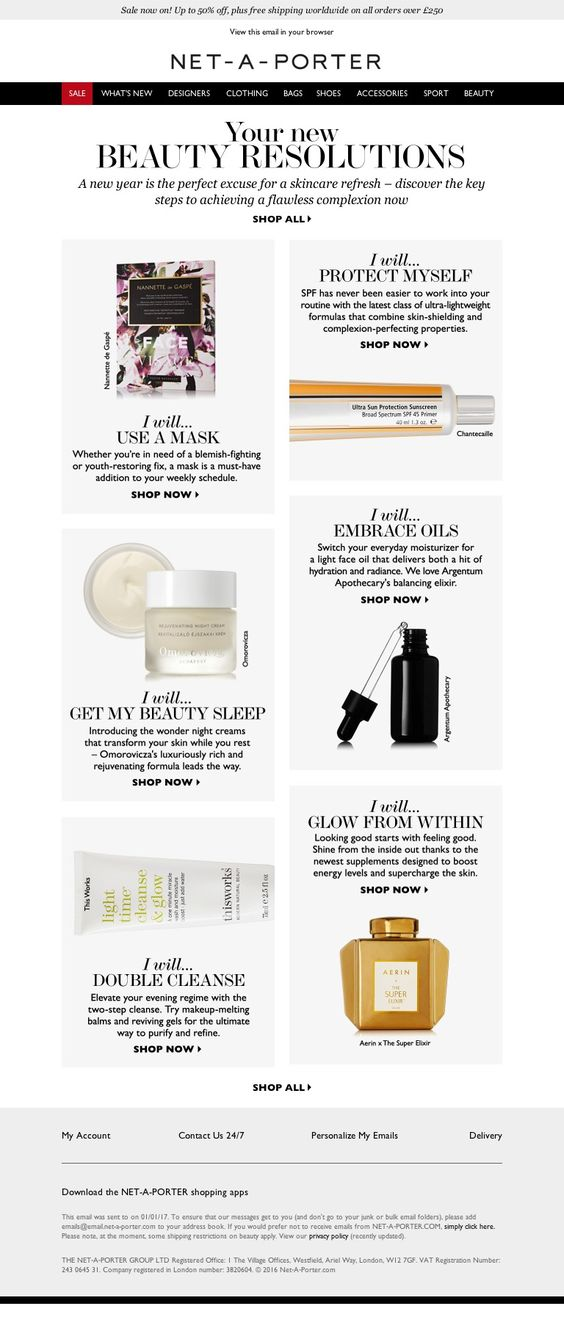 3. Capitalize on customer data
Collecting customer satisfaction data can be a cumbersome task, so do it as part of your New Year campaign.
Send out an email newsletter with a link to a customer survey and highlight how you will be using feedback to improve your products and services in the coming year.
Ask survey questions about what you did well in the previous year and how you can provide better service in the coming year. Offer a gift card or another incentive or enter every respondent into a drawing for a prize. Use the answers to refine your products and services so you can meet your business goals for the new year.
4. Post-holiday promotions
Don't let the gift-giving end with the holidays. Offer a gift basket or another desirable prize and run New Year ads promoting your post-holiday contest. Have people follow you and share your business on social media to qualify as their entry and then choose a random winner.
Or consider running a themed competition like a photo contest featuring your products. Create a branded hashtag to track the entries and choose a winner from all submissions.
Promotions draw more people to your website, and they help your customers battle the post-holiday blues.
5. Launch a new product
Instead of spending New Year's Day offloading clearance merchandise that didn't sell during the holiday shopping season, launch a new product or announce the return of seasonal favorites. Or put some of your unsold merchandise on sale with a New Year's Day theme.
How to develop a memorable New Year ad campaign
Since you're launching your New Year ads during the holiday marketing blitz, you need to make them stand out. Here are some ways you can create a memorable campaign to promote your business as the holiday season winds down.
Find the humor
People respond to funny ads as long as they are tasteful and appropriate. You might encourage people to visit your salon with a humorous take on a DIY haircut gone wrong. Placing it next to a photo of a satisfied customer with a clever tagline makes the ad memorable.
Use email templates
If you're not an avid designer, coming up with New Year's Day-themed emails can be challenging. Use holiday-themed templates to handle the design and focus on your messaging. There are plenty of holiday email templates that are creative and eye-catching. Pick a few and tailor them to your specific message.
Use multiple marketing channels
Spread your message more effectively by running similar ads on multiple channels. If you're running a New Year's promotion, send a message to your email list encouraging your existing customers to sign up. Then, use social media ads and organic posts to cast a wider net.
Set up a contest landing page on your website with the entry rules, deadlines, and directions on how to enter. Feature the prize package front and center on each marketing channel to drive interest.
Test your ads
One of the perks of social media advertising is that you can set your own budget. Platforms including Facebook, Instagram, and LinkedIn offer affordable ways for you to test different messages.
Create different versions of your New Year ads and test them against each other.
Or run the same ad and target it to different audiences. Once you have an idea of how each ad is performing and which audiences are most interested, you can finalize your ads and launch a larger campaign.
Keep it simple
You don't need to create an elaborate ad to make it memorable. Narrow down your product or service benefits to one or two sentences. Shorter taglines are easy to remember, and you can play with font sizes to make them stand out among other ads.
List the benefits of your promotion or your product and use this list to create New Year-themed taglines that inspire customers to visit your website.
For your new year, bring in new customers
When you've settled on some New Year advertising ideas that fit your business and your target audience, move on to choosing your best marketing channel. Look at previous metrics to see where you've had the most success with your ads to help you decide. From there, you can create a New Year-themed ad that best fits your business and run it.
Evaluate the metrics of your first few New Year ads to get a feel for what is working and what isn't. If needed, use A/B testing to help you to keep refining your message until it's ready. Once you launch your final ad, you can get ready for new and repeat customers.