If you're reading this, you likely find yourself suddenly working from home.
Before the COVID-19 (coronavirus) changed the way we do business in a matter of days, working remotely was something many people imagined as sort of a future-work utopia. Having your home to yourself during the day while your partner or kids are out, sending work emails with your dog cuddled up beside you, having access to your specific brand of coffee — it all sounded like a dream.
That's probably not how working from home looks for you right now. In reality, you're likely juggling how to make space in your home for calls and video meetings, keep yourself productive, keep your children occupied and oh yeah — stay sane in the midst of it all.
So let us help you. Like you, my colleagues and I are suddenly working from home indefinitely. For many of us, it's not our first time working remotely, so I thought I'd reach out to them so I could share their best working from home tips for you. I'll also share photos of our work-from-home office setups throughout — some as inspiration, and others (like mine) in solidarity with my fellow clutterers.
TIP: Are you considering reopening as coronavirus restrictions begin to ease? Check out our Marketing Guide for Businesses Reopening After Coronavirus.
So let's dive right in before your spouse, child, or pet arrives with your next home office interruption! And don't worry — we have a section of this article dedicated to tips for working from home with kids.
Tips for working from home
1. Establish (and stick to) a routine
"Have a routine. You can fall into a lot of bad habits like waking up late, being distracted by things like Netflix, or even working so much that you look at the clock and realize it's already 6 PM and you haven't been outside all day. Set a structure and a routine that you can stick to, but that will still allow you personal time to recharge."

-Jenna, Programs & Events Marketing Manager
"It's important to keep your normal daily routine as much as you can. Keep up with simple tasks like making your bed, putting on clothes that aren't sweats, and even listening to the podcasts you'd normally listen to during your commute."

-Ashley, Social Media Marketing Manager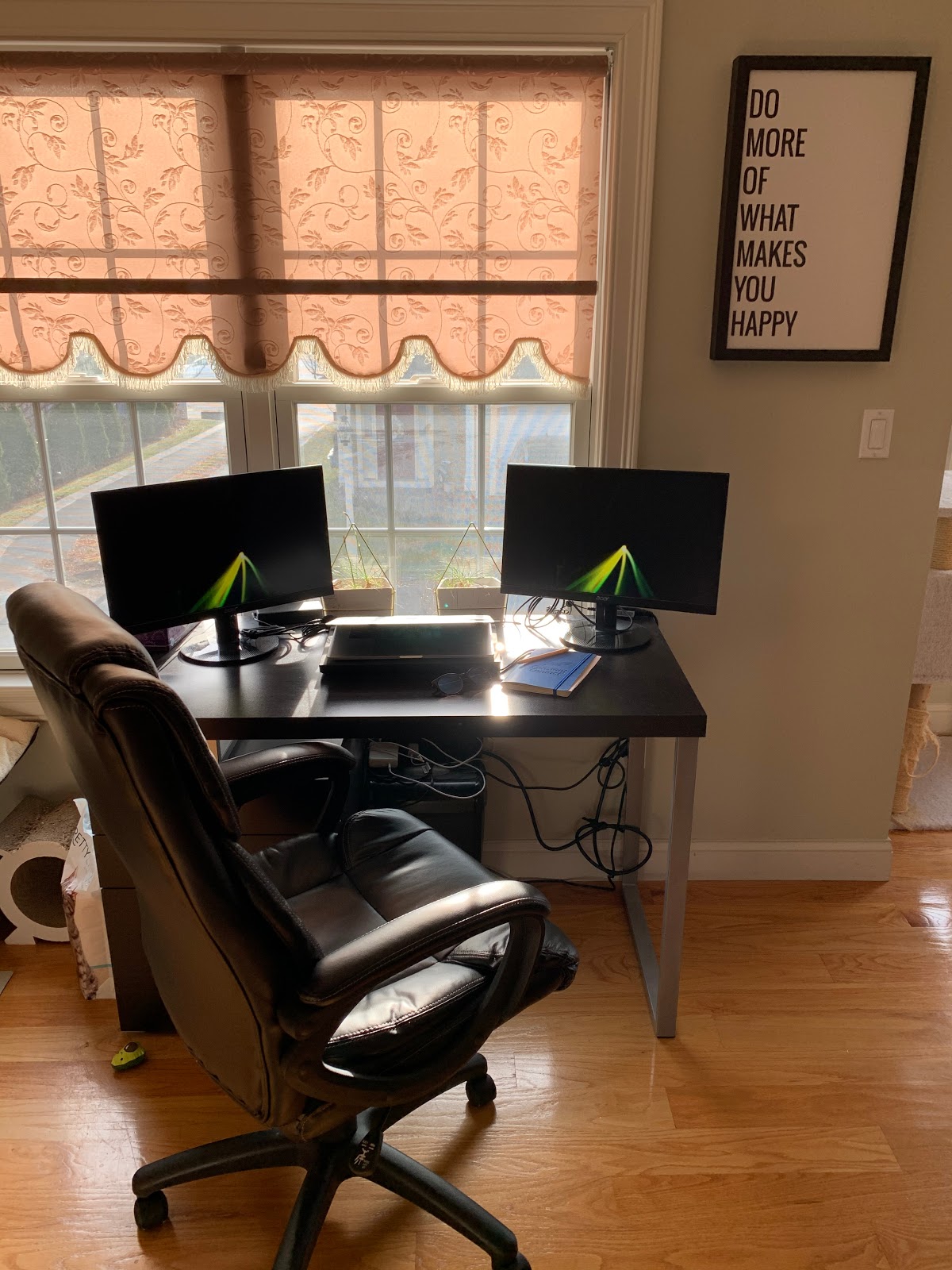 2. Organize your work and plan out tasks for each day
"It's all about the calendar. I make a "To Do" list on my calendar and allot specific time slots to each task, as well as for lunch, and walks. I highlight tasks as I complete them, to give me a sense of accomplishment at the end of the day."

-Julie, PR Team

"Organize the work! My team is set up on Trello, which gives the four of us instant visibility into what we're all working on. It's incredibly helpful to have project-based "conversations" and see what's moving forward — and what's not."

-Joe, Director of Channel Marketing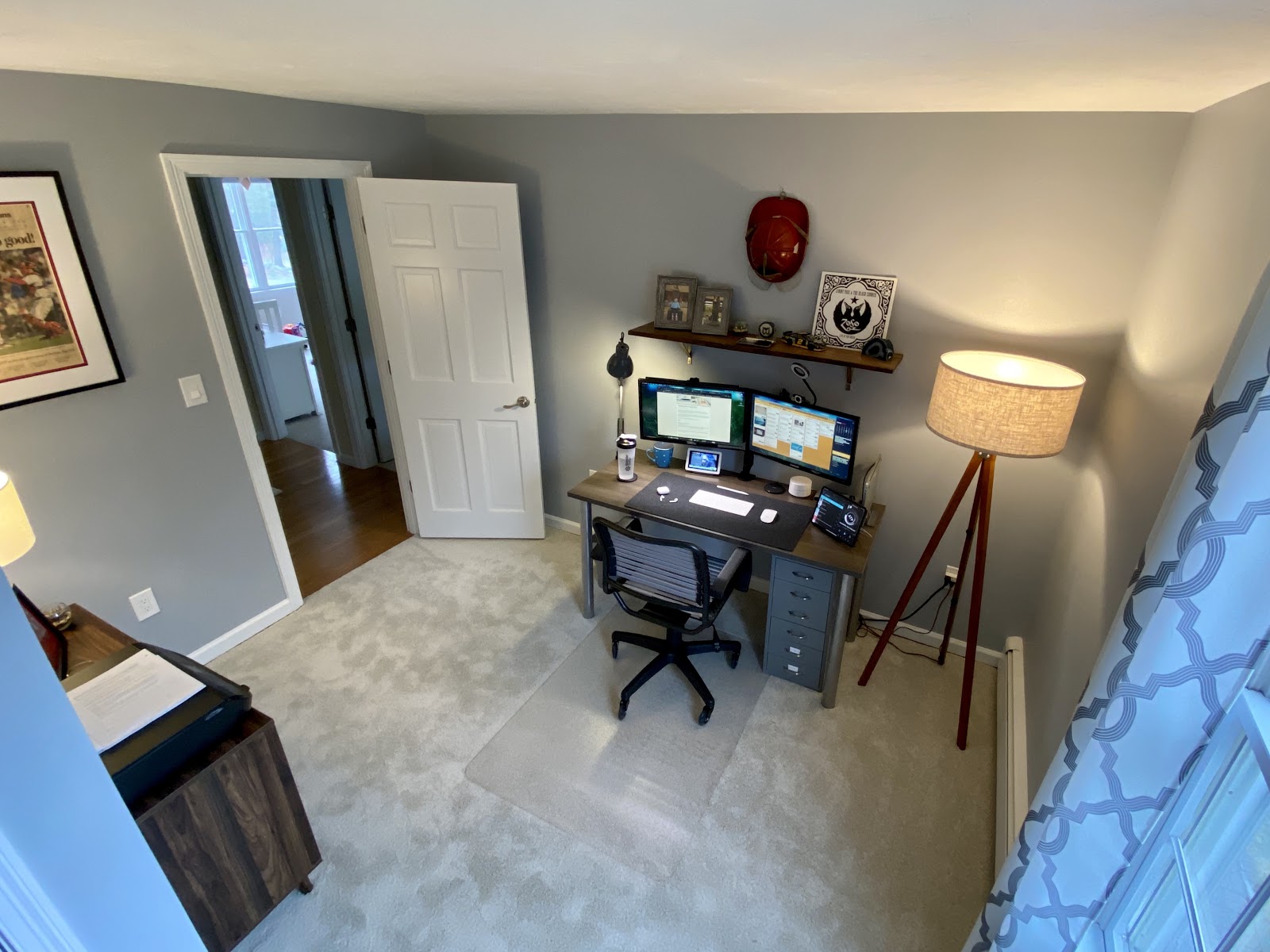 3. Have a set workspace (as much as possible)
"Set up a designated work station. Listen to music to create low-key background noise to help focus."

-Alana, Marketing Manager
"Set up a work station in the dining room or away from areas of activity where the rest of the family congregates. Use headphones with piano music to stay focused when necessary."

-Dave, Director, Content Marketing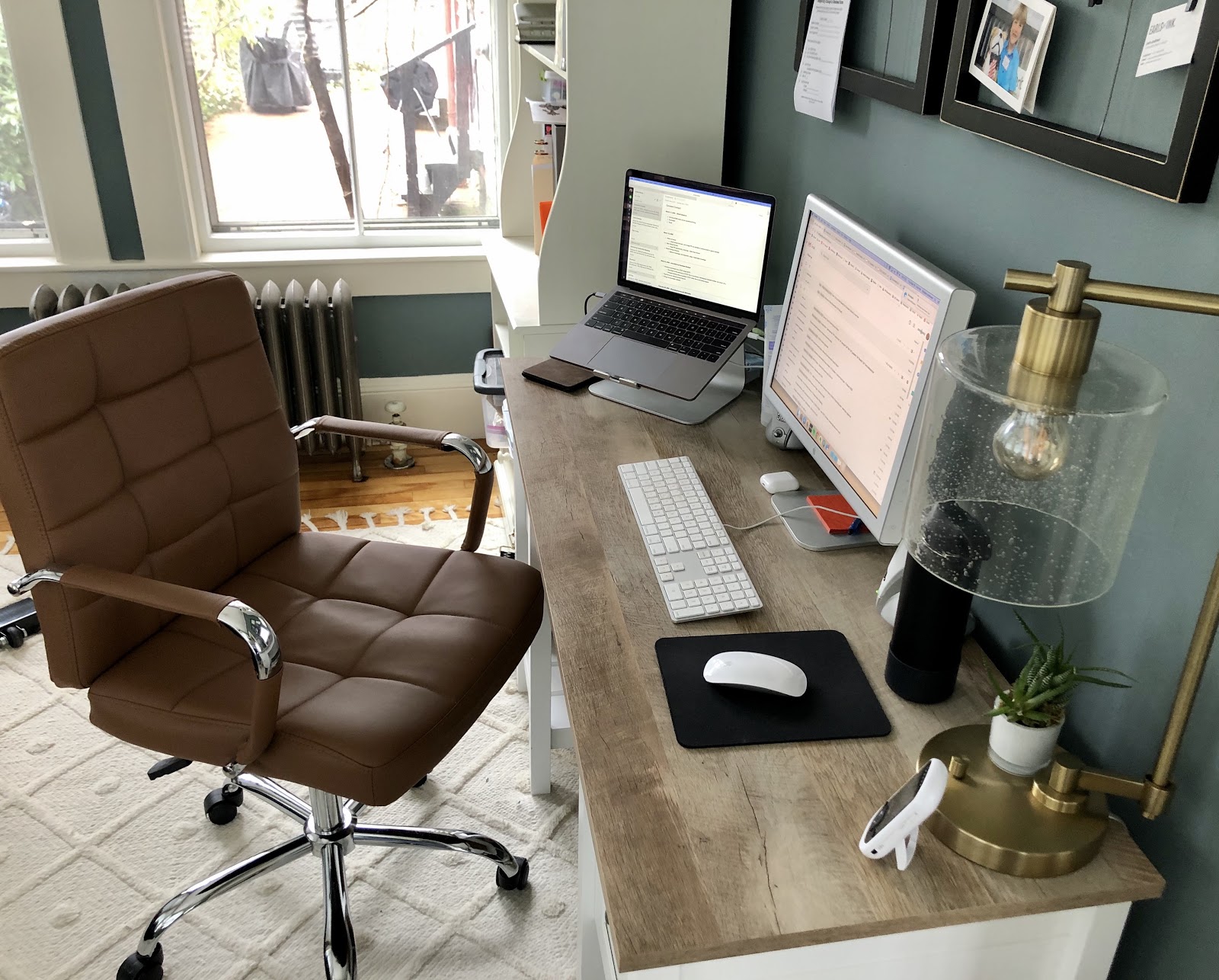 4. Take health breaks
"I started a step challenge with friends to motivate us all to get up and move. I find that staying active keeps me productive and motivated."

-Alana, Marketing Manager
"Take breaks for your physical health and mental health — or both! Going for a run or pausing to do some yoga helps me to re-focus, manage my anxiety, and stay productive."

-Jake, Blog Content Manager
5. Stay in touch with others
-Jake, Blog Content Manager

6. Know when to stop working
"Routine is essential, have a cutoff time at the end of the day too so you don't burn yourself out. Work-life balance is important."

-Rachel, Content Program Manager
"If you can swing it, set boundaries on your workday. If possible, I try to keep work to "normal" business hours. One positive byproduct of this situation, is that my commute no longer takes hours out of my day, so I'm now able to spend that time with my family. It's nice to be able to have breakfast with my daughter in the morning!"

-Joe, Director of Channel Marketing
What about working from home with kids?
This, I confess, is not my area of expertise. I am sharing my new home office with my wife, a dog, a cat, and about 30 houseplants. However, my coworkers were generous enough to share their tips for balancing working from home with having children in the house full-time! Here's what's working for them.
1. Try to establish a schedule for your children to follow, too
"We've tried to establish a schedule for [my children] to follow (as best possible), leveraging many of the resources that school has provided us, YouTube content for learning, and lots and lots of RECESS. Aligning lunch hours and other break moments for some activity and time to regroup together is good too."

-Carey, Marketing Director
2. If possible, split the day with your partner
"When possible, splitting the day with my husband has been helpful — trying to cluster meetings to one half of the day, so we can manage the kids for the other half while keeping an eye on email. This gives us each a good chunk of working time while keeping the kids occupied. We're both also spending an hour or so at night catching up on things after the kids go to bed."

-Kristen, Director of Public Relations
3. Give teenagers and older kids a way to contribute to running your all-in-one home/office
"My boys are teenagers so it's not as challenging as it is for those with smaller kids. That said, I still need to keep them busy because they can't hang with their friends or do much outside of the house. It seems like the perfect time to learn household chores, so they each have done some loads of laundry and vacuumed their rooms. I've also asked them to find a recipe and make it for family dinner (their first choice is General Tsao's Chicken — which should be "interesting")."

-Julie, PR Team
4. Find a space where you can focus and make it yours
"Work in a secluded area, away from other family activities. My comfy new office chair arrived today! It's a lot easier to focus when your back doesn't hurt! Also, ice cream and chocolate – alone in your secluded space when you've had too much of it for one day! "

-Stephanie, Content Manager, Webinars
5. Embrace the chaos as much as you can and communicate
"I'm embracing the chaos by not freaking out if my kids make a presence on my conference calls. Welcome them in or address it quickly and move on — it's happening to everybody!
My main advice — don't feel guilty about anything right now, do what you can to survive all around!"

-Carey, Marketing Manager
Remember — You've got this.
I hope this was helpful — or at least highly relatable. We're all doing our best to navigate this "new normal" and I think the best way forward is to work together.
If you haven't yet, explore our new Small Business Support Kits, created in response to this crisis. They contain the tools and guidance you need to get through this challenging situation.
And for more help with navigating the COVID-19 crisis, check our official Disaster Response and Recovery Resources for Small Businesses. We'll be updating this page continuously as we develop guidance for small businesses dealing with this situation.
Join the discussion
Interested in discussing this post with other small business owners, entrepreneurs, and nonprofit professionals? Head over to our Community page to continue the discussion. We've got this — together.

Join our conversation about how to stay productive while working from home.
Introducing Our Power On Portal for Small Businesses
Find the tools, resources, and support you need to help your business power on through the challenging days ahead.

Share with your network