For Christmas this year, my aunt gave me a spiral-bound engagement calendar. It's charming, and I appreciated the thought behind the gift, but I can't honestly imagine using it over my Google Calendar. The paper book can't warn me that it's time to leave for my meeting or tell other people that an appointment has been moved.
Then again, digital calendars are nothing compared to the latest productivity tools. This guide to 17 productivity apps currently available picks out the top contenders in several categories, including task management, communication, automation, and more. Plus, I'll share my tips for choosing the best productivity apps for yourself and your team.
‌Let the suggestions offered here inspire you to new levels of greatness. And please don't tell my aunt about this article.
17 productivity apps
Best for task management and personal use
The following productivity apps all market themselves to individuals as well as businesses. They help organize both your personal life and your work.
If you're a born list-maker, Todoist is for you. As its name implies, the app revolutionizes the to-do list. It allows you to break down projects, set deadlines, and assign tasks. Its list-based design is incredibly intuitive and requires no onboarding time.
‌You can integrate it with most calendars, but it integrates most easily with Google services. You can even create an extension for Chrome and Gmail.
‌Two of the best features of Todoist are its location-based reminders and voice command services. For example, you can set yourself a reminder so that next time you're at the grocery store, you remember to pick up your dry cleaning next door.
‌Grocery shopping is also made easier by creating both shopping and to-do lists with Siri, Google Assistant, and Alexa. Personally, I've left my old dry-erase board behind now that I can look in the refrigerator and tell Alexa that I need milk.
Pricing
Todoist has a free plan, but you can upgrade to Pro for $3 a month, giving you greater customization and the option to add certain kinds of information such as hashtags and notes. The Business plan for teams starts at $5 per user per month.
Students, educators, and nonprofits are all eligible for Todoist discounts.
Trello provides boards with virtual cards rather than lists. You create columns or use an existing template and then add cards. To these cards, you can add;
Locations
Checklists
Deadlines
People
Integrations
Files
Links
Other custom fields
You can label Trello columns in various ways, organizing cards accordingly. However, Trello was designed to be used with kanban boards.
Kanban boards track progress. Columns have names such as "To Do," "In Progress," or "Complete." You can subdivide your workflow and visualize tasks from beginning to end.
Pricing
Trello's basic plan is free and includes up to 10 boards with unlimited cards and members. Its biggest drawback is the limitation on "power-ups" — the integrations and types of information that you can add to each card. The free plan limits you to one power-up per board.
Its Business Class plan starts at $10 per user per month. In addition to unlimited power-ups, it offers different views and administrative features.
ClickUp bills itself as "one app to replace them all" and includes the features of Trello and Todoist.
The list of features is impressive:
Project management
To-do lists
Spreadsheets
Documents
Email
Events
Reminders
Goal tracking
Time tracking
Screenshot recording
Chat
Resource management
While both Trello and Todoist can be used for project management, ClickUp bills itself as an all-in-one productivity solution.‌
Pricing
ClickUp's free version allows as many as five team members to perform an unlimited number of tasks. It also allows you to try out many of the features in the paid plans but only a limited number of times.
The Unlimited plan starts at $5 per member per month.
Task management app comparison
The difference between Todoist and Trello is style rather than value. How do you prefer to organize your information? Do you prefer Todoist's features, which are geared towards people on the go, or Trello's facility for customizing cards with various types of information?‌
If you'd like a little from column A and a little from column B, ClickUp may be your best bet. It offers the greatest variety of productivity tools. However, be warned that some users find ClickUp's features and flexibility overwhelming. It may take you longer to get going with the app.
You should note that you can use any of these "task management" solutions for more involved projects and larger teams, as well. Many corporations use the productivity apps Trello and ClickUp to coordinate large groups of employees. Even Google uses ClickUp.
Best for project management and teams
With project management tools, the focus is on teamwork. These apps can help with team-building while combining sophisticated content management with progress charts and other productivity tools.
Asana has been around longer than most project management apps. It comes with many years' worth of satisfied customers and continual improvements, making it an attractive option.
Third-party guides to Asana praise its combination of strong customization options with hundreds of available integrations. It enables users to organize projects in highly sophisticated ways and to move between views and different types of visualization.
You can use Asana to send messages, coordinate teams, and create forms. It also provides more than 50 project templates that you can refine to suit your needs.
Pricing
The basic, free plan allows up to 15 teammates to work on an unlimited number of projects. Larger groups, subdivisions, and more advanced options start at $10.99 per person per month for Asana Premium.
Monday.com has gained ground on group leader Asana, and this is largely due to its intuitive, centralized interface.
The platform is intensely visual, and its many project templates are attractive as well as effective. Like Asana, it comes with a number of different data visualizations, but it allows you greater customization of your immediate view.
You can use Monday.com to run projects, track workflows, and collaborate efficiently and transparently.
Pricing
Monday.com has a free individual plan for two people. Teams of three or more will need to upgrade to Basic at $8 per member per month. For more sophisticated viewing options, automations, and integrations, you can start with the Standard plan at $10 per member per month.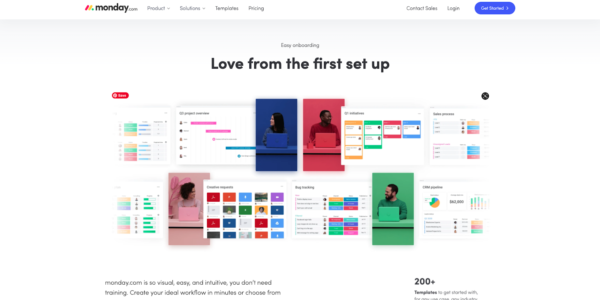 Project management app comparison
Between Asana and Monday.com, Asana provides superior integrations. However, Monday.com has a more intuitive interface and ease of onboarding. Monday.com also has a slight edge when it comes to security.
Best for software development
Your career doesn't have to be technology-related for you to use Jira, but developers designed the project management software for people like them.
Jira is built for agile development, the process of collaboration and continual updates that allows software developers to get improvements to customers faster. It offers support for scrum boards as well as kanban boards. Scrum methodology focuses on iterative, incremental progress. It's less for seeing a task through to completion and more for feedback and revision.
Its features include
Document sharing and storage
Time tracking
Task scheduling and management
Release history
Impressive security options
Pricing
Jira offers a basic free plan for up to 10 users. More customization and administration options are available as well as increased support and storage, starting with the Standard plan at $70 a month for up to 10,000 users. Both the Standard and the Premium plans offer free trials for those who want to try before purchasing.‌
Best for time-tracking
Time-tracking apps are for anyone who ends their day wondering where the time went. (Who hasn't done that on occasion?)
These productivity apps force you to clock in and out, ensuring that you stay present in your work. They can also help those who get a little too absorbed. Absent-minded employees can use apps to remind them to log their hours.
They'll also help remind you of important events such as online marketing opportunities through the year.
Toggl Track is the smartest stopwatch you will ever own. It integrates with your calendar, prompts users according to the applications they have open, and auto-tracks background applications. You can also get reports, track projects, and schedule group meetings.
Available on Chrome and Firefox, Toggl Track's browser extensions allow you to start the timer while using other online tools.
Pricing
Free plans allow up to five users. Paid plans start at $9 per user per month and offer more reporting and project management tools.
The app offers a free 30-day trial of its Premium plan, which ordinarily costs $18 per user per month.
Harvest prides itself on a clean interface and ease of use. You can use the app to
Track time with a timer or browser extension
Fill out a timesheet
Integrate with calendars and applications
Collect and analyze copious data
Automate invoices and payments
Sync with accounting software
Build custom integrations
Pricing
Individuals can opt for a free plan that limits them to two projects. Pro plans accommodate any number of team members and any number of projects. They cost $12 per user per month.
Like Toggl Track Premium, Harvest is free for 30 days.
Time-tracking app comparison
Toggl Track Premium offers the most and costs the most. Some of its features are included with other productivity tools and so might be redundant.
The free versions are limited in different ways. Harvest will give you more features but limits you to two projects. Toggl Track limits your features instead.
‌Best for communication
Slack has become almost synonymous with internal business communication. It's the team messaging app recommended by The New York Times. Why? Because it's an all-encompassing solution, particularly since a direct messaging feature was added that allows you to contact people outside of your workspace.
For many organizations, Slack has replaced email as the primary method of internal communication. Users send rich communications that include video, images, links, and just about anything else you can imagine. Moreover, you can search your library of communications to pull up relevant information with ease.
Slack's features include
Public and private discussion channels
Direct messages
Multiple organization channels through Slack Connect
Voice and video calls
Desktop and mobile accessibility
Workflow automation
However, Slack sets itself apart with its best-in-class apps and integrations. You can connect Slack to most of the other productivity apps on this list. In addition to project management and file-sharing apps, you can add social, wellness, or brainstorming functions.
Price
Slack's free option limits users to 10,000 messages and ten integrations. It excludes access to its workflow builder and more advanced functions such as collaboration with teams from other businesses.
Slack's paid plans start at $6.67 per person/per month (when billed yearly). Educators or nonprofit organizations can also ask about discounts.
If you want the ability to share and move between screens and devices, TeamViewer may be the app for you. It's less of an all-in-one communication solution and more of a dedicated remote connectivity service.
The fast and secure app allows you to connect with your team and gain access to the networks and devices you need anywhere in the world.
Need help from your IT department? You can easily show them the problem or even let them take the reins. You can also take your work computer home without lugging hardware around.‌
Pricing
The basic app is free for personal, noncommercial use, and businesses can receive a free trial. Videoconferencing starts at $9.49 per month per host for calls with up to 50 people. More specialized services require additional subscriptions.
It can take a while to track down the package you need on the TeamViewer website, and some users complain that the software quickly becomes expensive.
During the global pandemic of 2020, there were hardly any winners except for Zoom. The video conferencing app quickly became the app of choice for many businesses. At the same time, it helped loved ones stay in touch while they could not meet in person.
‌Part of Zoom's appeal is its ease of use and access. You don't need an app or an account to participate in Zoom calls. With the link or Meeting ID, anyone can join through their web browser. The app even supports dial-in calling for those who need it.
‌If you are set up with Zoom, you can schedule your own meetings, send private messages, and share your screen with others. You can even use it to conduct online fitness classes.
Pricing
With the free plan, you can have as many one-on-one calls as you like for as long as you like. Group meetings are limited to 40 minutes and 100 participants each. The Pro plan increases the meeting length to 30 hours and provides cloud recording and social-media streaming.
Pro starts at $149 per year.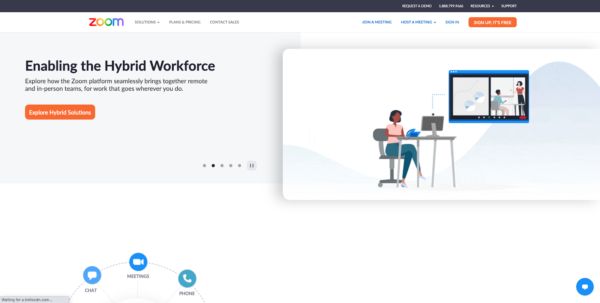 Communication app comparison
The productivity apps in this category are hard to compare directly. They facilitate communication, but they specialize in different forms. So what should you take away from this?‌
You should have a Zoom account. Even if you don't use it for your own business, your partners or customers likely do. Having the Zoom app and an account (even a free one) makes the platform easier to use. ‌
Slack's flexibility makes it the best internal communication option for most businesses. Its free plan may be enough for smaller companies. If you only want basic messaging, go for something more streamlined. Slack's many possibilities may serve as more of a distraction than an opportunity.‌
TeamViewer is a great tool for those who need remote access. It's a highly specialized tool that may become pricey when used across whole teams. ‌
Best for cloud storage
These days we all live in the clouds. Cloud storage makes it possible for us to work together and move between devices. It also backs up our work, which is vital. Anyone who has ever found themselves staring at a black computer screen and crying will agree with this.‌‌
The following three are giants in the field and for a good reason. Reviewers consistently rate them among the best.‌‌
Dropbox reliably backs up and syncs your material no matter where you create it. It's one of the most straightforward and most versatile cloud storage services.‌‌
Dropbox also integrates seamlessly with third-party services, and you can set it up to automatically sync your work. I don't know what I'd do without the dynamic duo of Dropbox and the word-processing application Scrivener — something I'm sure my fellow writers will understand.‌‌
Dropbox Business adds more integrations and customizations. You can also use it to share large files.‌
Pricing
A 2 GB Dropbox Basic plan is free. Dropbox Plus increases storage to 2 TB for $9.99 a month. Family accounts with multiple users cost $16.99 a month. ‌‌Dropbox Business starts at $15 per user per month (with a minimum of three users).‌‌
Google One is for all those who worship at the altar of the big G. It combines Gmail, Google Drive, and Google Photos. ‌ In 2018, Google One replaced and assimilated Google Drive's higher capacity plans, meaning that you'll have to buy a Google One plan if you want more than the free 15 GB that comes with any Google account.
Pricing
Plans start at $2 a month for 100 GB and up to six users. ‌‌
Prefer Microsoft 365 to Google Workspace? OneDrive is the solution for you.‌‌ Users may struggle with OneDrive's odd limitations on file syncing, but the service makes up for it with its interface and variety of platform-specific apps. OneDrive also offers Personal Vault, a way of providing an extra level of security for designated files.‌
Pricing
OneDrive's free plan gives individuals 5 GB of storage. You can increase that to 100 GB for $1.99 a month. ‌Microsoft 365 comes with 1 TB of OneDrive storage as well as four applications: Outlook, Word, Excel, and PowerPoint. Skype is also included. A personal account costs $69.99 a year.‌
Businesses can opt for OneDrive plans that start at $5 per user per month. Microsoft 365 plans start at the same price, but comprehensive services and applications will cost $12.50 per user per month.‌
Cloud storage app comparison
The best choice for you depends on what you do and what other software you use. Google Workspace users will naturally opt for Google Drive, and Microsoft devotees will choose OneDrive.‌‌
If you rely on other creative or business software, Dropbox is probably your best bet despite its heftier price tag. ‌
Best for automation
Want to be more productive? Stop wasting your valuable time with busywork that your computer can do for you. ‌Some of the other productivity apps on this list offer automation of different routine processes. For example, Slack's paid plans come with the Workflow Builder.‌‌
While Smartsheet is a project management app, it sets itself apart with its automation features. You can generate if/then workflow automation. Every time that X happens, it will instantly trigger Y. ‌‌More recent additions include;
Automatic‌ recurring reminders
Automatic‌ report generation
Automatic‌ status updates
Automatic‌ streamlined approval processes
‌Smartsheet is more expensive and has a steeper learning curve than other project management applications. For those who want more sophisticated automation, it may be worth the trouble.‌
Price
An individual plan starts at $14 per month, while business plans start at $25. However, Smartsheet offers free trials of either.
IFTTT stands for "If this, then that." The app allows you to connect other applications and devices to automate different responses.‌‌The service works through applets — mini-apps programmed with a single conditional action. Developers from major businesses produce applets that users can download.
For example, the UK bank Monzo allows users to reward themselves monetarily every time they go to the gym. ‌‌‌Users can develop their own applets or select them from the library. IFTTT can be one of your workplace productivity tools, but you also can use it to close your garage door. No more driving off with the door!‌‌
Pricing
The standard IFTTT plan is free and allows users to create up to three applets and to turn on unlimited applets from the library. The pro plan is $3.40 a month and enables you to create unlimited or more complex applets.
Constant Contact offers several tools that automate your business's digital marketing. With a little planning, you won't have to worry about losing customers due to slow response rates or forgetting to post your weekly social media message. ‌‌Small businesses see the largest return on investment from email marketing. Constant Contact's email automation does the following: ‌
Sends a welcome message to new contacts
Creates drip campaigns to follow up with people who routinely interact with your messages
Segments lists so that different sections of your market get only the information they want
Provides sign-up forms and other passive list-building tools
Customizes emails based on artificial intelligence and continual A/B testing
Email templates also ensure that each of these emails is attractive and well-designed. ‌Social media tools provide a central platform and calendar for all of your social media accounts. You can create and schedule later posts and respond to comments and mentions from a single social inbox. This easy monitoring is especially important for today's customers, who often expect customer service through social media. ‌
Pricing
While pricing can change with any platform, you can always start using Constant Contact by signing up for a free trial.
Automation app comparison
Smartsheet integrates project management with the most flexible and sophisticated automations, but you'll need to know exactly what you want to achieve and how to make it happen.
The rest of us are probably better off using a combination of tools. Constant Contact provides an effective digital marketing suite, while IFTTT adds unique automation options.‌
Which productivity tools are right for you?
All of the productivity tools on this list have much to recommend them. With so many options, it's easy to feel overwhelmed. How can you pick the right productivity apps and capitalize on their various capabilities?
How to pick the best productivity apps for yourself
You are the expert on your needs. You know better than anyone else what will help you get work done. All the same, I can pass along some tips for choosing productivity tools to help you make the best decision.
Be selective
Choose your tools deliberately. Pick the ones that you will use, and limit your toolkit to these.
You should also avoid doubling up on functions. The last thing you want is to waste time, instead of saving time, looking for information you need among numerous devices and applications.
Be consistent
Stick with the tools that work. If you're constantly changing your tools, you'll waste time training and transferring to the latest ones.
Be mobile
Make sure that you always have your gadgets, notebooks, and other devices with you. You don't want to forget something because your system wasn't to hand.
If you move between multiple devices, you need apps that work and sync with all of them.
Be smart
The most expensive or most sophisticated answer often isn't the best one. If you only need a simple notepad, don't buy a computer.
Your tools should be both easy and efficient to use. Avoid complex productivity apps with additional capabilities that you don't need. It'll just slow you down.
How to pick the best productivity apps for your team
First and foremost, get the team on board by consulting them about their personal work needs and preferences. Even if an individual makes the final decision, you should
Brainstorm collectively
Address team concerns
Integrate feedback, then revise accordingly
What questions should you ask? The following list of questions will help you decide what project management and communication solutions work best for you and your team.‌
What do you do?
Start with the basic needs of your business. Who needs access to what information, equipment, or programs? Who needs to communicate with whom and how often?
Think about your team and all your resources, and draw connections between them.
What do you absolutely need?
To prevent yourself from dreaming up impractical solutions, make a list of your hard requirements. A few things to consider are;
Relevant databases and necessary software
Compatibility with current equipment, software, and systems
Mobility and remote access
Budget
Security
Technological literacy of your staff
What do you envision?
What does your dream setup include? Return to the map you created of your business when answering the first question. What would best enable your workflows?
What do you care about most?
As you make your final decision, you need to identify the criteria you'll use to evaluate productivity apps.
Price
Ease of use
Support
Reliability and reputation
You'll also want to rank the features and facilities of productivity apps. What's the most important thing for your new suite to include? What, on the other hand, would be nice but isn't essential?
Know what you're willing to forgo. It can save you unnecessary complications and expenses.
Start with one
If you're anything like me, this list made you a little giddy. You want to go out right now and download the free version or trial of everything. And then you want to research other ways you can be more productive.

Resist the urge. Which of these productivity tools most speaks to your specific problems? What do you need?‌

Start from there, and then slowly build a catalog of productivity apps that will allow you to manage your plan, whether it's conquering the world or organizing weekly meals.

Share with your network