Crisp weather and warm spices make fall a cozy time of year, exactly the kind of atmosphere to encourage people shopping for a new home to imagine themselves curling up by the fireplace in a new abode. The trick to real estate Halloween marketing is to blend the holiday's fun with the season's warmth. A sense of playfulness will help leads connect to and remember you.
While real estate sales traditionally peak in the summer and fall off as we move into winter, you can use this transitional season to generate leads. The spooky season offers you the perfect excuse to get in touch with former clients, too, increasing the likelihood of referrals and repeat business — so crucial to the real estate industry.
Don't be scared — give these 10 real estate Halloween marketing ideas a try.
Did you know? Constant Contact offers a corporate account option designed for real estate brokers/owners, so you can provide agents with all the digital marketing tools they need, in one place. Benefits of a corporate account include a discounted rate for your agents, locked branded templates to keep brand consistency across all users, tools to track results (opens, clicks, etc), and more. For more information, fill out this quick form, and we'll reach out with more information on how you can make your marketing easier and more consistent throughout your brokerage.
1. Spooky social media campaigns
Embrace the theme across your social media posts. Halloween is a more intensely visual holiday that is worthy of Instagram and Pinterest walls.
An Instagram account is a necessity for real estate agents, as is Pinterest for realtors — a great way to boost your blog and connect with millennials looking for first home inspiration.
This Halloween, post a family-friendly picture of you in costume or of your house after you've decorated it. Add a Halloween-inspired slogan. You can draw inspiration from funny Halloween real estate memes.
Interactive content will draw engagement and views from potential clients. Ask followers about their favorite Halloween candy, costume, or seasonal film. Take it to the darker side and ask whether or not they would buy a haunted house.
Social media contests can draw in even more likes, shares, and interest for your business. Make sure that contestants add a contest-specific tag to their submissions. Choose your favorite, or encourage contestants to collect votes from their friends on social media — more page likes and follows for you. Give a gift card or home decor item for the best decorations, costume, or pumpkin carving.
Finally, keep an eye out for former clients who post pictures of their house decorations, house parties, or even Halloween-related pictures that use their property as a background. Ask permission to repost or share their material. If they say yes, you can show prospective clients examples of families enjoying the house you helped them find.
Keep the content coming throughout October. Whether you curate content or create your own, create a batch of posts and use social media tools to schedule a month of freaky fun.
2. Eerie email campaigns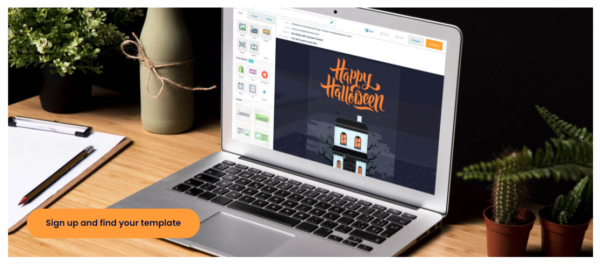 Take your email marketing to the next level with holiday email templates that let you scare up professional-looking emails with ease. They'll also save you time, allowing you to input information rather than compose the whole message.
Send out Halloween-specific content with titles such as these:
Top tips for safe trick-or-treating
Avoiding tricks: How to get through October 31st without rotten eggs or smashed pumpkins
The best Halloween events taking place in your neighborhood
When is it too much? How to avoid overdoing the decorations
Pumpkin carving: Do's, don'ts, and disasters‌
While email marketing for real estate is your best bet to nurture leads year-round, these topics would also work as blog posts.
3. Halloween content marketing
Speaking of blog posts, let's talk about Halloween content marketing for your real estate website. A blog is a great example of content marketing for real estate — branded shareable material — that can attract attention and boost your website's performance in search engine results.
Content marketing doesn't directly advertise your business. Instead, it attaches your brand to high-value articles and other media for which people search and are likely to share. Information-focused articles like those recommended above would make great newsletter entries.
For example, check out this amazing piece of real estate Halloween marketing: an infographic on Haunted Houses that first appeared in 2013 but is still making the social media rounds.
People share it because it's fun and whimsical. It grabs the seasonal staple — the haunted house — and puts a real-estate-focused spin on it.
Try it for yourself. Here are three other haunted-house content ideas designed for sharing:
Local haunted-house reviews
Haunted-house ideas for the first-time designer
Haunted-house appraisals: A realtor's opinion of famous movie hauntings
Embrace content that comes naturally to you. If you like to create humorous, playful material, do it. If you'd rather present more serious, research-backed articles, do that instead.
And always keep your audience in mind. Don't generate anything that's actually scary or gross. Even if your clients usually enjoy that type of material, those aren't the associations you want to conjure.
4. Open (not-so-haunted) houses
You might be tempted to dig out all your most elaborate decorations, but Halloween real estate showings and open houses follow the same basic principle that applies in other months.
Less is more.
Keep your decorations tasteful. Use a light touch. And make sure that the space is neutral enough that clients can imagine themselves living there.
Direct your seasonal touches for the kids. If you keep them entertained with Halloween activities, you ensure that their parents aren't distracted or tugged away early. Set up a beanbag toss in the backyard, or have some crayons and themed images to color available. (But keep an eye out for potential graffiti artists.)
Don't neglect the food. Kids and parents alike can be led by their stomachs. If pressed for time, candy will do. But remember that candy is coming at them from all sides. Be the house with the awesome sugar cookies or the trick-or-treat pumpkins full of little bags of mini orange popcorn balls.
5. Trick-or-treating in reverse
In real estate Halloween marketing, the time for the candy is when you're heading to their houses. Leave them a little treat along with your real estate business card or an invitation to your next open house.
Or avoid the cavities altogether with fun and festive door hangers that have your information on the back. Make sure that you have nothing more than a small brand on the front of your design. If your logo and contact information is too prominent, they'll simply throw it away.
If they're home, go ahead and say hello. Don't be pushy, but introduce yourself and ask if they have any questions about the neighborhood.
6. Charitable partnerships and community sponsorships
Even better when going door to door? Tell them about a charity drive or community festival in which you're taking an active role. You might sponsor a booth at a nearby fair or donate to local schools. Support a good cause while demonstrating your investment in the community.
Another good idea is to make a note of former clients who are active in the nonprofit sphere. If you believe in their organization, get involved and nurture that relationship.
Or look further afield. Put your money or time into causes that specifically benefit the homeless, such as shelters or Habitat for Humanity. Show your commitment to bettering the homes of others even when you don't directly profit from doing so.
7. (Spider)web designs
Add a little Halloween spirit to your website. Use a new theme with plenty of ghosts and goblins. Cover one corner of your homepage with spiderwebs. Or just add some seasonal flair to your standard pop-up.
You can even embed a snippet of code that will generate horror-movie lettering, glitch effects, or flying ghosts. Keep browsers on your site with fun visuals that will make them smile.
8. Good old-fashioned direct mail campaigns
Email may be king, but snail mail still has its place in your real estate Halloween marketing efforts. Halloween postcards make a great reminder for old or potential clients.
Wish them a happy Halloween, or invite them to a party/office open house. Put out some food and games, and have people stop in with any questions or just to have a cookie and say hello.
9. Longer pamphlets
Another form of content marketing is the creation of longer, downloadable material. Use the holiday to grow your real estate email list. Offer visitors to your site something they want in return for their email address. You could create booklets of Halloween crafts, your favorite pumpkin recipes, Halloween home-decoration guides, or collections of local legends that tend towards the ghostly or ghoulish.
Make sure to follow up with an automated welcome email and with any promised content.
10. Client appreciation gifts
Stay top of mind with a strong client appreciation strategy that will send referrals your way. Incorporate small Halloween touches into your standard closing gifts. Add Halloween wrapping or messaging to local gift cards or thank you baskets.
If you think you've got a handle on their personality and style, you might even present them with a nice seasonal decoration. Generic decorative objects can be a hard sell — particularly when you're working with a budget. They often end up as first-round draft picks for the next garage sale.
Instead, give them that cute pumpkin throw they can bring out when the air gets crisp. Or give that die-hard baker a Halloween-themed cookbook or cookie cutters/stamps. They'll think of you fondly at least once a year.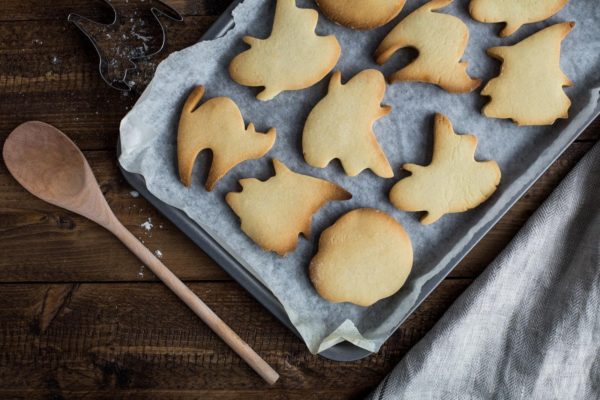 Use Halloween real estate marketing
Put these spooky strategies into practice, and reap the rewards this autumn. Constant Contact has you covered with seasonal templates and plenty of ideas to make this slower season frighteningly good.
Ghosts of real estate Halloween marketing vanquished? Check. Up next? Knocking the stuffing out of your Thanksgiving real estate marketing.
Share with your network