Running a real estate business is far from an easy task. For many, the focus revolves around finding potential clients and connecting with them. A great way to start a new business connection is by giving a business card and explaining your services.
If your business cards aren't optimized, you could be missing out on countless sales every year. In this guide, we'll tell you everything you need to know about realtor business cards. We'll show you 8 real estate business card examples and give you tips to perfect your own. Before we do that, it's important to understand why business cards matter for your operation.
We make it easy for you to have a growing and connected client base with all the marketing tools you need, synced to the tools you're already using.
Why are realtor business cards so important?
Your business card can make a powerful impression on potential clients. You want an option that's memorable and does a good job of selling your services. At the same time, you want to target a medium that most sellers are using. The above graph is from NAR/Inman News and shows that most people find their real estate agents through referrals.
A potential client might be given a dozen different real estate business cards from friends praising different agents' services. Your business card may be all you have to secure a new lead in a situation like this.
Real estate business card examples and tips
Here we'll take a look at eight well-designed business cards and examine what makes them stand out. Using these designs for inspiration, you'll be able to design business cards that will impress leads and grow your client base.
Minimalist design
For a good example of a minimalist design, take a look at this card from Century 21. There's nothing included beyond the logo and realtor's information. A minimalist design like this tells your potential clients that you're straightforward and know your business.
An effective minimalist design needs a logo with a strong silhouette. If your logo needs a makeover, you can draft a new one using a professional logo builder.
Consider including a QR code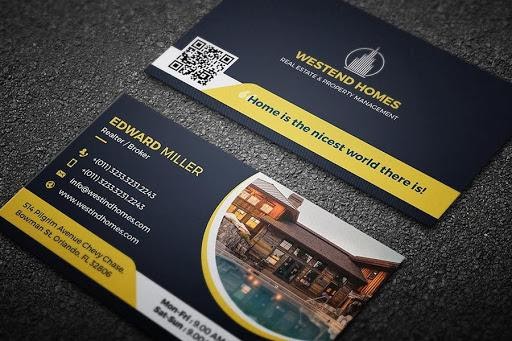 As gorgeous as this business card is, the thing that sets it apart is its use of a QR code. QR codes are particularly useful because they give the recipient a way to engage with your business card meaningfully.
When a lead points their smartphone's camera at the QR code, they will be directed to a URL of your choosing, such as your agency's website or a list of homes currently up for sale.
A little gold goes a long way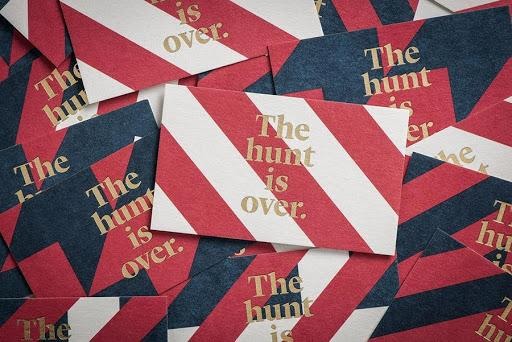 Gold is synonymous with luxury, taste, and elegance, but too much gold can come across as flashy or showy. This key is all about getting the balance right.
A little bit of gold goes a long way on your business card. A hint of gold can be included in your logo, text, or accent on your business card. Try to keep it to a minimum for the best result.
Use bold colors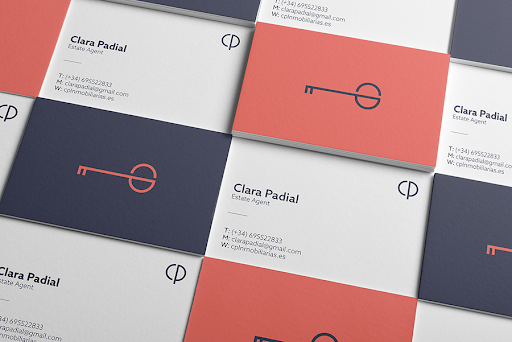 Color is another aspect of business card design that you can put a lot of focus into. Using bold color will make your card stand out in a pile, and it will tempt people to choose yours.
This card from Clara Padial features an understated front face and a burst of branded color on the reverse. The bold yet tasteful use of color draws the eye and makes this card difficult to lose track of.
Sticking to your brand's color scheme is another way to help with brand awareness. It's not required for your business cards, but it's a good idea to consider.
Make it shiny and sleek
Reflective lettering and accents draw the eye. Use that to your advantage with your business cards.
It's important to be mindful of your color choice when using a reflective font. You'll want to make sure the card is still readable when viewed head-on, which is why we recommend the use of high-contrast color pairings (like the black and silver combination used in the example above).
The card pictured above does a great job of conveying a feeling of luxury. It looks like an Amex Black Card in your hand and carries the same sense of importance.
Show what you do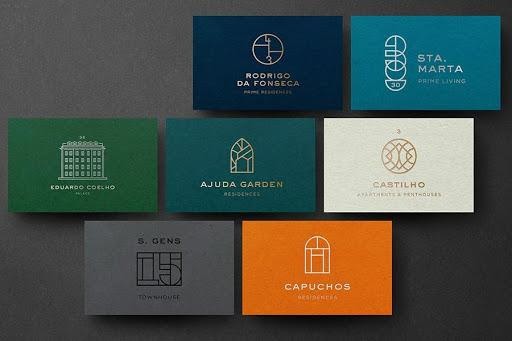 This group of real estate agent business cards comes from Mexto, a brokerage firm based in Portugal. Mexto offers a range of different services, and they have specialized cards for every occasion. You'll notice that the cards pictured feature various graphics and captions, each of which refers to a different area of service that the firm provides.
You can use this same strategy in your cards. If you focus on townhouses, you might include a simplified yet recognizable outline of a townhouse. Like with your real estate email template, it's important to make sure that potential customers can easily identify the services you provide.
Don't forget your roots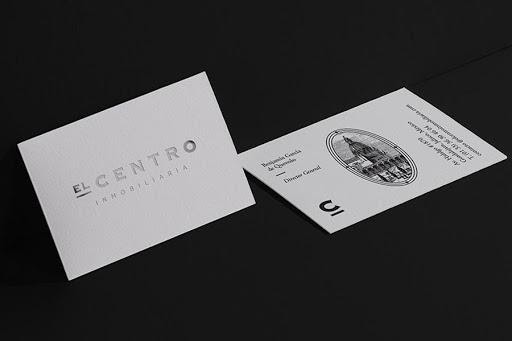 When looking for card design ideas, don't forget to consider your roots. In this example, you'll see some historic and culturally significant imagery used. This visual does a great job of romanticizing both the firm and the region they do business in by associating them with an iconic landmark.
You can use this tactic to your advantage by choosing a beloved landmark in your area and including a tasteful representation of it on your business cards. This adds an element of prestige and authority to your company.
Add your face to your card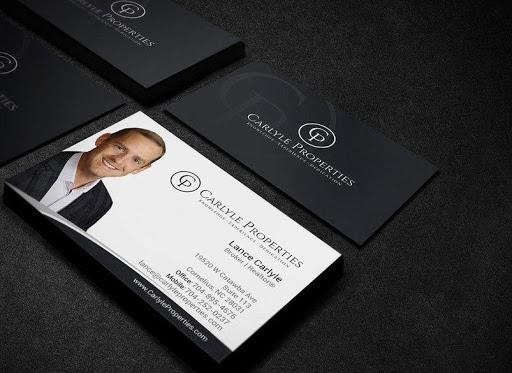 It's hard to put a face to a name when all you have is a business card. People want to connect and see if you mean business before the initial phone call. A photo can work wonders in this regard.
Including a photo is a great way to make a card unmistakably yours. Clients who've been given your card will also feel a greater level of familiarity with you when they meet you, which can help eliminate any initial reservations.
Keep in mind that any headshot you include on your business cards should be taken by a professional. If a photo isn't flattering or well composed, you're better off not including it.
More ways to grow your real estate business
Once you've perfected your business card design, consider moving on to other marketing techniques, such as real estate email campaigns. When you're ready for more ways to grow your real estate business, check out The Download, our free real estate marketing guide.

Share with your network