After the frenzy of the holiday season dies down, many people like to enter the new year by setting goals and starting fresh. This is a great time to capture their attention, particularly if any of your previous clients plan to buy a new home in the next year.
With an average open rate of 32.3%, real estate email is still one of the best marketing strategies for real estate. Capitalize on your captive audience and put yourself fresh in your clients' minds as they set new goals for the new year by sending them a "Happy New Year" real estate message.
When to send your Happy New Year real estate email
The holiday season is one of the best times of year for bargain hunters to go house hunting since sellers are usually more motivated to sell in the winter. And it doesn't matter if you send your "Happy New Year" real estate email right before the new year or shortly after — either way, it can help increase real estate sales this time of year.
If you want to capture buyers who are interested in relocating within the next few months, send out your email before New Year's Day and motivate them with seasonal bargains. If you're more interested in capturing long-term buyers, send your campaign shortly after the holiday to avoid being caught in a flurry of promotional holiday emails.
Tips for copywriting and messaging
Writing copy for "Happy New Year" real estate emails is not as straightforward as in other industries. Your email list likely consists of former buyers, prospective sellers, and lenders, among others. You could send out a simple "best wishes for the new year" email to everyone on your list, but this isn't memorable, and it's not likely to generate much interest.
When writing your emails, adjust them to address the different segments of your list.
Segmenting and personalizing your messages
Divide your email list into segments so you can personalize your holiday real estate email. People are more likely to respond to a message that's tailored to their interests.
You can split your list into past clients, potential sellers, interested buyers, and lenders. Then create four different messages with slightly different New Year's wishes. If you have a list of recent buyers (within the past year), send them an email wishing them a happy first New Year in their new home and remind them that you are available for any questions or concerns.
Clients who bought their houses longer than a year ago might appreciate a neighborhood guide featuring new businesses and upcoming neighborhood events. Or send an email with DIY projects that they should tackle in the new year. These emails keep your clients engaged without prompting them to buy a new house. Instead, they keep you front of mind in case they ever need a new home or want to refer you to a friend.
For interested buyers, write a message detailing potential winter savings and highlight some of the homes in your inventory. Potential lenders might appreciate a message wrapping up the year and touching on potential market trends in the new year.
Keep it short
Your readers don't want to read a lot of copy. Keep your messages brief but impactful. Don't oversell your recipients with this mailing. Instead, provide a link to your website where they can find more information if they want to. Wish them a happy holiday with a personalized message and remind them you're available to meet any of their real estate needs in the new year.
Your clients will appreciate the respect for their time.
Tie in emails with your social media posts
If you have an active following on social media, send a "Happy New Year" real estate email that expands on one of your popular posts. This will help to connect your email list to your social media and give you more of those important clicks.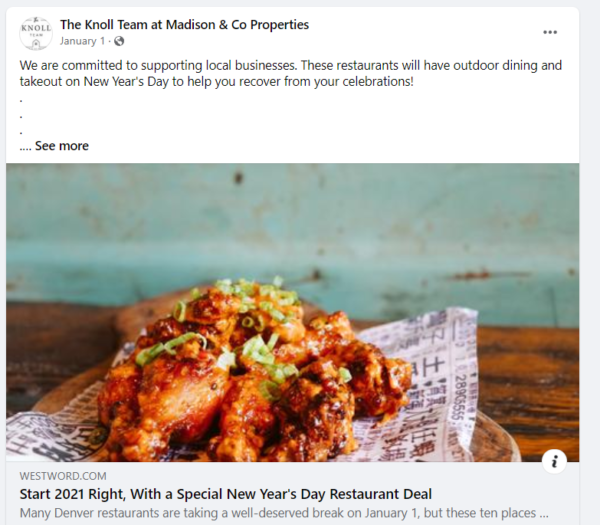 Writing subject lines that get noticed
Your emails are more likely to be opened with a personalized subject line. Keep them short and point out how the reader will benefit from your information. Best practices for good email subject lines include:
Don't use anything spammy
Get creative
Offer value to the reader
Inspire a sense of urgency
Tease what's inside the email
You could go with a thoughtful, simple subject line like, "Happy New Year in your new home." Or you can create a sense of urgency with a subject line like "Going Fast!" and add a preheader with more information like, "Jump on these winter home prices before the snow melts!"
Happy New year real estate email scripts
If you're not sure where to start, use these scripts for inspiration to start drafting your New Year email. You can also check out Constant Contact's holiday email templates for eye-catching designs.
For recent clients
SUBJECT LINE: Happy Holidays in Your New Home
COPY:
Hi [client name],
Congratulations again on purchasing your new home! I hope you've enjoyed your first holiday season. If you have any questions or need my help, I'm a phone call away.
Enjoy the New Year!
For previous clients
SUBJECT LINE: Happy New Year!
PREHEADER: Try Tackling Home Improvements in 2022
COPY:
Hi [client name],
This is [your name] from XYZ Realty wishing you a Happy New Year! The dawn of a new year is a great time to start thinking about home renovation projects to tackle. Here are some of the most common home improvement projects to start during the winter:
[link]
For potential buyers
SUBJECT LINE: Change Your Perspective This Year!
PREHEADER: Check Out These New Home Deals
COPY:
Hi [client name],
Best wishes for the New Year! Did you know that many homes are priced lower in the winter because there is usually a shortage of buyers? Last time we talked, you mentioned that you were in the market for a new home, and now is the best time to look. Here are a few of my current listings. Please contact me if you're interested.
[include home listings]
The next steps
As you get ready to celebrate your 2021 successes, take some time to draft thoughtful "Happy New Year" real estate emails that resonate with everyone on your mailing list. If you haven't segmented your list yet, start sorting it into small groups of similar contacts.
When you've selected your segments, create messages that are specific and personalized. You can use these emails to maintain your client relationships. Keeping those up makes it easier for clients to refer you to others who might be interested in buying a home in the new year. So once you've sorted your list, choose a template and start drafting thoughtful New Year's messages to send to your contacts this year.
Did you know? Constant Contact offers a corporate account option designed for real estate brokers/owners, so you can provide agents with all the digital marketing tools they need, in one place. Benefits of a corporate account include a discounted rate for your agents, locked branded templates to keep brand consistency across all users, tools to track results (opens, clicks, etc), and more. For more information, fill out this quick form, and we'll reach out with more information on how you can make your marketing easier and more consistent throughout your brokerage.