Decades ago, it was almost unheard of for businesses to disclose their hiring practices, production standards, and environmental impact. But today, transparency in business ethics is practically a requirement for any business that wishes to appeal to the modern consumer.
Ethics and transparency in business refer to how a company treats people — its employees as well as its consumers — and the Earth. Companies that make ethical behavior a priority will make business decisions based on the potential for impact rather than just the profit potential. Selection of raw materials and determination of employee pay scale are examples of business decisions that could be weighed against their environmental and social impacts.
Traditionally, nonprofit organizations were the first businesses to come to mind when discussing transparency and business ethics. However, in the past few years, all kinds of for-profit companies have shifted towards social responsibility. Social enterprises, public benefit corporations, cooperatives, and mission-driven for-profit companies are all likely to have an ethical tilt.
What do ethical businesses look like?
Every company is born out of a desire to make some sort of change in the world — whether it's to sell a better shoe or to provide better SEO service. Ethical businesses have had particular success in connecting the company's larger values with its strategy and marketing.
Theo Chocolate
‌Theo Chocolate's stated mission says it all: "As a company rooted in cocoa, our mission is to create a more beautiful, compassionate, and enduring world by responsibly making delicious and inspiring products for everyone."
‌Though any company can craft an inspiring mission statement, Theo Chocolate provides clear information that explains how the company is living that mission. For instance, the company reports that it works directly with farmers instead of a third-party supplier. This practice allows Theo Chocolate to pay farmers higher wages, benefitting the farmers' local communities.
‌Like many ethical businesses, Theo Chocolate aims not just to benefit the people involved in chocolate production but also to protect the environment. For instance, the cocoa beans the company sources are Organic & Fair Trade certified. The annual impact report discusses the company's effects on the environment, down to how many gallons of water were used per pound of chocolate made. For additional transparency, Theo Chocolate interviews farmers and publishes their stories on the website for all to read.
‌Of course, ethical practices aren't limited to product-based businesses. Service businesses are also finding ways to make sure that their values are reflected in their business decisions.
Up & Go
While in the gig economy, service jobs are outsourced to low-paid workers, cooperatives workers own a part of the business and control their working conditions. At Up & Go, the cleaning professionals earn 95% of the pay from their work. With so little going to middlemen, the company can charge competitive prices for cleaning services. In addition, Up & Go prides itself on its use of non-toxic and environmentally friendly cleaning products.
Think about your company's core values, such as trustworthiness or community involvement. Perhaps there is a specific cause that you support or hope to support. Highlighting these values and causes shows how your company promotes transparency in business ethics. In this way, becoming a more ethical business doesn't have to mean a huge change or challenge. There are likely already things that you are doing that are aligned with your morals or values.
When establishing an ethical business or pivoting a business towards more ethical practices, an essential thing to remember is to remain open to change. Ethical practices change over time, and new approaches are always needed to respond to new issues. Always returning to key values and missions keeps ethical businesses dynamic.
How do ethics and transparency impact the bottom line?
Studies have shown time and time again that ethical business practices are attractive to customers. There are several reasons for this.
Today's consumers are savvy and slow to trust, but ethical and transparent businesses, which put trust at the forefront, succeed in connecting to consumers. Younger generations are also more likely to deliberately seek out companies that consider environmental and societal impacts.
Consumers are beginning to realize the power that they have to shape the world and are choosing to use that power to shape the world positively. Once businesses have established their trustworthiness, they will reap several other benefits.
Impact on consumers
First, ethical consumption is exciting for consumers. People often feel proud about their purchase's positive impact, so they're more likely to post about their purchase online, increasing a company's brand awareness.
Happy consumers will often recommend a company's products or services to their family and friends. These consumers will also likely return to buy the company's products in the future. This brand loyalty is a huge driver of business since acquiring a new customer tends to be five times more expensive than retaining an existing one.
Impact on employees
Being transparent and ethical in your business practices also positively benefits your employees. This extends to the relationships that you maintain with them. Making the mission a focus of your small or medium-sized business can pay off.
Engaging in corporate social responsibility can help to attract and retain new employees, especially Millenials. And, employees who believe in their company's mission tend to be more dedicated to the company and can often be vocal supporters and brand ambassadors. As they are more likely to encourage people in their network to buy or utilize the company's products.
Happy and fulfilled staff also attract quality employees to the company, thus saving on recruitment costs and allowing the company to hire more talented people. Combining top talent with an abundance of passion helps a business grow and develop even further.
Impact on investors
Finally, transparency in business ethics is more likely to attract investors and maintain a high share price, thereby preventing the business from a takeover.
The value of investing in ethical business practices and increased transparency is particularly clear when you consider what happens to companies that do not take the time to consider their social and environmental impacts. From scandals centering on low wages and dreadful working conditions to companies getting "canceled" for their problematic behavior, consumers are showing that they want to support only those businesses that maintain high standards for their work.
How can your company show transparency in business ethics?
Evidence suggests that consumers are ethically aware and are ready and willing to support ethical businesses — once those businesses have proven that they are living their missions. Transparency in marketing is shown mainly through marketing practices that put a business's values on display. To incorporate ethics in your marketing, you should emphasize how your business's operations, sales, and profits contribute to social and environmental causes.
This practice, called "value-based marketing," has been recently adopted by virtually all top brands, including companies such as Rolex and Prada. These companies, like ONEHOPE Wine, may not be considered ethical businesses but they use marketing tactics to highlight how they are socially responsible.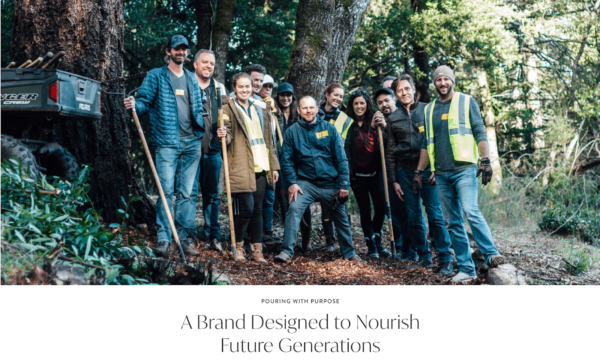 ONEHOPE Wine shows transparency by specifying the amounts and uses of the donations in the company's impact report.
A crucial part of ONEHOPE's business plan is to empower "Cause Entrepreneurs" to sell wine to support the causes that they believe in. The Cause Entrepreneurship program is marketed as an opportunity for someone to become a small business owner, join a community, learn about wine, and make an impact.
The company says, "ONEHOPE welcomes every person in the pursuit of purpose and fulfillment. Whether you aspire to make a change or yearn to seek connection with an encouraging and supportive community, you're in the right place." In this way, ONEHOPE's wines are inherently linked to the company's desires for social impact.
What are some specific ways to incorporate ethics and transparency into your marketing?
You can incorporate ethics and transparency into your marketing in both the way you market and your marketing content.
Before jumping into specific ideas and tips for ethical marketing, it helps to consider what might be regarded as unethical marketing, such as:
Falsified customer reviews or client testimonials would clearly be against most companies' values.
Ads with incorrect or incomplete information would likely be considered unethical.
Marketing campaigns that aim to make consumers feel bad about themselves to motivate them to buy a particular product would probably not be seen favorably by a majority of consumers.
Companies that employ ethical marketing, on the other hand, use their marketing to prove to consumers that they are living their stated mission or values. Often, the company's mission is a primary focus of marketing efforts.
North Coast Brewing Co.
Proceeds from North Coast Brewing's "Brother Thelonious" ale are donated to programs that support jazz education.
‌The logo and motto of North Coast Brewing display the company's commitment to positive impact. It's impossible to spend more than a minute on the website without coming face to face with the company's work. Graphics show the brewery's impact on the environment, and a video tells the company's story. It has also gone through the process of becoming a Certified B Corporation, an achievement that is displayed prominently.
A final way that North Coast Brewing shows its ethics and values is by encouraging direct donations to organizations in need. All these tactics fulfill the dual purpose of showing what the company stands for while building trust and brand loyalty with the consumer.
A Yard and a Half Landscaping Cooperative
A Yard and a Half Landscaping Cooperative is another service business motivated by a cause. While landscapers often struggle against unsafe working conditions and exploitation, this business prides itself on being an employee-owned, safe, and fair workplace. The company's story is also explained in its mission statement and a video.
Start incorporating transparency in business ethics in your marketing‌
Marketing that promotes ethics and transparency is simply about ensuring that your company's values shine through in everything you produce for the public eye. There are some small things that you can do to start, including:
Create display ads that have your company's mission or cause as their primary focus. Consumers may click on the ads just to learn more about your company's work.
Design your logo to represent your company's ethics and values. People will start associating your company with its positive impact.
Publish transparent information. Include details about your company's production methods and pay structure.
Look into certifications such as Fair Trade USA. Talk about the policies and procedures that you use to ensure fair treatment of employees.
Write about how consumers can support the causes you stand for. Don't focus solely on them purchasing your products.
Strive for diversity and inclusivity. This objective should show in all your visual and written content.
Being transparent about your employees' pay and working conditions or revealing how your company works to reduce its environmental impact will also help. If you take this step, you can set an example for other companies in your market and potentially gain an edge over your competitors.

Transparency in business ethics is a massive trend that's not going away any time soon. Consumers are thinking more critically about how to have a positive impact on other people and the environment. Ethical business is not only a wise business decision but it can help you feel good about how the work you're doing is impacting the world as well.

Share with your network