We've all heard that a picture is worth a thousand words.
But could it be worth a thousand dollars?
Well, that depends on the images you choose to include in your emails.
Using the right images in your email design will command attention, inspire action, and drive sales for your business.
Let's look at how you can use the right images in your next email:
Why you need images
Images are an essential part of email design. They draw readers in and persuade them to consume the rest of your email.
Images are also processed faster than text. With the right image, you can quickly convey the theme of your message — so be sure to choose an image that supports the purpose of your email.
For example, if you're sending a message about a sale on a particular product, include an image of that product so readers can tell what your message is about with a glance.
Look how Treat Cupcake Bar draws their readers in with a picture of beautifully-decorated treats:
Where can you find the best images to use?
Whether you realize it or not, you have access to an endless supply of images.
One of your absolute best sources of images is that high-quality camera most of us carry around in our pockets — you know, the smartphone.
Snap candid photos of staff members, stage your own product shots, or show your products in action with real customers. These photos are a great way to show off the personality of your business and give customers an authentic look into your business.
You also never have to worry about copyright issues because these images belong to you. Bonus!
If want to design original images and digital artwork, you can use Artworktool, which integrates with Constant Contact. Artworktool allows you to create your own artwork and images that will be sized perfectly for your email marketing campaigns. No editing experience necessary.
You also have plenty of stock image options at your disposal.
Constant Contact customers have access to millions of free and paid stock images through our partnership with Shutterstock.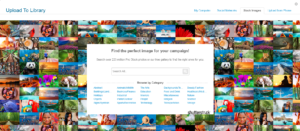 With all the stock images you have to choose from, the most important thing is to select images that feel consistent with your business brand.
Avoid using photos that look too staged. You know the ones we mean. Stock imagery has improved dramatically over the years and you'll find that natural and realistic photos are easier for people to relate and connect with.
Most importantly, never use an image pulled from an internet search because there can be serious legal consequences associated with copyright infringement.
Using images effectively in your emails
You've probably seen some images in emails that are pixelated and blurry. It doesn't leave a very good impression, does it?
Make sure your images are at least 600 pixels wide. If the file is too small you'll lose image quality if you try to enlarge a smaller image to fit within the typical width of your email. Here's how you identify the dimensions of an image.
Next, find the sweet spot for how many images work best for your emails. As a general rule of thumb, we've found that emails with 1-3 images result in best engagement.
This could vary based on your industry and the purpose of your email. For example, if you're doing a holiday gift guide, you may want to include more images to showcase a variety of products.
One mistake to avoid, however, is image-only emails. Image-only emails are commonly associated with bulk spammers, and could send your email to the spam folder. In other words, don't put all of your images, text, and links into something like Microsoft Publisher or a PDF and send it off.
Lastly, add an image description to all the images you include. If an email client automatically turns off your images, or they don't load in the inbox, an image description allows your reader to understand what they should be seeing.
What does the final product look like?
Allow us to show you!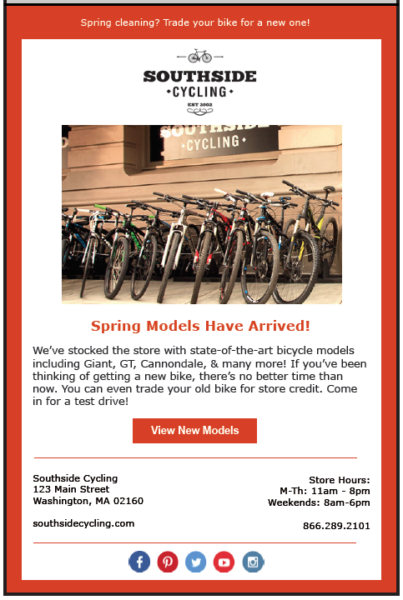 Looking for more email marketing tips? Sign up for our newsletter! Our Hints & Tips newsletter delivers are best marketing advice, straight to your inbox.
Is email marketing right for you?
See why smart small businesses use email marketing to drive more business. We'll show you exactly what it can do for you, and ten tips to get started.
Get your Guide!
By entering your information, you permit us to reach out to you in the future.

Share with your network