How helpful is blogging for a virtual assistant?
The short answer: extremely helpful. While virtual assistants provide a variety of services from bookkeeping to social media management, all of them can enhance their careers with a blog that showcases their skills and markets them to more clients.
But what type of content should you create — and how can you attract the type of audience you want? Here, we'll examine the benefits of a virtual assistant blog, how to create great content, and the types of posts people want to read.
Find more clients for your bookkeeping, hiring, or virtual assistant services.
Benefits of creating a blog for your virtual assistant business
Here are some benefits virtual assistants enjoy from their blogs:
More clients. Instead of simply listing your work history in a traditional resume, why not turn your experiences into blog posts that offer potential clients a detailed look at what you're capable of? Case studies of past projects and how-to articles on niche topics give clients more reasons to hire you.
Passive income. Many virtual assistants monetize their blogs to generate a second income stream. This can be done by participating in Google AdSense to put advertisements on your blog. You can also include affiliate links in your posts from ShareASale.com, FlexOffers, or the Amazon Affiliate program and get paid when you help them make a sale.
A successful side business. Once you get comfortable writing blog posts on your area of expertise, why not expand by writing entire eBooks or online courses? You can advertise and sell these books and courses on your blog. Not only will this establish you as an expert in your field, but it'll also offer you another income stream.
Tips for creating great content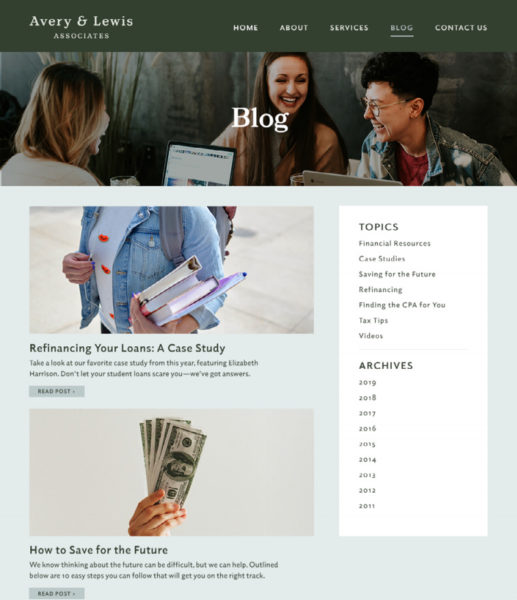 Before you enjoy the benefits of a virtual assistant blog, you need to know how to create great content. Fortunately, the elements of excellent articles are the same for almost all successful bloggers. Your posts should offer key features such as:
An attention-grabbing title. Become familiar with search engine optimization (SEO), and use the keywords and phrases people type into search engines when they're looking for an article in your niche area. "How to Find and Work With a Virtual Assistant" will definitely catch the eye of someone interested in hiring a virtual assistant like you.
Short paragraphs. Online content needs to be easy to scan. Offer short paragraphs that your visitors can read quickly.
Headings, subheadings, and bullet points. Splitting your post up into different sections with headings and lists makes it easy to read. You can also use keywords in the headings to make your posts more SEO-friendly.
Correct spelling and grammar. Articles should be free of spelling, grammar, and mechanical errors. This is particularly important if you offer editing services.
Links to related content. You can include affiliate links in your content if you want to generate passive income. You can also link to your other blog posts to keep readers on your website. You can even link to other blogs in your niche area and arrange for those bloggers to link back to your site, earning you new readers and potential new clients.
Great images. Each blog post should have at least one eye-catching image related to your topic. You can also offer screenshots or photos of your work to spotlight your expertise.
Focused content. Instead of writing articles on any random topic that comes into your head, focus on your virtual assistant skills and services. This will earn you a devoted readership once your visitors see the value you offer.
Longer content. Blog posts can be any length, but articles in the 1,000-to-3,000-word range tend to attract search engines like Google.
A call to action (CTA). Every blog post should end by instructing readers what actions you want them to take next. For instance, if your post is on the best ways to build a website, you can state at the end that the reader can hire a professional website builder like you to design their website.
Virtual assistant blog post ideas
The most important thing to keep in mind is that good blog content should always provide something of value for your audience. Write articles that answer questions readers have about virtual assistants and your niche area.
Here are some topics for good blog posts, along with some ideas for how you can frame your posts to attract more readers:
How virtual assistants are different from regular employees. Although virtual assistants are rising in popularity, not all employers know what they are. You could educate potential clients by establishing that virtual assistants are independent contractors who charge only for the actual hours they work for the employer.
Why should you hire a virtual assistant? Emphasize that assistants are not offered benefits, do not require training or office equipment, and do not come with any long-term commitments.
Virtual assistant services. Write a series of articles outlining the different tasks assistants can perform — like bookkeeping, social media management, project management, and so on. Since this post is intended to highlight your abilities, only list the services you can perform. Link each of these services to your own "Sevices" page on your website.
How to work with a virtual assistant. Tips on how to establish a mutually beneficial relationship with a virtual assistant can produce a popular article. Let readers know the best way to communicate with a virtual assistant and collaborate on projects. Having a post like this can make your own virtual assistant jobs easier when clients know how to work with you.
Case studies. Once you've completed several projects, you can create case studies that show how you helped past clients. Focus on the skills you used, why you approached the tasks the way you did, and the way your work benefited your client.
Niche articles. Virtual assistants don't just perform general office work — many have niche skills in web design, accounting, email marketing, and other areas. Offer some posts highlighting these industries and include your personal insights on how virtual assistants help these businesses run more smoothly. These posts will help establish you as an expert in your field.
How-to articles. How-to posts are very popular. Highlight how much you know by describing how to solve common problems in your niche. If you specialize in marketing, for instance, you can write about how to use social media to attract clients in desired age groups. This will further cement your expertise and offer more reasons to hire you.
List articles. Posts that offer valuable tips to potential clients are helpful and easy to read. Consider writing articles such as "Top 10 Benefits of Hiring a Virtual Assistant" or "Five Strategies to Improve Your Email Marketing."
Building a better virtual assistant blog
Blogging offers an excellent way for virtual assistants to advertise their services and generate new streams of income. To create a successful virtual assistant blog, however, it's important to know how to properly market yourself online.

Constant Contact offers a helpful guide for making sense of online marketing. And our online marketing blog provides plenty of useful tips for virtual assistants and other professionals in a variety of different fields. By taking advantage of these resources, your own blog will soon be full of valuable content that can attract many new clients.

Share with your network