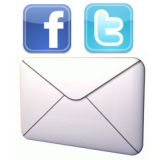 No matter how much time you've spent on social media sites, you've probably said something along the lines of, "This is fun" or "I didn't know he/she was connected to that person. Small world." (Hopefully you've said both.)
Yes, social media is a great marketing tool. It allows you to communicate with your customers and members in a less formal, more friendly way. It also lets you broaden your reach; people who've never heard of you can find your business or organization, and with one click can find out more about you.
Are you capitalizing on this extended reach and using social media to grow your email list? After all, social media works, but it works better when you integrate it with other tools you're using, like email marketing. Here are 7 quick and easy ways to help you build your email list:
1. Tease the content of each newsletter issue before it's sent out with something simple like "Coming tomorrow." Tell your fans and followers they won't get the info unless they sign up. Include a link to your subscription page.
2. Post a summary of an article from your newsletter on your Facebook Page, either as a preview or after it's sent, and ask a provocative question that relates to it. If your fans want the whole story, they'll have to subscribe to your newsletter.
3. If your newsletter issue has a theme, pique the interest of your fans and followers by teasing that, either with some related posts or by asking customers, members, or constituents for their thoughts on it. Then tease each article separately.
4. Use the Constant Contact Join My Mailing List app for Facebook, which will allow users to quickly and easily add themselves to the Constant Contact mailing list of your choice without having to leave Facebook. You can also explore growing your email list on Facebook.
5. When an issue of your newsletter is sent out, make sure you share it on Twitter and Facebook: "Extra! Extra! Read all about it!"
6. Tweet and post a link to a sample issue of your newsletter. Tell people this is a preview of what they could get if they subscribe.
7. Have links posted to your newsletter signup page in your Twitter profile (in the web page field) and on your Facebook Page.

How do you integrate your email list on social media? Do you have any other ideas? Share your thoughts with us in the comments below.