Everyday, almost 5,000,000,000 videos are watched on YouTube.
And yet, only 9% of small businesses promote themselves on YouTube. If you are part of the 91% of small businesses not taking advantage of this powerful medium, it's time to start.
Let's take a look at how small businesses and organizations can make a video, promote it, and … dare I say it, go viral.
1. Don't get caught in the quality trap
At the Nonprofit Technology Conference last week, Danny Alpert and Michael Hoffman of See3 discussed how to get started with video. One of the first rules?
"Don't feel boxed in by quality," Danny explained.
Take a look at this BBC News Blooper which has almost 4 million views. This is not a professional production – the clip is a poor recording of a news show.
YouTube has established a new norm of quality: sleek video almost always takes a backseat to compelling content, whether it makes viewers laugh or cry or both. Which brings us to the next point…
2. Know your audience
When marketers want something to "go viral," they often don't think about why people will watch the video… or who will watch it.
"We often plan for videos in a vacuum," Danny said. He added that "the general population does not exist. That's a fallacy."
To frame your video, you need to think about who will watch and what they will get from it.
How long do you watch a YouTube clip before finding something else interesting? 30 seconds?
You have half that time to engage the viewer.
3. Keep it simple
Danny told the audience that keeping a video simple means keeping it focused. "Every video doesn't have to tell the whole story."
Stay relentlessly focused on that one topic for the whole video.
4. Step out of the limelight
It may be tempting to put your organization in the center stage of a video. After all, it's your video.
Michael warned against that instinct. "Be the moon, not the sun," he advised.
The video should reflect the impact of products and services through the sun – and the sun is your customer.
5. Include a call to action
Danny insisted that not having a call to action in a video is "a cardinal sin."
Viewers should be encouraged to do something after watching, because otherwise they may forget about the clip as soon as they watch the next one.
If that's the case, why did you bother making a video at all?
Linking to social media can be a natural next step, particularly if you've created a theme that carries over to Facebook, whether that's an initiative, a special deal, or an event.
6. …and share the video!
YouTube is a go-to destination for videos, but it's not necessarily a place where your video will be trumpeted as The Next Big Thing.
Don't forget to promote your video to existing places where you connect with customers. This is where both email marketing and social media come into play.
If not, you can showcase your videos through emails, like Stephen Quick of Splintered Studios. Stephen embeds YouTube videos in some newsletters, and sometimes shows off a virtual gallery at the bottom his emails.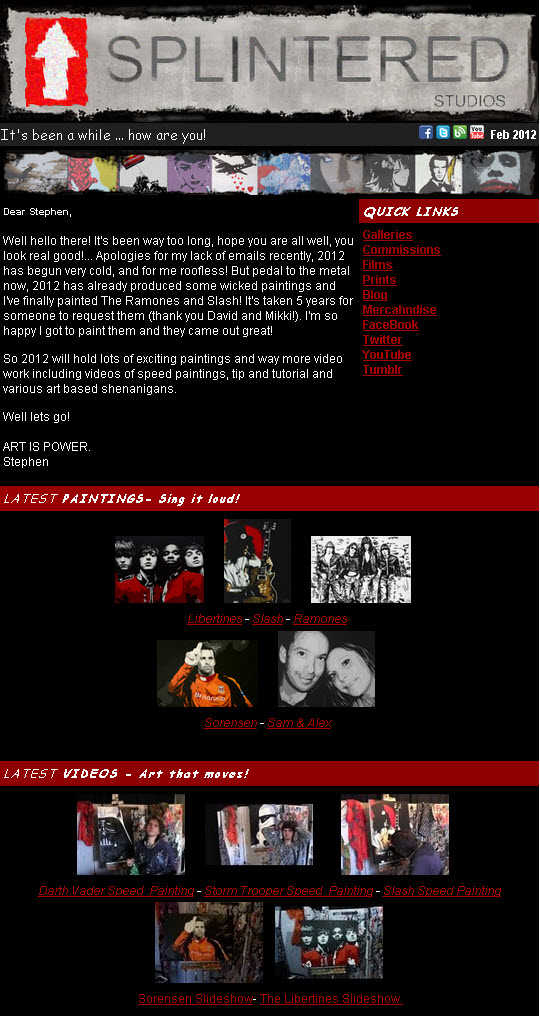 In fact, Stephen makes sure that videos are visible on all of Splintered Studios' available channels: Facebook, YouTube, his blog, and the studio's website.
The result? Some of his videos have gotten over 100,000 views.
7. Capitalize on the contemporary
What's happening right now is what you should try to film.
If you can develop a strategy for capitalizing on the contemporary, that's going to boost SEO, visibility, and engagement.
8. Don't expect to go viral
One attendee at the See3 video marketing session harped on a key issue for marketers. She explained that her clients always said that what they really wanted was for a video to "go viral."

Going viral isn't a strategy, it's a result of a strategy… and it's about as easy to predict as the internet itself.

When I think of seriously viral videos on YouTube, two come to mind: Rebecca Black's "Friday" and the KONY 2012 video, both of which netted millions and millions of views.

And I'm not sure it's possible to have two viral videos be so completely and utterly different.

What have you found to be successful when promoting videos? Share your strategies below!

Share with your network