With over 1.5 million bookkeepers in the United States, it is important to stand out among your peers. So, how can you show off your brand, advertise your services, and maximize the number of potential customers you're reaching — all in one place? Creating your bookkeeping website is where!
If you're not sure how to develop your bookkeeping services website, don't worry! This article will make the process simple by providing you with bookkeeping website examples and 5 tips for creating an impactful website, including:
Making your website mobile-responsive
Prioritizing your SEO
Conducting basic keyword research
Optimizing your services page
Starting a bookkeeping blog
Find more clients for your bookkeeping, hiring, or virtual assistant services.
1. Making your website mobile-responsive
There are nearly 295 million smartphone users in America, and the numbers only continue to grow. As smartphone ownership rises, more people are using their mobile devices to shop, look for information, and research professional services.
You can reach this ever-expanding audience by making sure your website is mobile-responsive. Being mobile-responsive means that visitors can easily navigate your site on their phone or tablet. When your website is glitchy, incomplete, or — worse — inaccessible to mobile users, you are abandoning a significant group of potential customers.
Instead, build a mobile responsive website using online tools. Once you create your business website, you can use Google's Mobile-Friendly Test to double-check its accessibility for your smartphone-savvy clients.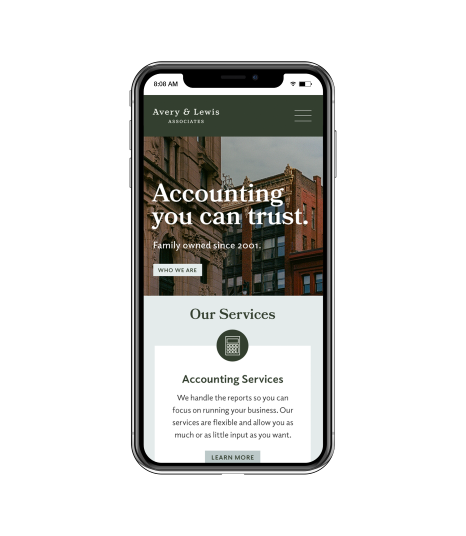 2. Prioritizing your SEO
When you create your website, search engine optimization should be among your top priorities. Search engine optimization, or SEO, is the process of improving your rankings in online searches that are relevant to your business. The goal is to appear as high as you can on the first page of a keywords search engine results page, or SERP.
Think of SEO as a long-term lead machine for your business. When you gain the visibility that comes with positive rankings, you will gain more leads and more conversions. You can utilize the power of SEO for marketing your business by:
To streamline the search engine optimization process, consider using SEO tools. Online tools can help you analyze your website, gain deeper insight into your search engine performance, and attain tips for building your online visibility.
3. Conducting basic keyword research
To truly maximize your SEO, it is important to conduct basic keyword research. Fortunately, there are several ways to find the perfect keywords for your bookkeeping website, including:
Searching for known keywords
Even if you're an SEO beginner, you intuitively know some of the most important keywords for your bookkeeping business. For example, depending on your niche market, you can probably list at least five keywords right now. Keywords may include:
Bookkeeping
Bookkeeping services
Accountant
Financial services
Bookkeeping for small businesses‌
Once you've come up with a list of basic keywords, try typing them into Google. As you explore the SERP generated, you can easily see where you rank compared to other businesses like yours.
Using a keyword planner
If you're looking for a more comprehensive list of keywords, try using the Google Keyword Planner. The planner makes it easy to:
Generate relevant keywords for your content
See how popular each keyword is
Understand how competitive it is to rank with the keyword
Keyword planners can help you get a sense of how other bookkeeping businesses like yours are utilizing keywords.
Tracking your results
Professionals often overlook the tracking aspect of the SEO process. Once you've implemented your keywords into your website and content, you're just getting started! It is essential that you track your progress and monitor how your keywords are performing in their respective SERPs.
To acquire valuable insights into the performance of your keywords, use Google Analytics and Constant Contact's comprehensive SEO tools.

4. Optimizing your Services page
When it comes to building a winning website for your business, one of the most important factors is your Services page. Besides your landing page, your Services page will be the most visited area on your business site. It also showcases the benefits of choosing your bookkeeping business.
To give your Services page a boost, make sure to:
Clearly list your services
Not all bookkeeping businesses are alike. Your unique business serves a niche audience with skills you've built over your entire career — highlight them here! Be detailed in your list of services by anticipating questions from prospective customers.
Whenever possible, use a list of bullet points to make it easy for visitors to scan your services. Most leads arrive at your site with a particular service in mind.
Use graphics when possible
Photos, infographics, and statistics can be immensely effective when it comes to persuading prospective customers. Incorporate photos of your workplace to build a sense of community and infographics to develop a sense of reliability.
Make it easy to book your services
Finally, it should only take one click for a visitor to start the process of booking your services. Use a visible button or banner as a call to action to prospective clients.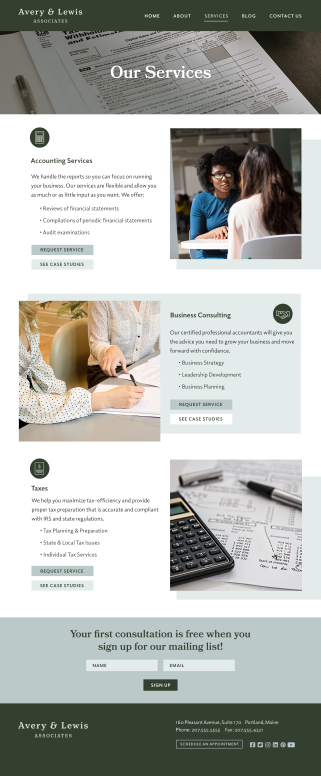 5. Starting a bookkeeping blog
Starting a bookkeeping blog might seem intimidating, but it doesn't have to be! When used correctly, a blog is a creative and effective way to connect with potential clients. The benefits of starting a blog include:
Positioning yourself as an expert in the bookkeeping industry
Boosting your website's SEO
Building community with prospective clients
Providing valuable resources for your target audience
The key to launching a successful blog is to plan out your content, always keep your target audience in mind, and — most importantly — provide engaging and useful content for your community. Your blog should serve as one piece of your larger content marketing strategy.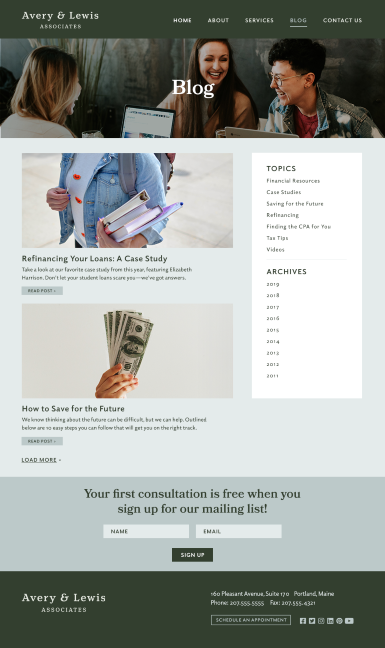 Earn new clients with your bookkeeping website
For good reason, people are highly selective when it comes time to hire a financial service provider. Acquiring new bookkeeping clients is all about establishing trust. When you think of your website as a platform for building a case for your reliability as a financial professional, many of the details begin to fall into place.

Marketing your professional services business can be a time-consuming venture, but the customer base you will build is well worth the effort! You've learned how to create an outstanding bookkeeping website using SEO, blog writing, and an informative Services page. You're only a few steps away from launching a polished bookkeeping services website!

You might also want to learn about how to market your business on a limited budget or take some time to read The Download — a free marketing guide for the professional service industry.

Share with your network