Using St. Patrick's Day email templates can help you get the word out about your upcoming holiday promotions.
While you may not think that St. Patrick's Day is big enough to celebrate with a special email template, the National Retail Federation conducts surveys every year to learn how consumers will be spending for the holiday. In 2021 the NRF estimated that over $5 billion would be spent on St. Patrick's Day. And while the number for 2022 isn't out yet, you should definitely plan to take a chunk out of that green pie by using these St. Patrick's Day email templates from Constant Contact.
Let luck shine on your business with these St. Patrick's Day email templates
A simple "Happy St. Patrick's Day" email is the perfect way to share some luck with your customers and encourage them to do business with you. Here at Constant Contact, we've designed six great-looking St. Patrick's Day emails to help you impress your customers.
Whether you decide to send a heartfelt message, offer an eye-catching coupon, or invite your customers to spend their holiday at your business, your contacts will be impressed and ready to engage with your business.
Here are six St. Patrick's Day email templates to consider using this year:
St. Patrick's Day greeting template
St. Patrick's Day is all about feeling lucky. If your business is participating in the celebrations, you need to make sure customers know about it. Design an email with details of your holiday-only service, like St. Patrick's Day-themed menus, special green drinks at your restaurant, and more.
The point is to theme your email campaign around St. Patrick's Day and create something different from your regular offerings.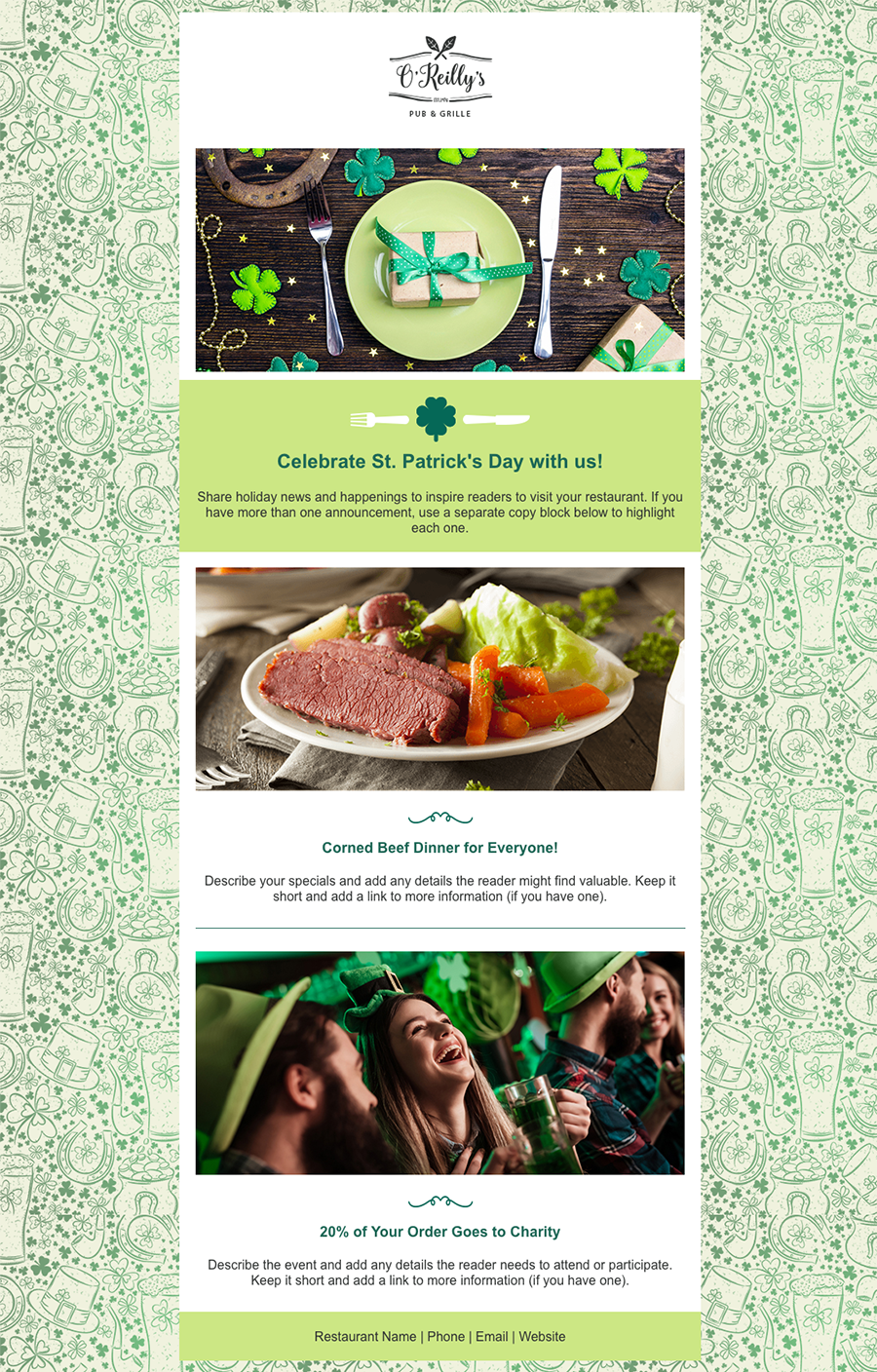 St. Patrick's Day card template
Wish your customers a happy holiday with our St. Patrick's Day Card email template. This design helps you grab your readers' attention and keeps your messaging focused with a direct call to action (CTA).
Use this template to get people to visit your website and make a purchase.
St. Patrick's day sale template
Even though it's known for drinking, people love to shop on St. Patrick's Day too. This email template allows you to offer multiple discounts, or even create a mini-game that directs customers to your website to receive extra discounts or bonuses on future orders.
Some examples include a free dessert or appetizer, or BOGO offers.
St. Patrick's Day coupon template
Even if your products aren't Irish or green, your customers still love an opportunity to save some of their own green. This all-green email template helps reinforce your message, with a CTA that keeps that hard to resist St. Patrick's Day feeling going.
Encourage guests to make a purchase in time for the holiday.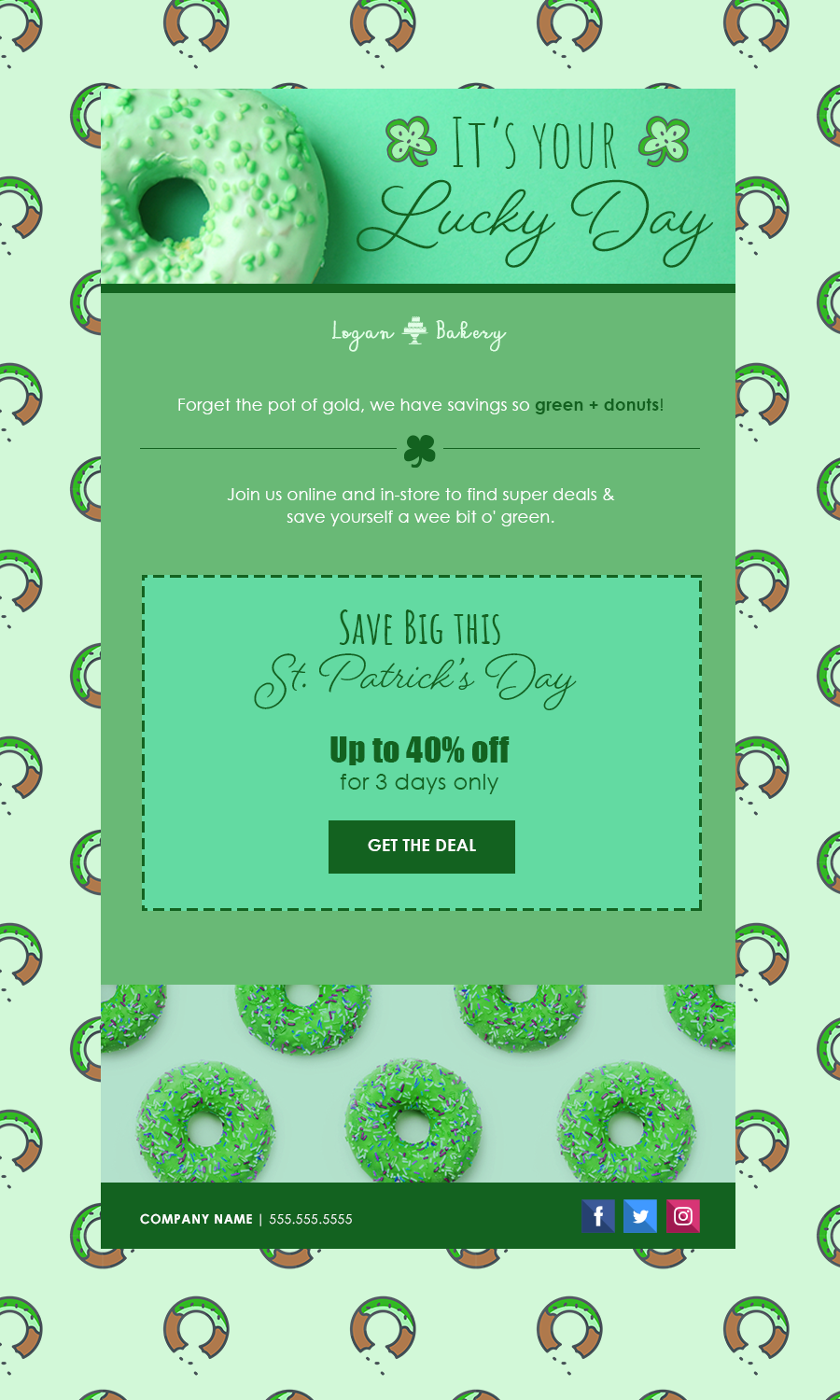 St. Patrick's Day retail promotion template
If you've decided to offer a special promotion for St. Patrick's Day, but a coupon doesn't quite fit, this is the template for you.
Whether you want to promote the holiday, or a sale on all things green, this St. Patrick's Day Promo template has you covered with plenty of luck — and green.
St. Patrick's Day event invitation template
St. Patrick's Day is a great excuse for a party or an event — even if it's a virtual event.
If you are a local business, invite your customers to stop in for a tasty green treat. Don't have the resources to host an event yourself? Why not join in on a St. Patrick's Day parade or celebration in your community? Invite your contacts to come by to support your business. Make sure to wear your branded gear and bring lots of giveaways and swag.
Do you operate online? You can still make the most of the holiday. Develop an online event or webinar with a "lucky" theme. Whatever type of event you choose to promote, remember to start early. Create a three-part series that includes Save the Date, Invitation and Last Chance to Register emails.
Which St. Patrick's Day email is right for your business?
Don't be afraid to have fun in the inbox with your email campaigns this month. Spring holidays like St Patrick's Day can bring a breath of fresh air to your subscriber's inboxes, and you want your business to be part of that.

No matter which template you choose, our mobile-responsive email templates look great on any sized screen. Customize each template with your business brand, add your content, and deliver your customers something special this St. Patrick's Day.

Ready to get started? Log in to find the right St. Patrick's Day template for your business!

Share with your network