Making a positive impression with parents on your child care website is more important than ever.
In this article, I'll tell you everything you'll need to know to build a professional-looking daycare website that will help you enroll more families. As an owner of several daycares and a former website designer, I've spent a good amount of time developing and optimizing child care websites, so you've come to the right place.
Read on to learn how to get started, what pages to include on your child care website, and most importantly — what parents want to see.
Start with a great impression
Having a professional-looking design is a must. Your website should appear well thought out and uncluttered. You want to give off the impression that your child care environment is warm, organized, and has a nice aesthetic. Your website must reflect this.
Building a website for your child care center isn't as intimidating of an undertaking as you might think. In fact, you have several good options:
You could use an intuitive drag-and-drop website builder to get a simple, but effective website up quickly and easily.
Short on time? Have someone build your website for you.
There are even businesses dedicated to building websites exclusively for childcare providers.
Use professional photography
A picture is worth a thousand words… but professional photos can say so much more. I always encourage childcare providers to start with professional photography as the basis of not only their website but also their entire marketing plan.
As you can see from the photo above, it'd be easy to repurpose this image onto flyers, postcards, or other marketing materials. It's worth investing in professional photography now and then building your marketing around beautiful images for years to come.
Once you have nice photos, you'll also be able to pepper them into various pages of your website and that will help elevate the look of your site.
So what pages do parents want to see on your child care website?
Now that we've nailed down the importance of making a great visual impression, let's break down some important pages you should consider including on your website:
Programs Offered
This page will provide you the opportunity to list the various age groups you offer services for. For example, if you have an infant classroom, you'd list out a typical daily infant schedule along with the various objectives and milestones you'll be accomplishing in this room. Then repeat for each subsequent age group.
Philosophy & Curriculum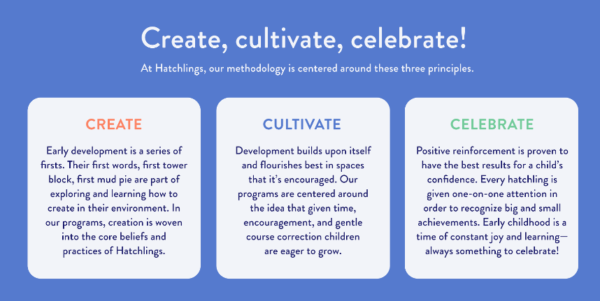 Here's where you'll have a chance to let parents review your program's guiding philosophy, mission and values.
You'll also be able to explain which curriculum your school uses. As you know, there are many styles of preschool such as Montessori, Reggio Emilia, etc. But what do all of these mean to parents? This page should explain what these curriculums and philosophies are all about and how you feel they help create positive outcomes for children.
Testimonials / Reviews
Almost nothing can build trust as quickly as seeing other people who have been delighted by your services. How many times have you been compelled to buy things online because of positive reviews? The same goes for daycare — highlighting elated customers is one of the strongest ways to reassure parents to become more comfortable with your services.
Safety and Security
Parents' number one concern is obviously the safety of their children. You don't need a fancy camera system to let parents know that your facility is safe. It can be as simple as explaining the precautions you take within your building to keep children safe. For example, you can mention that you screen visitors in the lobby before unlocking the secondary door and any other safety procedures that you may have in place.
FAQ's
You'll find that over time, you'll be fielding many of the same questions. Save yourself (and parents) some time by posting the most frequently asked questions (FAQ) on your website.
Examples include: Do you provide diapers? What is the pickup / drop-off time?— You get the idea. Make sure it's easy for you to update this page as well so you can enter new questions and answers as they arise.
Enrichment Programs
I've found parents feel they can never get enough extracurricular activities for their children. In our schools, parents love the additional enrichment activities we offer. Some of them include yoga, Spanish language, music and more. If you offer enrichment programs, parents would love to see all of the interesting activities their children will be exposed to in your program.
Food
In this section, you can describe the culinary offerings you provide. Do you offer organic food? What are your nutrition standards? Do you have an on-site cook? Let parents know that their children will be consuming healthy, delicious food at your child care setting.
Daily reporting and communication
Parents love getting updates and pictures of their kiddos throughout the day. If you offer daily Facebook-feed style reporting and communication tools such as Brightwheel, this would be a great place to let parents know about this feature. If you don't offer this, it's helpful to explain the frequency and type of communication parents should be expecting from you.
Employment / Careers page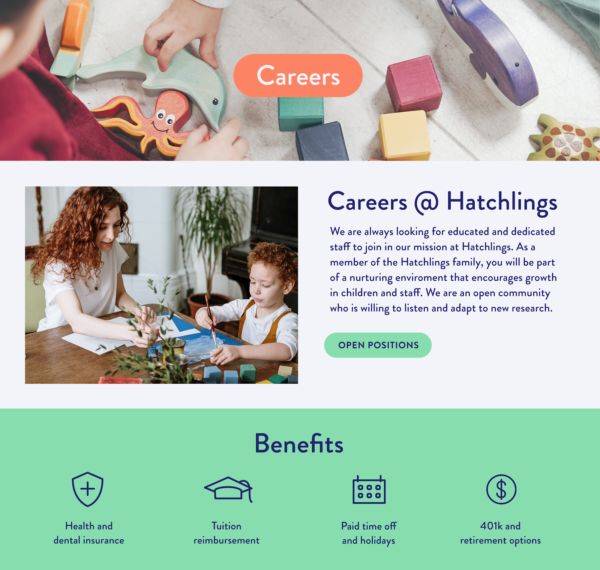 You're probably wondering why parents would be interested in seeing your employment page. Here's why: The culture of your child care business is one the most important components of a successful child care center. You should take this opportunity to highlight the joys of working in your company.
And while this page is generally mainly geared towards potential employees, parents will sneak a peek at what kind of work environment you are offering to employees that will be caring for their kids.
Contact Us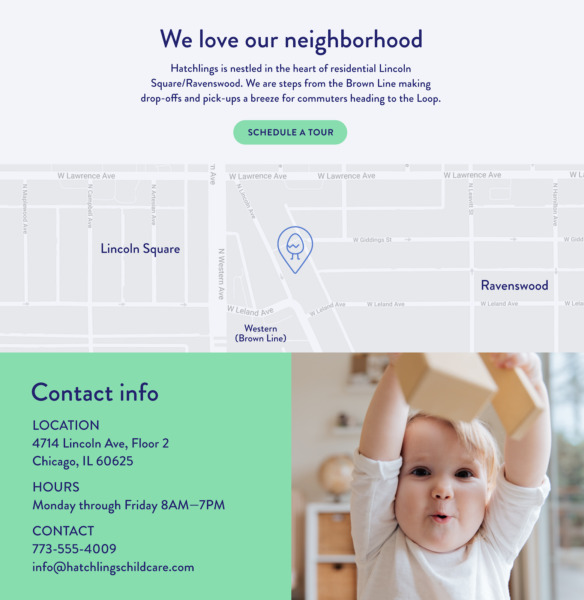 After parents have been thoroughly dazzled by your beautiful website, they'll want to contact you! It's really important to set this page up correctly.
You want any leads through this form to be emailed to you and also entered into your email list so you can easily market your services to parents prior to them becoming a customer.
The three-step blueprint to remember
Building a website doesn't have to be a complicated process. Follow these easy remember steps to create a robust website and you'll be well on your way to increasing your child care enrollments:
Make a great visual impression with professional design and photography
Provide content pages of your choosing based on the outline above
Capture the leads from your contact form to increase enrollment!

Share with your network