When running a nonprofit, changing lives is your main objective, and you look to make a difference with the sum of small acts that move the needle over time. Of course, making change without community support is an uphill battle. So how can you prioritize your mission while also constantly generating sincere community engagement?
There are numerous community outreach ideas for nonprofit organizations, several of which we'll cover below.
Keep your organization growing with expert advice and all the tools you need, all in one place.
Benefits of outreach for nonprofits
Outreach for nonprofits can look different depending on the kind of organization you have — but it's always about building and maintaining relationships. There are lots of creative ways to do interactive marketing for outreach. Some common methods include phone calls, email, chatbots, social media posts, and YouTube channels.
Engaging with your community may come as a second priority after the critical work you do, but in reality, there are many benefits to outreach.
The main problem isn't that teams don't want to do it, but simply that community outreach ideas for nonprofit organizations can be hard to brainstorm, at least at first. Once you understand how your nonprofit efforts can benefit from community outreach, you'll never look back. Here are some of the top benefits:
You maintain the relevance the work you do has in your community
People are more likely to feel inspired to volunteer and donate
You build long-term connections for your organization
While taking on community management and outreach can seem like a big task, the perks outweigh the extra workload.
Community outreach ideas for nonprofit organizations
As a nonprofit, you want to get serious about sharing your mission and getting others involved. Before you put any outreach strategy into action, it's important to remember a few best practices. For one, always ask yourself what result you want from your initiatives.
Do you want to increase monthly donations? Are you simply trying to gain awareness in the community you want to impact?
Next, set goals for specific periods. For instance, do you want to have 500 new social media followers by the end of a month-long campaign?
Without goals, you won't be able to track your progress, so keep track of what you're doing and the results you're getting along the way.‌
Put your community outreach ideas for your nonprofit into action. Use any of the ideas below to get the ball rolling.
Use social media
Taking advantage of social media and the reach it allows can help you create opportunities for connection with similar-minded individuals and even other organizations. Lots of nonprofits use social media in a variety of ways, sharing stories and emotions in a way adapted to each type of social media platform.
Something that social media allows that your own website won't is the ability to reach large numbers of people quickly. Social media can be a powerful tool to engage not just with those closest to your organization, but also with others who share the same interests all over the world.
Use Facebook for your nonprofit to connect and even fundraise. Share stories on YouTube and TikTok, and show off the great team you have on platforms like Twitter or even LinkedIn. Let's take a look at a couple of examples of social media community outreach ideas for nonprofits.
Invisible People's YouTube channel
Invisible People is a nonprofit raising awareness and shaping policy around homelessness by sharing stories and educating general audiences. Its YouTube channel, which has almost 1 million subscribers, shares stories of real homeless people, their struggles, and their smiles, similar to Humans of New York.
This type of outreach doesn't require nonprofit community engagement but inevitably initiates an emotional connection to the organization's mission. So whether a video gets a comment from a subscriber or a share, the nonprofit is growing with every story it posts.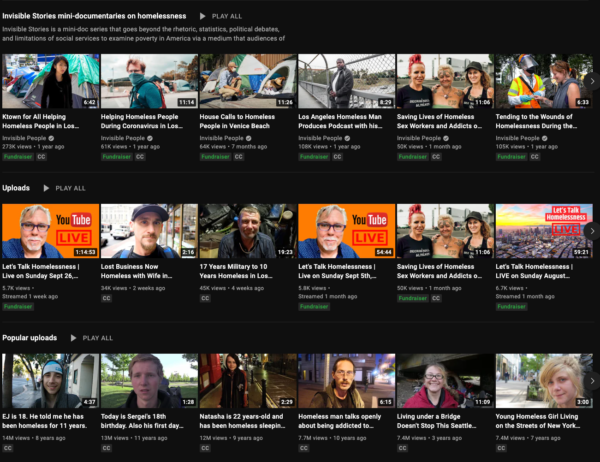 KC Pet Project's TikTok account
‌Sharing your organization's most touching stories on social media can create the type of engagement your nonprofit has been hoping for. Just look at the example of KC Pet Project's TikTok account. Despite being a local organization in Kansas City, the nonprofit's audience of almost 1 million followers is now international, and its engagement is through the roof. Visitors to the site visit almost seven pages on average. Its outreach is story-focused and emotion-centered, and it works well.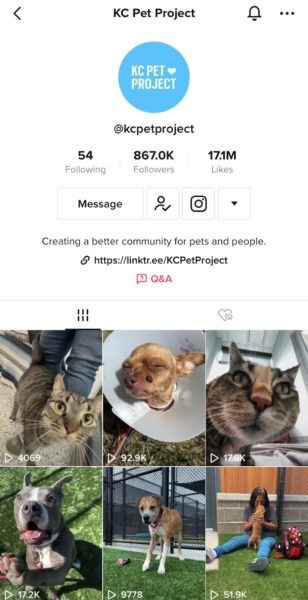 Be responsive
‌While simply being available for questions and concerns may seem simple — and not like outreach at all — being responsive is one of the best strategies when actively doing outreach. After all, engagement has to be a two-way street. There's no connection without a response. So if you hear back from someone, even if it's criticism or a complaint, always make sure to respond with compassion. You never know who is waiting for that personal gesture to become part of your community.‌
Use your email list
‌Perhaps by now, you're already gathering email addresses to keep in touch with people in your community. Leverage your nonprofit email list to make sure you're getting the most out of those contacts. You can plan for monthly newsletters or even create automated content that tells new subscribers about your organization and keeps them engaged with the things you've done, the people you've helped, what your goals are now, and how they can get involved.
What can this look like? Here's an example:
UNICEF's heartwarming newsletter
‌This email from UNICEF's campaign manager is a sweet reminder of the impact its patrons are helping to achieve. With the personalized opener and update on the action the organization has been able to take — in numbers! — thanks to the reader's support, the email generates a connection that's likely to keep the recipient as a patron in the long run.
Host an event (in person or virtual)
Don't underestimate the power of connection, even while running virtual events. Gather people around a common interest that relates to your work, and they'll be happy to make an appearance.
The key to hosting events is opening spaces for connection among your guests and your nonprofit's mission and goals. Some common events are galas and fundraisers, both of which can look all sorts of different ways depending on your organization. While you're at your event, remember to connect personally with attendees, ask them about their connection to your organization, and get their contact information for future events.
Dressember's virtual 5K
Dressember.org is an organization helping victims of human trafficking. After the pandemic made Dressember's annual 5K impossible, the nonprofit pivoted to a virtual option. Even with the switch to online fundraising, it managed to raise money, unite its community, and share the awareness of its cause with an increased number of people. This type of outreach, done routinely, is what keeps nonprofits front of mind for their communities.
Start by getting feedback
Now that you've seen how some nonprofits do community outreach and learned about some best practices and community outreach ideas for nonprofit organizations, it's time to start your own campaign.
If you're not sure which path is right for you, start by asking your community how they'd like to hear from you now.
Whether via email, social media polls, or all of the above, ask people who connect with you already what they think. Send out a survey to all your contacts and find out things like; what social media platforms they're most active on now, what kind of updates they want, why they support you, and more.
Incorporate as much of that feedback as you can into your outreach plan and start making connections with your community. Before you know it, your circle will be bigger than you ever thought possible.