If you could generate three times as many leads for your travel business while cutting your marketing spend in half, wouldn't you? That's what content marketing can do for you.
The majority of small business owners don't have a content marketing strategy, either because they aren't sure what content marketing is, or they don't know how to get it done. That's why those who have a strategy have a strong edge when it comes to reaching customers.
Content marketing for travel companies isn't complicated or difficult. You just need a simple overview and a few tools to get started.
What is content marketing?
Content marketing means creating blog posts, YouTube videos, podcasts, infographics, or other content related to your industry that customers will find when they're surfing the web. The blog post you are reading right now is content marketing.
Traditionally, content marketing has meant adding a blog to your website — and that's still a good idea. Even if you're creating other types of content, like videos or podcasts, your blog can be a hub that brings everything together and drives traffic to your main travel business website.
Whether it's a blog, a video, or something else, the content you create should:
Appeal to your target market
Answer their burning questions
Reflect your company's brand identity
Establish your company as an authority
In other words, your content should attract the right people to your site, introduce your brand, and serve as the foundation of a relationship.
Why content marketing works for travel companies
Buying ads to promote your website is a fast way to get lots of traffic, but as soon as you stop paying for ads, you stop getting traffic.
Getting started with content marketing requires a greater time investment than pay-per-click advertising. Each post you write or video you commission will take longer to produce than setting up a paid digital ad campaign and might bring only a trickle of traffic in its first month. But that traffic will continue for months or years after you've forgotten about the post and your traffic will snowball as you build more content.
Content marketing has a strong advantage over paid digital ads in that it can be shared organically for free and linked back to from other websites or social media posts. Ads, on the other hand, are shown once — and you have to pay for that impression.
Build credibility and authority
A well-built content library can also persuade search engines that you are a topic authority, which increases the likelihood that you'll appear on first-page search results for key terms. That sense of authority also impresses your potential customers.
Booking travel with an unknown company on the internet is scary for customers. They want proof that you know what you're doing, that you aren't a scammer, and that you will take good care of them. When they come to your site and find a rich source of useful information, rather than a few sales pages, they are more likely to trust you — and book with you.
Lay the groundwork first
Any content you create should be directly addressed to your target market and should reflect your brand identity. Before you start creating content, you should have those two areas well-defined.
Your target market
Who are your customers?
What are their ages, genders, levels of education?
What topics are they probably researching online that relate to your business?
What information about your industry are they likely to seek out before they buy?
What format are they most interested in? (text, video, audio, images)
Your brand identity
How do you describe your brand's personality? (stable, fun, quirky, solid)
What tone of voice does your brand use with customers? (scholarly, wise, friendly, casual)
What are your areas of expertise?
What makes you unique?
Once you have a clear, well-defined understanding of your target market and brand identity, you can start identifying topics for your content.
Choose long-tail keywords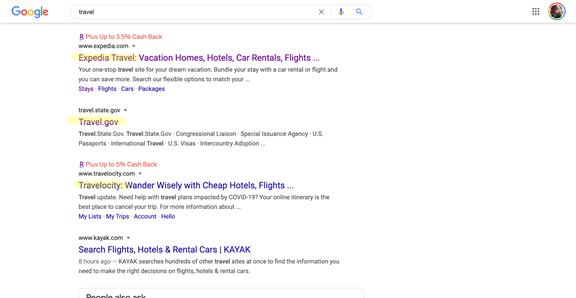 Ideally, the content you create will come up at the top of your target market's searches when they're looking for information about your industry. Keywords — words you feature prominently in your content —are how the search engine knows what your page is about and decides who to show it to.
It's very difficult to appear at the top of search results for competitive keywords like "travel." Instead, choose phrases of three to five words your customers might search for that are intimately connected with your brand.
These phrases are called long-tail keywords, and you can tailor them specifically to your clientele. Some examples of long-tail keywords are:
Budget travel with kids
Luxury travel to Europe
Senior discounts on tours
Best flights to South America
Choose a few long-tail keywords and build your content marketing strategy around them. You can add more keywords as your content library grows. If you're drawing a blank on what long-tail terms to use, you can conduct keyword research to discover good target phrases for your content.
Think like your customers
You may be tempted to create content about aspects of your business, but that's advertising — not content marketing. Instead, put yourself in your customers' place and ask yourself what information they need.
For example, if your business specializes in high-end family vacations, ask yourself what information a well-heeled mom might type into a search engine when she's thinking about a vacation. Then publish content that answers her questions. She might be looking for things like:
What are the best suitcases for kids?
Packing lists for families
Most comfortable flights to the Caribbean
How to keep kids happy on a long flight
Which Cancun resorts have the best programs for kids?
Create good content
If time is an issue, you can hire people to create content for you. There are even agencies that will manage your entire content strategy. However, many entrepreneurs create their own content, at least at first.
The most popular types of content include:
Blog posts: Give your visitors information that's easy to read with short paragraphs and illustrations.
YouTube videos: Beautiful visuals of travel destinations make great video content. Keep your videos informative, short, and entertaining.
Podcasts: Interview industry leaders, customers, and partner companies for an inside look at the travel business.
Infographics: Distill lots of information into a simple, shareable visual asset.
Make sure any content you create is accurate, timely, and helpful. Take time to edit, check for errors, and ensure that you're putting out professional material that will reflect well on your brand.
Promote your content
Trying to game the system when it comes to search engine rankings is like trying to nail gelatin to a tree. No one knows exactly how Google decides whose content sits at the top of the results and the rules change with every update.
Since search engines are designed to find the best content for human users, your best strategy is to follow a few SEO (search engine optimization) best practices, write the best content for your readers, and trust that search engines will recognize it.
The content you create also gives you a constant supply of fresh fuel for your social media profiles that can help drive leads to your website. See if you can get others in your industry (your suppliers, contractors, and colleagues) to link to your content or share it on their social media as well.
If you've written something especially useful that you think might close sales, you can promote it with Facebook and Google Ads. Make sure the page has a strong call to action and invites visitors to sign up for your email list.
Make the most of your traffic
All this effort to bring visitors to your site doesn't do you much good if you can't build a long-term connection with them.
Ask all your web visitors to sign up for your email list or follow you on social media so you can keep sharing good content with them. Offering an incentive — perhaps a prize drawing, or a free travel planning tool — can help you build your audience.
You can also create remarketing ads that will keep your brand in front of your visitors, reminding them who you are and inviting them to check out your upcoming trips.
Putting it all together
Creating content is a lot of work and often pays off more slowly than paid digital advertising. However, if you keep publishing good content on a regular basis, your efforts will pay off with a sustainable flow of organic traffic that you don't have to keep paying for every month.

Start by identifying some keywords you think your target market will search for. Write content that provides plenty of useful information about those terms. Promote your content on social media and seek out links from others. Soon, search engines will see your site as an authority and begin sending you free traffic.

Check out our free digital marketing guide, The Download, for more guidance on how to market your travel-related business online.

Share with your network